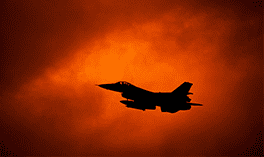 Fifth-generation refers to the most recent technological advancement in aircraft. While fighter jets are traditionally referred to as aircraft generations, the Air Force requires our people to work with all aircraft and systems to achieve a fifth-generation force.
A fifth-generation air force is a fully networked force that delivers lethal and non-lethal air power by leveraging the benefits of an available, integrated, and shared battlespace picture.
A fifth-generation Air Force has the necessary firepower to defeat the increasingly complex and lethal threats of warfare in the Information Age.
Generations of aircraft
Generation-I
Subsonic fighter jets were first introduced in late World War II. Meteor and Sabre are two examples.
Generation-II
When after burning turbojet engines went into production in the mid-1950s to early 1960s. The Mirage is one example.
Generation-III
From the 1960s to around 1970, aircraft with increased maneuverability and ground attack capabilities were developed, along with the introduction of guided missiles. The Phantom is one example.
Generation-IV
Between the mid-1970s and the mid-1990s, aircraft were distinguished by their multi-role configurations and sophisticated avionics and weapons systems. The F/A-18A/B Hornet is one example.
Generation-IV/V
From the 1990s to 2005, this generation of aircraft was frequently modified into fourth-generation aircraft with significantly enhanced capabilities. Signature reduction, helmet-mounted sights, GPS-guided weapons, and highly integrated systems are common ways to identify them. The F/A-18F Super Hornet is one example.
Generation-V
Fifth-generation fighter aircraft, beginning in 2005, have very low observability, including internal weapons bays, and vastly improved situational awareness through a network-centric combat environment. The F-35A is one example.
Because fifth-generation aircraft operate in a network-centric combat environment, the entire Air Force must be optimised to fully benefit.
5th Generation System Strategies
In the military, tomorrow's world is quickly becoming the world of today. Evidence of this is the vision of the Australian Air Force's Plan Jericho to transform it into a modern, fully integrated war. The key to this next-generation army is the AIR6500, a shared war management system that enhances the nerve endings provided by 5th generation platforms. By integrating platforms, sensors and weapon systems with the C4ISR operation, the AIR6500 will set new operational standards for the "Five Eyes" co-operative.
While changing its objectives, the AIR6500 faces technical, operational and acquisition challenges prior to launch. The AIR 6500 will be an Integrated Integrated program that will cover a wide range of Australian Defense Force platforms, programs and capabilities. The AIR6500 needs to adopt a 5th Gen power-focused approach, not a central platform.
Central to the implementation of the AIR6500 will be the focus on 'environmental achievement.' The evolution of evolution in an effort to reduce detection cycles and to place the required weapons systems in military hands much faster than ever before. The evolutionary model for the AIR6500 is optimally integrated with open-source systems, rapid development and rapid power installation.
Indian Govt plans to procure military equipment worth Rs 5 lakh Cr from domestic source in next 5-7 years
In May of last year, the government announced an increase in the automatic route FDI limit in the defence sector from 49% to 74%.
India is one of the world's largest importers of arms. According to estimates, the Indian armed forces will spend around USD 130 billion on capital acquisition over the next five years.
The government has decided to support domestic defence manufacturing in order to reduce reliance on imported military platforms.
The Defense Ministry has set a goal of USD 25 billion in defence manufacturing turnover over the next five years, with a USD 5 billion military hardware export target.
Russia's 5th Generation Stealth Fighter Jet Will Carry Hypersonic Missiles
According to a Russian military aircraft industry source, the Sukhoi Su-57 fighter jet, Russia's first indigenously designed and built fifth-generation stealth fighter jet, will be armed with hypersonic air-to-surface missiles with "characteristics" similar to the Kh-47M2 Kinzhal ("Dagger") air-launched ballistic missile (ALBM).
Su-57 jet fighters will be outfitted with hypersonic missiles, according to Russia's State Armament Program for 2018-2027. The jet fighters will receive missiles with similar characteristics to Kinzhal missiles, but with inter-body placement and smaller size.
The Collier Award-winning F-22 Raptor has delivered on its promise of unprecedented air dominance. The 5th Generation F-22's unique combination of stealth, speed, agility, and situational awareness, combined with lethal long-range air-to-air and air-to-ground weaponry, makes it the best air dominance fighter in the world.
Fifth Generation Warfare: A Changing Technical Dimension of Conflict
Fifth-generation air warfare offers a lot, but putting it into practice is difficult. It takes a significant amount of effort to generate decision-quality data and then establish the robust connectivity required to support combat cloud, multi-domain battle, and fusion warfare concepts. Fifth-generation air warfare is a very complicated way of fighting that necessitates extensive focused preparation prior to a conflict as well as extensive dedicated support during it. Success in fifth-generation air warfare is difficult to achieve.
It seems that there are two dangers built into the fifth generation war given its basic knowledge base. Digital systems are naturally vulnerable to Internet intrusion that may steal data, delete data, modify data, or insert false data that can spread quickly across the network. While online security measures are slowly evolving, so are cybercrime; this connection between crime and self-defense continues over time without long-term domination. In addition, the fifth-generation air warfare relies on data links to send information and sometimes receive it. Emitters are naturally at risk of discovery, which means that network participants can be detected and tracked and thus identified with precision-guided weapons. Some data links are harder to detect than others. However, as with the Internet, technology continues to evolve without guilt or long-term defense. Cyber security and data link exit tracking will always be related to the operational issues of the fifth-generation military service. They may be his Achilles heel.
Chinese and Russian thinking both take the extended view of many basic ideas after the fifth generation of air warfare. The fifth-generation theory clearly suggests that conflict is forced into a well-defined war zone, but Chinese and Russian thinkers deny it. No part of the enemy's territory or any of the world's various political, economic, legal, and public opinion systems are constrained. Both believe that a knowledgeable war can achieve success at low cost in blood or wealth.
The concept of a fifth-century Chinese-Russian war is also similar in that it does not focus on the results grid nodes. Both want to avoid violent conflicts. Chinese intellectuals suggest focusing on their efforts to attack important nerves and the grid nodes of Russian intellectuals who insist on hitting the command grid - for them human ideas are a real battlefield. In this regard, Chinese ideology tends to use mainly military methods to undermine the kinetic and non-kinetic backgrounds. In contrast, Russian theories emphasize the use of nonmilitary weapons instead of military, which is recommended at a ratio of 4: 1. The ideas of the Chinese military network are ideally suited to fight equal wars and Russian ideologies are more focused on equal means.