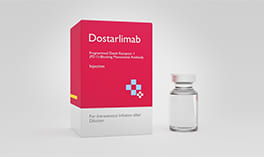 Dostarlimab (JemperliTM; GlaxoSmithKline) is a programmed death-1 (PD-1) receptor antagonist that has been humanised and is being investigated for the treatment of various malignancies. Dostarlimab was recently licenced in the EU and the US for the treatment of adult patients with mismatch repair deficient recurrent or advanced endometrial cancer depending on previous results from the GARNET trial. The stages in the development of dostarlimab that led to these first approvals are summarised in this article.
Introduction
Dostarlimab, also known as Jemperli, is a monoclonal antibody used to treat endometrial cancer.
Dostarlimab is a monoclonal antibody that inhibits death receptor-1 (PD-1).
In April 2021, Dostarlimab received FDA approval for medical use in the United States (US) and the European Union (EU).
Twelve rectal cancer patients were entirely cured of their disease after receiving a medicine for six months, which was a surprise result for an ongoing medical trial. The patients performed a battery of tests, including a physical examination, endoscopy, bioscopy, PET scans, and MRI scans, and none of the results revealed any symptoms of the tumour.
The study's original goal was to see if TSR-042 (also known as dostarlimab), in combination with standard chemoradiotherapy and surgery, was an effective treatment for advanced deficient MisMatch Repair (dMMR) solid tumours.
The Simon and Eve Colin Foundation, GlaxoSmithKline, Stand Up to Cancer, Swim Across America, and the National Cancer Institute of the National Institutes of Health all added to the clinical preliminary's prosperity.
The medication was given every three weeks for six months to study participants with mismatch repair-deficient stage II or III rectal cancer. The treatment was supposed to be followed by normal chemotherapy and surgery, but patients who achieved a clinical full response were supposed to be able to skip those steps. All 12 patients had a clinical full response with no evidence of the tumour after at least six months of follow-up.
History
A PD-1 inhibitor is dostarlimab. It is now undergoing Phase I/II and Phase III clinical trials as of 2020. Tesaro, the manufacturer, published early positive results from the Phase I/II GARNET study in 2020.
The GARNET research reported in 2020 that dostarlimab had shown promise in treating a subpopulation of patients with recurrent or advanced endometrial cancer.
Dostarlimab received FDA approval in April 2021 for the treatment of recurrent or metastatic endometrial cancer with deficient mismatch repair (dMMR), a genetic abnormality that disrupts DNA repair.The Food and Drug Administration gave dostarlimab-gxly expedited approval on April 22, 2021. (Jemperli, GlaxoSmithKline).
In the GARNET Experiment (NCT02715284), a multicentre, multicohort, open-label trial in people with advanced solid tumours, efficacy was assessed depending on cohort (A1).
What is Dostarlimab
Dostarlimab is an anti–PD-1 monoclonal antibody medication in development that comprises laboratory-made molecules that act as replacement antibodies. In the United States, it received its first medical approval in 2021.
How does it work
In certain circumstances, Dostarlimab treatment, which belongs to the category of PD1 Blockades, is indicated. The goal of PD1 Blockade therapy is to free T cells from the immune system's repression of T cell function. The PD1 proteins are in charge of suppressing these effects.
Patients with mismatch repair deficiency cancers lack the genes necessary to correct the abnormal DNAs, resulting in the proliferation of carcinogenic cells. In this case, PD1 works as a T-cell inhibitor, and hence PD1 blockades speed up T-cell suppression, significantly destroying cancer cells.
To put it another way, the Dostarlimab therapy helps the immune system find and eliminate cancer cells by exposing them to T cell inhibition.
The drug's efficacy has yet to be determined because the sample size, while promising, is insufficient. To further confirm the research findings, additional larger scale tests are expected.
Doctors and scientists are optimistic that further research will yield excellent results, allowing the medication to be made available to the world's 18.1 million cancer sufferers.
Usage in Medical
Dostarlimab is used to treat people with recurrent or advanced endometrial cancer that has developed during or after treatment with a platinum-containing program, as determined by FDA-approved testing.
The US Food and Drug Administration (FDA) granted immediate dostarlimab approval on August 17, 2021, to adults with recurrent or severe progressive coronary heart disease (dMMR) who continue or follow earlier treatment and who have no other palatable treatment
Side Effects
Sepsis, acute renal injury, urinary tract infection, abdominal discomfort, and pyrexia were among the serious adverse responses experienced by more than 2% of patients.
Diseases that affect the immune system include pneumonia, colitis, hepatitis, endocrine apathies, and nephritis.
Vomiting, joint discomfort, itching, rash, fever, and hypothyroidism are other typical adverse effects recorded in the EU (low levels of thyroid hormones)
Situation in the law
The European Medicines Agency (EMAC committee)'s for Medicinal Products for Human Use (CHMP) issued a positive statement on February 25, 2021, recommending the granting of a conditional marketing license for Jemperli's medical product, which is used to treat certain types of diseases. Recurrent or advanced endometrial cancer.
GlaxoSmithKline (Ireland) Limited applied for this drug. In April 2021, Dostarlimab was approved for medical use in the European Union.
Conclusion
There were no tumours, progression, or recurrence in any of the 12 patients who had Dostarlimab therapy. These individuals' outcomes were achieved purely by Dostarlimab treatment, without the use of surgery, chemo, or radiotherapy. "I think this has happened first time in cancer history," Dr. Diaz stated. "During the follow-up," he continued, "no cases of advancement or recurrence had been reported." Patients who have received this medication have experienced nil to insignificant post-therapy problems even after 25 months of treatment.