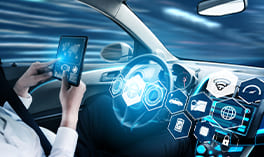 "We believe it and understand that it will take time, but it will eventually become a reality, even here."
Autonomous Vehicles are both a thrilling potential and a dystopian nightmare in India. On the one hand, considering that urban Indians spend 1.5 hours longer each day in traffic than those in adjacent Asian countries, it has the potential to revolutionize the way we live, makes our roads safer, reduce congestion, and boost productivity. On the other hand, they may be overwhelmed by the country's most congested traffic conditions, and they may fail to work properly in the absence of the infrastructural change required to normalize their existence.
As the technology for autonomous vehicles advances, the key questions will likely be societal and financial as well as technological. Accidents may become less common as autonomous vehicles become more popular, but who will be held liable if and when the inevitable catastrophe occurs? Would it be the car's owner or the company that built it? Will automakers shoulder the insurance burden? What about the ethical quandaries surrounding life and death?
Such a predicament will be encountered by an autonomous car at some point in the future. Will the vehicle choose to hit a group of pedestrians while keeping its driver and passengers safe, or will it crash full speed into a concrete barrier instead of protecting the pedestrians?
The World Is Taking Big Strides:
The Netherlands wants to deploy platoons of over 100 self-driving trucks on major highways from Amsterdam to Antwerp. It is proposing new legislation to stimulate the use of autonomous vehicles.
Singapore also stated that starting in 2022, three districts — Punggol, Tengah, and the Jurong Innovation District — will deploy driverless buses and shuttles for off-peak and on-demand transportation, and that it is working on an international standard for autonomous vehicles with the Netherlands.
Norway approved autonomous vehicle testing on public roads on January 1, 2018. In October 2018, the US Department of Transportation released Automated Vehicles 3.0, a document outlining its strategy for AVs.
Sweden is testing electric-charging roadways, autonomous vehicles, and driverless buses.
Finland is concentrating on getting automated bus services and AVs to work in winter conditions, as well as repainting the yellow lines on its roadways to an AV-friendly white.
One could argue that because India is a developing country, it is unfair to compare it to the United States, the United Kingdom, Germany, or the Netherlands. However, for a country that is literally heading for the Moon, that is an inadequate defense.
Challenges: India Must Overcome for Autonomous Vehicles
Infrastructure:
In its current state, India's road infrastructure is unsuitable for autonomous automobiles. In comparison to western countries, India's highways are often congested, particularly in the metros. Another source of concern is the inconsistency of road signage and markings, which makes it difficult for sensors to read the signs.
Technology:
Interconnected automotive technology flaws obstruct advancement as well. To ensure an effective and safe application of autonomous driving technology, real-time data transfer is essential. In India, network connectivity remains a problem. According to a report, India is the second-least prepared country for autonomous vehicles.
Legislative:
The Indian Motor Vehicles Act of 1988 makes no provision for autonomous vehicles. Despite a proposal to alter the statute being floated in 2018, the situation in India remains unchanged. In India, autonomous vehicle testing is not even permitted by law. To allow permits for trials, safety rules, and other changes, the statute will need to be overhauled.
Government:
The transition to self-driving automobiles will result in significant job losses. This is something the government cannot support. Minister for Road Transport and Highways Nitin Gadkari has stated publicly that he will not allow driverless cars to operate on Indian roads. According to Gadkari, if self-driving cars become a reality, 1 crore people will lose their jobs.
Civic Sense:
The failure to follow traffic laws is one of the leading causes of accidents in India. A proclivity for breaking traffic laws can be a major roadblock for autonomous automobiles. An autonomous automobile will not be able to prevent irresponsible driving. Another vexing issue is the occurrence of animals on the roads.
India Must Not Ignore the Benefits Of AV:
Despite the obstacles, India cannot afford to overlook the deployment of self-driving vehicles. For starters, they allow customers to make better use of their journey time instead of spending it on driving. By eliminating human error, which is the major cause of road accidents, they have the potential to save lives. Driverless cars are also a terrific way for persons who are physically unable to drive to get around. While self-driving automobiles may take longer to come on Indian roads, self-driving tractors and trucks have already taken the first step. Mahindra & Mahindra, Escorts, and Flux Auto are among the companies that are intending to debut them soon.
Indian Startups Working on AV Technology:
Flux Auto
A Bangalore-based startup is developing a modular self-driving technology that converts regular trucks into self-driving trucks. Cruise control, lane-keeping, collision avoidance, and accident avoidance are just a few of the features.
Fisheye box
A Celerio was used by a Kolkata-based startup to create a self-driving prototype. Their goal is to convert low-tech vehicles into customized futuristic vehicles on a shoestring budget. They are now seeking investments to help them expand their activities.
Several Indian start-ups are developing AV solutions for trucks, mini-busses, and vehicles, with the goal of exporting to other nations in some circumstances. Infosys claimed two years ago that it has created a 'driverless' cart at its Mysuru facility in southern India.
"India's ingenuity and technology are its greatest assets. It has the potential to become the world's leading supplier of autonomous vehicle technology and to incubate a whole". We want to develop unique, and niche uses for AVs, such as in-plant logistics, in-campus movement, and public transportation, where they may assist give added value, safety, and efficiencies.
Conclusion
It is a bit risky to deploy autonomous automobiles in a labor-intensive country like India, where the percentage of the working population, especially unskilled labor, is large. But that shouldn't stop us from taking advantage of cutting-edge technology. Furthermore, autonomous vehicles are currently only effective on highways and face difficulties on regular routes. As a result, it is preferable to allow autonomous vehicles in India once the technology has matured.
We will only see adoption in a closed and controlled context until it establishes trust and acceptability. We must continue to conduct tests until both human-driven and autonomous vehicles are on the same road and can trust one another.
"The easiest method to tackle the randomness of Indian roads is to use an algorithm." We understand that it will take time. Autonomous vehicles, on the other hand, will eventually become a reality in our country"