Report Scope & Overview:
The Heavy Metal Testing Market size was valued at USD 3.72 billion in 2022 and is expected to grow to USD 6.78 billion by 2030 and grow at a CAGR of 7.8% over the forecast period of 2023-2030.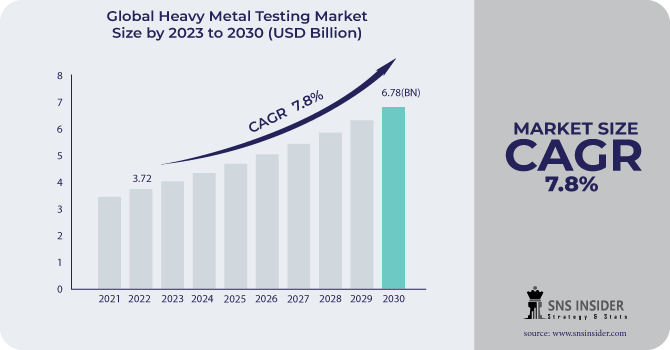 To get more information on Heavy Metal Testing Market - Request Sample Report
Heavy metals are a group of toxic elements that can have detrimental effects on human health and the environment. Therefore, it is of utmost importance to accurately and efficiently detect and quantify the presence of heavy metals in various substances. Heavy metal contamination poses a significant threat to both human health and the environment. Exposure to heavy metals, such as lead, mercury, cadmium, and arsenic, can lead to severe health issues, including organ damage, developmental disorders, and even cancer. Moreover, heavy metals can persist in the environment for extended periods, causing long-term harm to ecosystems. Consequently, the need for reliable heavy metal testing methods becomes paramount to safeguard public health and preserve the environment. Various methods are employed to detect and quantify heavy metals accurately. These methods include atomic absorption spectroscopy (AAS), inductively coupled plasma mass spectrometry (ICP-MS), and X-ray fluorescence (XRF) spectroscopy. AAS measures the absorption of light by atoms in a sample, allowing for the identification and quantification of heavy metals. ICP-MS, on the other hand, utilizes plasma and mass spectrometry to determine the elemental composition of a sample. Lastly, XRF spectroscopy measures the characteristic X-ray emissions from a sample, providing valuable information about its heavy metal content. Each method has its advantages and limitations, and the choice of technique depends on factors such as sensitivity, cost, and sample matrix.
Heavy metal testing is essential in industries such as food and beverages, pharmaceuticals, cosmetics, and environmental monitoring. It helps in identifying the presence of heavy metals, such as lead, mercury, cadmium, and arsenic, in these products. By conducting thorough testing, manufacturers can ensure that their products comply with regulatory standards and are safe for consumption or use. The demand for heavy metal testing has been steadily increasing due to growing concerns about the adverse effects of heavy metal exposure. Exposure to these toxic substances can lead to various health issues, including organ damage, developmental disorders, and even cancer. As a result, governments and regulatory bodies have implemented stringent regulations to control and monitor the levels of heavy metals in consumer products. Furthermore, the heavy metal testing market is witnessing significant advancements in terms of automation and digitization. This has led to improved efficiency, reduced turnaround time, and enhanced accuracy in heavy metal testing. Automation has also enabled the integration of data management systems, allowing for seamless tracking and reporting of test results.
Market Dynamics
Drivers
Continuous advancements in testing technologies

Rising awareness among consumers about the harmful effects of heavy metal exposure on human health
The heavy metal testing market is primarily driven by the increasing awareness among consumers regarding the detrimental impact of heavy metal exposure on human health. consumers are becoming more conscious of the potential health risks associated with heavy metal contamination in various products, such as food, water, and consumer goods. They are now seeking assurance that the products they consume or use are free from harmful levels of heavy metals. This concern has created a need for reliable and accurate heavy metal testing methods to ensure the safety and well-being of individuals. Furthermore, the adverse effects of heavy metal exposure, such as neurological disorders, organ damage, and developmental issues, have been extensively studied and publicized. As a result, consumers are increasingly educated about the potential dangers and are actively seeking ways to minimize their exposure to heavy metals. This growing awareness has not only influenced individual consumers but also regulatory bodies and organizations. Governments and health agencies are implementing stricter regulations and guidelines to ensure the safety of products and the environment. This has further propelled the heavy metal testing market, as businesses and industries are required to comply with these regulations and demonstrate the absence of heavy metal contamination in their products.
Restrain
Expensive procedure of implementation of heavy metal testing

Absence of standardized testing methods and regulations across different regions
Opportunities
Challenges
The presence of complex sample matrices, such as soil, water, and biological samples, can interfere with the accuracy of heavy metal testing. Developing robust methodologies to overcome these interferences is crucial for market success. In the case of soil samples, the presence of organic matter, minerals, and other contaminants can hinder the precise measurement of heavy metal concentrations. These substances can bind to heavy metals, forming complexes that are difficult to separate during analysis. Consequently, this can lead to inaccurate results and misinterpretation of the actual heavy metal content in the sample. Similarly, water samples can present complications due to the presence of dissolved solids, suspended particles, and various ions. These constituents can interact with heavy metals, causing precipitation or adsorption onto surfaces, which can impede their detection. Consequently, the accuracy of heavy metal testing in water samples can be significantly affected.
Impact of Russia-Ukraine War:
The Russia-Ukraine war has disrupted the supply chains and trade routes that are essential for the heavy metal testing industry. Both countries are major players in the global market, with Ukraine being a significant exporter of heavy metal testing equipment and Russia being a key consumer. The conflict has led to trade restrictions, border closures, and increased transportation costs, making it challenging for businesses to operate efficiently. Furthermore, the war has also resulted in political and economic instability in the region, affecting investor confidence and business partnerships. Many companies have faced difficulties in maintaining their operations, leading to a decline in production and revenue. This has not only impacted the heavy metal testing market but also the overall economy of the countries involved.
Impact of Recession:
The recession has resulted in a decline in demand for heavy metal testing services across multiple sectors. As businesses face financial constraints, they tend to reduce their expenditure on non-essential services, including heavy metal testing. Consequently, the market has witnessed a decrease in the number of testing projects, leading to a decline in revenue for testing laboratories. Furthermore, the recession has also affected the heavy metal testing market through reduced investments in research and development. Companies are compelled to cut costs, and unfortunately, research and development budgets are often the first to be reduced. This reduction in funding has hindered the development of innovative testing methods and technologies, limiting the market's growth potential.
Market segmentation
By Type
Lead

Arsenic

Mercury

Cadmium

Chromium

Copper

Tin

Tungsten

Zinc

Nickel

Selenium

Others
By Technology
ICP

X-ray fluorescence (XRF)

Metals Speciation (Methyl Mercury)

Atomic Absorption Spectroscopy (AAS)

Others
By Automation
Fully Automatic

Semiautomatic

Software Manual
By End Use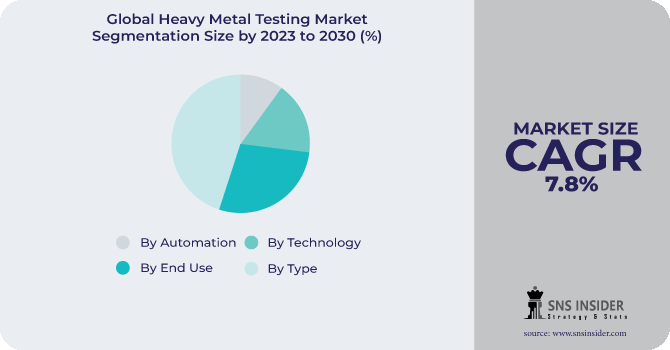 To Get Customized Report as per your Business Requirement - Request For Customized Report
Regional Analysis
Europe dominated the heavy metal testing market and is expected to take the lead in the Heavy Metal Testing Market. This is attributed to Europe's robust regulatory framework that emphasizes the importance of ensuring consumer safety and product quality. Stringent regulations and standards have been put in place to monitor and control the presence of heavy metals in various products, such as food, beverages, cosmetics, and pharmaceuticals. This commitment to stringent regulations has fostered a culture of compliance and accountability, making Europe a trusted hub for heavy metal testing. Secondly, Europe's advanced infrastructure and technological capabilities play a pivotal role in its dominance in this market. The region is home to state-of-the-art laboratories equipped with advanced analytical instruments and techniques. These facilities enable accurate and efficient heavy metal testing, ensuring reliable results that meet international standards. Moreover, Europe's research and development efforts continuously drive innovation in the field, further enhancing its competitive edge.
Furthermore, Europe's strong industrial base across diverse sectors, including manufacturing, agriculture, and healthcare, necessitates rigorous heavy metal testing. With a focus on quality control and risk management, European industries prioritize the identification and mitigation of heavy metal contamination. This proactive approach not only safeguards consumer health but also bolsters Europe's reputation as a global leader in heavy metal testing. Lastly, Europe's commitment to sustainability and environmental protection aligns with the growing global concern over heavy metal pollution. The region actively promotes eco-friendly practices and encourages the adoption of greener technologies. By prioritizing heavy metal testing, Europe demonstrates its dedication to minimizing environmental impact and ensuring a healthier future for its citizens.
REGIONAL COVERAGE:
North America
Europe
Eastern Europe

Poland

Romania

Hungary

Turkey

Rest of Eastern Europe

Western Europe

Germany

France

UK

Italy

Spain

Netherlands

Switzerland

Austria

Rest of Western Europe
Asia Pacific
China

India

Japan

South Korea

Vietnam

Singapore

Australia

Rest of Asia Pacific
Middle East & Africa
Middle East

UAE

Egypt

Saudi Arabia

Qatar

Rest of Middle East

Africa

Nigeria

South Africa

Rest of Africa
Latin America
Brazil

Argentina

Colombia

Rest of Latin America
Key Players
The major key players are Eurofins Scientific Inc., TÜV SÜD., SGS S.A., AsureQuality Limited, LGC Limited, Mérieux NutriSciences, Applied Technical Services Inc., ALS Limited, Microbac Laboratories Inc., Albany Molecular Research Inc., Brooks Applied Labs LLC., Intertek Group plc, and other key players mentioned in the final report.
Heavy Metal Testing Market Report Scope:
Report Attributes
Details
Market Size in 2022
US$ 3.72 Bn
Market Size by 2030
US$ 6.78 Bn
CAGR
CAGR of 7.8% From 2023 to 2030
Base Year
2022
Forecast Period
2023-2030
Historical Data
2020-2021
Report Scope & Coverage
Market Size, Segments Analysis, Competitive Landscape, Regional Analysis, DROC & SWOT Analysis, Forecast Outlook
Key Segments
• By Type (Lead, Arsenic, Mercury, Cadmium, Chromium, Copper, Tin, Tungsten, Zinc, Nickel, Selenium, and Others)
• By Technology (ICP, X-ray fluorescence (XRF), Metals Speciation (Methyl Mercury), and Atomic Absorption Spectroscopy (AAS), and Others)
• By Automation (Fully Automatic, Semiautomatic, and Software Manual)
• By End Use (Beverages, Food, Blood & Other Samples, Feed Products, Pharmaceuticals, Personal Care & Cosmetics, Dietary Supplement, Fats & Oils, and Others)
Regional Analysis/Coverage
North America (US, Canada, Mexico), Europe (Eastern Europe [Poland, Romania, Hungary, Turkey, Rest of Eastern Europe] Western Europe] Germany, France, UK, Italy, Spain, Netherlands, Switzerland, Austria, Rest of Western Europe]). Asia Pacific (China, India, Japan, South Korea, Vietnam, Singapore, Australia, Rest of Asia Pacific), Middle East & Africa (Middle East [UAE, Egypt, Saudi Arabia, Qatar, Rest of Middle East], Africa [Nigeria, South Africa, Rest of Africa], Latin America (Brazil, Argentina, Colombia Rest of Latin America)
Company Profiles
Eurofins Scientific Inc., TÜV SÜD., SGS S.A., AsureQuality Limited, LGC Limited, Mérieux NutriSciences, Applied Technical Services Inc., ALS Limited, Microbac Laboratories Inc., Albany Molecular Research Inc., Brooks Applied Labs LLC., Intertek Group plc
Key Drivers
• Continuous advancements in testing technologies
• Rising awareness among consumers about the harmful effects of heavy metal exposure on human health
Market Restraints
• Expensive procedure of implementation of heavy metal testing
• Absence of standardized testing methods and regulations across different regions