REPORT SCOPE & OVERVIEW
The High-Performance Plastics Market size was USD 21.9 billion in 2022 and is expected to Reach USD 43.95 billion by 2030 and grow at a CAGR of 9.1 % over the forecast period of 2023-2030.
High-performance plastics are those that perform better than traditional or engineering plastics. As engineers and designers seek ways to increase the performance, durability, and cost-effectiveness of their products, the use of these plastics is increasing. These plastics have several advantages over traditional materials like metals and ceramics, such as lighter weight, reduced corrosion, higher strength-to-weight ratio, better dimensional stability, and greater resistance to chemicals and solvents.
PEEK is utilized in aviation parts including gears, bearings, and seals. It's also employed in medical devices like hip and knee replacements. Circuit boards, connections, and other electrical components all employ PI. It's also utilized in high-performance fabrics like flame-resistant apparel. Pipes and valves are examples of PSU applications in food processing equipment. It's also found in solar cells and other electronics. PPS is found in a variety of automobile components, including fuel lines and brake rotors. It is also utilized in bearings and gears that operate at high temperatures. Fluoropolymers are employed in many different applications, such as gaskets, seals, and coatings. In addition, they are employed in cookware and other food-contact applications.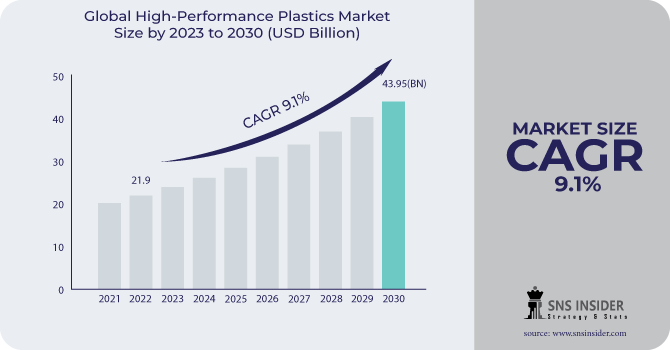 Get PDF Sample Copy of High-Performance Plastics Market - Request Sample Report
MARKET DYNAMICS
KEY DRIVERS
High-performance plastics are resistant to a wide range of chemicals, including acids, bases, and solvents, and also, it can withstand high temperatures without melting or deforming. This makes them excellent for applications involving heat, such as those found in the automotive, aerospace, and electrical industries. They also find applications that involve strong chemicals, such as those used in the chemical industry and oil and gas industries. Because of their strength and durability, they are suitable for applications involving stress or strain, such as those found in the construction, and sporting goods sectors.
RESTRAIN
The high cost of these plastics

The limited availability of raw materials
A shift in the manufacturing sector from developed to emerging countries, high commodity prices, and rising production expenses all impede the global market. Changes in demand and supply of raw materials may have a negative impact on market growth. Furthermore, the industry has a hurdle due to a lack of appropriate testing standards. Industries struggle with quality control and quality assessment due to a lack of standard test procedures, with many relying on internal testing methods bad products may impede growth.
OPPORTUNITY
The transportation application segment is one of the fastest-growing segments in the high-performance plastics market. High-performance plastics are employed in a variety of transportation applications, including aerospace, marine, and automotive. These plastics are engineered to satisfy the special requirements of the transportation industry, such as high strength, thinness, chemical resistance, and other qualities. Medical applications are a fast-expanding field. Drug delivery systems, Medical implants, medical gadgets, and surgical equipment are just a few of the applications for high-performance polymers. The strength, durability, and resistance to harsh temperatures, chemicals, and radiation, high-performance plastics provide a number of features in medical applications.
CHALLENGES
New and innovative processing technologies are continually being developed to improve the productivity and effectiveness of high-performance plastics production. When exposed to heat, sunlight, or other environmental variables, some high-performance polymers may contain dangerous compounds that leach into the environment. These substances have the potential to contaminate soil and water, as well as pose a health risk to both humans and animals. Because high-performance plastics are not biodegradable films, they can take hundreds of years to disintegrate in landfills. This can result in an increase in plastic garbage in the environment, which can contaminate waterways and kill wildlife.
IMPACT OF RUSSIAN UKRAINE WAR
The increase in gas prices is due to rising oil prices, which are affecting resin prices, especially thermoplastic polymer prices, which are likely to grow. Russia is a major exporter of petroleum. The longer sanctions against Russia remain in place, and the fewer oil supplies from Russia we accept, the more likely it is that raw material prices will spike, leading to a shortage of plastics and polymers.
Due to its dependency on natural gas and local oil, the United States can readily ramp up polyethylene manufacturing, keeping the price low. However, the U.S. does not have the capacity to boost polypropylene production by the same amount, therefore price hikes for this material are likely.
IMPACT OF ONGOING RECESSION
A recession could lead to a decrease in demand for high-performance plastics, as businesses and consumers may be less willing to spend money on non-essential items. Resin prices vary with the prices of raw materials prices. According to the Board of Governors of the Federal Reserve System, plastics production increased 4.2% in the third quarter of 2021 and 5.9% year on year. Plastic anticipates a 12.3% growth in retail sales (excluding food services) over the previous year. This should result in higher plastics shipments in Q4 2021, as well as higher manufacturing and finished goods stocks in Q1 2022. Plastic anticipates a 3.3% rise in plastics manufacturing this year over 2020.
KEY MARKET SEGMENTS
By Type
Fluoropolymers

HPPA

Polyphenylene Sulphide (PPS)

Sulfone Polymers (SP)

Liquid Crystal Polymers (LCP)

Polyamides
By End Use Industry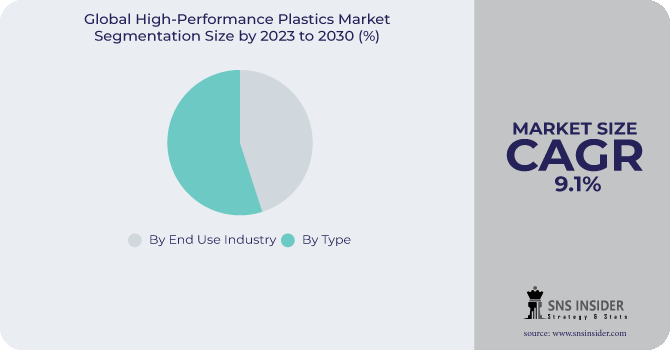 Get Customised Report as per Your Business Requirement - Enquiry Now
REGIONAL ANALYSIS
Asia Pacific is the world's largest market for high-performance plastics. The increasing growth of the region's automotive and electrical & electronics sectors is driving the expansion of this industry. China is the Asia Pacific region's fastest-growing economy, followed by India and Japan. Because of their chemical resistance, high-performance polymers are employed in the manufacture of microprocessors and semiconductors.
The European high-performance plastics market is the second largest. The growing demand for these polymers in the medical, aerospace, and automotive industries is propelling the market forward. The automotive industry has the most significant investors and innovative car-producing enterprises in this region, delivering best-in-class engine efficiency. Germany is Europe's largest high-performance plastics market, followed by France and the United Kingdom.
North America is the third largest market for high-performance polymers. The growing use of these plastics in the automotive, medical, and aerospace industries. Because the United States has the highest per capita income in the region, transportation manufacturers are under pressure to produce high-quality products. The United States is the largest market in North America for high-performance plastics, followed by Canada and Mexico.
Latin America and the Middle East & African region is emerging market. Saudi Arabia is the largest market for high-performance plastics in the Middle East & Africa region, followed by South Africa and Egypt. Brazil is the largest market for high-performance plastics in Latin America, followed by Mexico and Argentina.
REGIONAL COVERAGE
North America
Europe
Eastern Europe

Poland

Romania

Hungary

Turkey

Rest of Eastern Europe

Western Europe

Germany

France

UK

Italy

Spain

Netherlands

Switzerland

Austria

Rest of Western Europe
Asia Pacific
China

India

Japan

South Korea

Vietnam

Singapore

Australia

Rest of Asia Pacific
Middle East & Africa
Middle East

UAE

Egypt

Saudi Arabia

Qatar

Rest of Middle East

Africa

Nigeria

South Africa

Rest of Africa
Latin America
Brazil

Argentina

Colombia

Rest of Latin America
KEY PLAYERS
Evonik Industries, BASF SE, Dow, Kraton Corporation, DuPont., Ryan Plastics Ltd., RTP Company, Solvay, Eurostar Engineering Plastics, LyondellBasell Industries Holdings B.V., Kuraray Co. Ltd, Toray Industries, Kureha Corporation, SABIC, PolyOne Corporation, other key players are mentioned in the final report.
RECENT DEVELOPMENTS
BASF SE- In 2023 Avient and BASF are collaborating to provide colorful Ultrason® to the worldwide high-performance plastic market. Colorant ChromaticsTM high-temperature color formulation knowledge for color concentrates and pre-colored solutions is paired with BASF's Ultrason® polyarylethersulfones (PAES) as a high-quality base polymer in the colored grades.
Evonik Industries- In 2023 Evonik Industries presents intelligent technology for artificial teeth based on a high-performance plastic known as VESTAKEEP® PEEK used in a wide range of medical applications.
In 2023 Evonik made an investment in the British firm Interface Polymers Ltd. Polarfin® additives from this company make it easier to process plastics like polypropylene or polyethylene mixes.
High Performance Plastics Market Report Scope:
Report Attributes
Details
Market Size in 2022
US$ 21.9 Billion
Market Size by 2030
US$ 43.95 Billion
CAGR
CAGR of 9.1 % From 2023 to 2030
Base Year
2022
Forecast Period
2023-2030
Historical Data
2019-2021
Report Scope & Coverage
Market Size, Segments Analysis, Competitive Landscape, Regional Analysis, DROC & SWOT Analysis, Forecast Outlook
Key Segments
• By Type (Fluoropolymers, HPPA, Polyphenylene Sulphide (PPS), Sulfone Polymers (SP), Liquid Crystal Polymers (LCP) and Polyamides)
• By End Use Industry (Industrial, Electrical and Electronics, Transportation, Medical, Others)
Regional Analysis/Coverage
North America (US, Canada, Mexico), Europe (Eastern Europe [Poland, Romania, Hungary, Turkey, Rest of Eastern Europe] Western Europe] Germany, France, UK, Italy, Spain, Netherlands, Switzerland, Austria, Rest of Western Europe]), Asia Pacific (China, India, Japan, South Korea, Vietnam, Singapore, Australia, Rest of Asia Pacific), Middle East & Africa (Middle East [UAE, Egypt, Saudi Arabia, Qatar, Rest of Middle East], Africa [Nigeria, South Africa, Rest of Africa], Latin America (Brazil, Argentina, Colombia Rest of Latin America)
Company Profiles
Evonik Industries, BASF SE, Dow, Kraton Corporation, DuPont., Ryan Plastics Ltd., RTP Company, Solvay, Eurostar Engineering Plastics, LyondellBasell Industries Holdings B.V., Kuraray Co. Ltd, Toray Industries, Kureha Corporation, SABIC, PolyOne Corporation
Key Drivers
• Specific characteristics of high-performance plastics
Market Opportunity
• Rising applications of high-performance plastics in end-user