Report Scope & Overview:
The Web Application Firewall Market size was valued at USD 5.69 billion in 2022. It is expected to hit USD 23.19 billion by 2030 and grow at a CAGR of 19.2% over the forecast period of 2023-2030.
The Web Application Firewall (WAF) industry is being positively impacted by a number of important issues, including rapid digitization, the rising frequency of cyberattacks, and internet fraud on a global scale. A bright outlook for the market is also being created by the growing usage of WAF by several enterprises to stop malware, phishing, and security concerns. Along with this, the market is being driven by the increased use of firewalls in the healthcare sector to guard against unwanted access to vital healthcare networks and electronic patient information via Wi-Fi-enabled devices. The FBI's Internet Crime Complaint Center received a staggering 847,370 reports regarding cyberattacks and malicious online behavior, which ultimately led to damages amounting to nearly $6.87 billion. Moreover, cloud-based Web Application Firewall (WAF) solutions provide companies with an extensive array of services. These services encompass threat intelligence, caching, malware detection, access control, as well as bot detection and enforcement. Additionally, the market is growing due to advancements in the information technology (IT) infrastructure and rising spending by top market players in research and development (R&D) activities.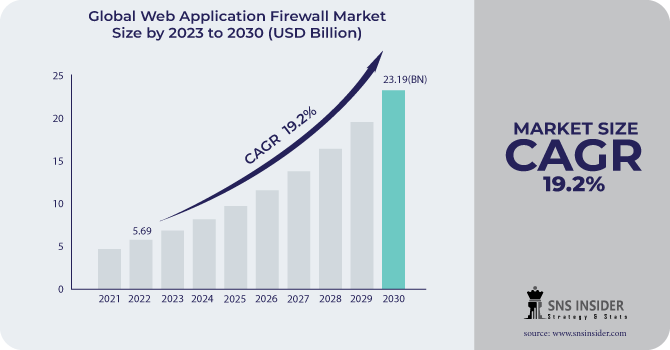 Market Definition
The Web Application Firewall (WAF) is designed to enhance the security level of HTTP or online interactions. Its primary function is to identify and prevent potential threats that could compromise a system by following a predefined set of rules. Additionally, it is utilized for network traffic control and monitoring in web-enabled applications. Acting as a robust barrier, this firewall effectively shields a system from external threats, providing comprehensive online protection against various attack types such as XSS, SQL injection, cross-site scripting, DT, and RFI. It operates at the application layer of the open system interconnection paradigm.
Market Dynamics
Drivers
Technological development and rising IoT use.

Strict industry standards and regulations, as well as an expanding market for cloud-based solutions.
As the world becomes more and more linked, technologies like IoT are being used in a wider range of end-user applications. increasing awareness of and the necessity for network and online application infrastructure protection. TVs, smartphones, and printers are just a few of the gadgets that are becoming internet-connected. Organizations are using such connected devices more regularly in their processes to run their business as efficiently as possible. As the number of devices and related apps rises, the threat environment is being changed by a variety of cyberattacks and security flaws. The majority of IoT technology and developer companies are deploying and advising advanced security solutions, such as WAFs, Next-Generation Firewalls (NGFW), and Runtime Application Self-Protection (RASP), for securing their business infrastructure in order to deal with such situations, which is fueling the demand for the WAF market.
Restrains
Opportunities
Growing use of WAFs based on the cloud and virtual appliances

Continuously increasing Investment in WAF technologies by Market players.
The majority of enterprises are relocating to the cloud and virtual infrastructures, which has led to an increase in security lapses and cyberattacks. Cybercriminals have begun to target web applications and websites as the number of businesses using the cloud to store and run commercial applications has rapidly increased. As a result, there is a growing demand for WAFs. As a SaaS model, a cloud-based web application firewall is provided. In this case, everything is maintained by the service provider, and the web application firewall is totally housed in the cloud. As a result, enterprises may implement and operate web application firewalls in the most straightforward manner possible because the service provider will optimize and update as required. For firms with minimal IT resources to operate and maintain their WAFs, this approach can be the best choice.
Challenges
Conventional firewalls have been installed.

The incidence of fraud, cybercrime, etc.
Impact of the Russia-Ukraine
The heightened risk of cyberattacks could drive up the demand for cybersecurity solutions, including WAFs. Businesses may recognize the need to fortify their web applications against potential attacks and vulnerabilities, leading to increased adoption of WAF technologies. In response to increased cyber threats or concerns related to the conflict, governments or regulatory bodies might introduce new cybersecurity regulations or guidelines. The year 2022 witnessed a significant surge in cyberattacks. A notable incident occurred on January 13, when Microsoft reported the discovery of malware targeting the Ukrainian government, along with several non-profit and IT organizations. The gravity of the situation escalated the next day, as hackers successfully gained temporary control over 70 official government websites, including those belonging to the Cabinet of Ministers, Ministries of Defense, Foreign Affairs, Education, and Science. The Ukrainian Ministry of Digital Transformation promptly attributed the blame to Russia.
This could prompt organizations to adopt WAFs and other cybersecurity measures to ensure compliance. The escalating conflict might drive innovation in the field of cybersecurity, including WAF technology. Companies might invest more in research and development to enhance the capabilities of WAF solutions, leading to the introduction of more advanced and effective products. Geopolitical conflicts can have broader economic repercussions. If the Russia-Ukraine war leads to economic instability or market fluctuations, it could impact IT budgets and spending priorities, which in turn could affect the demand for WAF solutions.
Impact of Recession
During a recession, businesses often tighten their budgets and cut down on discretionary spending, including investments in cybersecurity solutions like WAFs. This could lead to a slowdown in new purchases and installations of WAF solutions. Companies may delay or cancel IT projects, including those related to upgrading or enhancing their web security infrastructure. This could lead to a decline in demand for WAF products and services. The impact of a recession on the WAF market can vary across different industry verticals. Sectors like finance, healthcare, and e-commerce may continue to prioritize cybersecurity investments due to the critical nature of their online operations. On the other hand, industries that are hit hardest by the recession may significantly cut back on all types of expenditures, including cybersecurity. In 2022, the Federal Bureau of Investigation (FBI) operates the Internet Crime Complaint Center (IC3) received 800,944 complaints, marking a 5 percent decrease compared to 2021. Surprisingly, despite this decline, the potential total loss has surged from $6.9 billion in 2021 to an alarming figure of over $10.2 billion in 2022. If the recession accelerates trends like cloud migration and remote work, there could be an increased need for WAF solutions to secure web applications and data in a distributed environment. However, this might not completely offset the overall impact of reduced spending.
Some WAF providers offer subscription-based models which could be more appealing to organizations during a recession as they offer more predictable and manageable costs. This could somewhat mitigate the decline in demand for outright purchases. Some WAF vendors might respond to the recession by innovating and offering more cost-effective solutions or adjusting their pricing models to cater to cash-strapped businesses.
BFSI would experience faster vertical growth during the projection period.
Organizations constantly launch new and improved financial goods and services to better corporate operations and broaden their consumer base, making the sector a tempting target for scams. The financial sector is growing as a result of new businesses joining the market and current financial service companies seeing rapid expansion. This contains 24% of the share of by vertical segment. With the development of technology, mobile banking applications are widely used. Businesses in the BFSI industry vertical require security goods and services to safeguard their personnel, clients, property, offices, branches, and business processes. Web application firewall security solutions must be given top importance by BFSI companies with services like smart banking, online banking, and mobile banking. The BFSI industry vertical has been subject to attacks such as cross-site scripting, SQL injection, aggressive browsing, cookie poisoning, botnets, and DDoS. Financial service applications or the internet are used to deliver services in the BFSI industrial vertical. To counter the increasing complexity of threats, players in the network security business are creating novel protection solutions.
Key Market Segmentation
By Deployment Model
By Organization Size
By Component
By End User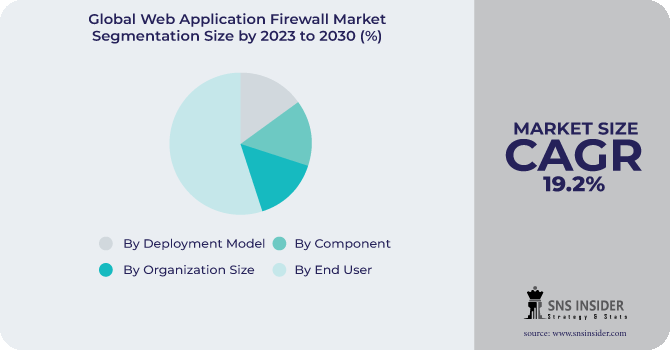 Regional Analysis
In terms of technological breakthroughs and usage, North America holds the 67.2% market share for web application firewalls worldwide. It has a solid infrastructure and the resources to pay for web application firewall products. Additionally, the market is anticipated to grow during the forecast period due to an increase in spending in the defense sector and technical developments in the telecommunications sector. The web application firewall (WAF) market is driven by governmental laws pertaining to data security. The market is expected to be propelled by services such as cloud applications and security information. Moreover, the presence of market leaders like Imperva, F5, Akamai, Citrix, Barracuda, and Fortinet, along with their diverse product offerings, further invigorate the market in this domain. Furthermore, market participants can expect profitable prospects due to the growth of artificial intelligence and online application use. Additionally, during the projected period, the entry of new industry players will promote market expansion.
Due to the region's robust economic growth, globalization, digitalization, and rising internet usage, the Asia Pacific market is anticipated to grow at the quickest rate globally during the course of the forecast period. Due to the overwhelming use of traditional defense systems by SMEs in this region, it is challenging to recognize sophisticated and advanced threats. Security companies focus on creating new products as a result. Growing business complexity, improved customer awareness of the benefits of WAF products, and increased internet usage are all predicted to force SMEs in the region to employ advanced WAF services and solutions.
REGIONAL COVERAGE:
North America
Europe
Eastern Europe

Poland

Romania

Hungary

Turkey

Rest of Eastern Europe

Western Europe

Germany

France

UK

Italy

Spain

Netherlands

Switzerland

Austria

Rest of Western Europe
Asia Pacific
China

India

Japan

South Korea

Vietnam

Singapore

Australia

Rest of Asia Pacific
Middle East & Africa
Middle East

UAE

Egypt

Saudi Arabia

Qatar

Rest of Middle East

Africa

Nigeria

South Africa

Rest of Africa
Latin America
Brazil

Argentina

Colombia
Rest of Latin America
Key Players:
The major players are Security Systems, Oracle, Barracuda Fortinet, Inc., Citrix Systems, Inc., Applicure Technologies Ltd., Cloudflare, Inc., Radware Ltd., Akamai Technologies, F5 Networks, Inc., Imperva, Inc., AWS, Qualys, Inc., Networks, Inc., Barracuda, Rohde & Schwarz, Positive Technologies, Qualys, Wallarm, StackPath, Cloudflare, Reblaze, and others in final report.
Oracle-Company Financial Analysis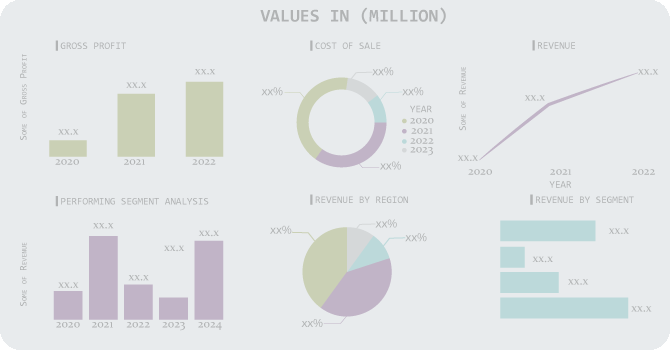 Recent development
In April 2022, Radware and Entelar, a New Zealand-based IT distributor, reached a distribution agreement. The agreement stipulates that Entelar will offer Radware's application and network security solutions, including web application firewall, bot manager, API security, and DDoS protection solutions, to businesses in New Zealand.
With the addition of Radware's cloud-based bot management, cloud-based WAF, and cloud-based DDoS protection services in November 2021, Radware and MNIT's partnership was expanded.In August 2022, Radware has recently strengthened its partnership with INAP, a move aimed at enhancing INAP's product portfolio and ensuring compliance with rigorous cybersecurity protocols. As part of this collaboration, INAP will now provide businesses across various sectors, such as healthcare, entertainment & gaming, financial services, SaaS, and ISF, with Radware's cutting-edge Cloud web application firewall and DDoS Protection Services. This expanded offering will empower organizations to fortify their online presence and safeguard their critical assets from malicious attacks.

Web Application Firewall Market Report Scope
Report Attributes
Details
Market Size in 2022
US$ 5.69 Bn
Market Size by 2030
US$ 23.19 Bn
CAGR
CAGR of 19.2 % From 2023 to 2030
Base Year
2022
Forecast Period
2023-2030
Historical Data
2019-2021
Report Scope & Coverage
Market Size, Segments Analysis, Competitive Landscape, Regional Analysis, DROC & SWOT Analysis, Forecast Outlook
Key Segments
• By Deployment Model (On-Premise, Cloud)
• By Organization Size (Large Enterprises, Small and Medium Enterprises)
• By Component (Solution, Services)
• By End User (BFSI, Healthcare, IT and Telecom, Manufacturing, Government and Public Sector, Retail and E-Commerce, Others)
Regional Analysis/Coverage
North America (US, Canada, Mexico), Europe (Eastern Europe [Poland, Romania, Hungary, Turkey, Rest of Eastern Europe] Western Europe] Germany, France, UK, Italy, Spain, Netherlands, Switzerland, Austria, Rest of Western Europe]), Asia Pacific (China, India, Japan, South Korea, Vietnam, Singapore, Australia, Rest of Asia Pacific), Middle East & Africa (Middle East [UAE, Egypt, Saudi Arabia, Qatar, Rest of Middle East], Africa [Nigeria, South Africa, Rest of Africa], Latin America (Brazil, Argentina, Colombia Rest of Latin America)
Company Profiles
Security Systems, Oracle, Barracuda Fortinet, Inc., Citrix Systems, Inc., Applicure Technologies Ltd., Cloudflare, Inc., Radware Ltd., Akamai Technologies, F5 Networks, Inc., Imperva, Inc., AWS, Qualys, Inc., Networks, Inc., Barracuda, Rohde & Schwarz, Positive Technologies, Qualys, Wallarm, StackPath, Cloudflare, Reblaze,
Key Drivers
• Technological development and rising IoT use.
• Strict industry standards and regulations, as well as an expanding market for cloud-based solutions
Market Restraints
• Businesses that view runtime application self-protection as a feasible substitute