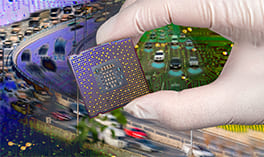 Semiconductors (chips) are materials that can operate between conductors and insulators. Semiconductor building materials include pure elements and compounds such as silicon, germanium, gallium, and arsenide or cadmium selenide. These semiconductor chips play a vital role in the operation of all modern electronics and information and communication technology products. In simple terms, they can be considered the basic building blocks of modern automotive, home gadgets, and essential medical equipment such as ECG machines.
The need to ensure safety, reliability, and comfort in automobiles has increased the complexity of automotive electrical systems. Like machine maintenance, regular monitoring of the life of semiconductor chips is also important.
Almost all types of chips are found in cars today. For example, chips can be found in LED lighting fixtures for cars. Every single diode within an LED light unit is a chip that emits light. LED headlights alone make hundreds of chips in modern cars and chips are as complex and sophisticated as the few decades. Lamps also need control units to work. Apart from this, chips help to control engine discharge or electrical consumption of an electric car battery, which are some of the most important. In fact, Modern automobiles would not exist without the use of chips. There are also chips used in the car's touchscreen infotainment system and air conditioning systems. Chips are also part of car safety requirements such as airbags, seat belt tensioners, ABS and stabilization systems, and even the e-Call 'rescue' system works with the help of chips.
Due to the COVID-19 shortage in semiconductor chips:
The automotive industry and suppliers are facing a severe shortage of microchips worldwide. This shortage is due to a significant increase in the demand for computers, cell phones and other electronic devices purchased during the COVID-19 pandemic in excess of the current supply of semiconductors. The problem of global chip shortages began in 2020 after many countries imposed a total closure, production and supply cycle. Supply, in particular, was severely affected earlier this year after the storm halted production in the U.S. and a factory in Japan was destroyed by fire - the industries affected in both countries together accounted for more than the 55% of semiconductor chips used in automobiles worldwide. In addition, the emergence of Delta variants and subsequent COVID-19 eruptions in Southeast Asia exacerbated the shortage of semiconductor chips.
CHIPSET STORAGE:
With the pressures of rising demand, but the remaining supply as it is, the global chip shortage may continue until next year, with some improvements to be seen from mid-2022 onwards. Some major U.S. chip manufacturers and in Europe they are increasing their production capacity, which could help revive the automotive industry from the middle of next year.
It is also being seen in Southeast Asia to prevent semiconductor shortages. Some chip giants in Taiwan and South Korea are investing hundreds of millions of dollars in increasing capacity over the next few years. With this global investment, tracking the first quarter of FY22 will provide a good indication on the timeline of recovery.
Disruption in the semiconductor industry:
By 2021, the shortage of a semiconductor chip is expected to cost the global automotive industry revenue of USD 210 billion. This shortage has forced few original equipment manufacturers (OEMs) to slow down production, some even stopping production; therefore, there is a continuous extension of the waiting period for models of popular, rich, high-end passenger cars - with a delay of up to 1 year for some models.
India's semiconductor demand currently stands at about USD 27 billion and is expected to reach USD 150 billion by 2028. Sales of passenger cars including SUVs and high-end Sedans declined sharply in the second quarter compared to the same period last year. Larger OEMs reduce production as their current supplies dry.
Car sales in India have recorded your lowest numbers in 10 years during the recent holiday season. Sales in all divisions fell by 20 percent compared to last year's sales over the same period. Vehicle registration in India stood at 17 percent less than a year compared to Europe, where it dropped by 25 percent a year. Additionally, large OEMs reduce production as their current supplies dry up.
IMPACT ON CONSUMERS:
Buying a car, new or used, was extremely difficult. Prior to the disaster, car manufacturers had a 70- to 80-day multi-model model for buyers to contract and drive their new car. The list of US names dropped to a minimum of 10 days, reaching unprecedented levels since the global financial crisis.
New car buyers, or those who use rental funds, have found a few cars to choose from. Buyers find themselves ordering their new car and sometimes waiting months or even years for it to be delivered.
Fewer trades meant fewer used cars, which saw an even higher price increase. Prices for new cars have risen by about 12-15 percent a year while the prices of used cars exceed 45 percent, this suggests that used car prices could improve and fall sharply by 2022.
Some of the anticipated launches of new vehicles were delayed, including the Nissan Ariya, the Rivian R1T and R1S, and the Tesla Cybertruck. Many, including GMs, are prioritizing their electric vehicles, thus making the car manufacturer ensure that its new family of EVs using the Ultium platform remains in place, from the latest timely launch of the 2022 GMC Hummer EV pickup.
Conclusion:
It is seen that the semiconductor chip industry is disrupted due to the COVID-19 pandemic. Huge losses and impacts are also seen. Consumers are affected by the setbacks and hold off of new models of automobiles. But then also, it is forecasted that in coming years, chipset storage will be in a sufficient manner and the semiconductor chip industry will be again in profit.