Report Scope & Overview:
The Semiconductor Chip Market size was valued at USD 590.5 billion in 2022 and is expected to grow to USD 1125.78 billion by 2030 and grow at a CAGR of 8.4% over the forecast period of 2023-2030.
The semiconductor chip market growth is driven by the increasing demand for advanced technology and the rapid expansion of the digital era. As the world becomes more interconnected, the need for faster, more efficient, and more powerful electronic devices continues to rise. This has led to a surge in the production and consumption of semiconductor chips. One of the key factors contributing to the growth of the semiconductor chip market is the continuous innovation and development in the field of microelectronics. Technological advancements have led to the creation of smaller, more powerful, and energy-efficient chips, enabling the production of high-performance electronic devices. This has not only enhanced the functionality of various products but has also opened up new possibilities for industries such as healthcare, telecommunications, and aerospace. Furthermore, the increasing adoption of artificial intelligence (AI), the Internet of Things (IoT), and cloud computing has further fueled the demand for semiconductor chips. These emerging technologies heavily rely on the processing power and data storage capabilities provided by these chips. As a result, the semiconductor chip market is expected to witness substantial growth in the coming years. The industry faces issues such as fluctuating demand, intense competition, and the constant need for research and development. Additionally, geopolitical factors and trade tensions can impact the global supply chain, affecting the production and distribution of semiconductor chips.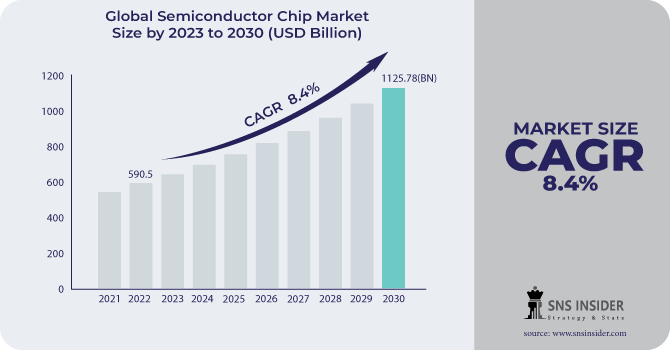 To Get More Information on Semiconductor Chip Market - Request Free Sample Report
A semiconductor chip, also known as an integrated circuit (IC), is a fundamental component in modern electronics. It is a small electronic device made from a semiconductor material, typically silicon, that contains a multitude of electronic components such as transistors, diodes, and resistors. These components are interconnected to perform various functions, including amplification, switching, and memory storage. The semiconductor chip plays a crucial role in the functioning of electronic devices, enabling the processing and transmission of electrical signals. It serves as the brain of computers, smartphones, and countless other devices, allowing them to perform complex tasks efficiently and reliably.
Market Dynamics
Drivers
Deployment of 5G networks and growing adoption of the Internet of Things (IoT)

Increasing demand for consumer electronics
The increasing demand for consumer electronics serves as the primary driving force behind the semiconductor chip industry. Consumer electronics, such as smartphones, laptops, and televisions, have become an integral part of our daily lives. With each passing day, the demand for these devices continues to surge, fueled by advancements in technology and the ever-growing desire for convenience and connectivity. As a result, the semiconductor chip industry has experienced a significant boost. As more individuals seek to acquire the latest gadgets and upgrade their existing devices, manufacturers must produce a greater quantity of semiconductor chips to meet this demand. This surge in production not only benefits the semiconductor chip industry but also stimulates technological advancements and innovation.
Restrain
Opportunities
The automotive industry's shift towards electric vehicles (EVs) and autonomous driving technologies is driving the demand for semiconductor chips used in advanced driver-assistance systems (ADAS) and in-vehicle infotainment systems. When it comes to the adoption of electric vehicles, Europe and China have emerged as leaders, with a significant proportion of new vehicle sales being electric, ranging from 22-27% in 2022. In contrast, the United States' adoption of electric vehicles is low as compared to Europe and China, accounting for 6-8% of new vehicle sales.
Challenges
Impact of Russia-Ukraine War:
The ongoing conflict between Russia and Ukraine affected global supply chains, which are already strained due to the pandemic. Of particular concern is the chip shortage, as both nations control significant supplies of key raw materials essential for semiconductor production. Ukraine, in particular, plays a crucial role as it is home to two major suppliers of neon, a vital ingredient in chip manufacturing. Unfortunately, these suppliers, Ingas and Cryoin, have been forced to halt their operations as Moscow intensifies its attack on Ukraine. This war not only threatens to drive up prices but also exacerbates the already critical shortage of semiconductors. It is worth noting that a staggering 56% of the world's semiconductor-grade neon, which is essential for the lasers used in chip production, originates from these two Ukrainian companies. Prior to the invasion, Ingas alone produced an impressive 15,000 to 20,000 cubic meters of neon per month. Their customers spanned across Taiwan, Korea, China, the United States, and Germany, with approximately 72% of their output dedicated to the chip industry.
Impact of Recession:
The semiconductor industry can be heavily impacted by the ongoing recession because it is highly dependent on external economic factors. This is because the industry heavily depends on consumers, who tend to reduce their spending during recessions or financial crises. Consequently, a downturn in the economy can lead to a decrease in demand for semiconductor products. Moreover, such a downturn will disrupt the supply chain by limiting access to raw materials required for production or reducing the availability of workers to fulfill orders. Additionally, semiconductor companies may be compelled to raise their prices due to higher production costs. Furthermore, economic downturns often prompt investors to withdraw their investments from the stock market and other sectors of the economy. A notable example occurred in August 2022 when investors' demand decreased, resulting in a 4.6% decline in the Philadelphia semiconductor index, with all 30 members experiencing losses.
Market segmentation
By Type
Logic Chips

Microprocessors

Microcontrollers

Memory Chips

Analog Chips

Complex Systems-on-a-Chip

Application-Specific Integrated Chips (ASICs)
By End-use
Automotive

Computing

Consumer Electronics

Wireless Communication

Industrial

Military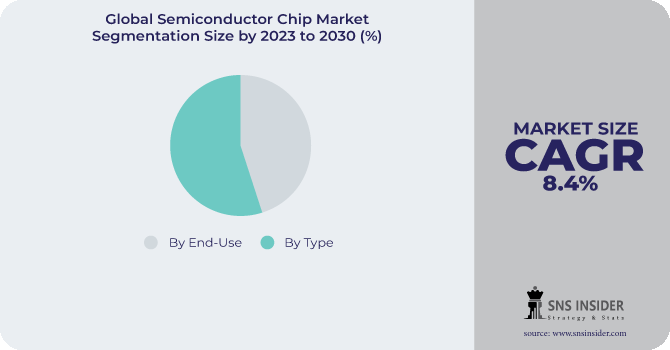 Need any customization research on Semiconductor Chip Market - Enquiry Now
Regional Analysis
North America dominated the semiconductor chip market with the US being the major contributing factor to this dominance. As the leading chip manufacturer, the US has been instrumental in driving the growth of this industry. However, recent developments have raised concerns about the country's diminishing share in the global semiconductor manufacturing landscape. In July 2022, Congress took a significant step to address this issue by passing the CHIPS Act of 2022. This legislation aims to bolster domestic semiconductor manufacturing, design, and research, thereby strengthening both the economy and national security. It also seeks to reinforce America's chip supply chains, which have become increasingly vulnerable due to the country's declining manufacturing capacity.
Over the years, the US has witnessed a decline in its share of modern semiconductor manufacturing capacity, plummeting from 37% in 1990 to a mere 12% in July 2022. This erosion is attributed to the ambitious investments made by other countries governments in chip manufacturing incentives, while the US government has lagged behind in this regard. Moreover, the allocation of federal funds towards chip research has remained stagnant in relation to the country's GDP, whereas other nations have considerably intensified their research endeavors.
To tackle these challenges head-on, the CHIPS Act of 2022 includes provisions for semiconductor manufacturing grants, research investments, and an investment tax credit specifically tailored for chip manufacturing. These measures aim to incentivize and support the growth of the domestic semiconductor industry. Additionally, the Semiconductor Industry Association (SIA) advocates for the implementation of an investment tax credit for semiconductor design, further bolstering the sector's development. By enacting these measures, the US government aims to reclaim its position as a global leader in semiconductor manufacturing and design. The CHIPS Act of 2022 represents a crucial step towards revitalizing the country's chip industry, ensuring its long-term competitiveness, and safeguarding its economic and national security interests.
REGIONAL COVERAGE:
North America
Europe
Eastern Europe

Poland

Romania

Hungary

Turkey

Rest of Eastern Europe

Western Europe

Germany

France

UK

Italy

Spain

Netherlands

Switzerland

Austria

Rest of Western Europe
Asia Pacific
China

India

Japan

South Korea

Vietnam

Singapore

Australia

Rest of Asia Pacific
Middle East & Africa
Middle East

UAE

Egypt

Saudi Arabia

Qatar

Rest of the Middle East

Africa

Nigeria

South Africa

Rest of Africa
Latin America
Brazil

Argentina

Colombia

Rest of Latin America
Key Players
The major key players are Infineon Technologies AG, L3Harris Technologies, QUALCOMM, Intel Corp., NXP Semiconductors, Inc., Kioxia Holdings Corp., Advanced Micro Devices, Inc., Micron Technology Inc., Samsung Electronics Co. Ltd., STMicroelectronics N.V., Texas Instruments Inc., and other key players mentioned in the final report.
Recent Development:
In June 2023, Advanced Micro Devices (AMD) unveiled its latest artificial intelligence chip, the MI300X, as part of its ongoing competition with chipmaker Nvidia. This advanced chip is set to revolutionize the field of AI-powered business tools.

In April 2023, Infineon Technologies AG and Schweizer Electronic AG joined forces to develop an innovative solution aimed at enhancing the efficiency of silicon carbide (SiC) chips. Their collaborative effort focuses on embedding Infineon's high-performance 1200 V CoolSiC™ chips directly onto printed circuit boards (PCBs). This breakthrough technology not only extends the range of electric vehicles but also reduces overall system costs.

In Jan 2023, NXP Semiconductors introduced a 28nm RFCMOS radar one-chip IC family. This pioneering development caters to the needs of next-generation Advanced Driver Assistance Systems (ADAS) and autonomous driving systems, marking a significant milestone in the industry.

In Aug 2022, Intel Corporation made an announcement regarding its Semiconductor Co-Investment Program (SCIP). This unique initiative introduces a novel funding model to the capital-intensive semiconductor industry, revolutionizing the way investments are made in this sector.
Semiconductor Chip Market Report Scope:
Report Attributes
Details
Market Size in 2022
US$ 590.5 Bn
Market Size by 2030
US$ 1125.78 Bn
CAGR
CAGR of 8.4% From 2023 to 2030
Base Year
2022
Forecast Period
2023-2030
Historical Data
2020-2021
Report Scope & Coverage
Market Size, Segments Analysis, Competitive Landscape, Regional Analysis, DROC & SWOT Analysis, Forecast Outlook
Key Segments
• By Type (Logic Chips, Memory Chips, Analog Chips, Complex Systems-on-a-Chip, and Application-Specific Integrated Chips (ASICs))
• By End-use (Automotive, Computing, Consumer Electronics, Wireless Communication, Industrial, Military, and Others)
Regional Analysis/Coverage
North America (US, Canada, Mexico), Europe (Eastern Europe [Poland, Romania, Hungary, Turkey, Rest of Eastern Europe] Western Europe] Germany, France, UK, Italy, Spain, Netherlands, Switzerland, Austria, Rest of Western Europe]). Asia Pacific (China, India, Japan, South Korea, Vietnam, Singapore, Australia, Rest of Asia Pacific), Middle East & Africa (Middle East [UAE, Egypt, Saudi Arabia, Qatar, Rest of Middle East], Africa [Nigeria, South Africa, Rest of Africa], Latin America (Brazil, Argentina, Colombia Rest of Latin America)
Company Profiles
Infineon Technologies AG, L3Harris Technologies, QUALCOMM, Intel Corp., NXP Semiconductors USA, Inc., Kioxia Holdings Corp., Advanced Micro Devices, Inc., Micron Technology Inc., Samsung Electronics Co. Ltd., STMicroelectronics N.V., Texas Instruments Inc.
Key Drivers
• Deployment of 5G networks and growing adoption of the Internet of Things (IoT)
• Increasing demand for consumer electronics
Market Restraints
• Increasing complexity and cost associated with developing advanced semiconductor chips