Report Scope & Overview:
The Grid-Scale Battery Market size was valued at USD 7.85 billion in 2022 and is expected to grow to USD 38.77 billion by 2030 and grow at a CAGR of 22.1% over the forecast period of 2023-2030.
A grid-scale battery, also known as a utility-scale battery, is a large-scale energy storage system designed to support and stabilize electrical grids. It plays a crucial role in the integration of renewable energy sources, into the existing power infrastructure. The primary function of a grid-scale battery is to store excess electricity generated during periods of low demand and release it during peak demand periods. This helps to balance the supply and demand of electricity, ensuring a reliable and stable power supply for consumers.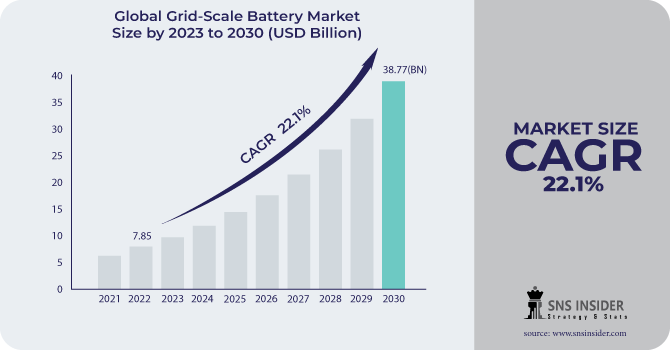 To get more information on Grid-Scale Battery Market - Request Sample Report
Grid-scale batteries are typically composed of multiple battery modules, which are interconnected to form a single energy storage system. These modules are often based on lithium-ion technology, known for its high energy density and long cycle life. However, other technologies like flow batteries and sodium-ion batteries are also being explored for grid-scale applications. One of the key advantages of grid-scale batteries is their ability to provide fast response times. They can rapidly inject power into the grid or absorb excess power, helping to maintain grid stability and prevent blackouts. Additionally, grid-scale batteries can also provide ancillary services, such as frequency regulation and voltage support, further enhancing the reliability and efficiency of the electrical grid.
The market for grid-scale batteries has witnessed significant advancements in recent years, driven by the increasing adoption of renewable energy sources and the growing demand for sustainable power solutions. As the world transitions towards a cleaner and greener future, the need for efficient energy storage becomes paramount. One of the key drivers of this market is the declining costs of battery technologies. The prices of lithium-ion batteries, which are widely used in grid-scale applications, have been steadily decreasing, making them more economically viable. Additionally, advancements in battery chemistry and manufacturing processes have led to improved performance and longer lifespans, further bolstering the market's growth.
Market Dynamics
Drivers
Growing demand for renewable energy sources

Increasing adoption of electrical vehicles
The rising popularity of electric vehicles has significantly contributed to the growth and development of the Grid-Scale Battery Market. As more and more individuals and businesses transition towards electric vehicles, the demand for efficient and reliable energy storage solutions has surged. This demand stems from the need to effectively manage the charging and discharging of electric vehicle batteries, ensuring a seamless and uninterrupted power supply. Grid-scale batteries play a crucial role in supporting the widespread adoption of electric vehicles. By integrating grid-scale batteries into the power infrastructure, the stability, and reliability of the electrical grid are enhanced, enabling a smoother transition to electric vehicles.
Restrain
One of the primary obstacles hindering the growth of the Grid-Scale Battery Market is the substantial initial investment needed for installing grid-scale batteries. The high initial investment required encompasses various aspects, including the purchase of battery units, installation infrastructure, and necessary control systems. Additionally, the costs associated with site preparation, grid connection, and maintenance further contribute to the overall financial burden.
Opportunities
Development of flow batteries and solid-state batteries

Integration of grid-scale batteries with smart grid infrastructure
The integration of grid-scale batteries with smart grid infrastructure presents significant opportunities for the Grid-Scale Battery market. Grid-scale batteries are typically connected to the power grid and play a crucial role in stabilizing the grid's supply-demand dynamics. The integration of grid-scale batteries with smart grid infrastructure creates various benefits. Firstly, the integration enables better management of renewable energy sources. As the world increasingly shifts towards clean and sustainable energy, the intermittent nature of renewable sources like solar and wind poses challenges for grid stability. Secondly, the integration enhances grid resilience and reliability. Grid-scale batteries act as a buffer, absorbing excess electricity during times of low demand and releasing it during peak demand or in case of sudden power outages. This helps prevent blackouts and ensures a stable power supply, even during unforeseen events or natural disasters.
Challenges
Impact of Russia-Ukraine War:
The conflict has disrupted supply chains, causing delays in the production and delivery of grid-scale batteries. Many battery manufacturers rely on components and materials sourced from both Russia and Ukraine. The war has led to transportation disruptions, trade restrictions, and increased costs, hampering the smooth functioning of the market.
The war has highlighted the vulnerability of energy infrastructure, leading to a surge in demand for energy security measures. Grid-scale batteries, with their ability to store and distribute electricity, have emerged as a crucial solution to ensure uninterrupted power supply during times of conflict or geopolitical instability. This increased demand presents an opportunity for the grid-scale battery market to expand its reach and cater to the growing need for energy security.
Impact of Recession:
The decline in consumer spending has led to a decrease in demand for grid-scale batteries. The recession has impacted the supply chain of grid-scale battery manufacturers. With reduced demand, manufacturers have been forced to scale back production, leading to a surplus of raw materials and components. This surplus has resulted in increased inventory costs and reduced profitability. Additionally, the disruption in global trade caused by the recession has further complicated the supply chain, making it difficult for manufacturers to source necessary materials and components.
Market segmentation
By Type
Lead-acid

Sodium-based

Lithium-ion

Redox Flow

Others
By Ownership
Third-Party Owned

Utility Owned
By Application
Renewables Integration

Ancillary Services

Backup Power

Peak Shifting

Others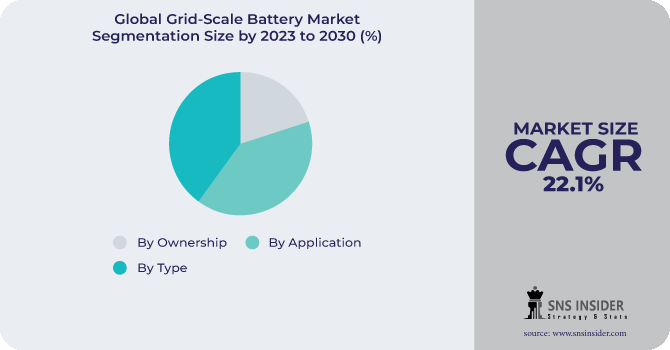 To Get Customized Report as per your Business Requirement - Request For Customized Report
Regional Analysis
North America dominated the Grid-Scale Battery Market and is expected to lead the market during the forecast period. North America boasts a well-established electricity grid system, making it an ideal market for grid-scale battery installations. This infrastructure provides a solid foundation for integrating renewable energy sources, such as solar and wind power, into the grid. Furthermore, North America has witnessed remarkable advancements in battery technologies, enabling the development of high-capacity and efficient grid-scale batteries. These solutions offer enhanced energy storage capabilities, enabling utilities to better manage peak demand periods, stabilize the grid, and ensure a reliable power supply.
REGIONAL COVERAGE:
North America
Europe
Eastern Europe

Poland

Romania

Hungary

Turkey

Rest of Eastern Europe

Western Europe

Germany

France

UK

Italy

Spain

Netherlands

Switzerland

Austria

Rest of Western Europe
Asia Pacific
China

India

Japan

South Korea

Vietnam

Singapore

Australia

Rest of Asia Pacific
Middle East & Africa
Middle East

UAE

Egypt

Saudi Arabia

Qatar

Rest of Middle East

Africa

Nigeria

South Africa

Rest of Africa
Latin America
Brazil

Argentina

Colombia

Rest of Latin America
Key Players
The major key players are NGK Insulators, LTD., Samsung SDI CO., LTD., General Electric, BYD Company Ltd, Ambri Incorporated, VRB Energy, 24M Technologies, Inc., Redflow Limited, KORE Power, Inc., Lockheed Martin Corporation, and other key players mentioned in the final report
General Electric-Company Financial Analysis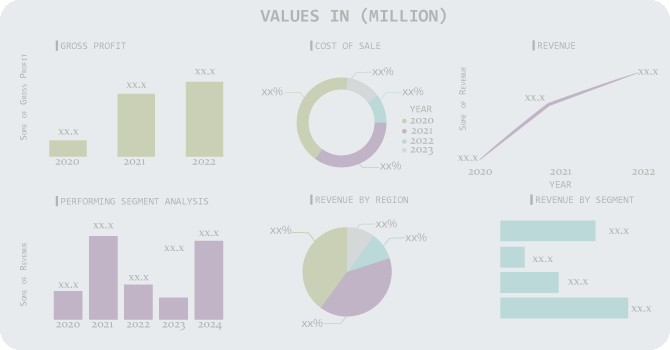 Recent Development:
On April 14, 2023, 24M announced that they have received a contract of $3.8 million from the United States Advanced Battery Consortium LLC (USABC). This exciting two-year project, with a 50 percent cost share, will be dedicated to the development of an innovative and affordable EV battery technology that enables fast-charging capabilities.
Grid-Scale Battery Market Report Scope:
Report Attributes
Details
Market Size in 2022
US$ 7.85 Bn
Market Size by 2030
US$ 38.77 Bn
CAGR
CAGR of 22.1% From 2023 to 2030
Base Year
2022
Forecast Period
2023-2030
Historical Data
2020-2021
Report Scope & Coverage
Market Size, Segments Analysis, Competitive Landscape, Regional Analysis, DROC & SWOT Analysis, Forecast Outlook
Key Segments
• By Type (Lead-acid, Sodium-based, Lithium-ion, Redox Flow, and Others)
• By Ownership (Third-Party Owned and Utility Owned)
• By Application (Renewables Integration, Ancillary Services, Backup Power, Peak Shifting, and Others)
Regional Analysis/Coverage
North America (US, Canada, Mexico), Europe (Eastern Europe [Poland, Romania, Hungary, Turkey, Rest of Eastern Europe] Western Europe] Germany, France, UK, Italy, Spain, Netherlands, Switzerland, Austria, Rest of Western Europe]). Asia Pacific (China, India, Japan, South Korea, Vietnam, Singapore, Australia, Rest of Asia Pacific), Middle East & Africa (Middle East [UAE, Egypt, Saudi Arabia, Qatar, Rest of Middle East], Africa [Nigeria, South Africa, Rest of Africa], Latin America (Brazil, Argentina, Colombia Rest of Latin America)
Company Profiles
NGK Insulators, LTD., Samsung SDI CO., LTD., General Electric, BYD Company Ltd, Ambri Incorporated, VRB Energy, 24M Technologies, Inc., Redflow Limited, KORE Power, Inc., Lockheed Martin Corporation
Key Drivers
• Growing demand for renewable energy sources
• Increasing adoption of electrical vehicles
Market Restraints
• High initial investment required for grid-scale battery installations