Report Scope & Overview:
The High-Performance Liquid Chromatography Market size was valued at USD 4.52 billion in 2022 and is expected to grow to USD 7.25 billion by 2030 and grow at a CAGR of 6.1% over the forecast period of 2023-2030.
The HPLC market has experienced substantial growth due to its wide range of applications in pharmaceuticals, biotechnology, food and beverage, environmental analysis, and other sectors. The technique's ability to provide precise and sensitive analysis has made it an indispensable tool for researchers and scientists worldwide. Several factors contribute to the growth of the HPLC market. Firstly, the rising need for drug discovery and development, coupled with stringent regulatory requirements, has fueled the demand for HPLC systems in the pharmaceutical industry. Additionally, the increasing focus on quality control and assurance in the food and beverage industry has led to the adoption of HPLC for analyzing contaminants and ensuring product safety.
Moreover, the expanding applications of HPLC in environmental analysis, such as monitoring water quality and detecting pollutants, have further propelled market growth. Furthermore, advancements in technology, such as the development of high-resolution HPLC systems and improved column efficiency, have enhanced the performance and efficiency of HPLC instruments, driving their adoption across various industries. Geographically, North America dominates the HPLC market, owing to the presence of a well-established pharmaceutical industry and stringent regulatory standards. The region's focus on research and development activities, coupled with the increasing demand for advanced analytical techniques, has contributed to its market leadership. Europe holds a significant share of the HPLC market, driven by the presence of major pharmaceutical companies and a strong emphasis on quality control in the food and beverage industry.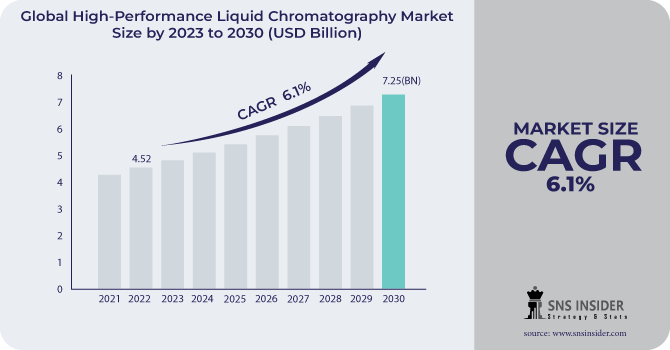 High-performance liquid chromatography (HPLC) is employed to separate, identify, and quantify components of complex mixtures with high precision and accuracy. The principle behind HPLC involves the separation of compounds based on their interaction with a stationary phase and a mobile phase. The stationary phase is typically a solid material, known as the column, which is packed with small particles. The mobile phase, on the other hand, is a liquid solvent that carries the sample through the column. As the sample passes through the column, different components interact differently with the stationary phase, resulting in their separation. HPLC offers several advantages over other chromatographic techniques. Firstly, it provides high resolution, allowing for the separation of closely related compounds. Secondly, it offers excellent sensitivity, enabling the detection and quantification of trace amounts of analytes. Additionally, HPLC is highly versatile, as it can be used to analyze a wide range of compounds, including small molecules, proteins, and nucleic acids.
The applications of HPLC are vast and diverse. In the pharmaceutical industry, HPLC is utilized for drug development, quality control, and pharmacokinetic studies. Environmental scientists rely on HPLC to analyze pollutants in water, soil, and air samples. Forensic laboratories employ HPLC to detect and quantify drugs, toxins, and other substances in biological samples. Moreover, HPLC plays a crucial role in ensuring the safety and quality of food and beverages by detecting contaminants and monitoring the levels of additives and preservatives.
Market Dynamics
Drivers
Rising focus on research and development activities in various industries

Development of automated systems and improved detection methods

Growing demand for biotechnology and pharmaceutical products
The primary reason for the increasing demand for HPLC is the expanding market for pharmaceutical and biotechnology products. As the global population continues to grow, so does the need for effective medications and innovative biotech solutions. HPLC plays a vital role in the development, production, and quality control of these products. Moreover, HPLC offers several advantages over other analytical methods. It provides excellent sensitivity, allowing for the detection of even trace amounts of substances. Additionally, it offers a wide range of applications, from drug discovery and development to quality control and regulatory compliance.
Restrain
High cost associated with HPLC instruments and consumables

Complexity of HPLC analysis
Opportunities
Growing focus on precision medicine

Rising adoption of HPLC in emerging economies

Increasing demand for personalized medicine
Personalized medicine refers to the tailoring of medical treatments to individual patients based on their unique genetic makeup, lifestyle, and environmental factors. This approach allows for more precise and effective treatments, minimizing adverse reactions and optimizing patient outcomes. As personalized medicine gains traction, the need for advanced analytical techniques, such as HPLC, becomes increased. One of the key drivers behind the increasing demand for personalized medicine is the advancements in genomics and proteomics. These fields have enabled researchers to identify specific genetic markers and biomarkers associated with various diseases. By analyzing these markers, healthcare professionals can determine the most suitable treatment options for individual patients. HPLC, with its high sensitivity and resolution, allows for the precise analysis of these markers, aiding in the development of personalized treatment plans.
Challenges
Need for skilled professionals to operate and maintain the instruments

Time-consuming and labor-intensive sample preparation process
Impact of Russia-Ukraine War:
The conflict has disrupted the supply chain of HPLC instruments and consumables, leading to delays in production and delivery. Many manufacturers and suppliers are located in the affected regions, making it difficult to ensure a steady flow of products to customers worldwide. The war has resulted in increased transportation costs, as well as higher import and export tariffs. These additional expenses have put a strain on the HPLC market, making it more challenging for businesses to maintain profitability. The political instability caused by the conflict has created an atmosphere of uncertainty, making it difficult for businesses to plan for the future. Investment decisions and long-term strategies have been put on hold, further impacting the growth and development of the HPLC market.
Impact of Recession:
Ongoing recessions have far-reaching consequences across industries. The HPLC market is not immune to these effects, as it heavily relies on the financial stability and investment capacity of its end users. During recessions, companies often face financial constraints, leading to reduced research and development budgets, directly impacting the demand for HPLC instruments and consumables. One of the primary consequences of a recession on the HPLC market is a decline in sales. As companies reduced their spending and prioritize cost-cutting measures, investments in new HPLC equipment may be postponed or canceled altogether. This reduction in demand can cascade effects on manufacturers, distributors, and suppliers within the HPLC industry, leading to decreased revenues and potential layoffs.
Market segmentation
By Product
Normal-phase HPLC Columns

Reverse-phase HPLC Columns

Size Exclusion HPLC Columns

Ion Exchange HPLC Columns

Other HPLC Columns
HPLC Systems

Detectors

Pumps

Others
By Application
Forensic

Clinical Research

Diagnostic

Other
By End-user
Academic & Research Institutions

Pharmaceutical & Biotechnology Companies

Others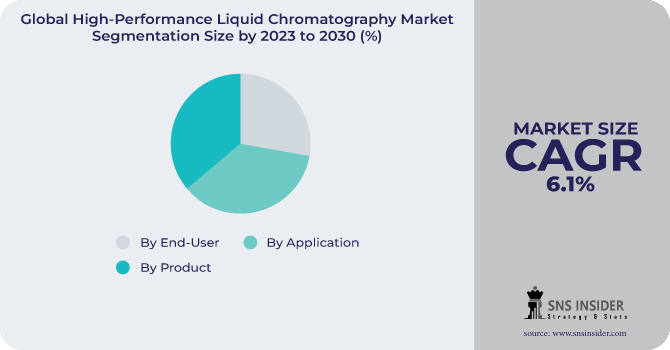 Regional Analysis
North America is the leading region in the High-Performance Liquid Chromatography Market comprising the United States and Canada, major players which drive this expansion. One key factor behind North America's dominance in the HPLC market is its robust research and development (R&D) infrastructure. The region boasts world-class universities, research institutions, and pharmaceutical companies that have made substantial investments in HPLC technology. This has resulted in the development of cutting-edge instruments, columns, and consumables, thereby enhancing the overall performance and efficiency of HPLC systems. In addition, Regulatory bodies such as the U.S. Food and Drug Administration (FDA) and Health Canada have stringent quality control requirements, necessitating the use of reliable and accurate analytical techniques like HPLC. As a result, pharmaceutical companies in the region have embraced HPLC as a standard practice, driving the demand for HPLC instruments and consumables.
Another contributing factor is the presence of a well-established customer base in North America. The region is home to a vast array of industries, including pharmaceuticals, biotechnology, food and beverages, environmental analysis, and forensics, all of which heavily rely on HPLC for their analytical needs. The diverse range of applications has created a substantial market for HPLC products, further solidifying North America's position as the market leader. Moreover, North America's strong economic growth and high disposable income levels have facilitated increased investment in advanced analytical technologies. This has allowed laboratories and research facilities to upgrade their HPLC systems, leading to a surge in demand for newer, more sophisticated instruments.
Asia Pacific is expected to grow with the highest CAGR during the forecast period in High-Performance Liquid Chromatography Market. The region's expanding pharmaceutical and biotechnology sectors are driving the demand for HPLC systems. These industries require accurate and efficient analysis of drug compounds, biomolecules, and other substances, which HPLC can provide. Moreover, the rising awareness regarding food safety and quality control is propelling the growth of the HPLC market in this region. With a growing population and changing dietary preferences, there is a greater emphasis on ensuring the safety and authenticity of food products. HPLC enables precise analysis of contaminants, additives, and nutritional components, making it an indispensable tool for food and beverage manufacturers. Furthermore, the Asia-Pacific region is witnessing rapid industrialization and urbanization, resulting in increased environmental concerns. HPLC plays a vital role in environmental analysis, enabling the detection and quantification of pollutants, pesticides, and other harmful substances.
REGIONAL COVERAGE:
North America
Europe
Eastern Europe

Poland

Romania

Hungary

Turkey

Rest of Eastern Europe

Western Europe

Germany

France

UK

Italy

Spain

Netherlands

Switzerland

Austria

Rest of Western Europe
Asia Pacific
China

India

Japan

South Korea

Vietnam

Singapore

Australia

Rest of Asia Pacific
Middle East & Africa
Middle East

UAE

Egypt

Saudi Arabia

Qatar

Rest of Middle East

Africa

Nigeria

South Africa

Rest of Africa
Latin America
Brazil

Argentina

Colombia

Rest of Latin America
Key Players
The major key players are Thermo Fisher Scientific, Inc., Sartorius AG, Waters Corporation, PerkinElmer, Inc., Bio-Rad Laboratories, Inc., Agilent Technologies, Inc., Shimadzu Corporation, Merck KGaA, Tosoh Bioscience GmbH, and Gilson, Inc., and other key players mentioned in the final report.
Recent Development:
In April 2023, Thermo Fisher Scientific introduced new low-flow HPLC columns specifically designed for proteomic research. These innovative columns, known as Thermo Scientific µPAC Neo HPLC Columns, offer enhanced separation performance and stability when analyzing biologically complex samples.

In March 2023, Waters Corporation launched Alliance iS, an advanced HPLC system that represents the next generation of intelligent technology. This system aims to minimize compliance risk by incorporating proactive error detection, troubleshooting capabilities, and user-friendly features, ensuring a seamless and efficient analytical experience.
High-Performance Liquid Chromatography Market Report Scope:
Report Attributes
Details
Market Size in 2022
US$ 4.52 Bn
Market Size by 2030
US$ 7.25 Bn
CAGR
CAGR of 6.1% From 2023 to 2030
Base Year
2022
Forecast Period
2023-2030
Historical Data
2020-2021
Report Scope & Coverage
Market Size, Segments Analysis, Competitive Landscape, Regional Analysis, DROC & SWOT Analysis, Forecast Outlook
Key Segments
• By Product (Consumable, Accessories, Instruments, and Software)
• By Application (Forensic, Clinical Research, Diagnostic, and Other)
• By End-user (Academic & Research Institutions, Pharmaceutical & Biotechnology Companies, and Others)
Regional Analysis/Coverage
North America (US, Canada, Mexico), Europe (Eastern Europe [Poland, Romania, Hungary, Turkey, Rest of Eastern Europe] Western Europe] Germany, France, UK, Italy, Spain, Netherlands, Switzerland, Austria, Rest of Western Europe]). Asia Pacific (China, India, Japan, South Korea, Vietnam, Singapore, Australia, Rest of Asia Pacific), Middle East & Africa (Middle East [UAE, Egypt, Saudi Arabia, Qatar, Rest of Middle East], Africa [Nigeria, South Africa, Rest of Africa], Latin America (Brazil, Argentina, Colombia Rest of Latin America)
Company Profiles
Thermo Fisher Scientific, Inc., Sartorius AG, Waters Corporation, PerkinElmer, Inc., Bio-Rad Laboratories, Inc., Agilent Technologies, Inc., Shimadzu Corporation, Merck KGaA, Tosoh Bioscience GmbH, and Gilson, Inc
Key Drivers
• Rising focus on research and development activities in various industries
• Development of automated systems and improved detection methods
Market Restraints
• High cost associated with HPLC instruments and consumables
• Complexity of HPLC analysis