Report Scope & Overview:
The Infusion Pump Software Market Size was valued at USD 924.28 million in 2022, and is expected to reach USD 1660 million by 2030 and grow at a CAGR of 7.6% over the forecast period 2023-2030.
The infusion pump is a piece of equipment used in the process of giving patients fixed and controlled doses of fluids, including medications and nutrients. Insulin, antibiotics, chemotherapeutic treatments, and other drugs are among the medications and nutrients. The professionals who created the software interface and programmed the rate and duration of fluid flow often operate it. Utilizing the infusion pump software improves infusion management, lowers costs, and increases vehicle safety. It is commonly used in hospitals and ambulatory facilities.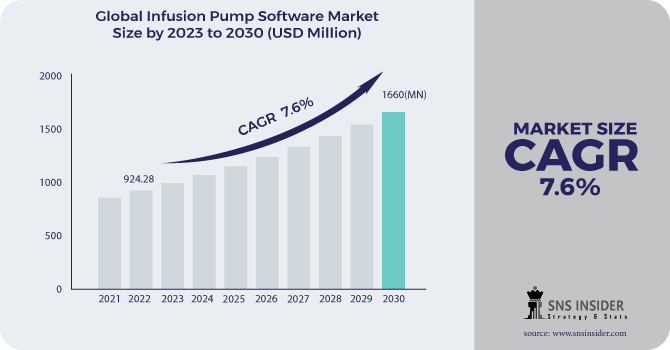 To get more information on Infusion Pump Software Market - Request Sample Report
They can be divided into two categories: 1) stationary purposes and 2) portable purposes.
Infusion pumps used in hospitals are stationary devices that cannot be transferred from one location to another. Travelers use portable infusion pumps because they are portable and can be used for home healthcare. Because patients who are taking medication need restricted and precise amounts, infusion pumps are used to provide painkillers, fluids, chemotherapeutic medications, and insulin.
These pumps are also employed in the management of diabetes and chronic illnesses. If we look at the statistics from the last few years, we can see that the prevalence rates of chronic diseases are rising and that technological advancements have contributed to the improvement of the healthcare industry. As a result, infusion pumps will be used more frequently.
MARKET DYNAMICS:
DRIVERS
Chronic Disease Incidence Is Rising, and the Geriatric Population Is Growing Quickly

Increasing Number of Surgical Operations

Increasing Demand for Infusion Pumps for Ambulatory and Home Care

Technological innovations
RESTRAINTS
OPPORTUNITIES
Emerging Markets Still Untapped

Specialty Infusion Systems are becoming more popular
CHALLENGES
IMPACT OF COVID-19
The global COVID-19 epidemic and the ensuing lockout have caused the healthcare market to continue to decline. Aside from affecting communities, COVID-19 had devastating effects on the major world economies, particularly the healthcare industry. Important parties are continuing to modify their tactics in response to the fast-shifting circumstances. The healthcare sector is expected to see severe long-term effects from COVID-19. Until the problem is resolved, significant players and nations would need to make important healthcare adjustments.
Remote diagnosis, treatment, and consultation were emphasized once more in COVID-19. Growth in Telehealth has been delayed over the last few years by legislative and behavioural obstacles. However, due to the fact that many healthcare providers are currently developing video conferencing and phone calls, this market's growth will multiply many times over the next two years. Patients with mild symptoms were also required to consult online as part of the social distancing policies. Additionally, it significantly lessens the strain on hospitals, who are already overburdened with COVID-19 patient counts. Medical IoT devices that reside at home with patients are currently employed to maximize outpatient therapy and reduce recurrent visits, and these devices can even be used in a crisis situation.
Extreme resource shortages were caused by the pandemic. Future market growth is anticipated to be accelerated by the creation of value-based pricing models and competitive pricing strategies. Due to these characteristics, COVID 19 is anticipated to have a substantial effect on the market for infusion pump software.
BY Type
The Dose Error Reduction Software (DERS), Clinical Workflow Software, Interoperability Software, and Other Software segments make up the infusion pump software industry. In the time of forecasting, the DERS segment is anticipated to rule the market. The medication library that comes with the infusion pump is used by DERS to carry out its functions. This programmed provides cutting-edge safety measures for infusion pumps, and as a result, it is predicted that its market will expand as more people use infusion pumps to provide medication incorrectly.
By Indication type
It is common practise to test drinking water quality, check for pesticides, and evaluate soil samples for contamination using infusion pump software. The general infusion, pain & anaesthetic management, insulin infusion, chemotherapy, enteral infusion, and others segments of the infusion pump software indications market are subdivided. During the projection period, it is anticipated that the general infusion category will hold the greatest share of the market. Due of infusion systems' ability to provide medications to patients safely and effectively for a variety of general health issues, a significant portion of this market can be attributed to them.
KEY MARKET SEGMENTS:
BY Type
Dose Error Reduction Software (DERS)

Interoperability Software

Clinical Workflow Software
By Indication type
By End User
Hospitals

Ambulatory Centers Settings

Home Healthcare Settings

Academic & Research Institutes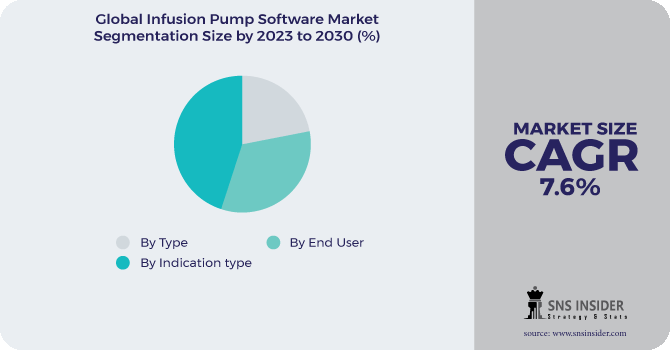 Need any customization research on Infusion Pump Software Market - Enquiry Now
REGIONAL ANALYSIS
One of the key markets is in North America. The rising revenue opportunities are in part due to the vibrant regulatory environments found in nations like the U.S. The U.S. FDA's supervision of the software development cycle and system-level testing has significantly accelerated innovation in the North American infusion pump software sector. In the global market for infusion pump software, Asia Pacific is starting to emerge as a potentially lucrative region. Product advances in the market during the past several years have been sparked by the rise in the deployment of smart infusion pumps in various clinical settings, particularly in acute care. Regarding patient safety when using these gadgets, healthcare professionals have grown more cautious. The development of the regional market is being aided by improvements made in the healthcare infrastructure of Asian countries.
REGIONAL COVERAGE
North America

Europe

Germany

UK

France

Italy

Spain

The Netherlands

Rest of Europe

Asia-Pacific

Japan

south Korea

China

India

Australia

Rest of Asia-Pacific

The Middle East & Africa

Latin America

Brazil

Argentina

Rest of Latin America
KEY PLAYERS:
Some of the major key players are as follows: Agilent Technologies, B Braun Melsungen AG, Fresenius Kabi, ICU Medical Inc., Roche Diagnostics, Micrel Medical Devices, Baxter International Inc., Medtronic Plc., Becton Dickinson and Company, Terumo Corporation and Other Players
Infusion Pump Software Market Report Scope:
Report Attributes
Details
Market Size in 2022
US$ 924.48 Million
Market Size by 2030
US$ 1434.5 Million
CAGR
CAGR of 7.6% From 2023 to 2030
Base Year
2022
Forecast Period
2023-2030
Historical Data
2020-2021
Report Scope & Coverage
Market Size, Segments Analysis, Competitive Landscape, Regional Analysis, DROC & SWOT Analysis, Forecast Outlook
Key Segments
• BY Type (Dose Error Reduction Software (DERS), Interoperability Software, Clinical Workflow Software)
• By Indication type (General Infusion, Pain and Anesthesia Management, Insulin Infusion, Chemotherapy, Enteral Infusion)
• By End User (Hospitals, Ambulatory Centers Settings, Home Healthcare Settings, Academic & Research Institutes)
Regional Analysis/Coverage
North America (USA, Canada, Mexico), Europe
(Germany, UK, France, Italy, Spain, Netherlands,
Rest of Europe), Asia-Pacific (Japan, South Korea,
China, India, Australia, Rest of Asia-Pacific), The
Middle East & Africa (Israel, UAE, South Africa,
Rest of Middle East & Africa), Latin America (Brazil, Argentina, Rest of Latin America)
Company Profiles
Agilent Technologies, B Braun Melsungen AG, Fresenius Kabi, ICU Medical Inc., Roche Diagnostics, Micrel Medical Devices, Baxter International Inc., Medtronic Plc., Becton Dickinson and Company, Terumo Corporation.
DRIVERS
• Chronic Disease Incidence Is Rising, and the Geriatric Population Is Growing Quickly
• Increasing Number of Surgical Operations
• Increasing Demand for Infusion Pumps for Ambulatory and Home Care
RESTRAINTS
• Infusion Pumps are frequently subject to product recalls