REPORT SCOPE & OVERVIEW
The Single-cell Analysis Market size was estimated USD 3.8 billion in 2022 and is expected to reach USD 14.4 billion by 2030 at a CAGR of 18.2% during the forecast period of 2023-2030.
Single-cell analysis, which involves the study of single-cell genomes, transcriptomes, proteomes, and metabolomes, and it is used in cancer research and the treatment of a wide range of chronic and infectious diseases. It is helpful for disclosing population, locating relevant market subpopulations, finding distinctive qualities of particular cells, and discovering heterogeneity.
The outbreak has led to a widespread adoption of SCA approaches in virology research. Researchers are using the samples from the COVID-19 biobanks for performing analysis to comprehend the profiles of infected patients in order to understand the immune response and the long-term impact of infections. For example, in 2022, scientists from The Human Cell Atlas Lung Biological Network and The NHLBI LungMap Consortium conducted a single-cell meta-analysis on 1,520,856 cells from 257 humans. The purpose of this work was to comprehend the SARS-CoV-2 entrance genes across demographics.
MARKET DYNAMICS
DRIVERS
Finding cancer-related biomarkers requires a strong focus on single-cell analysis. According to GLOBOCAN By 2040, there will be almost 30 million new cases of cancer. Diverse cell populations within a tumor characterize cancer as a highly heterogeneous disease. Researchers can analyze individual cancer cells at the molecular level using single-cell analysis to break down this heterogeneity. Researchers are able to fully comprehend the variety of tumors by investigating gene expression, genetic alterations, and other biological traits at the single-cell level.
RESTRAIN
The high expense of single-cell biology research to maintain high standards (the use of expensive, high-grade materials) and follow the rules established by regulatory agencies is anticipated to restrain market expansion. Budget restrictions make it difficult for research and academic laboratories to afford such pricey tools. The overall cost is also increased as a result of the maintenance charges and various other indirect expenses.
OPPORTUNITY
The remarkable resolution provided by single-cell sequencing enables researchers to visualize the cellular heterogeneity found in complex biological systems. Single-cell sequencing makes it possible to identify and analyze individual cells, in contrast to conventional bulk sequencing techniques that produce averaged findings. Researchers can now find uncommon cell Applications because to this better resolution. Discovering subpopulations and investigating dynamic cellular states will help to understand biological processes and disease mechanisms better.
CHALLENGES
Cell isolation, sample preparation, data analysis, and other procedures are all included in single-cell analysis. The lack of established methodologies across many platforms and facilities causes experimentation to vary and be inconsistent. Due to this, it is difficult to compare and integrate data from many studies, which hinders reproducibility and data sharing. Gene expression patterns, genetic variants, and phenotypic information at the individual cell level are just a few of the huge and intricate datasets produced by single-cell analysis. The different experimental setups, technologies, and analysis pipelines make it difficult to integrate and compare these datasets across investigations. To fully utilize single-cell analysis and enable meaningful cross-study comparisons, it is essential to harmonize data from various platforms and sources.
IMPACT OF RUSSIAN UKRAINE WAR
Ukrainian centers and research sites have gained invaluable experience in the logistics and ethics of continuing clinical research work in times of conflict. Dnipro State Medical University, for example, located relatively close to the front line that arcs up from Kherson in the south, through the Donbas, and ends further north, near Kharkiv, has treated approximately 200 patients in 28 clinical trials with over 3000 completed patient visits and 100% source data verification since the conflict began. The cancer center has learned vital lessons for doing clinical cancer research in high-risk contexts, which are applicable to many conflict-affected countries around the world, including the MENA region. 'The European Cancer Organisation American Society for Clinical Oncology (E.C.O - ASCO) Special Network on the Impact of the Ukrainian War on Cancer (E.C.O - ASCO) has promised its support in addressing this difficulty. As we evaluate how to best support clinical research in Ukraine and the integrity of research infrastructure in the region, the global oncology community must address these and other challenges urgently.
IMPACT OF ONGOING RECESSION
Urodynamic testing is the core of lower urinary tract dysfunction research. However, in the middle of the COVID-19 (coronavirus) pandemic, healthcare providers are adjusting to new urodynamics methods in order to maintain quality control in hospital settings. This has raised awareness among companies in the urodynamics equipment and disposables industry regarding the International Continence Society's (ICS) good urodynamics practice (GUD) guidelines. As a result, healthcare facilities are being closely monitored to prevent the spread of the unique virus due to a lack of hygiene, sanitization, and disinfection.
KEY SEGMENTS
By Product
In 2022, Consumables segment is expected to held the highest market share of 54.2% in during the forecast period due to high usage of isolation products, cell sorting beads are widely used, buffers and reWorkflows are frequently purchased, and there is an increasing need for assay kits. The rise in the incidence of the target disorders and the ongoing need for the supplies needed for the tests during research activities are propelling the segment's expansion.
By Workflow
In 2022, Single Cell Isolation & Library Preparation segment is expected to dominate the market share of 37.5% during the forecast period due to the need for kits and reWorkflows for cell isolation and library preparation has risen as a result of the wide range of SCA applications. Additionally, a sizable number of market participants are providing a variety of single-cell isolation products, including, to name a few, FACS and MACS for heterogeneous cell suspensions, microdissection of fixed tissue samples, flow cytometry, and microfluidics. This is helping this market segment grow in terms of revenue.
By Application
In 2022, the Cancer segment is expected to dominate the market share of 33.2% and also expected to be the fastest growing segment of the market with a CAGR of 19.87% during the forecast period. For accurately identifying cancer cells, single-cell analysis has shown to be useful. These techniques enable the rapid identification of genetic variation via cell growth settings, mutation rates, and cell applications. The American Cancer Society reports that, behind heart disease, cancer is the second most prevalent cause of death in the country. An estimated 1.93 million new instances of cancer are anticipated in the United States in 2022, according to cancer statistics. Therefore, it is expected that the rising incidence of cancer and the ongoing research and development in this area would have a beneficial effect on the expansion of the market.
By End User
Academic & Research Laboratories

Biotechnology & Pharmaceutical Companies

Hospitals & Diagnostic Laboratories

Others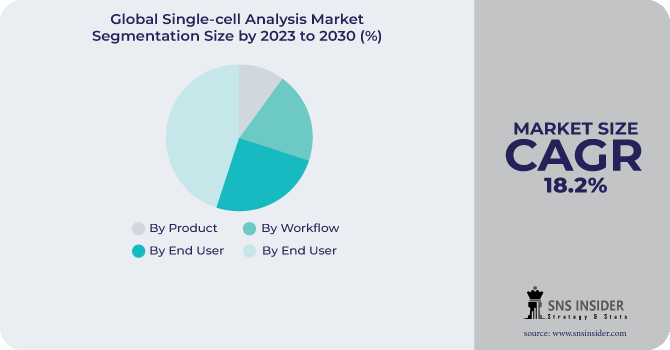 In 2022, the academic & research laboratories segment is expected to dominate the market growth of 73.7% during the forecast period because single-cell analysis technology is widely used in research settings. due to the widespread usage of single-cell analysis techniques in academic contexts. Its acceptance in 2022 has been prompted by the sizable number of active scientific research using SCA techniques at numerous colleges. Another important aspect influencing the market is the development of spatial genomics, which speeds up single-cell analysis in research activities. Additionally, creating new tools to address research limitations is propelling the industry. For example, in june 2022, researchers at Stony Brook University in New York created the single-cell cyclic multiplex in situ tagging (CycMIST) technology, a new biomedical research tool. Scientists can evaluate functioning proteins in a single cell using this method, which advances the fields of diagnosis and discovery.
REGIONAL COVERAGE
North America
Europe
Eastern Europe

Poland

Romania

Hungary

Turkey

Rest of Eastern Europe

Western Europe

Germany

France

UK

Italy

Spain

Netherlands

Switzerland

Austria

Rest of Western Europe
Asia Pacific
China

India

Japan

South Korea

Vietnam

Singapore

Australia

Rest of Asia Pacific
Middle East & Africa
Middle East

UAE

Egypt

Saudi Arabia

Qatar

Rest of Middle East

Africa

Nigeria

South Africa

Rest of Africa
Latin America
Brazil

Argentina

Colombia

Rest of Latin America
REGIONAL ANALYSES
North America held a significant market share growing with a CAGR of 35.8% in 2022. This can be attributed to a number of government funding initiatives, increased public knowledge of personal healthcare needs and costs, quicker adoption of novel analytical tools and procedures, and the availability of qualified employees, among other things. The rise of the industry in North America is mostly due to the U.S. For example, metabolomics research is supported by the American NIH (National Institutes of Health) through its Common Fund Programs. Previously, the NIH had used the same funds to support the single cell analysis program (SCAP). The existence of important market participants, the demand for tailored medications, and the region's exceptional healthcare infrastructure are some of the main drivers of regional growth.
Asia-Pacific is witness to expand fastest CAGR rate of 19.9% during the forecast period. The demand for cutting-edge diagnostic equipment in the developing countries of Asia Pacific has been fueled by the expanding medical industry, fast evolving healthcare systems, and rising elderly population. The region has experienced substantial growth as a result of concerted efforts and outsourcing.
Key Players
The major key players are Thermo Fisher Scientific, Inc., QIAGEN NV, Bio-Rad Laboratories Inc., Illumina Inc., Merck KGaA, Becton, Dickinson & Company, Fluidigm Corporation, 10x Genomics, Inc., BGI, Novogene Corporation, and Others.
RECENT DEVELOPMENT
Becton, Dikinson and Company, in May 2023, The BD FACSDiscover $8 Cell Sorter, a brand-new cell sorting device with two ground-breaking technologies, was introduced by Becton, Dikinson and Company. It enables researchers to find out more specific information about cells that was previously hidden in conventional flow cytometry experiments.
Merck KGaA, in June 2022, to enhance Process Analytical Technologies (PAT), Merck KGaA worked with Agilent Technologies. PAT is a crucial enabler for real-time release and Bioprocessing 4.0 and is widely advocated by international regulatory bodies.
Single-cell Analysis Market Report Scope:
Report Attributes
Details
Market Size in 2022
US$ 3.8 Billion
Market Size by 2030
US$ 14.4 Billion
CAGR
CAGR of 18.2% From 2023 to 2030
Base Year
2022
Forecast Period
2023-2030
Historical Data
2019-2021
Report Scope & Coverage
Market Size, Segments Analysis, Competitive Landscape, Regional Analysis, DROC & SWOT Analysis, Forecast Outlook
Key Segments
• By Product (Instruments, Consumables)
• By Workflow (Single Cell Isolation & Library Preparation, Downstream Analysis, Data Analysis)
• By Application (Cancer, Immunology, Neurology, Stem Cell, Non-Invasive Prenatal Diagnosis, In-Vitro Fertilization, Others)
• By End User (Academic & Research Laboratories, Biotechnology & Pharmaceutical Companies, Hospitals & Diagnostic Laboratories, Others)
Regional Analysis/Coverage
North America (US, Canada, Mexico), Europe (Eastern Europe [Poland, Romania, Hungary, Turkey, Rest of Eastern Europe] Western Europe] Germany, France, UK, Italy, Spain, Netherlands, Switzerland, Austria, Rest of Western Europe]), Asia Pacific (China, India, Japan, South Korea, Vietnam, Singapore, Australia, Rest of Asia Pacific), Middle East & Africa (Middle East [UAE, Egypt, Saudi Arabia, Qatar, Rest of Middle East], Africa [Nigeria, South Africa, Rest of Africa], Latin America (Brazil, Argentina, Colombia Rest of Latin America)
Company Profiles
Thermo Fisher Scientific, Inc., QIAGEN NV, Bio-Rad Laboratories Inc., Illumina Inc., Merck KGaA, Becton, Dickinson & Company, Fluidigm Corporation, 10x Genomics, Inc., BGI, Novogene Corporation
Key Drivers
• Increasing prevalence of cancer
Market Challenges
• Protocol standardization and data integration