Report Scope & Overview:
The 5G IoT Market size was valued at USD 4.77 Bn in 2022 and is expected to reach USD 364.35 Bn by 2030, and grow at a CAGR of 71.9% over the forecast period 2023-2030.
Because of the requirement for a quicker network with a larger capacity that can service connection needs, 5G is critical for the Internet of Things (IoT). The 5G spectrum increases the frequencies at which cellular technology may send and receive data. For broadband cellular networks, 5G is the fifth-generation technological standard. It is designed to increase wireless service speed, reduce latency, and increase flexibility. The potential top speed of 5G technology is 20 Gbps, but the highest speed of 4G is just 1 Gbps. 5G takes the connection to the next level by providing clients with cloud-based services.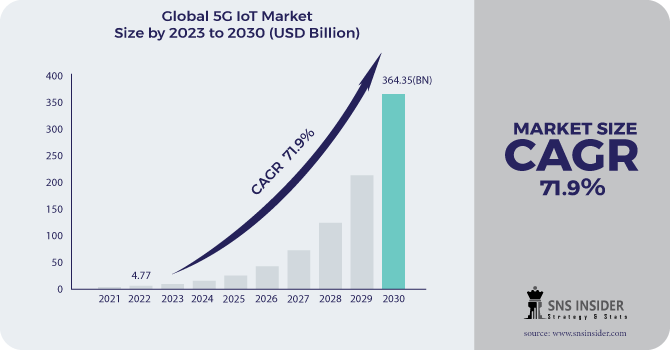 To get more information on 5G IoT Market - Request Sample Report
5G networks are software-driven and visualized, and they make use of cloud technology. With smooth open roaming capabilities between cellular and WIFI connections, the 5g network will also ease mobility. The new Wi-Fi 6 wireless standard has several characteristics in common with 5g, such as upgrading performance. Wi-Fi 6 radios may be put where users need them for enhanced geographic coverage and cost savings. The most recent 5G networks will also have a solid, distributed access design that will relocate data processing closer to the edge and users, allowing for speedier data processing. 5G technology will usher in the most up-to-date network design.
dtac will deploy three 5G IoT solutions in June 2022 to change the industry and reinvigorate the Thai economy. Minister of Digital Economy and Society (DES) Mr. Chaiwut Thanakamanusorn examines the launch of dtac 5G IoT Solutions at the Thailand 5G Summit 2022. dtac presents solutions for three major markets: Smart Factory, Smart Logistics, and Smart Utilities, all of which will help to revitalize the Thai economy by digitally modernizing the manufacturing and business sectors.
MARKET DYNAMICS:
KEY DRIVERS:
A massive 5G IoT ecosystem and vital communication services are being unleashed.

Wireless technology advancements

Data usage on mobile networks is increasing.

Low-cost sensors are readily available.

Verticals' digital transition must be accelerated.
RESTRAINTS:
In IoT protocols, there is a lack of uniformity.

5G IoT has a high implementation cost.
OPPORTUNITY:
5G networks with high dependability and low latency will help to speed up a new generation of IoT applications.

Infrastructure development that is smart

Private 5G networks are in high demand among businesses, governments, and sectors.
CHALLENGES:
Spectrum harmonization is taking longer than expected in different parts of the world.

In terms of ROIs, there is a risk of uncertainty.

Concerns about data privacy and security are on the rise.
IMPACT OF COVID-19:
Individuals and companies alike have been impacted by the COVID-19 epidemic. During the COVID-19 epidemic, the telecom industry is providing critical assistance to governments' digital infrastructure all across the world. Every individual and government, regardless of federal, state, central, municipal, or provincial government, has been in continual contact with one another in society to offer and receive real-time information on COVID-19. COVID-19's arrival has accelerated the expansion of the 5G Internet of Things industry in 2020. Furthermore, various difficulties hampered the growth of the 5G IoT market during COVID-19, including the lack of a professional skill force to spread out 5G network technology throughout emerging nations, which worked as a stumbling block to market expansion. The surge in demand for Internet of Things-based smart infrastructure solutions such as smartphones, on the other hand, is likely to be a major driver of post-pandemic market development.
MARKET ESTIMATION:
Components are used to segment the market into Hardware, Platform, Connectivity, and Services. The service segments account for a significant portion of the market. Rising monitoring and security requirements, improved regulatory compliances, improved productivity and improved data integrity while meeting strict Service-Level Agreements are expected to propel the managed services segment forward (SLAs). Large enterprises are much more likely than SMEs to adopt 5G industrial IoT solutions and services. The high adoption rate is due to large enterprises' affordability and economies of scale, which allow them to take advantage of 5G industrial solutions and services.
The market is divided into two categories based on Network Type: 5G Standalone (SA) and 5G Non-standalone (NSA). The 5G Standalone market has a significant share of the market. 5G NR SA is a brand-new radio network designed specifically for 5G networks. The 5G Radio Access Network (RAN) and 5G core networks are the two main components. 5G NR SA solutions are projected to outperform 5G NR NSA solutions in terms of performance. Several new capabilities are built into the 5G NR SA solutions. Control and User Plane Separation (CUPS), multi-Gbps support, network slicing, ultra-low latency, and virtualization are some of the new built-in capabilities.
The manufacturing segment of the 5G IoT market is expected to have a larger market size during the forecast period, based on end user. With Industry 4.0 in full swing, 5G's high capacity, wireless flexibility, and low-latency performance capabilities have accelerated the development of Intelligent factories of the future. Manufacturers are adopting digitalization to save costs and improve ROI, and 5G IoT ensures new process efficiencies and cutting-edge technical developments, resulting in increased profitability and shop floor efficiency. Cyber-physical systems and the Internet of Things are expected to power Industry 4.0, which will necessitate the use of 5G networks. Future factories would be more efficient, connected, and flexible as a result of this.
KEY MARKET SEGMENTS:
On The Basis of Component
Solution

Hardware

Software & Platform

Services
On The Basis of Network Type
5G NR Standalone Architecture

5G NR Non-Standalone Architecture
On The Basis of End-User
Manufacturing

Healthcare

Energy & Utilities

Transportation & Logistics

Agriculture

Government & Public Safety

Others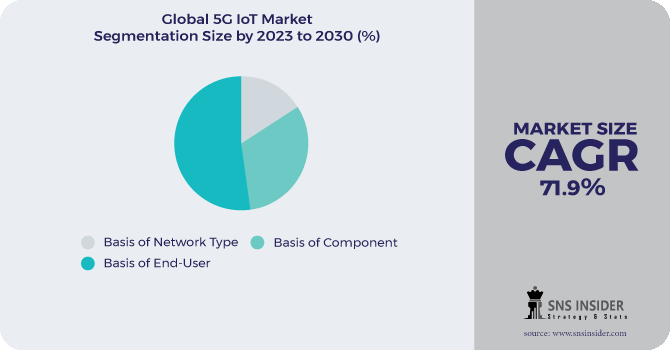 Do you need any custom research on 5G IoT Market - Enquiry Now
REGIONAL ANALYSIS:
In 2021, APAC is expected to have the largest market share. In terms of the adoption of new technologies across various sectors, the region is undergoing rapid transformation. The increasing deployment of 4G and 5G networks in APAC, particularly in Japan, South Korea, Australia, Singapore, China, and India, presents huge opportunities for the implementation of 5G IoT services. Because of the region's large mobile subscriber base, businesses are becoming more competitive and focusing on providing better customer service. Due to its size, variety, and strategic leadership by nations such as Singapore, South Korea, China, Australia, and Japan, the area is poised to dominate 5G, edge computing, blockchain, and 5G core technologies.
REGIONAL COVERAGE:
North America

Europe

Germany

UK

France

Italy

Spain

The Netherlands

Rest of Europe

Asia-Pacific

Japan

south Korea

China

India

Australia

Rest of Asia-Pacific

The Middle East & Africa

Latin America

Brazil

Argentina

Rest of Latin America
KEY PLAYERS:
The major key players are AT & T Intellectual Property, Cisco, Telefnaktiebolaget LM Ericsson , Huawei Technologies Co. Ltd., Intel Technology., Qualcomm Technologies, Inc., Samsung Electronics Co. Ltd., NEC Corporation, Nokia , ZTE Corporation
AT&T Intellectual Property - Company Financial View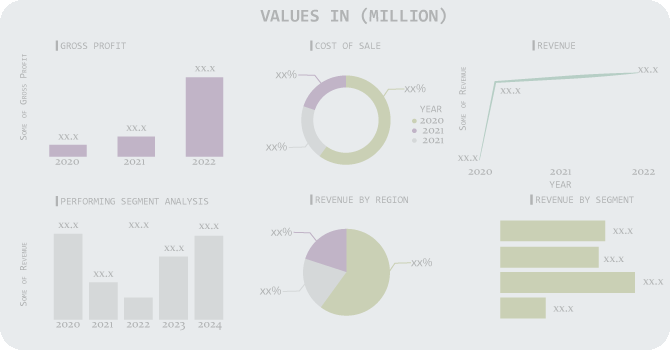 5G IoT Market Report Scope:
Report Attributes
Details
Market Size in 2022
US$ 4.77 Bn
Market Size by 2030
US$ 364.35 Bn
CAGR
CAGR of 71.9% From 2023 to 2030
Base Year
2022
Forecast Period
2023-2030
Historical Data
2020-2021
Report Scope & Coverage
Market Size, Segments Analysis, Competitive Landscape, Regional Analysis, DROC & SWOT Analysis, Forecast Outlook
Key Segments
• by Component (solution, Hardware, Software & Platform, and Services)
• by Network Type (5G NR Standalone Architecture and 5G NR Non-Standalone Architecture)
• by End-User (Manufacturing, Healthcare, Energy & Utilities, Transportation & Logistics, Agriculture, Government & Public Safety, Others)
Regional Analysis/Coverage
North America (USA, Canada, Mexico), Europe
(Germany, UK, France, Italy, Spain, Netherlands,
Rest of Europe), Asia-Pacific (Japan, South Korea,
China, India, Australia, Rest of Asia-Pacific), The
Middle East & Africa (Israel, UAE, South Africa,
Rest of Middle East & Africa), Latin America (Brazil, Argentina, Rest of Latin America)
Company Profiles
AT & T Intellectual Property, Cisco, Telefnaktiebolaget LM Ericsson , Huawei Technologies Co. Ltd., Intel Technology., Qualcomm Technologies, Inc., Samsung Electronics Co. Ltd., NEC Corporation, Nokia , ZTE Corporation
Key Drivers
• A massive 5G IoT ecosystem and vital communication services are being unleashed.
• Wireless technology advancements
Market Challenges
• Spectrum harmonization is taking longer than expected in different parts of the world
• In terms of ROIs, there is a risk of uncertainty