Report Scope & Overview:
Aerial Imaging Market Size was valued at USD 2.98 billion in 2022 and is expected to reach USD 8.82 billion by 2030, and grow at a CAGR of 14.5% over the forecast period 2023-2030.
Growing application areas are expected to provide new growth opportunities for the aerial imaging market. The technology offers an efficient solution for a variety of purposes, including route design, planning, volume calculation, map renovations, and so on. Aerial imaging is used for a variety of purposes such as construction and development, geo spatial technology, disaster management, research and conservation, and so on.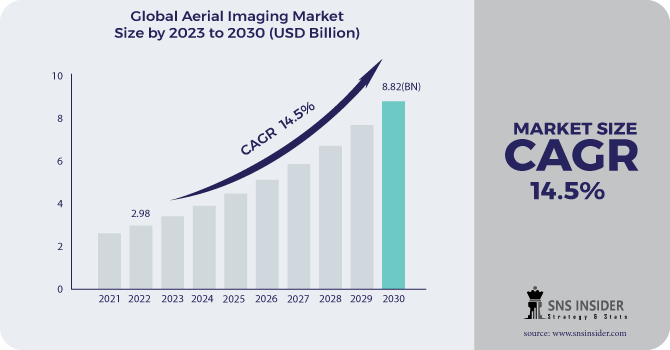 Over the forecast period, increasing technological advancements in camera systems and aerial platforms are expected to drive market growth. Furthermore, increased awareness of the benefits of this technology is expected to boost market demand. Growing location-based services are expected to drive growth in the aerial imaging market over the forecast period.
The process of capturing images of ground surfaces using cameras attached to vehicles such as helicopters, parachutes, aircraft, kites, unmanned aerial vehicles, balloons, vehicle-mounted poles, and airships is known as aerial imaging. Risk mitigation, resource planning, mapping, research and excavation, security and surveillance, urban planning, engineering, farming management, tourism, and other applications benefit from aerial imaging. Aerial imagery services have grown in popularity due to their numerous applications, which include photo gram-metric surveys, topographic map development, environmental studies, surveillance, and others. Increased application areas across various verticals, including agriculture, forestry, energy & resources, and civil engineering, are expected to drive market growth in the coming years.
MARKET DYNAMICS:
KEY DRIVERS:
Real-Time Location Systems (RTLS) And Growing Location-Based Services (LBS)

The growing use of aerial imaging technology is expected to drive market growth.
RESTRAINTS:
Concerns about drone cyber-security and data security are growing.

Image data collection inaccuracy
CHALLENGES:
OPPORTUNITIES:
The Agriculture Sector Is Increasingly Adopting Aerial Imaging Solutions

Increased use of augmented reality with drones
THE IMPACT OF COVID-19
The COVID-19 outbreak had a global impact on the aerial imaging industry. The COVID-19 pandemic has slowed new product deliveries for the majority of large drone and UAV manufacturers due to supply chain disruption. The pandemic has also had an impact on revenue streams allocated to R&D and the adoption of new technologies in the aerial imaging sector. Throughout 2020 and mid-2021, challenges such as manufacturing difficulties and low demand for new drones and UAVs in the face of stringent lockdown measures were observed. However, post-pandemic demand for aerial imaging is expected to increase significantly due to the growing application of aerial imagery and analytics in a variety of end-use verticals.
The aerial imaging market operates in a variety of industries including government, power, military and defense, agriculture, trade and civil engineering, etc. Government is expected to be an integral part of end-of-life spending during the forecast period. The public sector uses this technology for a variety of purposes such as city planning, national security, energy management, and environmental studies, etc. In addition, agricultural and forestry applications and trade are also expected to grow significantly during the forecast period.
A few agricultural applications that include testing and planning of fertilizers and pesticides, soil sampling, and creating controlled areas, etc. In commercial applications, aerial imaging is used to monitor the progress of creation, advertising, and promotion. In addition, increasing the use of aerial imaging in the construction and management of natural resources is expected to favor market growth in the forecast period. Road planning, land use calculations, and proven groundwork references are just a few of the features used by civil engineering. The use of the energy system includes mining operations and goods etc. The aerial imaging market is divided into four sections: application, end user, platform, and region. Geospatial mapping, disaster management, energy and resource management, surveillance and monitoring, urban planning, and other applications comprise the global market.
Furthermore, factors such as a growth in demand for aerial imaging in catastrophe risk reduction and prevention, an increase in demand for various commercial applications, and the usage of aerial imaging technologies all contribute to an increase in demand. in the establishment of 5G infrastructure are expected to supplement aerial imaging market growth. However, stringent government regulations concerning national security, inaccuracy in image data collection, and rising concerns about cyber-security data security in relation to drones are expected to stymie market growth. Advanced motion and temperature sensors in cameras, 3D mapping software, unmanned aerial vehicles, and other technological advancements have created numerous opportunities for market growth.
KEY MARKET SEGMENTS:
By End User:
Government

Military and Defense

Energy

Agriculture and Forestry

Civil Engineering

Media and Entertainment

Commercial
By Platform:
Fixed Wing Aircraft

Helicopter

UAV and Drone

Others
By Application:
Geo spatial Mapping

Disaster Management

Energy and Resource Management

Surveillance and Monitoring

Urban Planning

Others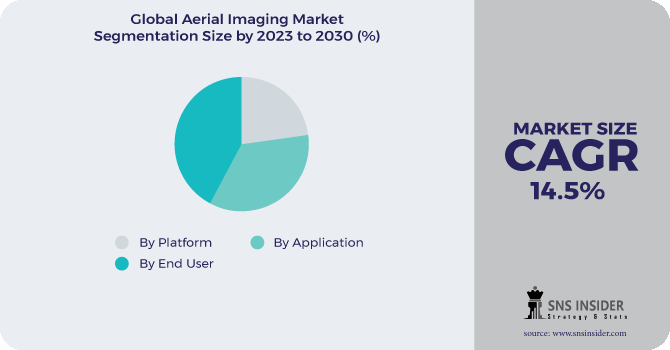 REGIONAL ANALYSIS
The aerial imaging market is dominated by North America. Because of the presence of prominent players such as Eagle View Technologies Inc., Near map Limited, Digital Aerial Solutions, LLC, and SZ DJI Technology Co., Ltd., the region's dominance in the aerial imaging market is expected to continue throughout the forecast period. Furthermore, the region is home to some of the market's major players, including Eagle View Technologies Inc., Drone Deploy, Inc., Cooper Aerial Surveys Co., and Digital Aerial Solutions, LLC. Furthermore, the increasing adoption of aerial imaging solutions by organization at both the public and private levels is expected to drive growth in the North American aerial imaging market during the study period.
During the forecast period, the APAC aerial imaging market is expected to grow at a rapid pace. Increased adoption of aerial imaging solutions, primarily in the energy, agriculture, and land surveying sectors, is expected to drive market growth in countries such as India and China. Asia-Pacific represents a lucrative investment opportunity for companies providing aerial imaging solutions. Furthermore, the region's major energy companies have bolstered their optimization plans with innovative digital solutions, which is expected to bode well for the region's growth of aerial imaging solutions.
Europe held a sizable share of the aerial imaging market. The growing demand for geographic data generated by UAVs, aerial surveys, and aerial imagery propels the aerial imaging market in European countries such as the Netherlands and the United Kingdom. Furthermore, the region's countries have increased their spending on geographic data and aerial surveys, primarily for oil and gas exploration, coastal navigation, and disaster management, which is expected to fuel regional market growth.
REGIONAL COVERAGE:
North America

Europe

Germany

UK

France

Italy

Spain

The Netherlands

Rest of Europe

Asia-Pacific

Japan

south Korea

China

India

Australia

Rest of Asia-Pacific

The Middle East & Africa

Latin America

Brazil

Argentina

Rest of Latin America
KEY PLAYERS
Cooper Aerial Surveys Co., Digital Aerial Solutions (DAS), LLC, Global UAV Technologies Ltd, Kucera International, Landiscor, Nearmap Ltd., EagleView Technologies, Inc., Fugro N.V., Aerial Imaging Productions, LLC, Blom Norway AS, and other players.
Global UAV Technologies Ltd-Company Financial Analysis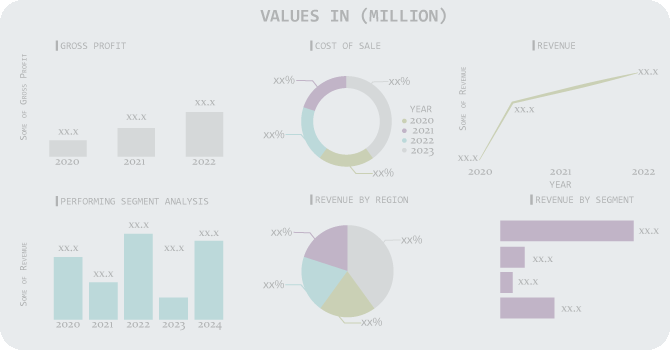 Aerial Imaging Market Report Scope:
Report Attributes
Details
Market Size in 2022
US$ 2.98 Billion
Market Size by 2030
US$ 8.82 Billion
CAGR
CAGR of 14.5% From 2023 to 2030
Base Year
2022
Forecast Period
2023-2030
Historical Data
2020-2021
Report Scope & Coverage
Market Size, Segments Analysis, Competitive Landscape, Regional Analysis, DROC & SWOT Analysis, Forecast Outlook
Key Segments
• By End User (Government, Military and Defense, Energy, Agriculture and Forestry, Civil Engineering, Media and Entertainment, and Commercial)
• By Platform (Fixed Wing Aircraft, Helicopter, UAV and Drone and Others)
• By Application (Geospatial Mapping, Disaster Management, Energy and Resource Management, Surveillance and Monitoring, Urban Planning and Others)
Regional Analysis/Coverage
North America (USA, Canada, Mexico), Europe
(Germany, UK, France, Italy, Spain, Netherlands,
Rest of Europe), Asia-Pacific (Japan, South Korea,
China, India, Australia, Rest of Asia-Pacific), The
Middle East & Africa (Israel, UAE, South Africa,
Rest of Middle East & Africa), Latin America (Brazil, Argentina, Rest of Latin America)
Company Profiles
Cooper Aerial Surveys Co., Digital Aerial Solutions (DAS), LLC, Global UAV Technologies Ltd, Kucera International, Landiscor, Nearmap Ltd., EagleView Technologies, Inc., Fugro N.V., Aerial Imaging Productions, LLC, Blom Norway AS, and other players.
DRIVERS
• Real-Time Location Systems (RTLS) And Growing Location-Based Services (LBS)
• The growing use of aerial imaging technology is expected to drive market growth.
RESTRAINTS
• Concerns about drone cyber-security and data security are growing.
• Image data collection inaccuracy