REPORT SCOPE & OVERVIEW
The Aloe Vera Gel Market size was USD 36.5 million in 2022 and is expected to Reach USD 66.07 million by 2030 and grow at a CAGR of 7.7% over the forecast period of 2023-2030.
Aloe vera gel is a clear, viscous material collected from the aloe vera plant's leaves. For millennia, it has been utilized for its medicinal and beauty benefits. Aloe vera gel is high in vitamins, minerals, and antioxidants and has numerous health benefits.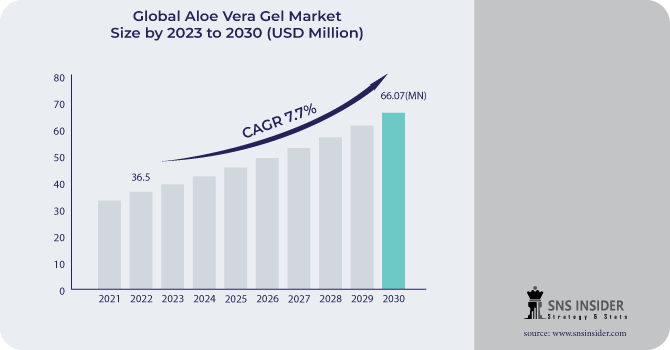 By distribution channel, the online retail segment dominates the global aloe vera gel market in 2022. The growing popularity of natural and organic products, as well as the large choice of aloe vera gel items available online, are all contributing reasons for the expansion of the online retail market.
Based on application, the cosmetics segment dominates the global aloe vera gel market accounting for more than 40% of the market. The enormous demand for aloe vera gel in the cosmetics sector is owing to its several skin and hair benefits. Aloe vera gel is a natural moisturizer, conditioner, and cleanser. Healthcare and food & beverage is another major segment of aloe vera. It also has anti-inflammatory and therapeutic qualities. Other applications such as animal feed, textiles, and water treatment have increased demand for aloe vera.
MARKET DYNAMICS
KEY DRIVERS
Aloe vera gel is widely utilized to treat skin issues like acne, eczema, and sunburn. It possesses qualities that are anti-inflammatory and anti-microbial, which can aid in calming and healing the skin. Worldwide, the prevalence of skin-related illnesses is increasing as a result of various factors like pollution, stress, and poor lifestyles. Over 1 billion people worldwide suffer from skin conditions, making them the fourth most prevalent type of disease, according to the World Health Organisation (WHO). A popular natural treatment for many of these skin issues is aloe vera gel. Numerous commercial skincare products also contain it. The demand for aloe vera gel is also being driven by the rising popularity of natural and organic products.
RESTRAIN
Adulteration of aloe vera products can hinder the aloe vera gel market. Synthetic chemicals such as xanthan gum, maltodextrin, and propylene glycol are frequently found in aloe vera gel products. These substances are less expensive to manufacture than aloe vera gel and can also be used to thicken and stabilize the product. They do not, however, have the same health benefits as aloe vera gel. Consumers may suffer a variety of undesirable outcomes if aloe vera products are adulterated. It can diminish the product's efficacy and induce allergic responses or other negative effects. Adulteration can even be harmful to consumers' health in rare situations.
OPPORTUNITY
Manufacturers are always producing novel products with unique features and packaging in order to attract customers. Companies are substantially spending on research and development to create new applications for aloe vera gel and improve the quality and efficacy of their products. The development of novel aloe vera gel products with innovative features and packaging, as well as the exploration of new uses for aloe vera gel in food and beverage, pharmaceutical, and other industries, are some of the important areas of focus for R&D in the aloe vera gel market. Furthermore, researchers are working to improve the quality and performance of aloe vera gel products by creating novel extraction and processing procedures, as well as new approaches to standardize aloe vera gel products and ensure their safety and efficacy.
CHALLENGES
Premium aloe vera gel is often manufactured from high-quality aloe vera plants and harvested using gentle processes to retain the gel's nutrients and active components. Premium quality aloe vera gel may be more expensive to create than lesser quality aloe vera gel as a result of this. Some customers may be put off by the expensive cost of top-quality aloe vera gel. This is especially true in developing countries with lesser disposable incomes. Furthermore, some consumers may be unaware of the difference between premium and poorer-grade aloe vera gel, or they may not believe that the higher expense is justified.
IMPACT ANALYSIS
IMPACT OF RUSSIA UKRAINE WAR
The war has also disrupted the supply chain for aloe vera gel. Russia and Ukraine are both major exporters of aloe vera gel, and the war has made it difficult to export aloe vera gel from these countries. This has led to supply shortages and higher prices for aloe vera gel products. The war has led to increased costs for transportation, packaging, and other inputs used in the production of aloe vera gel. This has put upward pressure on the prices of aloe vera gel products. The price of aloe vera gel has increased by an average of 20% since the start of the war. The North American market for aloe vera gel declined by an average of 7% per year in 2022.
IMPACT OF ONGOING RECESSION
The recession has declined the sales of aloe vera gel and other products derived from aloe vera gel. Aloe vera is mostly used in cosmetics and food & beverage products. With the increased cost of transportation, packaging, and other cost of raw materials. Also, other factors such as climate conditions, and disruption in supply chains have led to an increase in the prices of aloe vera gel. Aloe vera products consumers may be more likely to purchase aloe vera gel products during a recession, as they are perceived as being more affordable and natural than synthetic alternatives. The European market for aloe vera gel declined by an average of 3% per year.
MARKET SEGMENTATION
By Nature
By Distribution Channel
By End Use
Cosmetics

Healthcare

Food and Beverages

Others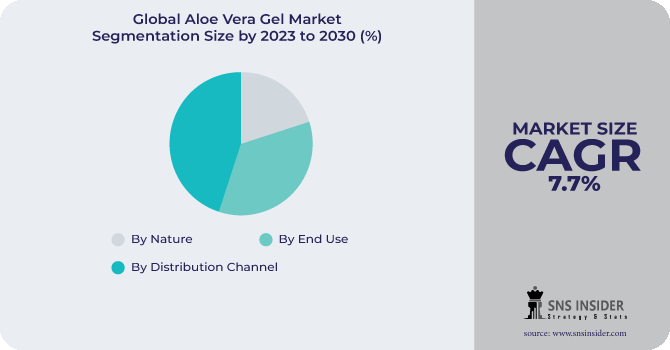 REGIONAL ANALYSIS
Asia Pacific is the fastest-growing market for aloe vera gel, with a CAGR of 8.6% from the forecast period. Due to the expansion of the cosmetic and healthcare industries in the region, the increasing population, and the rising purchasing power of consumers in emerging economies like India and China are anticipated to drive the regional market of aloe vera.
North America is the largest aloe vera gel market, accounting for more than 30% of the worldwide market in 2022. Due to the fact that the key market players in the aloe vera gel market are based in the North American region, the sales of aloe vera gel are anticipated to increase over the forecast period. The United States has been a significant supplier of aloe vera gel raw material as well as the finished product.
Europe region has a significant market, accounting for a market share of more than 25% of the global market for aloe vera gel in 2022. The growing awareness of the health benefits of aloe vera gel, as well as the rising demand for cosmetic goods containing aloe vera gel, are all driving the growth of the aloe vera gel market in Europe.
The Middle East and Africa market for aloe vera gel is small, but it is predicted to develop at a 7.2% CAGR from the forecast period. Rising disposable income in the region, growing awareness of the health advantages of aloe vera gel, and rising demand for natural and organic products are all driving the expansion of the Middle East and Africa aloe vera gel market.
REGIONAL COVERAGE
North America
Europe
Eastern Europe

Poland

Romania

Hungary

Turkey

Rest of Eastern Europe
Western Europe

Germany

France

UK

Italy

Spain

Netherlands

Switzerland

Austria

Rest of Western Europe
Asia Pacific
China

India

Japan

South Korea

Vietnam

Singapore

Australia

Rest of Asia Pacific
Middle East & Africa
Middle East

UAE

Egypt

Saudi Arabia

Qatar

Rest of Middle East

Africa

Nigeria

South Africa

Rest of Africa
Latin America
Brazil

Argentina

Colombia

Rest of Latin America
KEY PLAYERS
Some major key players in the Aloe Vera Gel Market are Terry Laboratories, Inc., Aloe Laboratories Inc., Patanjali Ayurved Ltd., Lily of the Desert, L'Oréal S.A., Aloecorp, Inc., Herbalife International, Inc., Natural Aloe De Costa Rica, S.A, Aloe Farms, Inc., Real Aloe Solutions Inc., Aroma Treasures, Now Health Group, Inc., Nature's Essence Pvt. Ltd., Forever Living Products International, Inc., and other key players.
Terry Laboratories Inc-Company Financial Analysis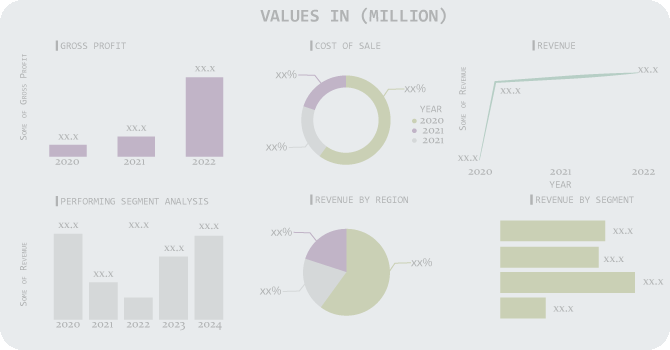 RECENT DEVELOPMENTS
In August 2023, Aloe Ecell, a Lucknow-based start-up, received ₹1.91 crores in funding from the Technology Development Board (TBD) to develop and commercialize aloe vera gel-based batteries. The batteries have a number of advantages over traditional batteries, including a longer lifespan, better performance in extreme temperatures, and lower production costs.
In October 2023, Nick Stenson Beauty launched Aloe Vera Gel Hair Care with Natural Ingredients. The new product line includes a shampoo, conditioner, and leave-in treatment, all of which are made with aloe vera gel as the main ingredient.
In July 2022, Organic Harvest, India's largest organic cosmetics and personal care brand and an ECOCERT-certified company, introduced a new line of organic Aloe Vera gel. The new Organic Aloe Vera Gel, which comes in four different varieties, is gender-neutral and suitable for all skin and hair types and ages.
Aloe Vera Gel Market Report Scope:
Report Attributes
Details
Market Size in 2022
US$ 36.5 Million
Market Size by 2030
US$ 609,1 Million
CAGR
CAGR of 7.7 % From 2023 to 2030
Base Year
2022
Forecast Period
2023-2030
Historical Data
2019-2021
Report Scope & Coverage
Market Size, Segments Analysis, Competitive Landscape, Regional Analysis, DROC & SWOT Analysis, Forecast Outlook
Key Segments
• By Nature (Organic, Conventional)
• By Distribution Channel (Direct, Supermarkets/Hypermarkets, Specialty Stores, Pharmacy Stores, Convenience Stores, Online Retail, and Others)
• By End Use (Cosmetics, Healthcare, Food and Beverages, and Others)
Regional Analysis/Coverage
North America (US, Canada, Mexico), Europe (Eastern Europe [Poland, Romania, Hungary, Turkey, Rest of Eastern Europe] Western Europe] Germany, France, UK, Italy, Spain, Netherlands, Switzerland, Austria, Rest of Western Europe]), Asia Pacific (China, India, Japan, South Korea, Vietnam, Singapore, Australia, Rest of Asia Pacific), Middle East & Africa (Middle East [UAE, Egypt, Saudi Arabia, Qatar, Rest of Middle East], Africa [Nigeria, South Africa, Rest of Africa], Latin America (Brazil, Argentina, Colombia Rest of Latin America)
Company Profiles
Terry Laboratories, Inc., Aloe Laboratories Inc., Patanjali Ayurved Ltd., Lily of the Desert, L'Oréal S.A., Aloecorp, Inc., Herbalife International, Inc., Natural Aloe De Costa Rica, S.A, Aloe Farms, Inc., Real Aloe Solutions Inc., Aroma Treasures, Now Health Group, Inc., Nature's Essence Pvt. Ltd., Forever Living Products International, Inc.
Key Drivers
• Growing prevalence of skin-related diseases
Market Opportunity
• Investment in research and development
• Development of new products