Report Scope & Overview:
The Artificial Intelligence in Diagnostics Market was valued at USD 1172.46 Million in 2022 and is project to reach USD 5123.16 Million by 2030 with a growing CAGR of 23.45% during the forecast period 2023-2030.
One of the most significant scientific advances in medicine to date is artificial intelligence in healthcare. A crucial aspect contributing to the sector's growth is the involvement of multiple start-ups in the development of AI-driven imaging and diagnostic products.
Image collecting, processing, aided reporting, follow-up, data storage, data mining, and other artificial intelligence applications are all available. The paper strikes a balance between AI's risks and radiologists' prospects in today's medical world. Machine learning blends computational models and algorithms with artificial neural networks to mimic the brain's biological neural network architecture (ANNs). Deep learning has a better success rate than traditional machine learning in terms of output.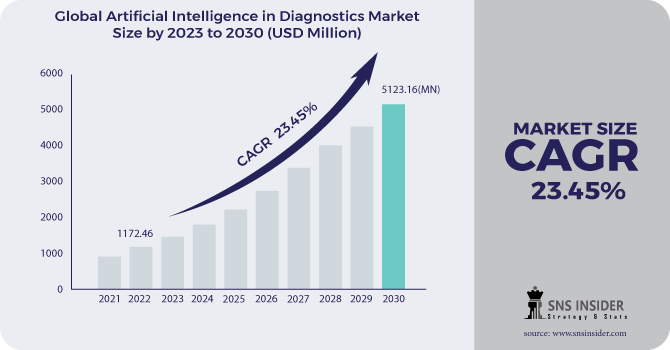 To get more information on Artificial Intelligence (AI) In Diagnostics Market - Request Sample Report
The increasing amount of data to be processed has the potential to change how radiologists evaluate images, affecting everything from inference to identification and explanation. When radiologists process too many images in a day, the chances of error increase, and the radiologist's role is limited to that of a pure image analyst. Other physicians or specialists should be entrusted with the clinical interpretation of the data. In other words, if radiologists don't have time for professional judgement, or if there aren't enough radiologists in places like India or Eastern Europe, or if there aren't enough radiologists in Africa, the final evaluation of radiological testing will be left to non-medical imaging experts.
COVID-19 impact on the Artificial Intelligence in Healthcare Market
Due to the increased adoption of AI and ML solutions in the healthcare sector, the AI in healthcare market has historically seen considerable growth. The outbreak of the COVID-19 pandemic provided a chance to demonstrate AI's prowess and sophistication in the healthcare industry. During the pandemic's second wave, hospitals and clinics all over the world used AI-based virtual assistants, inpatient care bots, and AI-assisted surgery robots to deal with the constant influx of patients, which would have otherwise swamped the entire hospital operation cycle.
The market is predicted to flourish over the next 5 to 10 years, with countries such as the United States, Germany, France, China, India, Japan, and South Korea devoting cash to research AI applications in the healthcare sector.
The market is being driven by a growing number of cross-industry partnerships and collaborations, as well as an increasing imbalance between health workforce and patients, which is driving the need for improved healthcare services. The market is also being driven by increasing demand to reduce rising healthcare costs, improving computing power and declining hardware costs, and a growing number of cross-industry partnerships and collaborations.
Market Dynamics
Driver
Improving computing power and declining hardware cost
In recent years, the growing adoption of AI has become a new growth engine for semiconductor chipset manufacturers. Nvidia, AMD, Intel, Qualcomm, Huawei, and Samsung, among others, have made major investments in this field to produce chipsets that are compatible with AI-based technologies and solutions. Application-specific integrated circuits (ASICs) and field-programmable gate arrays (FPGAs) are being developed for AI applications in addition to CPUs and GPUs. Google, for example, has developed a new ASIC called the tensor processing unit (TPU).
One of the important criteria for processing AI algorithms is a compute-intensive chipset; the faster the chipset, the faster it can process the data required to develop an AI system. Currently, AI chipsets are primarily used in data centres and high-end servers because end PCs are unable to handle such large workloads and lack the necessary power and time. Nvidia offers a variety of GPUs with different GPU memory bandwidth options depending on the application. The GeForce GTX Titan X, for example, has a memory bandwidth of 336.5 GB/s and is primarily utilised in desktops, but the Tesla V100 16 GB has a memory bandwidth of 900 GB/s and is primarily used in AI applications.
Nvidia's Tesla V100 (32 GB) is also employed in high-performance computing tasks. It has a two-fold increase in throughput over its predecessor and a throughput of 300 GB/s, allowing it to unleash the greatest application performance feasible on a single server for roughly the same price (USD 8,799).
The cost of a few AI hardware devices has dropped dramatically in the last year, increasing the adoption of AI in new applications and driving the AI chipsets market forward.
Restraint
Reluctance among medical practitioners to adopt AI-based technologies
With the rapid advancement of digital health and mobile health technology, healthcare providers can now support patients with unique treatment options. Doctors can use AI technologies to help them diagnose and treat patients more effectively. Doctors, on the other hand, have shown a reluctance to adopt new technologies. For example, there is a widespread belief among medical professionals that AI will eventually replace doctors. Doctors and practitioners feel that qualities like empathy and persuasion are human abilities, and that technological advancements cannot totally eliminate the need for a doctor.
Furthermore, there is risk that patients would become overly reliant on these technologies and will forego critical in-person treatments, thus jeopardising long-term doctor-patient relationships. Several healthcare practitioners now have reservations regarding AI technologies' ability to effectively diagnose medical problems. Given this, persuading providers that AI-based solutions are cost-effective, efficient, and safe solutions that provide doctors with convenience as well as better patient care is difficult.
Healthcare providers, on the other hand, are increasingly accepting of the potential benefits of AI-based solutions and the range of applications they can support. As a result, it's possible that doctors will become increasingly interested in AI-based healthcare technology in the coming years.
Opportunity
Increasing focus on developing human-aware AI systems
During the growth of AI technologies, the actual projections intended to make these technologies human-aware, i.e., constructing models with human-like cognitive properties. The inventors of AI machines, on the other hand, face a hurdle in constructing interactive and scalable machines. Furthermore, as human influence with AI approaches has increased, new research challenges have emerged, such as interpretation and presentation issues with automating parts and intelligent control of crowdsourcing parts. The difficulties that AI computers encounter in understanding human input, such as knowledge and particular commands, are referred to as interpretation issues.
Issues with delivering the AI system's output and feedback are among the presentation concerns. Because of the complexity of the output, feedback can be interpreted in a variety of ways. To avoid any ambiguity, the output must be provided exactly as it was intended. This can be difficult if the intended user does not have a strong understanding of the technology. As a result, the development of human-aware AI systems remains the most promising avenue for AI researchers.
Challenge
Concerns regarding data privacy
In the field of medicine, AI has a number of applications. However, due to data privacy issues, AI use in the sector is limited. In several nations, federal regulations protect patient health data, and any compromise or failure to maintain its integrity can result in legal and financial penalties. Because AI for patient care necessitates access to a variety of health information, AI-based technologies must follow all data security procedures put forth by governments and regulatory agencies. This is a difficult undertaking because most AI platforms are consolidated and require significant computational capacity, necessitating the storage of patient data, or portions of it, in a vendor's data centre.
The vendor data centres are not secure enough to prevent data breaches because the data is available to a wide range of employees, making it difficult to contain breaches. If patient data is accidentally exposed from these data centres, it can result in massive lawsuits and settlement demands from aggrieved parties. This is a significant market challenge.
Many companies are developing software solutions for a variety of healthcare applications, which is a crucial reason in the software segment's growth. Strong demand among software developers (particularly at medical institutions and colleges) and expanding AI applications in the healthcare industry are two major drivers driving the AI platform's rise in the software market. Google AI Platform, TensorFlow, Microsoft Azure, Premonition, Watson Studio, Lumiata, and Infrrd are some of the top AI platforms.
Growth Drivers
Increasing Adoption of Artificial Intelligence in the Healthcare Sector

Growing Investment in Healthcare Sector
Challenges
Rising Economic Burden on Medical Facilities

Requirement of High Initial Investment
Key Market Segmentation
By Component
By Technology
By Industry Vertical
IT and Telecommunication

Retail and E-commerce

BFSI

Healthcare

Manufacturing

Automotive

Others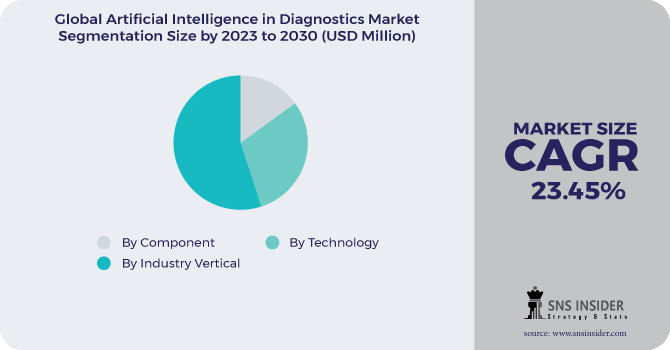 Need any customization research on Artificial Intelligence (AI) In Diagnostics Market - Enquiry Now
Regional Analysis
North America

Germany

UK

France

Italy

Spain

The Netherlands

Rest of Europe

Asia-Pacific

Japan

South Korea

China

India

Australia

Rest of Asia-Pacific

The Middle East & Africa

Latin America

Brazil

Argentina

Rest of Latin America
Key Players:
The Major Players are HeartFlow, Inc., Therapixel SA, Nano-X Imaging Ltd., Prognos Health Inc., Butterfly Network, Inc., Aidence B.V., Siemens AG, GE Healthcare, Digital Diagnostics Inc., IBM, and other players.
Artificial Intelligence (AI) In Diagnostics Market Report Scope:
Report Attributes
Details
Market Size in 2022
US$ 1172.46 Million
Market Size by 2030
US$ 5123.16 Million
CAGR
CAGR of 23.45% From 2023 to 2030
Base Year
2022
Forecast Period
2023-2030
Historical Data
2020-2021
Report Scope & Coverage
Market Size, Segments Analysis, Competitive Landscape, Regional Analysis, DROC & SWOT Analysis, Forecast Outlook
Key Segments
• By Component (Hardware, Software, Services)
• By Technology (Machine Learning, NLP, Context-Aware Computing, Computer Vision)
• By Diagnosis Type (Radiology, Oncology, Neurology & Cardiology, Chest & Lungs, Pathology)
Regional Analysis/Coverage
North America (USA, Canada, Mexico), Europe
(Germany, UK, France, Italy, Spain, Netherlands,
Rest of Europe), Asia-Pacific (Japan, South Korea,
China, India, Australia, Rest of Asia-Pacific), The
Middle East & Africa (Israel, UAE, South Africa,
Rest of Middle East & Africa), Latin America (Brazil, Argentina, Rest of Latin America)
Company Profiles
HeartFlow, Inc., Therapixel SA, Nano-X Imaging Ltd., Prognos Health Inc., Butterfly Network, Inc., Aidence B.V., Siemens AG, GE Healthcare, Digital Diagnostics Inc., IBM, and other players.