Report Scope & Overview:
The Augmented and Virtual Reality (AR VR) Market Size was valued at US$ 46.93 billion in 2022, expected to reach USD 288.82 billion by 2030 and grow at a CAGR of 25.5% over the forecast period 2023-2030.
Rising demand for AR and VR devices and applications is propelling the market forward. Rising demand for advanced devices in medical training, patient care management, and education is propelling the Augmented And Virtual Reality (AR VR) Market forward. Furthermore, market growth is attributed to emerging trends in smart manufacturing. The Global Augmented And Virtual Reality (AR VR) Market report offers a comprehensive analysis of the market. The report provides a thorough examination of key segments, trends, drivers, restraints, the competitive landscape, and factors that are significant in the market.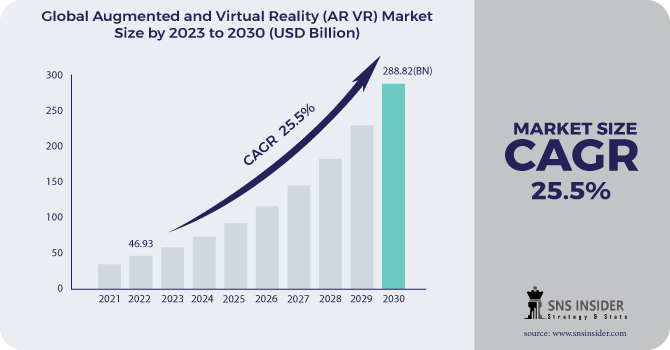 To get more information on the Augmented and Virtual Reality (AR VR) Market - Request Sample Report
Augmented Reality is defined as a system that combines the real and virtual worlds, allows for real-time interaction, and accurate 3D registration of virtual and real items. Augmented reality is a type of reality in which digital information is superimposed on top of a physical image using technology. It's most commonly known as augmented reality, and it can be found in tablet and smartphone apps. Because almost everyone has a smartphone, augmented reality is more effective as a branding and gaming tool than virtual reality.
MARKET DYNAMICS:
KEY DRIVERS:
AR Market
COVID-19 is driving up demand for augmented reality in the retail and e-commerce sectors.

Rising demand for augmented reality devices and applications in healthcare
VR Market
Technological progress and increasing digitization

HMDs are becoming more popular in a variety of industries.
RESTRAINTS:
AR Market
AR-related security and privacy concerns

Health risks associated with excessive AR use
VR Market
The overall performance of VR devices is influenced by display latency and energy consumption.

Health issues associated with low resolution and lack of movement
OPPORTUNITIES:
AR Market
Collaborations between telecom companies and AR manufacturers to reduce latency to undetectable levels

Increased demand for augmented reality in architecture
VR Market
HMD penetration in medical and architectural applications

COVID-19 is driving up demand for VR HMDs in healthcare.
CHALLENGES:
AR Market
Overcoming social obstacles in order to increase adoption rates

Application reconfiguration for various platforms
VR Market
The negative impact of COVID-19 lockdown on commercial trade

Creating user-friendly virtual reality systems
THE IMPACT OF COVID-19
The COVID-19 epidemic has strongly encouraged the growth of real and agitated markets due to the increasing shift in the adoption of real and unpopular taxpayer technology that we are seeing as the number of businesses turns to remote jobs. HTC has announced that it will be hosting its 2021 online developer conference, and is expected to continue with VR. On the other hand, the 2020 China Spring Cloud Auto Show incorporates AR technology, big data, Web 3D, panoramic content, and other technologies to introduce advanced technologies and products with a wide range of ideas.
COVID-19 compelled the world to adopt a remote work culture, whether for schools, universities, or corporations, resulting in a boom in the AR and VR market due to increased virtual training, education, and shopping, as well as industry training and supervision using AR and VR devices. But it also has a negative impact. Covid-19 had an impact not only on the operations and manufacturing of various AR and VR device and component manufacturers but also on the businesses of their suppliers and distributors. During the first half of 2020, the key players in this market saw the impact of the pandemic in their inventories for AR and VR device components.
The large enterprise's segment had the highest growth in the augmented and virtual reality market in 2022, and it is expected to maintain its dominance in the coming years. This is due to an increase in augmented and virtual reality applications in the automotive, manufacturing, construction, extractive industry, aircraft, healthcare, education, law enforcement, and real estate industries. However, the SME segment is expected to grow the fastest, owing to the benefits of AR & VR technology such as reduced field staff training costs, faster repairs, and higher customer satisfaction.
The virtual reality market for hardware devices under the device segment is expected to grow rapidly in the event of touch-tracking devices. Touch tracking devices can be used in medical training such as surgery and endoscopy, X-ray, etc. These devices can also be used to control stiffness by tracking every touch and movement that warns about joint, muscle, and postural. user error. This successful use of these devices in the medical field is planned to increase the market share of these devices by the end of the forecast period (2030). The growth rate of these devices is very high for the stated reasons.
The reason for this market share is that the software market is still developing and growing well, socially behind Covid-19, with growing online visual purchases and virtual training. The software application market has almost completely developed and prospered. As a result, software growth in the AR and VR market will have stalled during the forecast period (2022 - 2028).
MARKET SEGMENT:
by Organization Size
by Technology Type
AR Technology
VR Technology
by Component
by End-user Type
by Application
Consumer

Commercial

Enterprise

Healthcare

Aerospace and Defence

Automotive

Energy

Others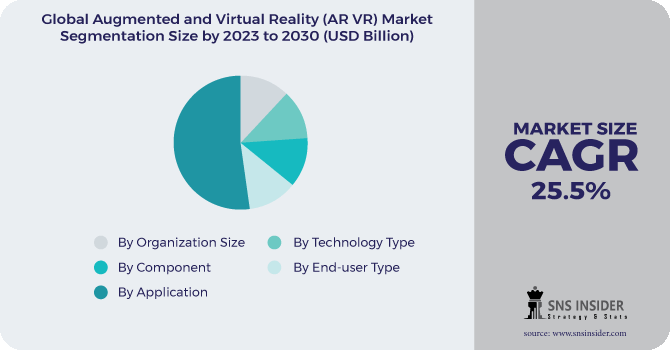 Need any customization data on the Augmented and Virtual Reality (AR VR) Market - Enquiry Now
REGIONAL ANALYSIS
The market share of reality in the Asia Pacific region was large because few countries in the region such as China, Japan and South Korea focused on training and assisting in medical and electronic learning services for clients using virtual reality. technology. But at the same time, countries like India are on the verge of adopting this technology and focusing it on various sectors and forums, which in turn leads to the indication that the region will show rapid growth in the real estate market. region at the time of forecast.
The outbreak and spread of COVID-19 disrupted and disrupted the list of AR and VR devices and their component manufacturers and suppliers. For example, the outbreak of COVID-19 in the US has led to door closures that include closure of production facilities and warehouses and has affected exports and exports to various industries. Closed-door measures announced in several countries around the world as they are affected by the COVID-19 epidemic have also led to a decline in the supply of marketers of AR and VR device components. However, there has been progress in the AR and VR industry due to the sudden evolution of work culture on online platforms.
REGIONAL COVERAGE:
North America

Europe

Germany

UK

France

Italy

Spain

The Netherlands

Rest of Europe

Asia-Pacific

Japan

South Korea

China

India

Australia

Rest of Asia-Pacific

The Middle East & Africa

Latin America

Brazil

Argentina

Rest of Latin America
MARKET KEY PLAYER
The key players are Samsung Electronics Co., Ltd, Sony, Wikitude, HTC, Magic Leap, Inc, Microsoft Corporation, OSTERHOUT DESIGN GROUP, Alphabet, DAQRI, Facebook, and Other players.
Magic Leap Inc - Company Financial Analysis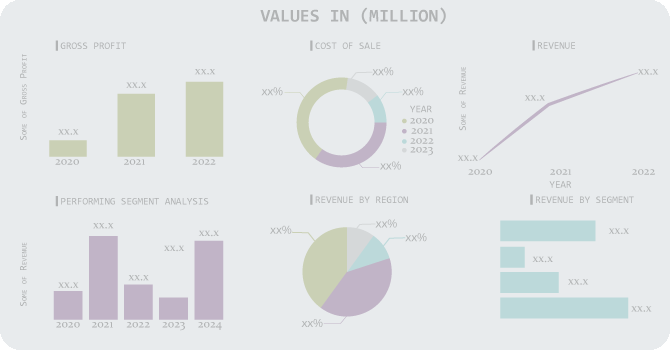 Augmented and Virtual Reality (AR VR) Market Report Scope:
Report Attributes
Details
Market Size in 2022
US$ 46.93 Billion
Market Size by 2030
US$ 288.82 Billion
CAGR
CAGR of 25.5% From 2023 to 2030
Base Year
2022
Forecast Period
2023-2030
Historical Data
2020-2021
Report Scope & Coverage
Market Size, Segments Analysis, Competitive Landscape, Regional Analysis, DROC & SWOT Analysis, Forecast Outlook
Key Segments
• By Organization Size, (Large Enterprises and Small & Medium Sized Enterprises)
• By Technology Type (AR: Marker-less, Marker-base; VR: Non-Immersive, Semi-immersive and Fully Immersive Technology)
• By Component (Hardware (Sensors, Processors, Controllers, Cameras and Others) and Software (Software Development Kits and Platforms))
• By End-user Type(Commercial, Consumer)
• By Application(Consumer, Commercial, Enterprise, Healthcare, Aerospace and Defence, Automotive, Energy, Others.)
Regional Analysis/Coverage
North America (USA, Canada, Mexico), Europe
(Germany, UK, France, Italy, Spain, Netherlands,
Rest of Europe), Asia-Pacific (Japan, South Korea,
China, India, Australia, Rest of Asia-Pacific), The
Middle East & Africa (Israel, UAE, South Africa,
Rest of Middle East & Africa), Latin America (Brazil, Argentina, Rest of Latin America)
Company Profiles
Samsung Electronics Co., Ltd, Sony, Wikitude, HTC, Magic Leap, Inc, Microsoft Corporation, OSTERHOUT DESIGN GROUP, Alphabet, DAQRI, Facebook, and other players.
DRIVERS
• AR Market
COVID-19 is driving up demand for augmented reality in the retail and e-commerce sectors.
Rising demand for augmented reality devices and applications in healthcare
• VR Market
Technological progress and increasing digitization
HMDs are becoming more popular in a variety of industries.
RESTRAINTS
• AR Market
AR-related security and privacy concerns
Health risks associated with excessive AR use
• VR Market
The overall performance of VR devices is influenced by display latency and energy consumption.
Health issues associated with low resolution and lack of movement