REPORT SCOPE & OVERVIEW
The Bioremediation Market size was estimated USD 13.4 billion in 2022 and is expected to reach USD 28.3 billion by 2030 at a CAGR of 9.8% during the forecast period of 2023-2030.
Bioremediation is the employment of microorganisms to remove toxins from the environment, such as oil and other petroleum products, solvents, and pesticides. Bioremediation is carried out by microorganisms by breaking down contaminants and transforming them into less hazardous forms. Nutrients, pH, temperature, and oxygen all have an impact on microorganism activity. Pollution in the environment is a huge global challenge that has a substantial influence on human health.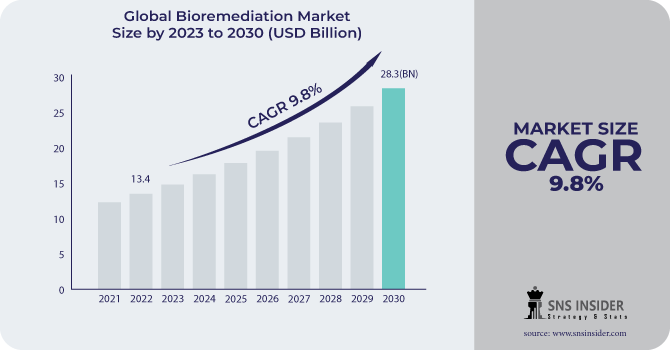 The increased need for bioremediation techniques, firms can diversify their market services through a variety of strategic approaches. Some of the contributors' strategies include product launches, joint ventures, collaborations, partnerships, acquisitions, product approval and grants, and business expansions.
MARKET DYNAMICS
DRIVERS
The government plays a significant role in making the environment safer by establishing laws, developing policies, and coordinating environmental issues. With increased awareness about environmental pollution, governments in many regions are adopting proactive actions to decrease pollution's detrimental consequences.
RESTRAIN
Chemical processes emit chemicals known as volatile organic compounds (VOCs). Organic compounds are organic substances with a high vapor pressure at room temperature. These are carbon-containing substances that participate in photochemical processes in the atmosphere. Volatile organic compounds (VOCs) are harmful to individuals and the environment in the long run. Carbon disulfide, dichlorobenzene, ethanol, formaldehyde, and terpenes are examples of VOCs. According to the US Environmental Protection Agency (EPA), VOCs can cause nose, eye, and throat irritation, as well as frequent headaches, nausea, and liver, kidney, and central nervous system (CNS) damage. VOCs form ozone when they react with nitrogen epoxides released by cars, which converts them into fine particles when exposed to sunlight. Excessive VOC leakage limits the activity of microorganisms utilized in bioremediation.
OPPORTUNITY
Worldwide, much study is being performed to better understand the potential of various bacteria that can be used in the bioremediation process. In addition, research is being carried out to find and test new microorganisms that can be used in the bioremediation process. Researchers at the Coates lab in the United States, for example, have discovered microorganisms capable of converting perchlorate to chloride. Similarly, the University of Houston identified the microbes that degraded the organophosphorus chemicals. The usage of E. coli and other microbes in the degradation of organophosphorus hydrolase enzyme has been identified. As a result, increased research activity is likely to boost market expansion in the future years. Waste Management Bioremediation Integration
CHALLENGES
In some situations, the bioremediation process may result in the development of intermediate chemicals or byproducts that may represent secondary contamination hazards.
IMPACT OF RUSSIAN UKRAINE WAR
The war between Russia and Ukraine had a substantial influence on the bioremediation industry. Civil unrest, bad business operating conditions, a lack of infrastructure, and government help for commerce and transportation are some of the primary influencing variables. Unstable European economies, as well as decreased Russian crude oil supply and export to the rest of the world, have resulted in a global lack of basic commodities. Aside from that, both nations' constant military operations and armaments have wreaked havoc on the ecosystem. Approximately 30 million tons of carbon dioxide (CO2) were created during the seven-month war.
IMPACT OF ONGOING RECESSION
During the economic downturn, hospitals prioritized cost-cutting and structural improvements over quality issues. For example, a lack of resources has resulted in a decrease in evidence-based practice in hospitals. Furthermore, understaffing has resulted in poor quality and safety of care, patient discontent, and a higher mortality rate, which is associated with increased staff effort and a decrease in adequate competent staff. Furthermore, due to a lack of infrastructure, equipment, and medical supplies, the patient's waiting time has increased, resulting in fatal delays and poor quality of care. In Southern Spain, for example, extended waiting lists for procedures raised patient discontent twofold.
KEY SEGMENTS
By Type
In Situ Bioremediation

Ex Situ Bioremediation
In 2022, the In Situ Bioremediation segment is expected to held the highest market growth rate of 57.1% during the forecast period due to the technique refers to the remediation of contaminations at the original site without excavating or pumping out the contaminated materials. Bio-venting, bioslurping, biosparging, natural attenuation, and other technologies are employed. The approach can be managed by manipulating parameters such as aeration, nutrition concentration, moisture content, and so on to increase organism activity and speed up the breakdown rate.
By Technology
Biostimulation

Phytoremediation

Bioreactors

Fungal Remediation

Bioaugmentation

Land-based Treatment
In 2022, the Phytoremediation segment is expected to dominate the market growth of 32.3% during the forecast period owing to the technology is in high demand due to its applications in the removal of heavy metals, radionuclides, organic pollutants, and pesticides using plants. It entails the employment of techniques for the treatment of pollutants such as rhizodegradation, rhizofiltration, phytovolatilization, phytoextraction, and phytostabilization, among others.
By Services
Soil Remediation

Oilfield Remediation

Wastewater Remediation

Others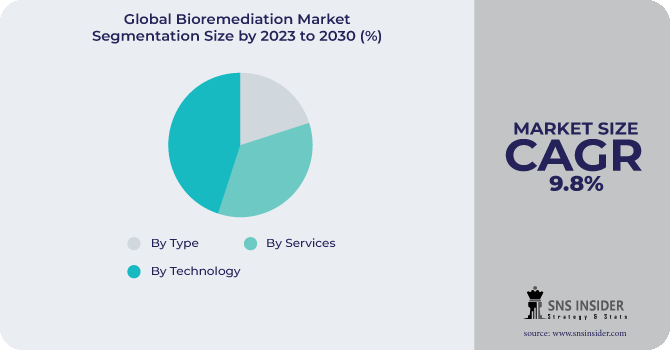 In 2022, the soil remediation segment is expected to dominate the market growth of 39.9% during the forecast period due to the service entails the removal of soil contamination caused by sources such as chemical dumping, inappropriate waste disposal, pipe leaks and spills, and others. The high level of soil degradation caused by industrial pollutants, agrochemicals, and municipal trash drives demand for soil restoration. According to the United Nations, for example, land and soil degradation affects approximately 3.2 billion people worldwide. As a result, the growing demand for soil remediation is likely to contribute significantly to market growth.
REGIONAL ANALYSES
North America held a significant market share of 40.8% in 2022 owing to the advanced infrastructure, significant industrial growth and waste generation, and the presence of important market competitors such as Regenesis Corp., Probiosphere, Inc., and Xylem, Inc. Furthermore, the region has significant bioremediation research potential, which is anticipated to fuel technological breakthroughs and encourage industry expansion. For example, a study published in the journal Applied and Environmental Microbiology in September 2021 reported the presence of marine bacteria capable of digesting hydrocarbons such as oil and diesel in the Canadian Arctic region.
Asia-Pacific is witness to expand fastest CAGR rate during the forecast period due to significant amounts of hazardous waste as a result of the region's expanding economic development and increased awareness of environmental protection. Furthermore, the region has a high population and developing countries with relatively underdeveloped waste management systems, such as Pakistan, Cambodia, and others. These factors are expected to drive industrial growth by causing contamination issues to worsen.
REGIONAL COVERAGE
North America
Europe
Eastern Europe

Poland

Romania

Hungary

Turkey

Rest of Eastern Europe

Western Europe

Germany

France

UK

Italy

Spain

Netherlands

Switzerland

Austria

Rest of Western Europe
Asia Pacific
China

India

Japan

South Korea

Vietnam

Singapore

Australia

Rest of Asia Pacific
Middle East & Africa
Middle East

UAE

Egypt

Saudi Arabia

Qatar

Rest of Middle East

Africa

Nigeria

South Africa

Rest of Africa
Latin America
Brazil

Argentina

Colombia

Rest of Latin America
Key Players
The major key players are Newterra Ltd., Sumas Remediation Service, Inc., Probiosphere, Inc., Drylet, Inc., Xylem, Inc, Regenesis Corp., Aquatech International Corp., Envirogen Technologies, Inc., Texas A&M AgriLife, MicroGen Biotech Ltd., Oil Spill Eater International, Inc., Allonnia and Others.
Newterra Ltd-Company Financial Analysis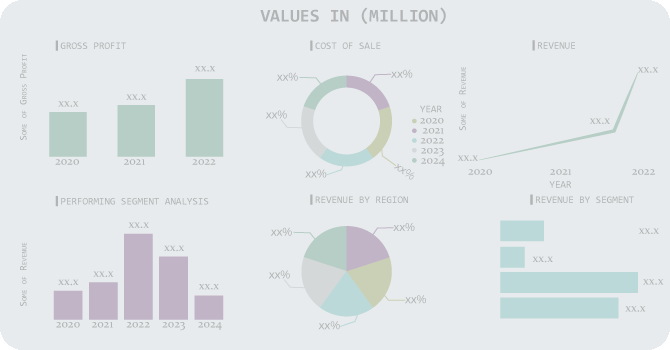 RECENT DEVELOPMENT
In March 2021, Allonnia secured a USD 20 million investment to expand its bioremediation portfolio for oil sands-related pollution. This broadened the company's offerings and strengthened its market position.
In October 2022, in the first phase of bioremediation, the municipal corporation of Ludhiana, India, committed a budget of more than USD 3 million to dispose of over 5 lakh Metric tons of trash.
In July 2022, Researchers at Texas A&M AgriLife created a novel bioremediation approach for cleaning up per and poly-fluoroalkyl substances, or PFAS, which are chemical contaminants that affect human health and environmental sustainability. The substance has commercial application in the disposal of PFAS, also known as "forever chemicals."
Bioremediation Market Report Scope:

Report Attributes

Details

Market Size in 2022

US$ 13.4 billion

Market Size by 2030

US$ 28.3 billion

CAGR

CAGR of 9.8% From 2023 to 2030

Base Year

2022

Forecast Period

2023-2030

Historical Data

2019-2021

Report Scope & Coverage

Market Size, Segments Analysis, Competitive Landscape, Regional Analysis, DROC & SWOT Analysis, Forecast Outlook

Key Segments

By Type (In Situ Bioremediation, Ex Situ Bioremediation), By Technology (Biostimulation, Phytoremediation, Bioreactors, Fungal Remediation, Bioaugmentation, Land-based Treatment), By Service (Soil Remediation, Oilfield Remediation, Wastewater Remediation, Others)

Regional Analysis/Coverage

North America (US, Canada, Mexico), Europe (Eastern Europe [Poland, Romania, Hungary, Turkey, Rest of Eastern Europe] Western Europe] Germany, France, UK, Italy, Spain, Netherlands, Switzerland, Austria, Rest of Western Europe]), Asia Pacific (China, India, Japan, South Korea, Vietnam, Singapore, Australia, Rest of Asia Pacific), Middle East & Africa (Middle East [UAE, Egypt, Saudi Arabia, Qatar, Rest of Middle East], Africa [Nigeria, South Africa, Rest of Africa], Latin America (Brazil, Argentina, Colombia Rest of Latin America)

Company Profiles

Newterra Ltd., Sumas Remediation Service, Inc., Probiosphere, Inc., Drylet, Inc., Xylem, Inc, Regenesis Corp., Aquatech International Corp., Envirogen Technologies, Inc., Texas A&M AgriLife, MicroGen Biotech Ltd., Oil Spill Eater International, Inc., Allonnia

Key Opportunities

•Intensifying research and development efforts

Market Challenges

•Secondary Contamination Risk

•Long-term Monitoring and Upkeep