Report Scope & Overview:
The Chlamydia Infection Treatment Market Size was valued at USD 2.82 billion in 2022 and is expected to reach USD 5.41 billion by 2030 and grow at a CAGR of 8.5% over the forecast period 2023-2030.
The market for Chlamydia infection therapy is expanding as the prevalence of sexually transmitted illnesses rises. Furthermore, rising government actions to raise STD awareness and public knowledge about STDs are moving the market ahead. In response to the rising economic impact of STDs, the government has boosted its efforts to raise awareness of the disease. The growth of the chlamydia infection treatment market is being driven by a rise in government-sponsored awareness initiatives and measures such as free diagnostic camps to promote regular health check-ups. The demand for regular health check-ups has increased, as has public knowledge of sickness screening.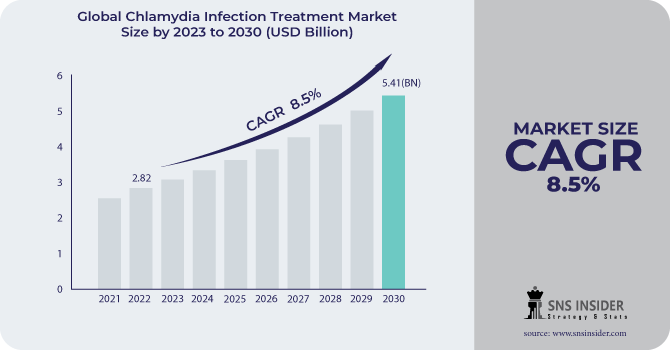 To Get More Information on Chlamydia Infection Treatment Market - Request Sample Report
MARKET DYNAMICS:
KEY DRIVERS:
Increased prevalence of sexually transmitted diseases including chlamydia

Rising government initiatives to raise STD awareness
Rising government initiatives for STD awareness, including Chlamydia, focus on educating the public about safe sexual practices, enhancing access to testing and treatment, targeted outreach to vulnerable populations, integrating sexual education in schools, and utilizing partner notification to break transmission chains. These efforts aim to reduce infections, promote responsible behavior, and safeguard public health.
RESTRAINTS:
Low disease screening rates in developing countries

The social stigma linked with STDs
The social stigma associated with Chlamydia and STDs creates an environment of shame and judgment, discouraging open conversations. This secrecy prevents individuals from seeking testing, treatment, and support, which can have negative effects on mental health and relationships. To improve sexual health outcomes, it's vital to combat stigma by educating society, fostering empathy, and creating a safe space for discussions. This approach promotes awareness, encourages testing and treatment, and enhances overall well-being.
OPPORTUNITY:
Creating innovative and alternative treatments for Chalymdia

Antibiotic therapy is currently used in the treatment of chlamydia.
Antibiotic therapy is the primary treatment for Chlamydia infection, caused by the bacterium Chlamydia trachomatis. Antibiotics like azithromycin or doxycycline are prescribed to eliminate the bacteria and cure the infection. Timely treatment is important to prevent complications such as pelvic inflammatory disease. Adherence to the prescribed regimen and partner treatment are recommended for effective management. Follow-up testing confirms the infection's clearance and ensures overall well-being.
Challenges:
A lack of comprehensive sexual education can lead to misunderstandings about Chlamydia, unsafe sexual practices, delayed diagnosis, and inadequate protection. It hinders open communication, perpetuates social stigma, and prevents individuals from making informed decisions about their sexual health, ultimately impacting the spread of Chlamydia and its potential consequences.
IMPACT OF COVID-19:
The increased prevalence of COVID-19 is expected to have an impact on market growth over the forecast period. As the coronavirus outbreak persists, the majority of pharmaceutical businesses have suffered considerable losses, putting the chlamydia infection treatment market in jeopardy. During the early stages of the pandemic, several businesses curtailed or ceased manufacturing and supply operations. However, the current COVID-19 scenario is expected to normalise as medical professionals and health authorities in the countries take the appropriate actions to combat the virus. During the COVID-19 pandemic, social distancing guidelines and resource reallocation have caused significant disruption to sexual health clinics around the world.
Furthermore, a lack of Active Pharmaceutical Ingredients (APIs) and completed goods, particularly antibiotics, has harmed the chlamydia infection treatment business. To avoid product shortages, the FDA and European Commission suggested and issued regulations concentrating on demand optimization and rational supply. Several restrictions were revised as part of these regulatory adjustments in order to improve imports and maintain supply chain integration.
Chlamydia trachomatis is the most common sexually transmitted bacterium and is a gram-negative bacteria that causes chlamydia. These are typical causes of genital tract infections and can look like a gonorrhoea infection. They are also linked to blindness and are the cause of inclusion conjunctivitis. Because of the disease's high incidence, the chlamydia infection treatment market is predicted to have a significant market share in 2021.
Chlamydia pneumoniae is a gram-negative bacteria that commonly causes pneumonia as well as community-acquired pneumonia.
The growing epidemics of community-acquired pneumonia are expected to drive the Chlamydia pneumoniae segment.
The oral method of administration is one of the most popular and widely utilised drug delivery routes. The gastrointestinal tract absorbs a medication administered via this route into the systemic circulation. The oral method of administration is the most recommended since it is simple and convenient for the patient, non-invasive, can be self-administered, and is generally safe and inexpensive. In 2021, the oral route of administration segment held the greatest proportion of the chlamydia infection treatment market.
Injectable administration is one of the most prevalent health-care treatments worldwide. The three most common injection routes in pharmaceutical delivery are intravenous (IV), subcutaneous (SC), and intramuscular (IM). These have various advantages, including quick action and the ability to be administered to unconscious patients. In 2021, the injectable route of administration segment accounted for a sizable share of the chlamydia infection treatment market.
A hospital pharmacy is a dispensary that supplies and administers pharmaceuticals to both inpatients and outpatients. Hospital pharmacies provide patients with quick access to medications and meet the needs of a large patient population. The expanding number of hospitals and the increase in hospital admissions boost the growth of the chlamydia infection treatment market sector.
Online pharmacies are internet-based merchants who deliver and distribute medications to customers through online platforms. Because of the internet's rapid spread, expanding digital health, and the convenience of mail-order trade, there is a significant demand for online pharmacies.
Retail pharmacies are physical stores that distribute and dispense medications to customers. Retail pharmacies are the most accessible to the general population and assist in the dispensing of prescription and over-the-counter drugs.
IMPACT OF RUSSIAN UKRAINE WAR
The impact of the Russia-Ukraine conflict on Chlamydia infections could be significant. Infections may rise in a result of disrupted healthcare services, damaged infrastructure, and limited access to testing and treatment. , Drug-resistant tuberculosis accounted for 29% of all new diagnoses and only 81% of all TB cases were detected and treated. In addition to tuberculosis, it is anticipated that around 152 000 of the 260 000 HIV patients in Ukraine receive antiretroviral medication. The country's insufficient medical supplies exacerbated the difficulties in diagnosing and treating numerous communicable diseases in Ukraine. Reduced public health education efforts may contribute to risky sexual behavior, increasing transmission. Due to the conflict, healthcare worker shortages may impede prompt diagnosis and treatment. Disruptions in the supply chain could limit the availability of testing kits and medications. The total lack of disease control infrastructure may result in an increase in Chlamydia infection cases.
IMPACT OF ONGOING RECESSION
Recession can have an indirect impact on Chlamydia infections. Reduced healthcare spending owing to financial restrictions may result in less access to testing and treatment, thereby raising infection rates. Unemployment and loss of health insurance may make it difficult for people to seek Chlamydia treatment. Economic constraints may cause resources to be diverted away from public health campaigns and education efforts, contributing to risky sexual practices. Disruptions in healthcare services and supply systems could make testing kits and antibiotics unavailable. Overcrowding as a result of economic hardship may aggravate transmission in vulnerable groups. Reduced research funding may have an impact on the development of new preventative and treatment measures. The combined effect of these factors could lead to an increase in Chlamydia infection rates during a recession.
KEY MARKET SEGMENTS:
by Causative Organisms
Chlamydia trachomatis

Chlamydophila pneumoniae
by Route of Administration
by Distribution Channel
Hospital Pharmacy

Online Pharmacy

Retail Pharmacy

Others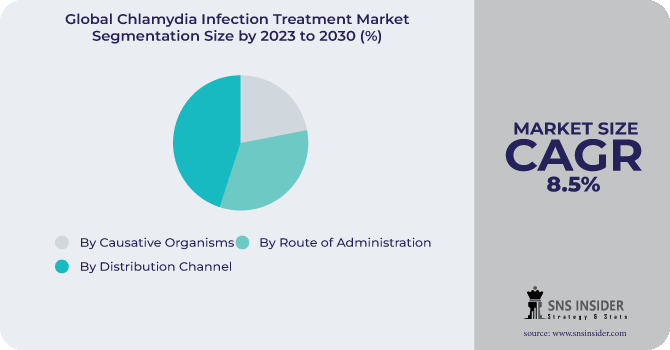 Need any customization research on Chlamydia Infection Treatment Market - Enquiry Now
REGIONAL ANALYSIS:
North America is poised to take the lead in the chlamydia infection treatment market, owing to a well-developed healthcare sector and an increase in medical tests. The large number of biopharmaceutical and pharmaceutical businesses, as well as the alarming rise in STDs and the surge in government measures to educate the public about these illnesses, would all help to enhance the market position. The development of novel POC testing concepts, the increasing number of public health laboratories offering robust STD testing services, and the availability of insurance coverage are all key growth drivers. Various pipeline medications are currently undergoing comprehensive research to determine their potential to act as a replacement for antibiotics used to treat chlamydia.
As a result, advancements in pharmaceutical formulations and nanotechnology will provide attractive potential for the development of alternative treatments, ultimately leading to significant market expansion.
Asia Pacific is expected to develop at the quickest rate during the assessment period, owing to substantial improvements in healthcare infrastructure and an increase in the number of chlamydia patients. The extensive usage of STD screening, as well as the booming biopharma and pharma sectors, contribute to the value of the regional market. A significant increase in per capita healthcare expenditure will further support regional company growth.
REGIONAL COVERAGE:
North America
Europe
Eastern Europe

Poland

Romania

Hungary

Turkey

Rest of Eastern Europe

Western Europe

Germany

France

UK

Italy

Spain

Netherlands

Switzerland

Austria

Rest of Western Europe
Asia Pacific
China

India

Japan

South Korea

Vietnam

Singapore

Australia

Rest of Asia Pacific
Middle East & Africa
Middle East

UAE

Egypt

Saudi Arabia

Qatar

Rest of Middle East

Africa

Nigeria

South Africa

Rest of Africa
Latin America
Brazil

Argentina

Colombia

Rest of Latin America
KEY PLAYERS:
The Major Players are Merck & Co. Inc., Sanofi, Eli Lilly and Company, Novartis, GlaxoSmithKline Plc, AstraZeneca, TevaPharmaceuticals, Sun Pharma, Pfizer Inc, Gilead Sciences Inc. and Other Players.
Eli Lilly and Company-Company Financial Analysis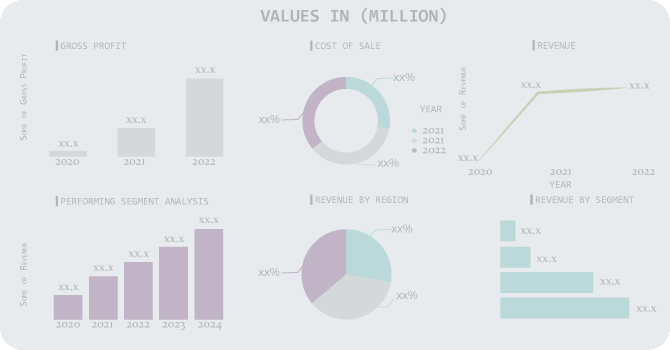 Recent Development
In September 2022- to improve the development of STI vaccines, WHO and its partners launched a new online resource. At the 23rd IUSTI World Congress, the inaugural STI Watch online portal was launched, focusing on advancing vaccine development for sexually transmitted infections (STIs).

In February 2023-Partnership Between Caraway and Ash Wellness to Combat Rise in Gen Z Sexually Transmitted Infections, Caraway, a digital healthcare provider for Gen Z, has partnered with Ash Wellness, an at-home diagnostics company.
Chlamydia Infection Treatment Market Report Scope:
Report Attributes
Details
Market Size in 2022
US$ 2.82 Billion
Market Size by 2030
US$ 5.41 Billion
CAGR
CAGR of 8.5 % From 2023 to 2030
Base Year
2022
Forecast Period
2023-2030
Historical Data
2019-2021
Report Scope & Coverage
Market Size, Segments Analysis, Competitive Landscape, Regional Analysis, DROC & SWOT Analysis, Forecast Outlook
Key Segments
• By Causative Organisms (Chlamydia trachomatis, Chlamydophila pneumoniae)
• By Distribution Channel (Hospital Pharmacy, Online Pharmacy, Retail Pharmacy, Others)
• By Route of Administration (Oral, Injectable, Others)
Regional Analysis/Coverage
North America (US, Canada, Mexico), Europe (Eastern Europe [Poland, Romania, Hungary, Turkey, Rest of Eastern Europe] Western Europe] Germany, France, UK, Italy, Spain, Netherlands, Switzerland, Austria, Rest of Western Europe]), Asia Pacific (China, India, Japan, South Korea, Vietnam, Singapore, Australia, Rest of Asia Pacific), Middle East & Africa (Middle East [UAE, Egypt, Saudi Arabia, Qatar, Rest of Middle East], Africa [Nigeria, South Africa, Rest of Africa], Latin America (Brazil, Argentina, Colombia Rest of Latin America)
Company Profiles
Merck & Co. Inc., Sanofi, Eli Lilly and Company, Novartis, GlaxoSmithKline Plc, AstraZeneca, TevaPharmaceuticals, Sun Pharma, Pfizer Inc, Gilead Sciences Inc.
Key Drivers
• Increased prevalence of sexually transmitted diseases including chlamydia
• Rising government initiatives to raise STD awareness
RESTRAINTS
• Low disease screening rates in developing countries
• The social stigma linked with STDs