Report Scope & Overview:
The Current Sensor Market size was valued at USD 2.6 billion in 2022. It is estimated to hit USD 5.74 billion by 2030 and grow at a CAGR of 10.4% over the forecast period of 2023-2030.
Current sensors are devices used for the purpose of measuring and monitoring the electric current flow within a circuit. They are widely employed in industries such as automotive, energy, telecommunications, and consumer electronics. In recent years, the demand for current sensors has surged due to the increasing need for accurate and reliable current measurements. This surge can be attributed to the rising adoption of electric vehicles, the expansion of renewable energy sources, and the growing complexity of electronic systems. As a result, the current sensor market has witnessed significant advancements in terms of technology and innovation.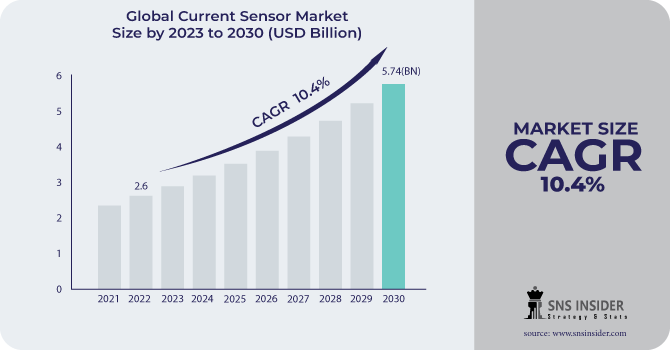 One of the key drivers of this market is the automotive industry. According to the International Energy Agency, "the global sales of electric cars exceeded 10.5 million units in 2022, with an anticipated growth of 36% in 2023, reaching a staggering almost 15 million units. This explosive growth has propelled electric cars' market share from a 5% in 2020 to an impressive 15% in 2022, and it is projected to further increase to 19% in 2023." Demand for current sensors has increased due to a shift towards electric vehicles. These sensors are essential for monitoring the battery's state of charge, ensuring efficient power management, and enhancing overall vehicle performance. Moreover, the integration of advanced driver-assistance systems (ADAS) in modern vehicles has further fueled the demand for current sensors, as they are crucial for ensuring the safety and reliability of these systems.
Another major factor driving the growth of the current sensor market is the increasing adoption of renewable energy sources. As the world strives to reduce its carbon footprint, there has been a significant shift towards renewable energy generation, such as solar and wind power. Current sensors play a vital role in these systems by accurately measuring the current flow and enabling efficient power conversion and distribution. This has led to a surge in the demand for current sensors in the energy sector.
Furthermore, the consumer electronics industry has also contributed to the expansion of the current sensor market. With the proliferation of smartphones, tablets, and wearable devices, there is a growing need for efficient power management and battery monitoring. Current sensors enable precise measurement of the current drawn by these devices, ensuring optimal performance and prolonging battery life.
Market Dynamics
Drivers
Increasing demand for energy-efficient solutions

Rising demand for electric vehicles (EV)

Growing demand for consumer electronics
Consumer electronics have become an integral part of our daily lives, with a wide range of devices such as smartphones, laptops, tablets, and wearable gadgets becoming increasingly popular. These devices rely on electrical currents to function effectively. As a result, the need for accurate and reliable current sensing technology has become important. The growing trend of digitalization and connectivity has further propelled the demand for consumer electronics. The rise of the Internet of Things (IoT) has resulted in a multitude of devices being interconnected, creating a seamless and integrated ecosystem. This interconnectedness requires accurate current sensing technology to ensure optimal performance and safety.
Restrain
Opportunities
Integration of IoT technology with current sensors

Increasing focus on renewable energy sources
In recent years, there has been a significant shift towards renewable energy sources such as solar, wind, and hydroelectric power. According to the IEA, "In 2022, the supply of renewable energy from wind, solar, and hydro sources experienced a substantial increase of almost 8%. This resulted in the share of these technologies in the global energy supply rising by approximately 0.4% points, reaching a commendable 5.5%. Furthermore, the share of modern bioenergy also witnessed growth, increasing by 0.2% points and reaching an impressive 6.8% in 2022." The driving force behind this transition is to combat climate change and reduce our dependency on fossil fuels. As a result, governments, organizations, and individuals worldwide are increasingly investing in renewable energy projects.
But what is the role of the current sensor market in the renewable energy sector? Current sensors play a crucial role in the efficient functioning of renewable energy systems. These sensors are responsible for measuring and monitoring the flow of electric current in various components of renewable energy infrastructure, including solar panels, wind turbines, and energy storage systems. By accurately measuring the current, these sensors enable the optimization of energy generation and distribution processes. They provide valuable data that helps in identifying potential issues, ensuring the safety and reliability of renewable energy systems. Moreover, current sensors contribute to the overall efficiency and performance of these systems, ultimately leading to increased energy production and cost savings. As the demand for renewable energy continues to rise, the market for current sensors is expected to experience substantial growth.
Challenges
Complex installation and maintenance of current sensors

Accuracy across varying temperature ranges
Impact of Russia-Ukraine War:
The Russia-Ukraine war has disrupted the supply chain of current sensors. Both countries play a vital role in the production and distribution of these sensors, with many manufacturers located in the region. Russia holds a significant share of the global palladium supply, accounting for approximately 44%. Palladium is a crucial component in the production of sensors and is heavily reliant on Russia's control over its supply. Palladium and neon are two crucial resources for the production of semiconductor chips. These chips are essential in a wide range of industries, including automobiles, mobile phones, consumer electronics, and many others. The conflict has led to logistical challenges, delays in production, and increased costs due to transportation disruptions. As a result, the availability of raw materials used to produce current sensors in the market has been affected, leading to potential shortages and increased prices.
On the other hand, the Russia-Ukraine war has also presented opportunities for certain players in the current sensor market. As the conflict escalates, there is a growing demand for advanced surveillance and security systems. Current sensors play a crucial role in these systems, enabling accurate monitoring and detection of unauthorized activities. Consequently, companies specializing in security applications have witnessed an increase in demand for their products.
Impact of Recession:
The recession leads to a decline in demand and a subsequent decrease in sales. As businesses and consumers alike faced financial constraints, the need for current sensors diminished. This decline in demand has resulted in reduced production and a subsequent decrease in revenue for manufacturers. Furthermore, the recession has also affected the pricing dynamics within the current sensor market. Manufacturers have been forced to lower their prices in order to remain competitive and attract customers. This has put additional pressure on profit margins, making it challenging for companies to sustain their operations.
Market segmentation
By Loop Type
By Output Type
By Technology
By End-user
Automotive

Energy

Healthcare

Consumer Electronics

Telecommunication

Industrial

Others
Regional Analysis
The Asia Pacific region is projected to experience the highest CAGR in the current sensor market during the forecast period of 2023-2030. Rapid industrialization and urbanization led to an increased demand for current sensors across various sectors, including automotive, consumer electronics, and industrial automation. As these economies continue to develop, the need for current sensors to monitor and control electrical currents becomes crucial, driving the market growth in the region.
Moreover, the Asia Pacific region is home to a large population, which translates into a vast consumer base. The Asia Pacific region is home to 60% of the world's population, which amounts to approximately 4.3 billion people. The total disposable income is projected to more than double in real terms between 2021 and 2040, surpassing the growth rate of any other region. This region encompasses the most populous countries in the world, namely China and India. With rising disposable income and technological advancements, there is a growing adoption of electronic devices and appliances in this region. Current sensors play a vital role in ensuring the safety and efficiency of these devices by monitoring and regulating the flow of electrical currents. Consequently, the demand for current sensors is expected to surge in the Asia Pacific region, contributing to its significant growth in the market.
Furthermore, governments in the Asia Pacific region are increasingly focusing on energy efficiency and sustainability. They are implementing stringent regulations and policies to promote the use of energy-efficient technologies. Current sensors aid in optimizing energy consumption by accurately measuring and controlling electrical currents. This aligns with the region's sustainability goals and encourages the adoption of current sensors across various industries.
REGIONAL COVERAGE:
North America
Europe
Eastern Europe

Poland

Romania

Hungary

Turkey

Rest of Eastern Europe

Western Europe

Germany

France

UK

Italy

Spain

Netherlands

Switzerland

Austria

Rest of Western Europe
Asia Pacific
China

India

Japan

South Korea

Vietnam

Singapore

Australia

Rest of Asia Pacific
Middle East & Africa
Middle East

UAE

Egypt

Saudi Arabia

Qatar

Rest of Middle East

Africa

Nigeria

South Africa

Rest of Africa
Latin America
Brazil

Argentina

Colombia

Rest of Latin America
Key Players
The major key players are Honeywell, Texas Instruments, Asahi Kasei Microdevices, TDK Corporation, Melexis, ACEINNA, Allegro MicroSystems, Tamura Corp., LEM International, Infineon Technologies, and other key players mentioned in the final report.
Honeywell-Company Financial Analysis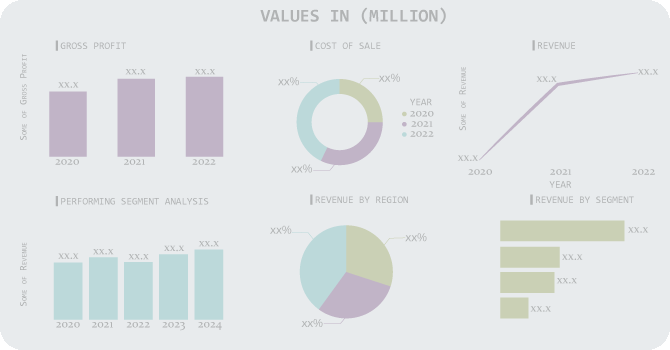 Recent Development:
In April 2023, Asahi Kasei Microdevices developed an advanced ultra-fast current sensing technology with a bandwidth of several MHz.

In March 2023, Allegro MicroSystems made an exciting announcement about the release of samples for the ACS37601. This high-precision, ASIL C safety-rated field current sensor offers exceptional accuracy for traction and auxiliary inverter systems, as well as battery management systems (BMS) in electric vehicles (EVs).

In Nov 2022, Melexis introduced the MLX91230 and MLX91231. These advanced devices provide access to shunt or Hall-type current sensor technologies and are compliant with ASIL standards. They are capable of measuring voltage, current, and temperature.

In Nov 2022, Infineon Technologies AG expanded its current sensor portfolio for automotive applications with the introduction of the XENSIV™ TLE4971 family.
Current Sensor Market Report Scope:
Report Attributes
Details
Market Size in 2022
US$ 2.6 Bn
Market Size by 2030
US$ 5.74 Bn
CAGR
CAGR of 10.4% From 2023 to 2030
Base Year
2022
Forecast Period
2023-2030
Historical Data
2020-2021
Report Scope & Coverage
Market Size, Segments Analysis, Competitive Landscape, Regional Analysis, DROC & SWOT Analysis, Forecast Outlook
Key Segments
• By Loop Type (Open Loop and Closed Loop)
• By Output Type (Digital and Analog)
• By Technology (Isolated Current Sensor and Non-isolated Current Sensor)
• By End-user (Automotive, Energy, Healthcare, Consumer Electronics, Telecommunication, Industrial, and Others)
Regional Analysis/Coverage
North America (US, Canada, Mexico), Europe (Eastern Europe [Poland, Romania, Hungary, Turkey, Rest of Eastern Europe] Western Europe] Germany, France, UK, Italy, Spain, Netherlands, Switzerland, Austria, Rest of Western Europe]). Asia Pacific (China, India, Japan, South Korea, Vietnam, Singapore, Australia, Rest of Asia Pacific), Middle East & Africa (Middle East [UAE, Egypt, Saudi Arabia, Qatar, Rest of Middle East], Africa [Nigeria, South Africa, Rest of Africa], Latin America (Brazil, Argentina, Colombia Rest of Latin America)
Company Profiles
Honeywell, Texas Instruments, Asahi Kasei Microdevices, TDK Corporation, Melexis, ACEINNA, Allegro MicroSystems, Tamura Corp., LEM International, Infineon Technologies
Key Drivers
• Increasing demand for energy-efficient solutions
• Rising demand for electric vehicles (EV)
• Growing demand for consumer electronics
Market Restraints
• High cost associated with current sensor technology