Report Scope & Overview:
The Digital Workplace Market size was valued at USD 32.98 Billion in 2022 and is expected to grow to USD 167.23 Billion By 2030 and grow at a CAGR of 22.5 % over the forecast period of 2023-2030.
The digital workplace idea is concerned with employing digital transformation to harmonize technologies, personnel, and business processes. Employees may access their applications and data from any device and from any place. Enterprise mobility solutions allowing users to operate smoothly across physical, virtual, and networked settings are referred to as digital workplace solutions. The primary goal of workplace digitalization is to create a user-centric environment. Employees may use digital workplace solutions to select gadgets that improve their working experience, increasing organizational efficiency.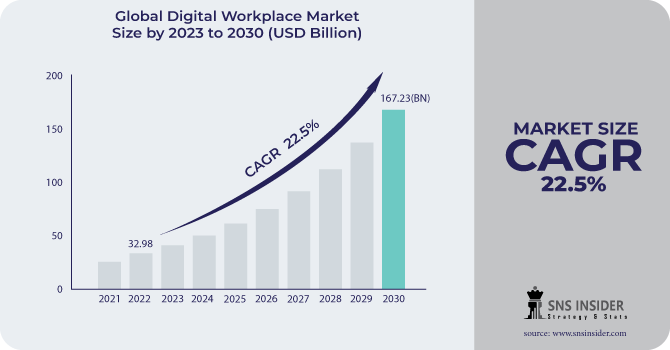 To get more information on Digital Workplace Market - Request Free Sample Report
Market Dynamics
Drivers
A digital workplace will assist in attracting, retaining, engaging, and motivating people. Mature digital workplace regulations enable employees to use their own devices and support a range of work styles. End users obtain a fit-for-purpose workplace bundle customized to their needs when persona-based models are used instead of single services. Employee information and materials are securely connected to collaboration tools, corporate drop boxes, and cloud storage, enabling employees to access data from any device, at any time, and from any location, whether in the office or remote working. Access to this data boosts efficiency while also increasing production and organizational adaptability. Employees may use digital workplace solutions to better their communication, cooperation, and interactions with one another. When implemented efficiently and effectively, these solutions enable organizations to avoid common risks, comply with regulatory compliances, and ultimately realize increased economic value, allowing them to deliver a better employee experience.
Restrains
Opportunities
SME usage of workplace transformation services is increasing.

The increasing adoption of modern technology by organizations.

More cloud-based and flexibility-enhancing accessibility solutions are projected to be implemented in workplaces.
The adoption of modern technology by organizations is on the rise. This trend is driven by the need to stay competitive in today's fast-paced business environment. With the rapid advancements in technology, companies are realizing the benefits of incorporating these tools into their operations. From streamlining processes to improving communication, modern technology has the potential to revolutionize the way businesses operate. As such, it is becoming increasingly important for organizations to stay up-to-date with the latest technological advancements in order to remain relevant and successful in their respective industries.
Challenges
Impact of the Russia-Ukraine War
The ongoing war between Russia and Ukraine can have several impacts on the digital workplace market. In times of conflict, critical infrastructure, including internet connectivity and communication networks, can be targeted or disrupted. This disruption can affect the functioning of digital workplaces, leading to communication and productivity challenges for organizations operating in the region, and an increase in cyberattacks and hacking attempts. Organizations need to be vigilant about their digital security to protect their sensitive data and ensure the smooth functioning of their digital workplaces. This may lead to increased investments in cybersecurity solutions and services. The conflict may lead to changes in the geopolitical landscape, trade relationships, and economic sanctions. Such shifts can impact international collaborations, supply chains, and investment patterns, which in turn can influence the digital workplace market. Companies may need to reassess their strategies and partnerships in light of these changes.
The impact of the war on the digital workplace market may vary across different regions and countries. While the direct impact may be more significant in the regions directly involved in the conflict, there can be indirect effects on neighboring countries and global markets due to geopolitical repercussions and economic ripple effects.
Impact of the Recession
The impact of a recession on the Digital Workplace Market can be both challenging and transformative. During an economic downturn, businesses tend to face budget constraints and prioritize cost-cutting measures. This can affect their willingness to invest in new technologies and solutions, including digital workplace initiatives.
Companies may view digital workplace investments as non-essential during a recession, focusing primarily on cost reduction. This could lead to a decrease in immediate spending on digital workplace solutions. Recessions can drive an increase in remote work arrangements as companies look for ways to reduce expenses, such as office space and infrastructure. This shift highlights the importance of digital workplace technologies that enable effective collaboration, communication, and productivity in remote work environments. Digital workplace tools, such as project management platforms, virtual collaboration software, and automation tools, can help streamline processes and enhance productivity. In times of financial uncertainty, organizations may turn to cloud-based solutions as a cost-effective alternative to traditional on-premises infrastructure. The digital workplace market heavily relies on cloud computing, which could experience increased adoption during a recession. During economic downturns, organizations may prioritize initiatives that empower and enable their workforce to be more self-sufficient. Digital workplace technologies that enhance employee skills, enable self-service support, and provide accessible knowledge resources can be beneficial in such situations. Recessionary periods can lead to increased competition among digital workplace solution providers. Vendors may offer more attractive pricing, innovative features, or bundled offerings to gain market share. In some cases, the recession may also drive consolidation as weaker players struggle to survive.
Key Market Segmentation
By Component
By organization Size
By End-use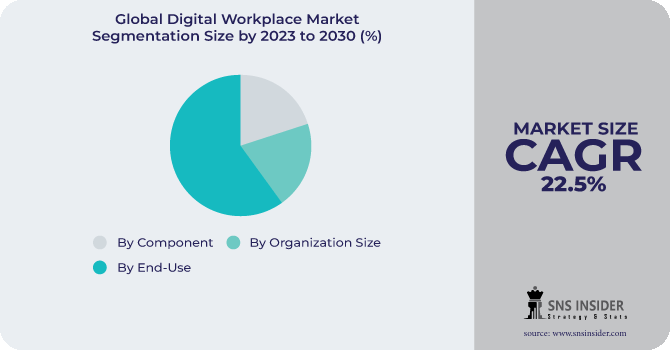 Need any customization research on Digital Workplace Market - Enquiry Now
Regional Analysis
North America is a worldwide hub for numerous start-ups, medium-sized businesses, and huge corporations. The rising development of social ties from commerce, as well as the spike in IoT, cloud computing, and the deployment of critical technologies such as big data, AI, and automation approaches, is also driving regional growth. The APAC area forecasts significant growth based on revenue collection during the research phase, owing to the growing popularity of working from home or distant locations and the growing importance of providing top-notch amenities to employees to improve user experience. Rising retail sector propulsion, including IT enterprises in the province, are additional elements answerable for enhancing Asia Pacific market expansion.
REGIONAL COVERAGE:
North America
Europe
Germany

UK

France

Italy

Spain

The Netherlands

Rest of Europe
Asia-Pacific
Japan

South Korea

China

India

Australia

Rest of Asia-Pacific
The Middle East & Africa
Latin America
Brazil

Argentina

Rest of Latin America
Key Players:
The major players are Infosys Limited, Accenture plc, Atos SE, Capgemini, Cognizant, Tata Consultancy Services Limited, HCL Technologies Limited, IBM, Mphasis, DXC Technology, Tech Mahindra Limited, Trianz, and others in the final report.
Tata Consultancy Services Limited-Company Financial Analysis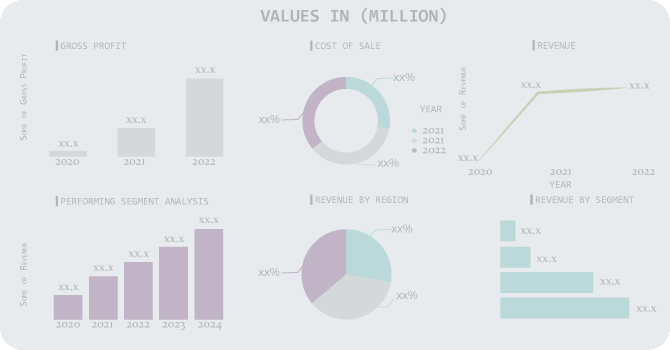 Recent Developments
BlackBerry Limited will offer BlackBerry Digital Workplace, a secure robust workplace solution, in February 2020 to enable users with simple and secure online and offline access to corporate on-premise or cloud information, including Microsoft Office 365 resources.
LumApps SAS and Microsoft Corporation made a partnership in February 2020 to build a fully integrated Office 365 Digital Workplace solution. This collaboration enables LumApps to link its solutions with Microsoft technologies, accelerating its expansion in the digital workplace sector.
Digital Workplace Market Report Scope:
Report Attributes
Details
Market Size in 2022
US$ 32.98 Bn
Market Size by 2030
US$ 167.23 Bn
CAGR
CAGR of 22.5% From 2023 to 2030
Base Year
2022
Forecast Period
2023-2030
Historical Data
2020-2021
Report Scope & Coverage
Market Size, Segments Analysis, Competitive Landscape, Regional Analysis, DROC & SWOT Analysis, Forecast Outlook
Key Segments
• By Component (Solutions, Services)
• By Organization Size (Small and Medium Enterprises, Large Enterprises)
• By End-use (BFSI, IT & Telecommunication, Retail & Consumer Goods, Healthcare & Pharmaceuticals, Manufacturing, Government, Others)
Regional Analysis/Coverage
North America (USA, Canada, Mexico), Europe
(Germany, UK, France, Italy, Spain, Netherlands,
Rest of Europe), Asia-Pacific (Japan, South Korea,
China, India, Australia, Rest of Asia-Pacific), The
Middle East & Africa (Israel, UAE, South Africa,
Rest of Middle East & Africa), Latin America (Brazil, Argentina, Rest of Latin America)
Company Profiles
Infosys Limited, Accenture plc, Atos SE, Capgemini, Cognizant, Tata Consultancy Services Limited, HCL Technologies Limited, IBM, Mphasis, DXC Technology, Tech Mahindra Limited, Trianz
Key Drivers
• Greater flexibility and a better employee experience are in high demand.
Market Opportunities
• SME usage of workplace transformation services is increasing.
• The increasing adoption of modern technology by organizations.