REPORT SCOPE & OVERVIEW
The Education ERP Market size was USD 14.7 billion in 2022 and is expected to Reach USD 44.6 billion by 2030 and grow at a CAGR of 14.9 % over the forecast period of 2023-2030
A process management tool called enterprise resource planning enables firms to combine business management with a number of automated tasks. The education ERP assists in automating admission, reducing back office tasks, and decreasing the overall length of the admissions process. The main advantages of education ERP are increased productivity, cost efficiency, and data security. The growing demand for automated business processes in academic institutions and the need to protect sensitive data of academic organizations are driving the global market for education ERP. Additionally, improved performance as well as improved communication and teamwork amongst various organizational areas fuels the growth of the education ERP market. Automated management systems can be used to support distance learning by providing students with access to course materials, assignments, and assessments online. They can also be used to track student progress and provide support to students who are struggling. Automated management systems can be used to personalize learning for each student. This can be done by tracking student progress, identifying areas of need, and recommending appropriate resources. The higher education segment dominates the Education ERP market with a market share of 52.3% in 2022. This is due to the increasing demand for ERP systems in colleges and universities to improve efficiency, reduce costs, and improve student outcomes. The global enrolment in higher education is expected to grow from 257 million in 2020 to 372 million in 2030. This growth is creating a need for more efficient and effective management of academic and administrative processes in colleges and universities. The student demographics in higher education are changing, with more students from diverse backgrounds and with different learning needs. ERP systems can help colleges and universities to meet the needs of these students by providing personalized learning experiences and by tracking student progress.
MARKET DYNAMICS
KEY DRIVERS
Increasing demand for automated management systems in educational institutions

Growing adoption of cloud-based ERP solutions
The increasing demand for automated management systems in educational institutions is a reflection of the changing needs of these organizations. Automated systems can help educational institutions to improve efficiency, reduce costs, improve data collection and analysis, personalize learning, and support distance learning. As a result, they are becoming an essential tool for educational institutions in the 21st century. Automated systems can be used to automate the process of student registration and enrollment. This can save staff time and reduce errors.
RESTRAIN
High implementation and maintenance costs of ERP systems

Limited IT infrastructure and technical expertise in educational institutions
Migrating data from existing systems and integrating the ERP system with other applications or databases can be a complex and time-consuming process. This may require additional resources and expertise, contributing to the overall implementation costs
OPPORTUNITY
Growing demand for mobile-based ERP solutions

Increasing adoption of AI and machine learning technologies in ERP systems
More and more people are using mobile devices for work, both in the office and on the go. This means that they need access to ERP systems from anywhere, at any time. In today's fast-paced business world, it is essential to have access to real-time data. Mobile-based ERP solutions allow users to access data from anywhere, which can lead to faster decision-making and improved customer service.
CHALLENGES
Intense competition among ERP vendors

Resistance to change and lack of awareness among end-users
ERP systems are complex, and the competition between vendors can lead to a proliferation of features and functions. This can make it difficult for businesses to choose the right ERP system for their needs and to implement it successfully.
IMPACT OF RUSSIAN UKRAINE WAR
The war has caused supply chain disruptions, which has made it difficult for these companies to get the products and services they need. This has led to delays in product deliveries and increased costs. The war has also increased the security risks for education ERP companies. Hackers from Russia and Ukraine have been targeting these companies, and there is a heightened risk of data breaches and cyberattacks. A survey by the Association of Educational Publishers found that 70% of education ERP companies have experienced supply chain disruptions due to the war. and A study by the Ponemon Institute found that the cost of a data breach for education ERP companies has increased by 20% since the start of the war. The war has also shifted the demand for education ERP products and services. Schools and universities in Ukraine have been forced to close, and many students have been displaced. This has led to a decrease in demand for education ERP products and services in Ukraine. However, there has been an increase in demand for these products and services in other countries, as schools and universities seek to improve their IT infrastructure and security.
IMPACT OF ONGOING RECESSION
Governments and businesses are cutting back on spending, which is reducing the amount of money available for education. This is leading to budget cuts for schools, which can make it difficult to afford new ERP systems. Governments are changing their education policies in response to the recession. This is making it more difficult for ERP vendors to keep up with the latest requirements. SAP is the largest ERP vendor in the world, and it is heavily reliant on the education market. The recession is likely to lead to decreased demand for SAP's products in education, which could impact the company's financial performance. The ongoing recession is a challenge for the education ERP market, but it also presents an opportunity for vendors that can adapt to the changing environment. Vendors that can offer flexible and affordable ERP solutions that meet the needs of schools and universities in a recessionary environment are likely to be successful.
KEY MARKET SEGMENTS
By Component
By Application
Student Management

Academic Management

Human Resource Management

Finance

Accounting Management

Stores Procurement Management

Other Applications
By Deployment Mode
By End-User
K-12 Schools

Higher Education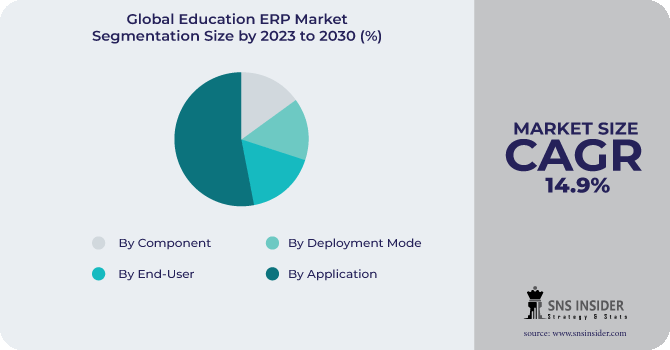 Region Coverage:
North America
Europe
Eastern Europe

Poland

Romania

Hungary

Turkey

Rest of Eastern Europe

Western Europe

Germany

France

UK

Italy

Spain

Netherlands

Switzerland

Austria

Rest of Western Europe
Asia Pacific
China

India

Japan

South Korea

Vietnam

Singapore

Australia

Rest of Asia Pacific
Middle East & Africa
Middle East

UAE

Egypt

Saudi Arabia

Qatar

Rest of the Middle East

Africa

Nigeria

South Africa

Rest of Africa
Latin America
Brazil

Argentina

Colombia

Rest of Latin America
REGIONAL ANALYSIS
In North America, including the United States and Canada, the education ERP market has been well-established due to the presence of numerous educational institutions, universities, and schools. Prominent vendors in this market include Ellucian, Blackbaud, Oracle, Unit4, and more. These vendors offer a range of ERP solutions tailored to the needs of different educational institutions. In North America, education policies vary by country and even within states or provinces. The United States, for example, has a decentralized education system where each state has its own policies regarding curriculum, funding, and administration. Some states have promoted the use of technology in education, including ERP systems, to enhance efficiency and data management.
In the Asia-Pacific region, the adoption of education ERP systems has been growing steadily as educational institutions in countries like India, China, Australia, and others are increasingly recognizing the benefits of digitizing administrative processes. Local vendors, as well as global players, have been offering ERP solutions adapted to the requirements of diverse educational systems in this region. The Indian government has been focusing on initiatives like the Digital India campaign to promote the use of technology in education. Various states have implemented technology-driven solutions to manage student data and administrative processes. China has been investing heavily in education technology, including ERP systems, to modernize its education system. The government's policies have encouraged the integration of digital tools in classrooms and administrative operations.
KEY PLAYERS
The major key players in the Education ERP Market are Blackbaud, Oracle, Jenzabar, Ellucian, Dell Inc., Epicor Software Corporation, Unit4 Software, Infor, SAP AG, Foradian Technologies, EverFi, and other players.
RECENT DEVELOPMENTS
Blackbaud:
In July 20, 2023, Blackbaud announced that it had acquired the education technology company, EverFi. EverFi offers a variety of education technology products, including an ERP system for schools and universities. The acquisition of EverFi is expected to help Blackbaud expand its presence in the education ERP market.
Jenzabar:
In May 20, 2023, Jenzabar announced that it had launched a new ERP system for colleges and universities. The new system, called Jenzabar One, is designed to be more user-friendly and scalable than Jenzabar's previous ERP system. Jenzabar One is also designed to be more integrated with other education technology products, such as learning management systems and student information systems.
Education ERP Market Report Scope:
Report Attributes
Details
Market Size in 2022
US$ 14.7 Bn
Market Size by 2030
US$ 44.6 Bn
CAGR
CAGR of 14.9 % From 2023 to 2030
Base Year
2022
Forecast Period
2023-2030
Historical Data
2020-2021
Report Scope & Coverage
Market Size, Segments Analysis, Competitive Landscape, Regional Analysis, DROC & SWOT Analysis, Forecast Outlook
Key Segments
• By Component (Solution, Services)
• By Application (Student Management, Academic Management, Human Resource Management, Finance, Accounting Management, Stores Procurement Management, Other Applications)
• By Deployment Mode (Cloud, On-Premise)
• By End User (K-12 Schools, Higher Education)
Regional Analysis/Coverage
North America (US, Canada, Mexico), Europe (Eastern Europe [Poland, Romania, Hungary, Turkey, Rest of Eastern Europe] Western Europe] Germany, France, UK, Italy, Spain, Netherlands, Switzerland, Austria, Rest of Western Europe]). Asia Pacific (China, India, Japan, South Korea, Vietnam, Singapore, Australia, Rest of Asia Pacific), Middle East & Africa (Middle East [UAE, Egypt, Saudi Arabia, Qatar, Rest of Middle East], Africa [Nigeria, South Africa, Rest of Africa], Latin America (Brazil, Argentina, Colombia Rest of Latin America)
Company Profiles
Blackbaud, Oracle, Jenzabar, Ellucian, Dell Inc., Epicor Software Corporation, Unit4 Software, Infor, SAP AG, Foradian Technologies, EverFi
Key Drivers
• Increasing demand for automated management systems in educational institutions
• Growing adoption of cloud-based ERP solutions
Market Restraints
• High implementation and maintenance costs of ERP systems
• Limited IT infrastructure and technical expertise in educational institutions