Report Scope & Overview:
The Electromagnetic Weapons Market Size was valued at USD 744 million in 2022 and is expected to reach USD 4.15 billion by 2030 and grow at a CAGR of 24% over the forecast period 2023-2030.
Electromagnetic weapons use electromagnetic energy to transmit heat, mechanical, or electrical energy to the target, causing pain or lasting damage. With high levels of electromagnetic pulses, these weapons are capable of disrupting the operation of electronic equipment and causing physical harm to items. By producing damaging voltage within electrical wires, these weapons cause harm to electronic systems. Electromagnetic weapons employ focused electrical and magnetic energy to disrupt crucial enemy electronics used for communication, navigation and guiding, computing, and displays. Armed forces around the world are developing electromagnetic railguns that will be used against humans, electrical equipment, and military targets.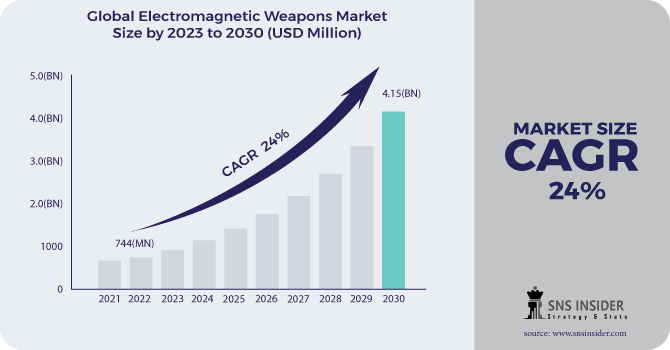 To get more information on Electromagnetic Weapons Market - Request Free Sample Report
MARKET DYNAMICS:
KEY DRIVERS:
RESTRAINTS:
OPPORTUNITIES:
Enlarge R&D

Increasing accuracy
CHALLENGES:
Complexity

Continuous upgradation

Rising barriers
THE IMPACT OF COVID-19
The COVID-19 crisis has created market uncertainty, leading to massive supply of supply chain, declining business confidence, and increased panic among customer segments. The governments of various regions have announced the complete closure and temporary closure of factories, thus having a negative impact on total production and sales. Countries around the world have set strict limits on the days to months for closing spaces. As a result of the epidemic, many businesses have been suspended and waiting for market conditions to improve. The impact of the COVID-19 epidemic has led to delays in the development of magnetic weapons and a decrease in trials and protests, restrictions on the performance of key players, and a shortage of components. The epidemic caused supply chain disruption resulting in delays in the development of electromagnetic railguns.
Lack of components, sub-systems, and electronic systems, due to regulations related to the import and export of goods also caused production delays. The development of nuclear weapons has also had an impact due to a lack of material resources, due to production closures in China, South Korea and Taiwan.
By Technology
According to projections, the particle beam weapons segment will be the largest in 2022. During the forecast period, this segment is expected to grow at a CAGR of 20.7%. This growth can be attributed to particle beam weapons ease of installation and low power consumption. In comparison to conventional ordnance, they have almost no time of flight, allowing for a longer decision time and a faster reaction time.
By Application
The given segment is divided into Homeland security and military security
By Platform
Naval electromagnetic weapons systems include weapons used in naval applications such as combat ships and submarines, among others. Combat ships, submarines, and unmanned surface vehicles comprise the naval component. Defense ships are specifically constructed for usage by coast guards and navy forces to secure water border security.
By Product
Rail guns, electromagnetic bombs, plasma cannons, microwave guns, navy laser cannons, gun-launched guided projectiles, automatic shotguns, and other lethal products are among them. Massive investments are being made in research and development, as well as the demonstration and testing of lethal electromagnetic weapons.
KEY MARKET SEGMENTATIONS
By Technology
By Application
By Platform
By Product
Lethal Weapons

Non-lethal Weapons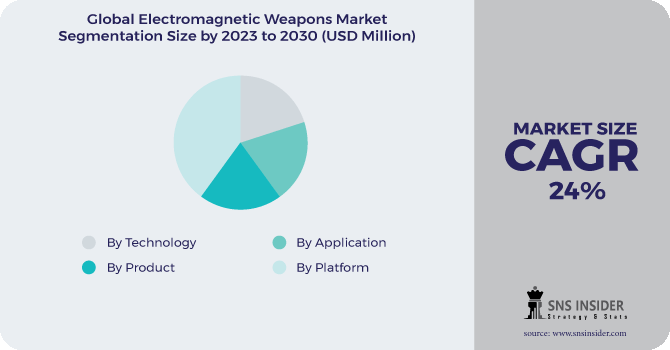 Need any customization research on Electromagnetic Weapons Market - Enquiry Now
REGIONAL ANALYSIS:
Asia-Pacific accounted for 22.7% of the electromagnetic weapons market. The Asia-Pacific electromagnetic weapons market includes China, India, Japan, Australia, South Korea, and the rest of Asia-Pacific. The demand for electromagnetic weapons has surged in recent years as a result of the Asia-Pacific region's rapid economic expansion and rising security challenges, as well as an increase in border disputes. China, Japan, and India have increased their military spending in recent years in response to the greater likelihood of being targeted by terrorist strikes.
REGIONAL COVERAGE:
North America

Europe

Germany

UK

France

Italy

Spain

The Netherlands

Rest of Europe

Asia-Pacific

Japan

south Korea

China

India

Australia

Rest of Asia-Pacific

The Middle East & Africa

Latin America

Brazil

Argentina

Rest of Latin America
KEY PLAYERS:
The Major Players are Lockheed Martin Corporation, Raytheon Technologies, BAE Systems, Elbit Systems, Northrop Grumman Corporation, QinetiQ Group, Honeywell International, Thales Group, Rheinmetall AG.,and other players.
Raytheon Technologies-Company Financial Analysis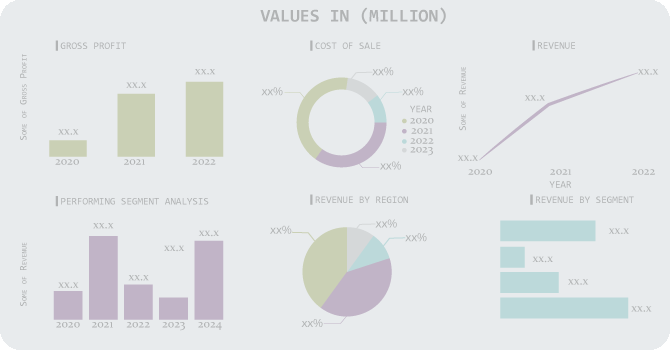 ​​​​​​​
Electromagnetic Weapons Market Report Scope:
Report Attributes
Details
Market Size in 2022
US$ 744 Million
Market Size by 2030
US$ 4.15 Billion
CAGR
CAGR of 24% From 2022 to 2028
Base Year
2022
Forecast Period
2023-2030
Historical Data
2020-2021
Report Scope & Coverage
Market Size, Segments Analysis, Competitive Landscape, Regional Analysis, DROC & SWOT Analysis, Forecast Outlook
Key Segments
• By Technology (Particle Beam Weapons, Laser-induced Plasma Channel), Application (Homeland Security, Military), Platform (Land, Naval, Airborne)
• By Product (Lethal Weapons, Non-lethal Weapons)
Regional Analysis/Coverage
North America (USA, Canada, Mexico), Europe
(Germany, UK, France, Italy, Spain, Netherlands,
Rest of Europe), Asia-Pacific (Japan, South Korea,
China, India, Australia, Rest of Asia-Pacific), The
Middle East & Africa (Israel, UAE, South Africa,
Rest of Middle East & Africa), Latin America (Brazil, Argentina, Rest of Latin America)
Company Profiles
Lockheed Martin Corporation, Raytheon Technologies, BAE Systems, Elbit Systems, Northrop Grumman Corporation, QinetiQ Group, Honeywell International, Thales Group, Rheinmetall AG., and other players.
DRIVERS
• Electromagnetic weaponry system
• Pulse Power technology
• Enlarging investment
RESTRAINTS

• High power
• Lethality