Report Scope & Overview:
Aerospace Fasteners Market Size was estimated at US$ 8.49 billion in 2022 and propelled to grow at US$ 13.03 Bn and is expected to grow at a CAGR of 7.25% from 2023 to 2030.
The aerospace fasteners market is a very diverse market. The number of metals used in the aircraft is very high, yet its value is very low compared to other components. For example, the modern Boeing 747 has over 6 million components in its construction. In those parts, about 3 million are connectors. Similarly, some aircraft have 1 to 3 million bindings depending on the type of structure.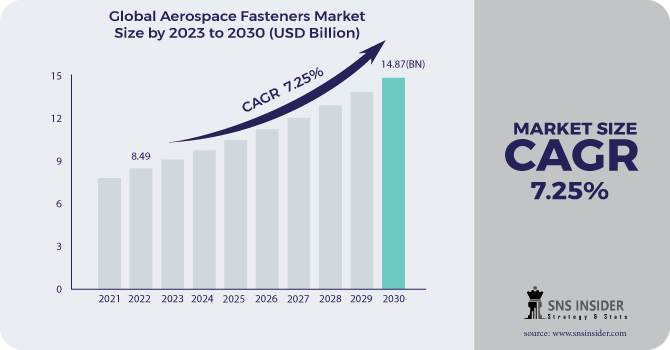 There is an increase in international aviation that has led to the purchase of a few new public aircraft by airlines. In addition, governments are strengthening their aviation capacity by purchasing new and improved aircraft. This has led to an increase in the demand for aerospace equipment in the market. In addition, MROs have a significant share of the demand for aerospace equipment in the market. Large companies in the market use strategies such as acquisition, contracts, partnerships, partnerships, and business expansion to provide better services to customers in the aerospace metal market.
Metals are the precise components used in aircraft to assemble various components to build a complete structure. Although small and considered to be the smallest parts of the C-Class, they are counted as the highest number on the plane; for example, a Boeing's B747 aircraft has more than six million parts, half of which are metal.
Aerospace Fasteners are designed not only to perform assembly tasks but also to carry or transfer cargo from one part to another. They are subject to strict and strict standards of construction materials, processes, and quality assurance. Aerospace commitments require government and OEM certification such as FAA (Federal Aviation Administration), as well as Boeing and Airbus.
Impact of Covid-19 on the Market for Aerospace fasteners
The COVID-19 epidemic has caused a great deal of stress for the aerospace fasteners market, and the year 2020 was full of uncertainty. The availability of immature materials and the supply chain of aerospace fastener equipment are greatly affected by closed and closed boundaries. In addition, the sharp decline in airline orders and the postponement of airlines in the delivery of aircraft delivery have caused a disruption in the need for space ties.
during the COVID-19 epidemic, the construction, manufacturing, hotel, and tourism industries were severely affected. Production activities are suspended or restricted. Construction and transportation operations, along with their supply chains, were disrupted worldwide. This has led to a decline in the production of aerospace metals and their market demand, thus preventing the growth of the space aerospace market. In contrast, industries are slowly resuming production and their normal services. This is expected to lead to the re-launch of aerospace binding companies with their full capabilities, which could help the space shuttle market recover by mid-2022.
Drivers:
The aviation industry has always struggled to overcome the challenge of reducing production lead time and improving rapid integration. The acquisition of its efficient and bulk volume can contribute to the partial construction of time and integration of systems or airframes. Apart from that, there is also a growing demand for lightweight and highly efficient aerospace equipment made from advanced materials with seamless spraying systems worldwide.
The space shuttle market has been experiencing a variety of technological advances, with remarkable 3D printing. 3D printing enables the industry to produce more efficiently and effectively quickly and with the best quality. There is also a growing demand for an integrated component that provides impetus to the growth of the aerospace market. The growing invention of technology is likely to increase the demand for aerospace equipment in the foreseeable future.
OPPORTUNITIES:
The rapid growth in international travel due to the high standard of living, as well as the rise in tourism, is significantly driving the market growth. In addition, freedom from import duties on manufacturers drives the market growth of aerospace fasteners. In addition, many countries are focusing on strengthening the defense system by installing fighter jets, helicopters, and other special aircraft for military service. These factors drive the market growth of aerospace fasteners. However, the 3D printing technology used in aircraft design is used to create structural aircraft work. For example, 3D printing is used for production components such as panels, pipes, wings, and more. 3D technology is used to produce lightweight parts and to reduce the number of parts by printing two separate adjoining parts into one. This is expected to reduce the need for space equipment as there will be smaller assemblies. This serves as a barrier to market growth. In addition, In contrast, the increased acceptance of aerospace applications in developing countries has increased the need for aviation. Additionally, aircraft manufacturers are gradually becoming more involved in developing countries such as Mexico, Brazil, India, and China to increase their production capacity. This provides open doors for foreign organizations to partner with OEMs and MROs to provide services to emerging markets. This is expected to open up new market channels for aerospace fasteners during forecasting.
CHALLENGES:
The level of material in the first building block of a reliable binder or another component of aerospace. This can be a challenge, as many parts of aerospace require the use of unusual materials in normal production. With the materials, these companies use to build aerospace parts But some providers are struggling to keep up with growth. Production prices for Airbus and Boeing systems are aggressive, with OEM commercial order books supporting advanced production for 8-10 years. According to EY, as OEMs increase production to deliver large backlogs, suppliers are pressured to ensure timely delivery while keeping costs under control. Aerospace supply chains and defense teams can be very challenging to manage as they rely on thousands of suppliers and subcontractors to purchase equipment, build complex components and components, and provide second-party services that include specialization and treatment.
Competitive Landscape
Market Key Player
B&B Specialties, Inc., Bufab Group, EADS, Arconic, Advanced Logistics for Aerospace, Alcoa Fastening Systems & Rings, Allfast Fastening Systems, Avdel private limited, 3V Fasteners Company Inc., Accumen Global Technologies.
Aerospace Fasteners Market, By Product Type
Rivets

Screws

Nuts & Bolts

Others
Aerospace Fasteners Market, By Application
Cabin Interior

Fuselage

Control Surfaces
Aerospace Fasteners Market, By Aircraft Type
Aerospace Fasteners Market, By End User
Commercial Aviation
Defense
Aerospace Fasteners Market, By Aircraft Manufacturer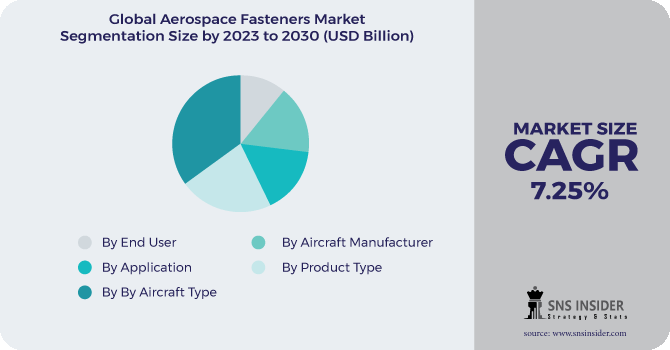 Regional Analysis
North America
Europe
Germany

UK

France

Italy

Spain

The Netherlands

Rest of Europe
Asia-Pacific
Japan

South Korea

China

India

Australia

Rest of Asia-Pacific
The Middle East & Africa
Latin America
Brazil

Argentina

Rest of Latin America
Aerospace Fasteners Market Report Scope:
Report Attributes
Details
Market Size in 2022
US$ 8.49 Billion
Market Size by 2030
US$ 13.03 Billion
CAGR
CAGR of 7.25% From 2023 to 2030
Base Year
2022
Forecast Period
2023-2030
Historical Data
2020-2021
Report Scope & Coverage
Market Size, Segments Analysis, Competitive Landscape, Regional Analysis, DROC & SWOT Analysis, Forecast Outlook
Key Segments
• By Product Type (Rivets ,Screws ,Nuts & Bolts, Others)
• By Application(Cabin Interior, Fuselage, Control Surfaces)
• By Aircraft Type(Narrow Body Aircraft , Wide Body Aircraft, Very Large Aircraft, Regional Transport Aircraft, Business Jets, Fighter Jets)
• By End User (Commercial Aviation, Defense)
• By Aircraft Manufacturer (Airbus, Boeing, Others)
Regional Analysis/Coverage
North America (USA, Canada, Mexico), Europe
(Germany, UK, France, Italy, Spain, Netherlands,
Rest of Europe), Asia-Pacific (Japan, South Korea,
China, India, Australia, Rest of Asia-Pacific), The
Middle East & Africa (Israel, UAE, South Africa,
Rest of Middle East & Africa), Latin America (Brazil, Argentina, Rest of Latin America)
Company Profiles
B&B Specialties, Inc., Bufab Group, EADS, Arconic, Advanced Logistics for Aerospace, Alcoa Fastening Systems & Rings, Allfast Fastening Systems, Avdel private limited, 3V Fasteners Company Inc., Accumen Global Technologies.
Key Drivers
• The aviation industry has always struggled to overcome the challenge of reducing production lead time and improving rapid integration.
OPPORTUNITIES
• The rapid growth in international travel due to the high standard of living, as well as the rise in tourism, is significantly driving the market growth