REPORT SCOPE & OVERVIEW
The Healthcare Market size was estimated USD 19,507 billion in 2022 and is expected to reach USD 38,021 billion by 2030 at a CAGR of 8.7% during the forecast period of 2023-2030.
Health Care Market refers to people, businesses, and organizations that offer healthcare services. In the Health Care Market, Mindscape shall only have the restricted, nonexclusive right to retail direct marketing with respect to people who are engaged in the provision of health care services, notwithstanding anything herein to the contrary. With regard to businesses and institutions that offer healthcare services, Mindscape shall not be permitted to engage in retail direct marketing in the health care sector.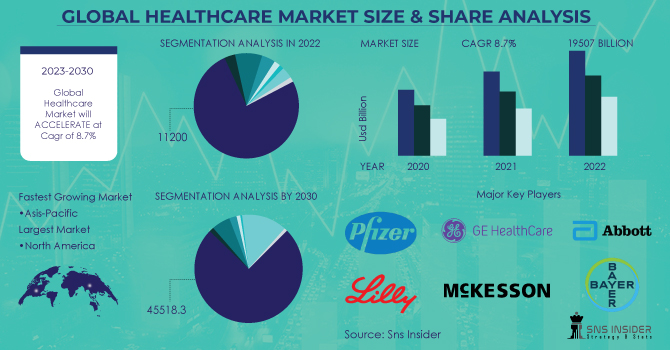 MARKET DYNAMICS
DRIVERS
The population is the main factor influencing the expansion of healthcare. The healthcare sector as a whole will experience an increase in demand for medical services as the sizable baby-boom population ages and people continue to be active into their older years. In all facets of the sector, managers will be required to coordinate and oversee the healthcare and medical information staffs.
The way healthcare is delivered and managed will continue to alter as a result of new technology. Information systems, recordkeeping, healthcare, and information exchange will all continue to develop and grow more complex. The potential for businesses to diversify their healthcare solutions will probably increase with new technology. There may also be a demand for technical healthcare managers who can plan, direct, and integrate new technological solutions into existing organizations as a result of developments in medical technology and information systems.
RESTRAIN
It takes a lot of research and development to create and improve BMP medications. It takes time and money to comprehend the mechanism of action, improve formulations, and carry out preclinical and clinical trials. Costly resources are needed to fund research teams engaged in such R&D operations, conduct tests, and purchase materials and equipment. In addition, the significant cost of BMP market implementation may provide difficulties for healthcare providers, insurers, and patients. BMP therapies may not be affordable for persons with little financial resources or insufficient access to healthcare due to their expensive prices, which will restrict market growth.
OPPORTUNITY
Over the next five years, there will likely be abundant growth prospects for the healthcare facilities management market in the United States due to the rising number of market participants and the high availability of cutting-edge cloud-based healthcare facility management systems. The adoption of remote monitoring medical devices is anticipated to be accelerated by the widespread use of the internet and the growth of intelligent devices. Patients are becoming more knowledgeable about the benefits of employing cutting-edge tools and technology that are more precise and efficient than conventional medical instruments.
Before the epidemic, these hospitals were already well on their way to become enduring pillars of our country's healthcare system. However, they may now provide smaller and better-controlled conditions to conduct what they do without the increased exposure that truly causes a pandemic, in addition to their frequently cheaper cost, enhanced efficiency, and comforts. These facilities were already a wise investment, and the patient mentality that cautions against exposure to huge infectious pools like hospitals will only help them further.
Before the pandemic, telehealth was not seen as "really" practicing medicine. And to make matters worse, numerous regulatory bodies and third-party payers even had fraud suspicions. State medical boards got to work disenfranchising it from the practice of medicine. Then Covid-19 occurred, and all of a sudden, patients were not even allowed to visit their doctors. People were connected digitally because need is the mother of invention. With the capacity to even incorporate vital signs into e-visits, home health medical equipment helped with the changeover. Telehealth was probably going to happen sooner or later because progress in capitalism is when more is accomplished with less money spent. By a full generation, Covid-19 has just accelerated its respectability. These businesses are currently just emerging from their early-stage difficulties; they are here to stay and will be extremely successful.
CHALLENGES
The rising cost of healthcare has a direct influence on the revenue of healthcare organizations because patients are deterred from completing routine follow-ups after visits and taking lab tests as a result of higher costs, which eventually results in poor patient outcomes.
Staffing shortages in the healthcare sector are a serious challenge that have been made worse by the COVID-19 epidemic. In the upcoming years, it is anticipated that demand for healthcare workers, such as doctors and registered nurses (RNs), would outpace supply. By 2030, industry associations foresee a shortage of almost 100,000 doctors, while the Bureau of Labor Statistics projects a need for 203,700 new RNs year through 2026.
IMPACT OF RUSSIAN UKRAINE WAR
The World Medical Association Declaration on the safety of Healthcare Workers has been flagrantly violated by Russia's attacks on healthcare facilities. The WHO reported on August 9, 2022, that more than 432 times had been assaulted by Russian armed troops (366 times on medical facilities and 72 times on medical personnel, resulting in fatalities and serious injuries). Supply chain problems and immunization administration errors, which result in significantly decreased vaccine coverage, are the main causes of healthcare disruption. Destroying medicinal and vaccine materials results in diminished supplies, which has an impact on the chain of storage and transportation. Because of this, a large portion of the population is more susceptible to severe illnesses, which can cause epidemics. Delays in polio and measles vaccinations can result in the majority of catastrophic outcomes in youngsters. Additionally, inadequate sanitation and a lack of a safe water supply might contribute to the development of infections. Due to a lack of amenities and medical assistance, the female population is negatively impacted.
Moreover, because Ukraine has a well-established centralized healthcare system that aids numerous pharmaceutical companies in easy and quicker recruitment, Ukraine has been one of the top locations for conducting clinical trials. Additionally, Ukraine has a sizable patient population that is treatment naive and GCP compliant staff and infrastructure. The prolonged battle is causing a number of issues, including the inability to recruit new patients for clinical studies and the blockage of the supply chain, which will and already has had an impact on the pharmaceutical business.
IMPACT OF ONGOING RECESSION
Recession could cut healthcare sector profits by more than $70 billion in 2022. While many factors will contribute to this recession, here are some of the most prominent challenges such as supply chain disruptions- providers are being forced by price demands for specialty medical supplies to bargain with unreliable suppliers and handle international shipping constraints. As a result, medical supply prices grew by 46% last year, outpacing labor expense growth. The rising energy costs-the War in Ukraine has led to higher transportation rates that suppliers are now passing on to providers. Doctors and nurses are still in short supply due to labor shortages. Healthcare employment has decreased by 1.1% (or 176,000) during the pre-pandemic period, remaining below pre-pandemic levels.
KEY SEGMENTS
Pharmaceuticals, by Type

Healthcare Services, by Types

Medical Devices, by Types

MRI machines

Pacemakers

Surgical instruments

Diagnostic equipment

Others

Biotechnology, by Types

Development of new drugs

Therapies

Medical technologies

Others

Pharmacy and Retail, by Types

Pharmacies

Drugstores

Retail outlets

Others

Home Healthcare, by Types

Home nursing

Medical equipment

In-home monitoring

Others

Diagnostics, by Types

Medical imaging

Blood tests

Genetic testing

Others

Health and Wellness, by Types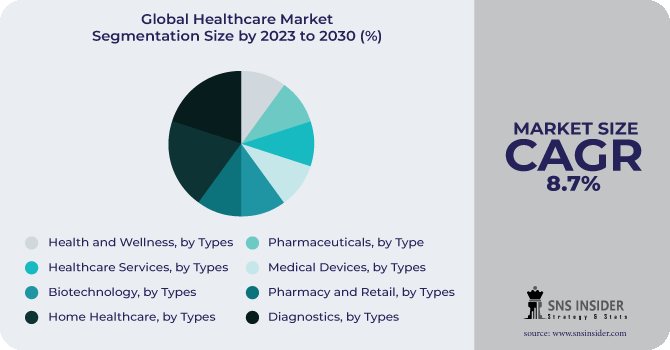 REGIONAL ANALYSES
North America held a significant market revenue share of 43% in 2022 due to high costs is healthcare companies' adoption of emerging health-focused technology. Healthcare facilities and providers in the US will spend $29.15 billion on cloud-based technology by 2026, up from $17.9 billion in 2022. Also, Big data is being used more frequently, and there are more government regulations and support for healthcare IT solutions. Moreover, the demand for healthcare services is rising across North America as a result of rising health insurance rates, a rise in the number of elderly persons, and an increase in the prevalence of chronic diseases. Patient readmissions, medical errors, and administrative costs are a few more aspects of the high cost of healthcare services.
Asia Pacific is witnessing to expand the fastest CAGR rate during the forecast period. Due to continued improvements in healthcare and the adoption of prescriptive and predictive analytics technologies by the majority of regional hospitals, Japan is anticipated to become one of the key regional drivers. The sizeable senior patient population and rising healthcare costs would further help Japan's market dominance in healthcare analytics.
REGIONAL COVERAGE
North America
Europe
Eastern Europe

Poland

Romania

Hungary

Turkey

Rest of Eastern Europe

Western Europe

Germany

France

UK

Italy

Spain

Netherlands

Switzerland

Austria

Rest of Western Europe
Asia Pacific
China

India

Japan

South Korea

Vietnam

Singapore

Australia

Rest of Asia Pacific
Middle East & Africa
Middle East

UAE

Egypt

Saudi Arabia

Qatar

Rest of Middle East

Africa

Nigeria

South Africa

Rest of Africa
Latin America
Brazil

Argentina

Colombia

Rest of Latin America
Key Players
Key Players by Pharmaceuticals – Pfizer, Novartis, Merck & Co., Roche, GSK, Sanofi, Johnson & Johnson, AstraZeneca, AbbVie, and Others.
Key Players by Healthcare Services - UnitedHealth Group, Medtronic plc, GE HealthCare, McKesson, Abbott Laboratories, Johnson & Johnson, Philips, Pfizer, CVS Health Payor Solutions, and Others.
Key Players by Medical Devices- Abbott, Medtronic, Johnson & Johnson, Siemens Healthineers, Fresenius Medical Care, Becton Dickinson & Company, GE Healthcare, Stryker, Philips, Cardinal Health, and Others.
Key Players by Biotechnology- Eli Lilly 1LLY, Novo Nordisk 2NVO, Johnson & Johnson, Merck, AbbVie, Roche, AstraZeneca, Novartis, Thermo Fisher Scientific, Amgen, and Others.
Key Players by Pharmacy and Retail- Cardinal Health, Inc, Wal-Mart Stores, Inc., McKesson Corporation, CVS Health Corporation, Walgreens Boots Alliance, and Others.
Key Players by Diagnostics- Thermo Fisher Scientific, IDEXX Laboratories, SGS, Quest Diagnostics, Revvity, Exact Sciences, bioMérieux, Eurofins Scientific, Bruker, Sonic Healthcare, and Others.
Key Players by Health and Wellness- Amway Corporation, Bayer AG, Danone S.A., David Lloyd Leisure Ltd., Curefit Healthcare Pvt. Ltd., Herbalife International of America, Inc., Letterone Investment Holdings S.A., L'Oreal S.A., Nestle S.A., The Procter & Gamble Company, and Others.
Johnson & Johnson-Company Financial Analysis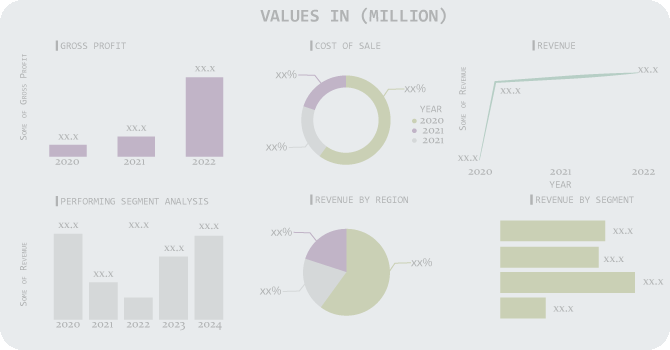 ​​​​​​​
RECENT DEVELOPMENT
In October 2023, according to an official release, Palivizumab, a critical preventive treatment for Respiratory Syncytial Virus (RSV), has gained marketing permission from the Central Drugs Standard Control Organization (CDSCO) to be imported and marketed in India by AstraZeneca Pharma Ltd.
In August 2023, Roche Pharma India inaugurated a customer experience center in Chennai. The pharmaceutical company asserts that it is an industry-first program that intends to foster collaboration between researchers, educators, and healthcare professionals in order to help influence the future of healthcare.
In February 2023, With the launch of its new product, "Ocular Defense," Herbalife Nutrition India announced that it had entered the eye health market. The medicine is said to be designed scientifically to support eye health and is available in capsule form, according to the manufacturer. According to its claims, the product provides nutrients that support macular health and maintain normal eyesight.
USE CASES:
Artificial intelligence in healthcare has several important applications, including medical imaging. AI algorithms' precision in analyzing medical pictures, such as computed tomography (CT) scans, magnetic resonance imaging (MRI), and X-rays, gives healthcare providers invaluable information about the situations of their patients. With the use of this technology, diagnoses may be made more quickly and accurately, which benefits patients. Here are a few specific instances of AI's use in medical imaging.
Medical experts can identify and treat ailments using AI's analysis of medical imagery. For instance, AI systems can help with surgery planning by analyzing MRI data to detect brain tumors. By examining brain scans and detecting any changes in the brain's volume and structure, it can also assist in the early detection of dementia and Alzheimer's disease. AI may also examine retinal scans to find early-stage diabetic retinopathy, a condition that diabetic individuals may develop that can result in blindness.
Challenges:
Healthcare organizations are still catching up with the huge backlog of imaging-related needs in the post-pandemic world.

Healthcare providers are finding it challenging to meet the demand for imaging services as the number of elderly patients rises.

The demand for AI-based clinical decision support is increasing as a result of inaccurate or missing diagnoses brought on by human mistake or subjective interpretations.

There is unquestionably a need for faster and more effective imaging analysis and reporting.
Key Objectives:
Better image capture (Image capturing devices (MRI, X-ray, ultrasound, etc), noise

removal during capture, enhanced resolution or contrast, image compression, databases, etc.)

Better image processing (diagnostics, object identification, object segmentation, search, etc)

Improved image display (3D viewing, volumetric display, generating 3D from 2D slices, etc)
Conclusion
AI-powered medical imaging is revolutionizing the healthcare industry by giving patients access to more precise, effective, and individualized diagnosis and treatment options. Artificial intelligence (AI) technology is assisting medical practitioners in identifying anomalies that were previously missed by conventional imaging techniques, such as cardiovascular disorders, fractures, and musculoskeletal injuries. AI technology is positioned to disrupt the healthcare sector by enhancing patient care and results as the need for medical imaging keeps rising.
Healthcare Market Report Scope:

| | |
| --- | --- |
| Report Attributes | Details |
| Market Size in 2022 | US$ 19,507 billion |
| Market Size by 2030 | US$ 38,021 billion |
| CAGR | CAGR of 8.7% From 2023 to 2030 |
| Base Year | 2022 |
| Forecast Period | 2023-2030 |
| Historical Data | 2019-2021 |
| Report Scope & Coverage | Market Size, Segments Analysis, Competitive Landscape, Regional Analysis, DROC & SWOT Analysis, Forecast Outlook |
| Key Segments | Healthcare Market Size, Share and Segmentation, By Pharmaceuticals, By Healthcare Services, By Medical Devices, By Biotechnology, By Pharmacy and Retail, By Home Healthcare, By Diagnostics, By Health and Wellness. |
| Regional Analysis/Coverage | North America (US, Canada, Mexico), Europe (Eastern Europe [Poland, Romania, Hungary, Turkey, Rest of Eastern Europe] Western Europe] Germany, France, UK, Italy, Spain, Netherlands, Switzerland, Austria, Rest of Western Europe]), Asia Pacific (China, India, Japan, South Korea, Vietnam, Singapore, Australia, Rest of Asia Pacific), Middle East & Africa (Middle East [UAE, Egypt, Saudi Arabia, Qatar, Rest of Middle East], Africa [Nigeria, South Africa, Rest of Africa], Latin America (Brazil, Argentina, Colombia Rest of Latin America) |
| Market Opportunities | • Increasing pharmaceutical market key players • Independent medical facilities |
| Market Challenges | •Increasing Healthcare Costs •Shortages of Healthcare Personnel |