REPORT SCOPE & OVERVIEW
The market size of In-Mold Labels market was US $ 3.57 billion in 2022 and is set to reach US $5.19 billion by 2030, at a compound annual growth rate of 4.8 % over the forecast period between 2023 and 2030.
The In-Molds label (IML) market has witnessed significant growth in recent years, driven by its widespread adoption in various industries. IML, a packaging and labelling solution, involves placing pre-printed labels in a Molds, where they combine with the packaging material during manufacturing. This seamless integration offers a number of benefits, such as better product presentation, durability, and wear resistance.
The food and beverage sector has been a major contributor to the expansion of the IML market. IML's ability to present dynamic graphics and product information on packaging has made it the preferred choice for differentiating brands and engaging consumers. In addition, industries such as cosmetics, pharmaceuticals and household products have used IML for its aesthetic and practical benefits.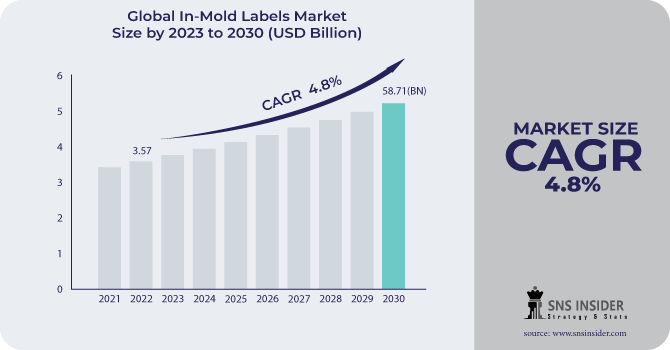 The growth of the IML market can also be attributed to its environmental friendliness. With the growing focus on sustainable packaging, IML's efficient use of resources and reduced waste generation has positioned it as an eco-friendly option. In addition, manufacturers appreciate the streamlined manufacturing process that IML provides, which improves operational efficiency and profitability.
As technology continues to evolve, the IML market is seeing innovations such as advanced labelling materials, inks, and application techniques. These innovations aim to further improve the quality, durability and designability of the labels. In addition, the market is undergoing geographical expansion as more and more regions of the world adopt IML technology.
However, challenges such as high initial investment costs and the need for specialized equipment and expertise may hinder the widespread adoption of IML, especially among smaller manufacturers. Competitive pressures in the packaging industry also pose challenges, forcing IML suppliers to continuously innovate and deliver unique value propositions.
MARKET DYNAMICS
KEY DRIVERS:
The 360-degree print range meets the need for immersive consumer experiences, especially in industries such as food, beverage and cosmetics, where visual appeal plays a role. important. This approach improves shelf visibility, helping products stand out in crowded retail environments. In addition, it allows brands to convey a complete story, combining information, images and interactive elements that engage and inform consumers.
RESTRAIN:
The setup costs for adopting in-mold labels (IML), including specialized equipment and training, can be a significant barrier for small or budget-conscious manufacturers.
OPPORTUNITY:
The growth of e-commerce creates new opportunities for in-mold labels. Indeed, e-commerce retailers are looking for ways to improve the presentation and branding of their products. In-mold labels can help retailers achieve this by providing clear and concise product information, as well as creating visually appealing product images.
CHALLENGES:
This is because the labels must be molded directly onto the product, which requires precise alignment and timing. As a result, there is a higher risk of defects, which can lead to product recalls and financial losses.
IMPACT OF RUSSIAN UKRAINE WAR
The war caused the prices of raw materials used to make Molds and labels to skyrocket, such as steel, aluminum, and plastic. This results in higher production costs for Mold and label manufacturers, which are passed on to customers in the form of higher prices. The war also disrupted the global supply chain of Molds and labels, as many of the components and raw materials used in the manufacturing process come from Russia and Ukraine. This has resulted in delivery delays and product shortages. Delivery times for Molds and labels have increased by an average of 20%. The conflict also created fluctuations in the demand for Molds and labels. The demand for Molds and labels in the food industry has increased by 10%. Some industries, such as the food and beverage industry, have seen increasing demand for labels as companies seek to label their products with provenance information. However, other industries, such as the auto industry, experienced a drop in demand due to production disruptions by the war. Demand for Molds and labels in the auto industry has dropped 5%.
The price of steel, a major raw material used in Molds and labels, has risen more than 20% since the war began. The price of aluminum, another important raw material used in Molds and labels, has increased by more than 15% since the start of the war. The price of plastic, another important raw material used in Molds and labels, has risen more than 10%.
IMPACT OF ONGOING RECESSION
The global in-mold labels market is projected to decline by 3.5% in 2023. The weakening of the global economy, leading to a decrease in demand for consumer goods. Due to recession supply chain disruptions make it more difficult and expensive to bring in-mold labels to market. Inflation has increased, weighing on corporate budgets. In the auto industry, automakers are reducing production, leading to a decrease in demand for in-mold labels for auto parts. In the food and beverage industry, some companies are turning to cheaper label materials, such as paper labels, to save money. In the electronics industry, some manufacturers are delaying new product launches, which also affects the demand for in-mold label printing.
KEY MARKET SEGMENTS
By Material
By Printing Method
Flexographic

Gravure

Offset

Digital

Others
By Process
Thermoforming

Blow Molding

Injection Molding
By End Use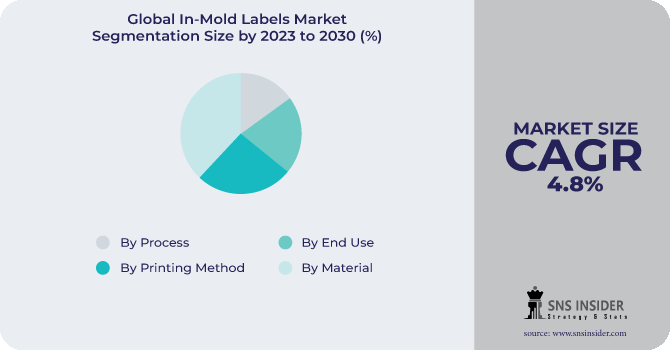 REGIONAL ANALYSIS
Europe is dominating the In-Molds Labels market with the highest market share and will continue to dominate the market over the forecast period. Countries in this region such as UK, Germany are using in-Mold technology for their manufacturing process, which is driving the market in this region. Government policies in this region is also promoting sustainable packaging which has also given boost to the market. Over the forecast period, market in this region will continue to rise due to increased financial activities in this region.
North American region is the second largest market for the IML. This is due to the presence of largest food & beverage industries. There is also high consumer demand in this region, for the transparent packaging labels which provide clear information about the food products.
REGIONAL COVERAGE:
North America
Europe
Eastern Europe

Poland

Romania

Hungary

Turkey

Rest of Eastern Europe

Western Europe

Germany

France

UK

Italy

Spain

Netherlands

Switzerland

Austria

Rest of Western Europe
Asia Pacific
China

India

Japan

South Korea

Vietnam

Singapore

Australia

Rest of Asia Pacific
Middle East & Africa
Middle East

UAE

Egypt

Saudi Arabia

Qatar

Rest of Middle East

Africa

Nigeria

South Africa

Rest of Africa
Latin America
Brazil

Argentina

Colombia

Rest of Latin America
Key players
Some major key players in the In-Molds Labels market are CCL Industries Inc, Constantia Flexibles, Coveris Holdings SA, Mepco Label Systems, Avery Dennison Corporation, Century Label Inc, Allen Plastic, Cenveo Inc, Innovia Films Ltd, Huhtamaki Group, and other players.
RECENT DEVELOPMENT
Multi-Color Corporation, one of the world's largest labels brands, has announced that it is acquiring Türkiye Korsini, a leading provider of integrated label solutions in Turkey.

In order to promote the commercialization of POLYPPRISM sorting and food grade PP recycling technology, TOMRA and NEXTLO have used fluorescent marking on Verstraete Print Mold MCCOPPIML as part of their efforts.
In-Molds Labels Market Report Scope:
Report Attributes
Details
Market Size in 2022
US$ 3.57 Bn
Market Size by 2030
US$ 5.19 Bn
CAGR
CAGR of 4.8 % From 2023 to 2030
Base Year
2022
Forecast Period
2023-2030
Historical Data
2020-2021
Report Scope & Coverage
Market Size, Segments Analysis, Competitive Landscape, Regional Analysis, DROC & SWOT Analysis, Forecast Outlook
Key Segments
• By Material (Polyethylene, Polypropylene, Polystyrene, Polyethylene terephthalate, Paper, Barrier, Others)
• By Printing Method (Flexographic, Gravure, Offset, Digital, Others)
• By Process (Thermoforming, Blow Molding, Injection Molding)
• By End Use (Food & Beverages, Pharmaceuticals, Personal Care & Cosmetics, Others)
Regional Analysis/Coverage
North America (US, Canada, Mexico), Europe (Eastern Europe [Poland, Romania, Hungary, Turkey, Rest of Eastern Europe] Western Europe] Germany, France, UK, Italy, Spain, Netherlands, Switzerland, Austria, Rest of Western Europe]). Asia Pacific (China, India, Japan, South Korea, Vietnam, Singapore, Australia, Rest of Asia Pacific), Middle East & Africa (Middle East [UAE, Egypt, Saudi Arabia, Qatar, Rest of Middle East], Africa [Nigeria, South Africa, Rest of Africa], Latin America (Brazil, Argentina, Colombia Rest of Latin America)
Company Profiles
CCL Industries Inc, Constantia Flexibles, Coveris Holdings SA, Mepco Label Systems, Avery Dennison Corporation, Century Label Inc, Allen Plastic, Cenveo Inc, Innovia Films Ltd, Huhtamaki Group
Key Drivers
• The adoption of the IML offering 360-degree print coverage has become a key driver for market growth
• Enhanced visual appeal through vibrant graphics and designs
Market Restraints
• High costs and technological complexity hinder widespread adoption of in-Mold labels