Report Scope & Overview:
The IoT in Warehouse Management Market size was valued at USD 10.89 billion in 2022 and is expected to grow to USD 28.97 billion by 2030 and grow at a CAGR of 13.01 % over the forecast period of 2023-2030.
The IoT in warehouses works with Sensors and software-enabled connected devices that can provide users with detailed insights into their warehouse operations. Without requiring human intervention, data is transmitted over the network by an IoT system at a warehouse. It exchanges data in real time to track, monitor, and maintain a variety of warehouse management operations, greatly enhancing the effectiveness of the warehouse. It has been noted in recent years that IoT has significantly helped the manufacturing sector in comparison to other industry verticals to automate sizable warehouse operations. In order to enhance warehouse management procedures, it has significantly increased IoT investment in the industrial sector. The accuracy of warehouse management activities may be substantially enhanced by IoT penetration, which can also help with space optimization and improved product distribution.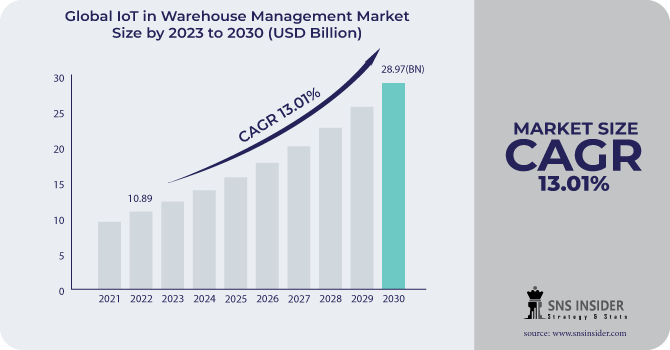 Market Dynamics
Drivers
Increase in Wearable Device Use to Drive Market Growth in Warehouse Management Operations

The growing number of machine-to-machine applications utilized across various industries, including video surveillance, transportation, smart meters, asset tracking, and health monitoring, is a significant factor projected to drive market expansion.
Wearable technology provides accurate real-time information on a variety of assets as well as prompt notifications to increase process efficiency and get rid of non-compliance. IoT integration in warehouses can also increase the efficiency of human operators and increase the accuracy of inventory tracking. The increasing productivity of warehouses caused by wearable technology greatly improves process transparency.
Numerous wearable gadgets, such as voice control headsets, smart safety helmets, smart safety glasses, smart gloves, and smart glasses, make it easier for operators to communicate with tech support and automate the packing and scanning processes by ensuring worker safety. Every component of the supply chain network has been impacted by Industry 4.0's penetration of digital technology, which has greatly increased the value of the company. These elements will support the expansion of the IoT in the warehouse management market.
Restrains
Warehouse operators can communicate across the network thanks to the deployment of IoT-connected hardware and software. However, among warehouse managers, these cutting-edge technologies have also sparked worries about cybersecurity and privacy. Additionally, a lack of experienced workers can significantly slow down logistical operations, which in turn has a detrimental effect on an organization's profit margins.
The efficiency of warehouses across many industries can be hampered by a lack of internal capabilities, which can impede the digital transformation of conventional warehouses, according to an Inmarsat Study. A lack of data science and connection expertise might limit an organization's ability to expand when developing, deploying, and managing IoT initiatives in the manufacturing and logistics sectors. These elements might have a negative effect on market growth.
Opportunities
Consistently increasing automation in industries that create opportunities in the future.

Convert the traditional warehouse into a smart warehouse by adopting IoT in warehouse management.
Challenges
Impact of Russia Ukraine war
The war in Ukraine has the potential to disrupt global supply chains, including the production of IoT devices and components. Many electronic components, sensors, and communication modules used in IoT solutions are sourced from various countries, including Russia and Ukraine. Disruptions in the supply chain could lead to shortages, increased prices, and delayed deliveries of IoT devices used in warehouse management. Escalating tensions and disruptions in Eastern Europe could lead to increased energy costs, which may affect the operating costs of data centers and cloud services that support IoT solutions in warehouse management. This could, in turn, increase the overall cost of implementing and maintaining IoT systems. Geopolitical tensions can create uncertainty for businesses, making it more challenging for them to make long-term investments in IoT technologies. Companies may delay or scale back their IoT deployment plans until there is more stability in the geopolitical landscape. Geopolitical tensions can also raise concerns about data security and the vulnerability of IoT systems to cyberattacks. Warehouse management systems often rely on IoT devices to collect and transmit sensitive data, and the potential for state-sponsored cyberattacks or hacking groups taking advantage of the situation could impact data security. In response to global disruptions, companies may place a greater emphasis on building resilient supply chains and warehouse management systems. This could lead to increased interest in IoT solutions that enhance supply chain visibility, real-time monitoring, and predictive maintenance to mitigate the impact of disruptions.
Impact of recession
The economic downturns can drive businesses to seek cost-efficiency and optimization. IoT solutions in warehouse management can help reduce operational costs, improve inventory accuracy, and enhance overall efficiency. This may lead to increased interest in IoT technologies as companies look for ways to do more with less. Recessions can disrupt supply chains, leading to increased complexities and the need for better supply chain visibility and management. IoT can play a crucial role in providing real-time data and insights to optimize supply chain operations and mitigate disruptions.
E-commerce tends to thrive during economic downturns as consumers seek more cost-effective options and convenience. With the growth of e-commerce, demand for efficient warehouse management and logistics solutions may increase, leading to a greater need for IoT technologies. Accurate inventory management is critical during a recession to prevent overstocking or stockouts. IoT-enabled sensors and tracking systems can provide real-time data on inventory levels, helping companies better manage their stock. Companies looking to stay competitive during a recession may invest in technology to gain a strategic advantage. IoT solutions, if properly implemented, can enhance visibility, automate processes, and improve decision-making. Securing funding for IoT projects may be more challenging during a recession due to budget constraints. Companies may need to be more selective about which projects to prioritize.
Key Market Segmentation
By Solution
By Service
3PL

Usage-based insurance
By Device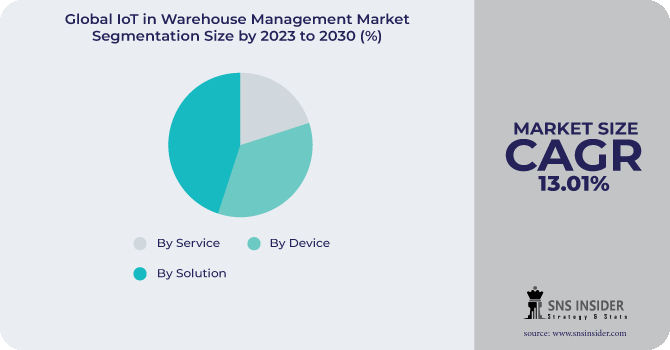 Regional Analysis
Asia Pacific had the largest market share. The adoption of modern analytical tools has been boosted by the expanding industrial and e-commerce sectors in nations like China and India. The region's manufacturing and retail sectors could undergo a digital transformation because of the growing integration of industrial software and hardware with e-commerce businesses in China and India.
Due to the growing number of retail and e-commerce companies in nations like the U.S. and Canada, innovations in warehouse management technologies, and the widespread availability of smart warehouse vendors, North America is predicted to hold the second-largest market share.
The South American market will also experience remarkable growth in the next years as a result of the expansion of the industrial sector in nations like Argentina and Brazil. Due to this circumstance, both small and large businesses now need automated warehouses, thereby enhancing the application of IoT in warehouse management. The use of digital technologies in the manufacturing and retail sectors will have a beneficial effect on the market in Europe. For instance, Honeywell opened smart facilities in Eastern Europe to create a new hub for warehouse automation. The development of intelligent warehouses in Europe could accelerate regional market growth between 2023 and 2030. In the regional analysis study of the regions of North America, Europe, Asia Pacific Middle East, and Africa.
REGIONAL COVERAGE:
North America
Europe
Eastern Europe

Poland

Romania

Hungary

Turkey

Rest of Eastern Europe

Western Europe

Germany

France

UK

Italy

Spain

Netherlands

Switzerland

Austria

Rest of Western Europe
Asia Pacific
China

India

Japan

South Korea

Vietnam

Singapore

Australia

Rest of Asia Pacific
Middle East & Africa
Middle East

UAE

Egypt

Saudi Arabia

Qatar

Rest of Middle East

Africa

Nigeria

South Africa

Rest of Africa
Latin America
Brazil

Argentina

Colombia
Rest of Latin America
Key Players:
The major players in the industry are Oracle Corporation, Tecsys, Inc., HCL Technologies Limited, IBM Corporation, Software AG, PTC, Inc., Zyter, Inc., Suntist Labs Pvt. Ltd., Argos Software, Zebra Technologies Corp., and others in the final report.
Oracle Corporation-Company Financial Analysis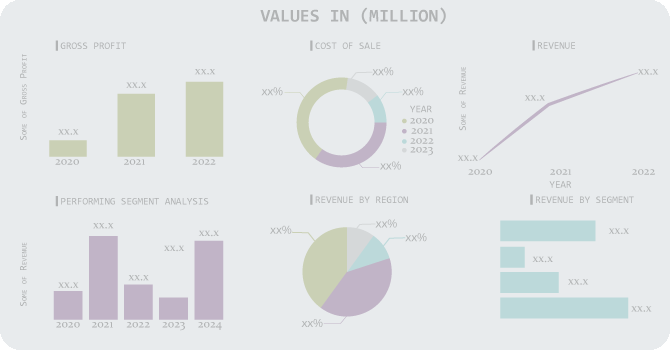 Recent development
August 2022: Sensolus has formed a strategic partnership with Deutsche Telekom AG to introduce an innovative asset-tracking solution for the management of non-powered assets. This collaboration has the potential to significantly enhance Sensolus' IoT-based solution portfolio, enabling it to offer cutting-edge services to organizations throughout Germany.
July 2021: Zebra Technologies has successfully completed the acquisition of Fetch Robotics, a leading warehouse automation firm. This strategic move allows Zebra Technologies to expand its range of logistics equipment services, empowering businesses to efficiently manage their warehouse operations and optimize their supply chain processes.
June 2022: Surgere has unveiled an exciting new RFID-based application for Hutchinson North America's warehouse management system. This groundbreaking application revolutionizes the way OEM containers are handled by implementing advanced tagging and tracking technology. By eliminating the risk of asset loss and providing real-time inventory visibility, Surgere's solution empowers Hutchinson with enhanced operational efficiency and streamlined inventory management capabilities.
Global IoT in Warehouse Management Market Report Scope
Report Attributes
Details
Market Size in 2022
US$ 10.89 Bn
Market Size by 2030
US$ 28.97 Bn
CAGR
CAGR of 13.01 % From 2023 to 2030
Base Year
2022
Forecast Period
2023-2030
Historical Data
2019-2021
Report Scope & Coverage
Market Size, Segments Analysis, Competitive Landscape, Regional Analysis, DROC & SWOT Analysis, Forecast Outlook
Key Segments
• by Solution, (Warehouse automation, Workforce management, Inventory management, electronic data interchange (EDI), Tracking)
• by Device, (Sensing devices, Gateways)
• by Service, (3PL, Usage-based insurance)
Regional Analysis/Coverage
North America (US, Canada, Mexico), Europe (Eastern Europe [Poland, Romania, Hungary, Turkey, Rest of Eastern Europe] Western Europe] Germany, France, UK, Italy, Spain, Netherlands, Switzerland, Austria, Rest of Western Europe]), Asia Pacific (China, India, Japan, South Korea, Vietnam, Singapore, Australia, Rest of Asia Pacific), Middle East & Africa (Middle East [UAE, Egypt, Saudi Arabia, Qatar, Rest of Middle East], Africa [Nigeria, South Africa, Rest of Africa], Latin America (Brazil, Argentina, Colombia Rest of Latin America)
Company Profiles
Oracle Corporation, Tecsys, Inc., HCL Technologies Limited, IBM Corporation, Software AG, PTC, Inc., Zyter, Inc., Suntist Labs Pvt. Ltd., Argos Software, Zebra Technologies Corp.
Key Drivers
• Increase in Wearable Device Use to Drive Market Growth in Warehouse Management Operations
• The growing number of machine-to-machine applications utilized across various industries, including video surveillance, transportation, smart meters, asset tracking, and health monitoring, is a significant factor projected to drive market expansion.
Market Restraints
• Market Development is Limited by a Lack of Skilled Workforce to Run Smart Warehouses