Report Scope & Overview:
The Malonic Acid Market size was valued at USD 110.4 million in 2022. It is estimated to hit USD 137.69 million by 2030 and grow at a CAGR of 2.8% over the forecast period of 2023-2030.
The Malonic Acid Market has experienced robust growth owing to its extensive utilization in pharmaceuticals, agrochemicals, and food and beverage industries. The increasing demand for malonic acid as a key intermediate in the synthesis of various pharmaceutical drugs has been a major driving force behind its market expansion. Additionally, the rising adoption of malonic acid in the production of herbicides and pesticides has further propelled market growth. Malonic acid, also known as propane dioic acid, is a dicarboxylic acid widely used in various applications across different sectors. The expanding agrochemical sector which accounted for about $ 241.2 billion market and the rising need for sustainable farming practices are anticipated to fuel the market's growth in the coming years.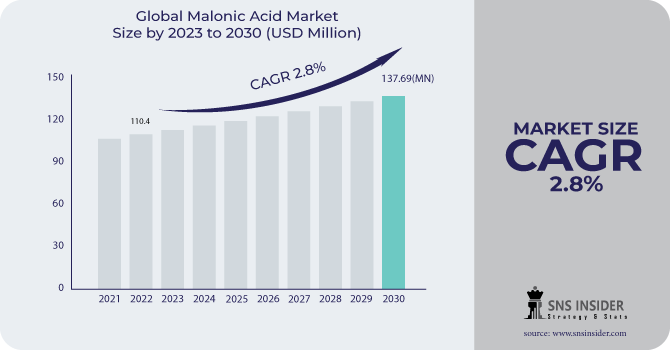 The Pharmaceutical segment is expected to grow with the highest CAGR of about 3.2% during the forecast period of 2023-2030. Malonic acid's unique chemical structure allows it to serve as a building block for the synthesis of various pharmaceutical compounds. One of the key factors driving the growth of the pharmaceutical segment in malonic acid is its role as a precursor in the production of active pharmaceutical ingredients (APIs). Asia Pacific region is expected to dominate the market in the future and is predicted to grow with a CAGR of about 3.1% during the forecast period. The presence of major manufacturing countries such as China, India, and Japan drives the growth of the malonic acid market in the Asia Pacific region.
Market Dynamics
Drivers
Increasing demand for Malonic Acid in the pharmaceutical industry

Rising adoption of Malonic Acid in the food and beverage sector
The increasing adoption of Malonic Acid in the food and beverage sector serves as a significant driving force behind the growth of the Malonic Acid Market. Malonic Acid has gained substantial popularity in the food and beverage industry due to its versatile applications and beneficial properties. This organic compound is widely utilized as an additive, preservative, and flavor enhancer in various food and beverage products. Furthermore, Malonic Acid's natural occurrence in fruits and vegetables has contributed to its rising adoption in the food and beverage sector. The organic food and beverage sector is expected to grow with a CAGR of about 12.1% in the upcoming year. As consumers increasingly prioritize natural and organic ingredients, the utilization of Malonic Acid aligns with these preferences, further driving its market demand.
Restrain
High production cost associated with Malonic Acid

Stringent regulations imposed by regulatory bodies regarding the use of Malonic Acid in certain industries
Opportunities
Growing trend of using bio-based chemicals in various industries

Expanding applications of Malonic Acid in the agriculture industry
Challenges
One of the key factors that hinder the growth of the Malonic Acid Market is the availability of alternative products such as citric acid, malic acid, fumaric acid, etc. These substitutes offer similar functionalities and can be used as alternatives to Malonic Acid in various applications.
Impact of Russia-Ukraine War:
The Russia-Ukraine war has disrupted the supply chain of malonic acid, causing significant challenges for manufacturers and suppliers. The conflict has created an atmosphere of uncertainty, leading to price volatility in the malonic acid market. The ongoing conflict between Russia and Ukraine has had a significant impact on India's pharmaceutical industry. Trade between India and Russia has declined by a staggering 51% due to delayed payments faced by drug manufacturers exporting to Russia. This has not only affected the financial aspect but has also disrupted the production cycle. When manufacturers do not receive timely payments, it hampers their ability to continue production smoothly. India's pharmaceutical exports to Russia account for approximately 2.5% of the total pharmaceutical exports, making it a substantial portion of the industry. Similarly, exports to Ukraine make up around 0.75% of the total pharmaceutical exports. The limited supply and increased demand have caused prices to surge, affecting both manufacturers and consumers. This price instability poses challenges for businesses in planning and forecasting, as they struggle to adapt to sudden changes in market conditions.
Impact of Recession:
The recession has resulted in a decline in the demand for malonic acid across multiple sectors. Industries such as pharmaceuticals, agrochemicals, and food and beverages have experienced a decrease in production and consumption, leading to a reduced need for malonic acid. This decline in demand has directly impacted the market, causing a decrease in sales and revenue for malonic acid manufacturers. Furthermore, the recession has also affected the supply chain of malonic acid. With reduced demand, manufacturers have faced difficulties in maintaining their production levels. This has led to a surplus of malonic acid in the market, resulting in increased competition among manufacturers and a subsequent decrease in prices.
Market segmentation
By Grade
Pharmaceutical Grade

Food Grade

Technical Grade
By Application
API

Flavor Enhancer

pH Controller

Additive

Precursor

Other Applications
By End-use
Pharmaceuticals

Food & Beverage
Agriculture

Paints & Coatings

Plastics

Others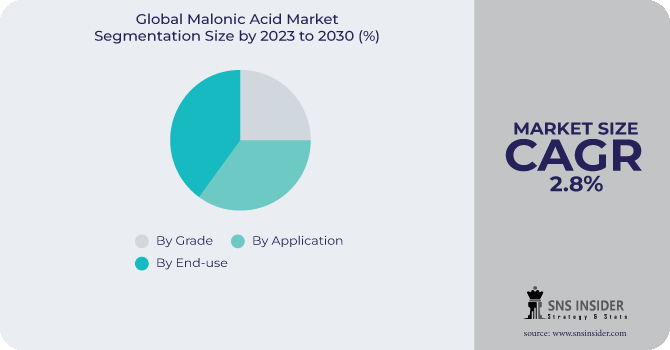 Regional Analysis
Europe dominated the Malonic Acid Market with a revenue share of about 41.3% in 2022. This is mainly attributed to the increasing demand for malic acid from various industries. Industries such as food and beverages, pharmaceuticals, and cosmetics have recognized the multifaceted benefits of malic acid, leading to an upsurge in its utilization. The pharmaceutical industry has embraced malic acid due to its potential therapeutic properties. It has been found to aid in the formulation of medicines, particularly those targeting conditions such as kidney stones and fibromyalgia. The increasing prevalence of these ailments, coupled with the growing awareness of malic acid's benefits, has fueled its demand in the pharmaceutical sector. The cosmetic industry has also recognized the value of malic acid in skincare and haircare products. Its exfoliating properties, ability to promote skin rejuvenation, and contribution to hair health have made it a valuable ingredient in various beauty formulations. As the European cosmetic industry continues to flourish, the demand for malic acid is expected to witness a steady rise. Germany is the leading national market for cosmetics and personal care products in Europe, with a staggering value of $4.65 billion.
North America is projected to experience the highest Compound Annual Growth Rate (CAGR) of approximately 3.3% in the Malonic Acid Market during the forecast period. North America boasts a robust industrial sector, which drives the demand for various chemicals, including malonic acid. The region's well-established infrastructure, technological advancements, and favorable business environment create a conducive atmosphere for market expansion. Additionally, North America's increasing awareness and adoption of sustainable practices contribute to the market's growth. Malonic acid, known for its eco-friendly properties, aligns perfectly with the region's sustainability goals. As consumers become more conscious of the environmental impact of their choices, the demand for malonic acid as a greener alternative in various industries, such as pharmaceuticals, agriculture, and food and beverages, is expected to soar.
REGIONAL COVERAGE:
North America
Europe
Eastern Europe

Poland

Romania

Hungary

Turkey

Rest of Eastern Europe

Western Europe

Germany

France

UK

Italy

Spain

Netherlands

Switzerland

Austria

Rest of Western Europe
Asia Pacific
China

India

Japan

South Korea

Vietnam

Singapore

Australia

Rest of Asia Pacific
Middle East & Africa
Middle East

UAE

Egypt

Saudi Arabia

Qatar

Rest of Middle East

Africa

Nigeria

South Africa

Rest of Africa
Latin America
Brazil

Argentina

Colombia

Rest of Latin America
Key Players
The major key players are Shanghai Nanxiang Reagent Co. Ltd., Lonza Group, Wuhan Kemi-Works Chemical Co. Ltd., Columbus Chemical Industries Inc., Trace Zero LLC, J&K Scientific Ltd., Medical Chem (Yancheng) Manufacturing Co. Ltd., Hefei TNJ Chemical Industry Co. Ltd., Lygos Inc. Co. Ltd., Tateyama Kasei Co. Ltd., and other key players mentioned in the final report.
Recent Development:
In Nov 2022, Lygos Inc. is thrilled to announce a groundbreaking research and development collaboration with Ginkgo Bioworks. This strategic partnership brings together the expertise of two leading organizations, combining their efforts over a span of approximately two years. The primary objective of this collaboration is to pioneer the development of innovative biodegradable polymer-based formulations and products.
Malonic Acid market Report Scope
Report Attributes
Details
Market Size in 2022
US$ 110.4 Mn
Market Size by 2030
US$ 137.69 Mn
CAGR
CAGR of 2.8% From 2023 to 2030
Base Year
2022
Forecast Period
2023-2030
Historical Data
2019-2021
Report Scope & Coverage
Market Size, Segments Analysis, Competitive Landscape, Regional Analysis, DROC & SWOT Analysis, Forecast Outlook
Key Segments
• By Grade (Pharmaceutical Grade, Food Grade, and Technical Grade)
• By Application (API, Flavor Enhancer, pH Controller, Additive, Precursor, and Other Applications)
• By End-use (Pharmaceuticals, Food & Beverage, Agriculture, Paints & Coatings, Plastics, and Others)
Regional Analysis/Coverage
North America (US, Canada, Mexico), Europe (Eastern Europe [Poland, Romania, Hungary, Turkey, Rest of Eastern Europe] Western Europe] Germany, France, UK, Italy, Spain, Netherlands, Switzerland, Austria, Rest of Western Europe]), Asia Pacific (China, India, Japan, South Korea, Vietnam, Singapore, Australia, Rest of Asia Pacific), Middle East & Africa (Middle East [UAE, Egypt, Saudi Arabia, Qatar, Rest of Middle East], Africa [Nigeria, South Africa, Rest of Africa], Latin America (Brazil, Argentina, Colombia Rest of Latin America)
Company Profiles
Shanghai Nanxiang Reagent Co. Ltd., Lonza Group, Wuhan Kemi-Works Chemical Co. Ltd., Columbus Chemical Industries Inc., Trace Zero LLC, J&K Scientific Ltd., Medical Chem (Yancheng) Manufacturing Co. Ltd., Hefei TNJ Chemical Industry Co. Ltd., Lygos Inc. Co. Ltd., Tateyama Kasei Co. Ltd.
Key Drivers
• Increasing demand for Malonic Acid in the pharmaceutical industry
• Rising adoption of Malonic Acid in the food and beverage sector
Market Restraints
• High production cost associated with Malonic Acid
• Stringent regulations imposed by regulatory bodies regarding the use of Malonic Acid in certain industries