Report Scope & Overview:
Medical Tourism Market size was valued at USD 4.97 billion in 2022 and is expected to reach at USD 43.17 billion by 2030, and grow at a CAGR of 31% over the forecast period of 2023-2030.
Travelling to another country for medical care or healthcare services is referred to as medical tourism. The chance to combine medical procedures with travel and leisure as well as financial savings, access to specialized treatments, shorter waiting periods, and other factors all influence why people choose medical tourism. People can seek medical procedures, treatments, or surgeries through medical tourism that may not be easily accessible or reasonably priced in their native country. This can involve, among other things, cosmetic surgery, dental work, fertility treatments, organ transplants, and heart operations. Saving money is one of the main factors that influence people to choose medical tourism. In comparison to developed countries, many developing countries offer healthcare at much reduced prices. When selecting a medical tourism destination, it is crucial to take the quality of care into account even though cost reductions may be a big issue. Hospitals and clinics that satisfy international healthcare standards are frequently found in well-known medical tourism locations. Before making a choice, it is essential to research the credentials, standing, and success rates of healthcare professionals. By combining medical care with travel, medical tourism enables patients to see the world while receiving medical attention. Some medical tourism packages could offer help with booking flights, lodging, and local transportation. It's crucial to schedule healing time and make sure that the right accommodations are accessible.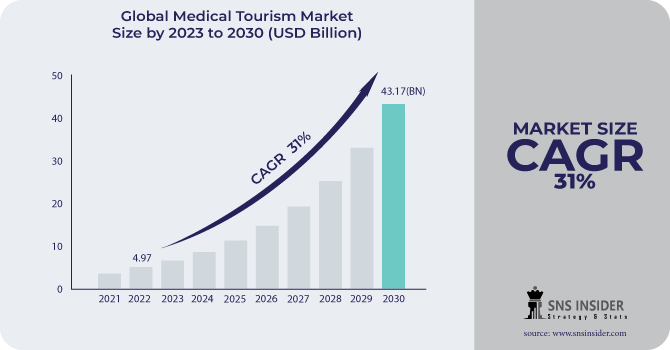 Market Dynamics:
Drivers:
Certain medical procedures or treatments might occasionally not be accessible or available in the patient's native country for a variety of causes, such as a deficient healthcare infrastructure, protracted wait times, or legislative limitations. People have the chance to get specialized treatments or procedures that might not be offered locally through medical tourism.
Restrain:
Opportunity:
Patients can choose from a wider variety of treatments thanks to medical tourism. People can gain access to treatments that may not be available or authorized in their native country, such as specialized therapies, cutting-edge surgeries, or experimental therapies. Patients can investigate different treatment options and potentially get better medical results because to the increased access to healthcare.
Challenge:
In medical tourism, communication can be a big problem. When trying to grasp treatment alternatives, instructions from doctors, or post-operative care, patients could run into language hurdles. The experience and expectations of the patient may be impacted by cultural variations. For accurate comprehension and a great patient experience, good communication and cultural awareness are essential for patients and healthcare professionals.
Impact of Russia Ukraine war:
Destinations for medical tourism in the area may change as a result of the conflict. Patients who had previously considered receiving medical treatment in Russia or the Ukraine may now choose a different nation with safer medical practices and more stable political conditions. Healthcare services, infrastructure, and the operation of medical facilities in the affected areas may all be affected by the war. Due to the fighting, hospitals and clinics can encounter a scarcity of medical supplies, equipment, and healthcare personnel. Medical tourism may become less appealing as a result of a decline in the quantity and quality of healthcare treatments.
Impact of Recession:
People could have financial hardships during a recession and put off non-essential medical care in favor of critical costs. People may decide to delay or forego non-essential medical operations as a result, which could result in a decline in the market for medical tourism. Individuals' disposable income is frequently lowered during recessions. People could be less likely to devote their few resources to medical tourism because it often entails additional expenses like travel, lodging, and post-operative care.
Market Segmentation:
By Service
Medical Treatment

Wellness Treatment

Alternative Treatment
By Service Provider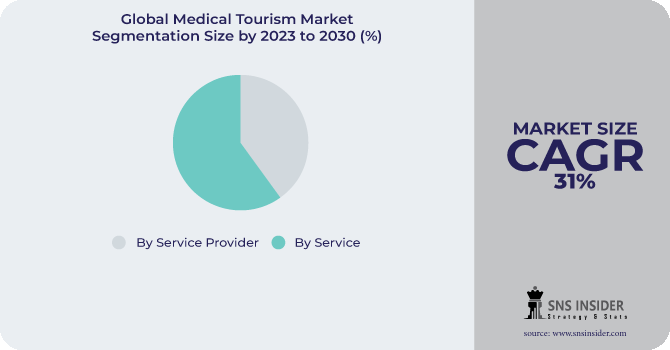 Key Players
The major key players are Apollo hospitals, Fortis Healthcare, Asian heart Institute, KPJ Healthcare Berhad, Livonta Global, Gleneagles hospitals and others.
Regional Analysis:
The choices for medical travel are varied in the North Americas. Despite its increased expense, the United States is a favorite destination for patients looking for advanced medical technology and specialized therapies. Affordable healthcare is well-known in Mexico and Costa Rica, especially for aesthetic and dental surgeries.
Europe is renowned for its cutting-edge healthcare systems, highly skilled medical staff, and strict regulatory norms. Popular nations with a reputation for being experts in specialized treatments like orthopedics, cardiology, and oncology include Germany, Switzerland, and the United Kingdom. Poland and other Eastern European nations like Hungary provide affordable treatments.
APAC is the region with the highest CAGR growth rate because of the developed healthcare infrastructure, highly qualified medical staff, and affordable treatments, Asia is a favorite destination for medical tourists.
Medical Tourism Market Report Scope:
Report Attributes
Details
Market Size in 2022
US$ 4.97 Bn
Market Size by 2030
US$ 43.17 Bn
CAGR
CAGR of 31% From 2023 to 2030
Base Year
2022
Forecast Period
2023-2030
Historical Data
2020-2021
Report Scope & Coverage
Market Size, Segments Analysis, Competitive Landscape, Regional Analysis, DROC & SWOT Analysis, Forecast Outlook
Key Segments
•By Service (Medical Treatment, Wellness Treatment, Alternative Treatment)
•By Service Provider (Public, Private)
Regional Analysis/Coverage
North America (USA, Canada, Mexico), Europe
(Germany, UK, France, Italy, Spain, Netherlands,
Rest of Europe), Asia-Pacific (Japan, South Korea,
China, India, Australia, Rest of Asia-Pacific), The
Middle East & Africa (Israel, UAE, South Africa,
Rest of Middle East & Africa), Latin America (Brazil, Argentina, Rest of Latin America)
Company Profiles
Apollo hospitals, Fortis Healthcare, Asian heart Institute, KPJ Healthcare Berhad, Livonta Global, Gleneagles hospitals and others
Key Drivers
• The lack of access to the latest technology for the people living in the undeveloped region.
Market Opportunities
• The rising demand for the alternative treatment across the globe.