Report Scope & Overview:
Non-Destructive Inspection Equipment Market size was valued at USD 10.1 billion in 2022 and is expected to grow to USD 21.96 billion by 2030 and grow at a CAGR of 10.2% over the forecast period of 2023-2030.
The increasing emphasis on safety and reliability, the need for preventive maintenance and asset management, the adoption of advanced technologies, the emphasis on environmental regulations and sustainability, and the globalization of industries across multiple sectors are the major market drivers for non-destructive inspection equipment.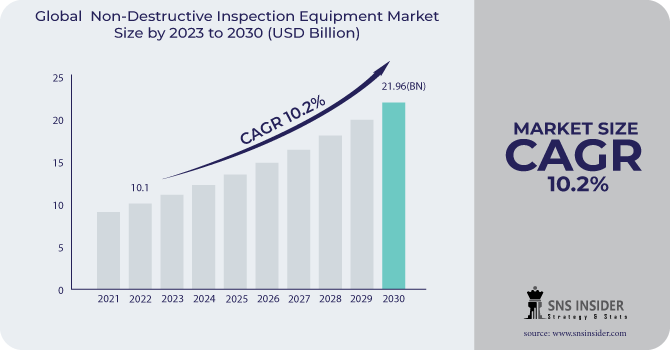 The services category dominated the market in 2022, accounting for 75.3% of total revenue, and is likely to continue dominant throughout the forecast period. The considerable upfront expense associated with non-destructive equipment, combined with the technical challenges needed in their deployment and installation, is the key driver driving end-users to outsource their NOT operations.
In 2022, the traditional test technique segment led the market, accounting for 80.6% of total revenue. The rising use of classic non-destructive testing (NDT) methods, such as visual testing, magnetic particle testing, liquid penetrant testing, eddy current testing, ultrasonic testing, and radiographic testing, is attributable to the significant market growth. In 2022, the manufacturing vertical segment dominated the NDT market, accounting for more than 22.1% of total revenue. The increase is related to the ever-increasing volume of manufacturing around the world.
KEY DRIVERS:
Rising demand from the aerospace sector for greater material, structural, and strength standards, as well as expanding application lists, such as identifying cracks, faults, and leaks, will drive non-destructive testing (NDT) market expansion. Furthermore, increased demand from various sectors such as oil and gas, automotive, and power would expand the market's footprint. Additionally, increased awareness about enhancing operational efficiency and dependability will boost market expansion.
RESTRAIN:
This industry is experiencing a scarcity of trained individuals with the requisite abilities and certifications to conduct efficient inspections. To operate and maintain NDT techniques, professionals with good technical knowledge and practical expertise are required. Examine the equipment. However, there aren't enough trained specialists to go around, which is expected to stymie market expansion.
OPPORTUNITY:
Increased investment in oil and gas and power generating projects, particularly in the nuclear energy industry in Asia-Pacific, pushes the NDT equipment market significantly, since NDT inspection is critical to the operation of these two industries. Brazil, Mexico, and Venezuela dominate Latin American oil output. These countries account for almost 75% of the region's total output and are also international behemoths, ranking as the world's 10th, 11th, and 12th largest oil producers, respectively.
CHALLENGES:
The high replacement costs of automated NDT and inspection equipment are one of the key downsides of NDT and inspection services. Small and medium-sized businesses typically employ manual NDT equipment that is not as reliable as automated NDT and inspection equipment. As a result, some end users, who see it as a burden on their regular investments, choose third-party inspection services. Several businesses are working to build automated NDT and inspection technology that will provide a high return on investment in the future.
IMPACT ANALYSIS
IMPACT OF RUSSIAN UKRAINE WAR
The global non-destructive testing (NDT) market is expected to gain traction as a consequence of ongoing technical advancements in wireless sensors and Internet of Things (IoT) for generating improved accuracy in testing findings. Zetec Inc., for example, released the ElbowFlex scanner for detecting flow accelerated corrosion in March 2022. Pipe elbow wall thickness is measured. It has industrial applications. Ultrasonic is one of these. In 2022, the testing category captured 30.22% of the non-destructive testing market. Sanctions and the war situation have put a damper on global investment, commerce, and economic activity. The skepticism and doubt about the conflict's possible scope and duration remain pervasive, the restoration of regular ties between couples may be a sign of progress. Almost no industry has been spared by the war, which has exacerbated the business landscape of industries ranging from aerospace to oil and gas. In the face of current problems, stakeholders are preparing to convert adversity into opportunity. However, rising military aid for Ukraine may provide a boost to stakeholders. Meanwhile, it should be remembered that the appropriate sentence could Increase operational costs and disrupt industry. The global market for non-destructive testing (NDT) is expected to grow.
IMPACT OF ONGOING RECESSION
During the height of the pandemic, most businesses reduced any extra products or outsourced services to a bare minimum. Even if a global epidemic isn't the cause of an economic slump, firms will undoubtedly reduce the number of services they hire on during a recession. For more ancillary services, this may imply decreasing demand and the possibility of job loss for employees. This is rarely the case with NDT. Non-destructive testing is an important service that confirms and ensures safety in many sectors. Non-destructive testing experts inspect for safety using inspection procedures such as magnetic particle testing, ultrasonic testing, and liquid penetrant testing, to name a few.
NDT technicians work in areas such as infrastructure, transportation, and energy, all of which are vital to society's daily operations. Safety is critical in each of these industries. If a bridge collapses or a power pole falls, lives may be endangered, and costly delays and repairs can have a huge impact on a business. Because safety is non-negotiable regardless of economic circumstances, NDT technicians can enjoy a solid profession even during a downturn.
MARKET SEGMENTATION
By Technique
Visual Testing (VT)

Magnetic Particle Testing (MPT)

Liquid Penetrant Testing (LPT)

Eddy-current Testing (ECT)

Ultrasonic Testing (UT)

Radiographic Testing (RT)

Acoustic Emission Testing (AET)

Others (Terahertz Imaging and Near-infrared Spectroscopy (NIRS))
By Method
Visual Inspection

Surface Inspection

Volumetric Inspection
By Service
By Vertical
By Application
Flaw Detection

Dimensional Measurement

Chemical Composition Determination

Stress and Structure Analysis

Physical Properties Estimation

Leak Detection

Weld Verification

Others (Case Depth Determination, Mechanical Testing, Metallurgical Investigation)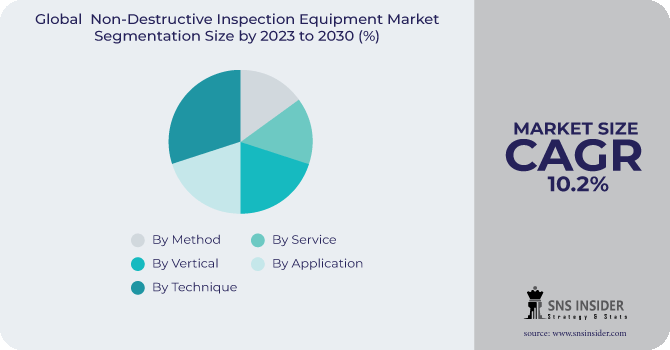 REGIONAL ANALYSIS
With a revenue share of more than 36.0% in 2022, North America emerged as the largest segment. This is because NDT techniques are widely used in a variety of applications, there is a skilled workforce, and there are several non-destructive testing training institutes in the region. Furthermore, the rate of increase in the use of shale oil for electricity generation in the United States is expected to have a favourable impact on the region. The United States and Canada. Furthermore, there is a growing emphasis on the use of non-destructive testing (NDT) to the regional market is projected to be driven by the need to prevent unplanned system breakdowns.
Over the projection period, the Asia Pacific market is expected to grow at a CAGR of more than 9.3%. This expansion is attributed to an increase in the region's manufacturing, building, and power generation activities. Despite the region's existing skilled labor shortage, it is expected to reduce over time as awareness and acceptance of non-destructive testing procedures grows in the future years. Furthermore, due to the considerable presence of the oil and gas industry, the Middle East is considered to be a prospective market for NDT techniques.
REGIONAL COVERAGE:
North America
Europe
Eastern Europe

Poland

Romania

Hungary

Turkey

Rest of Eastern Europe

Western Europe

Germany

France

UK

Italy

Spain

Netherlands

Switzerland

Austria

Rest of Western Europe
Asia Pacific
China

India

Japan

South Korea

Vietnam

Singapore

Australia

Rest of Asia Pacific
Middle East & Africa
Middle East

UAE

Egypt

Saudi Arabia

Qatar

Rest of Middle East

Africa

Nigeria

South Africa

Rest of Africa
Latin America
Brazil

Argentina

Colombia

Rest of Latin America
KEY PLAYERS
Some of key players of Non-Destructive Inspection Equipment Market are Previan Technologies, Bureau Veritas, Fischer Technologies Inc., Mistras Group, Inc., Comet Group (YXLON International GmbH), MME Group, TWI Ltd, Nikon Metrology Inc., Olympus Corporation, Sonatest, Zetec Inc., Intertek Group plc., and other players are listed in a final report.
Previan Technologies-Company Financial Analysis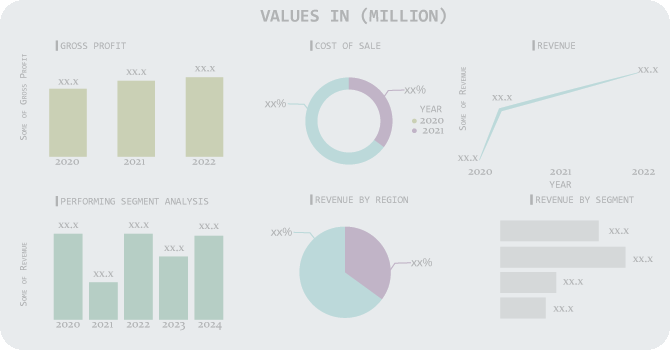 RECENT DEVELOPMENT
In October 2022, Nikon Industrial Metrology's Laser Radar stations will offer a powerful new option to standard CMMs for manufacturers looking to measure the geometry of medium-to-large items ranging from a vehicle door, casting, or fabrication to an entire automobile chassis or airframe structure.

Eddyfi introduced Ectane 3, a sophisticated non-destructive testing (NDT) tool for surface and tubing inspections, in October 2022. Remote-field array (RFA) technology is supported by the next-generation Ectane 3 for improved carbon steel heat exchanger inspections.

Ashtead Technology created a new optical chain measurement system (CMS) in April 2022 to give highly accurate and repeatable mooring chain measurements to track chain corrosion, wear, and elongation between surveys, as well as tilt measurement to validate chain tension. Ashtead uses high-resolution video mixed with machine vision techniques. The new optical CMS from Technology decreases chain measurement time by more than 50.1% and gives real-time findings.

Olympus Corporation will release the 72DL PLUS ultrasonic thickness gauge in March 2022. It provides high-speed precise thickness measurements in a portable, user-friendly device. The gauge can measure the thickness of very thin layers for difficult applications across industries thanks to quick scanning, powerful algorithms, and Olympus' lowest-ever minimum thickness capability.

Non-Destructive Inspection Equipment Market Report Scope:

| | |
| --- | --- |
| Report Attributes | Details |
| Market Size in 2022 | US$ 10.1 Bn |
| Market Size by 2030 | US$ 21.96 Bn |
| CAGR | CAGR of 10.2% From 2023 to 2030 |
| Base Year | 2022 |
| Forecast Period | 2023-2030 |
| Historical Data | 2019-2021 |
| Report Scope & Coverage | Market Size, Segments Analysis, Competitive Landscape, Regional Analysis, DROC & SWOT Analysis, Forecast Outlook |
| Key Segments | By Technique (Visual Testing (VT), Magnetic Particle Testing (MPT), Liquid Penetrant Testing (LPT), Eddy-current Testing (ECT), Ultrasonic Testing (UT), Radiographic Testing (RT), Acoustic Emission Testing (AET), Others (Terahertz Imaging and Near-infrared Spectroscopy (NIRS)), By Method (Visual Inspection, Surface Inspection, Volumetric Inspection), By Service (Inspection Services, Training Services, Calibration Services, Equipment rental Services), By Vertical (Manufacturing, Oil & Gas, Power Generation, Aerospace, Automotive, Public Infrastructure, Others (Plastic and Polymers, Medical and Health, and Marine), By Application (Flaw Detection, Dimensional Measurement, Chemical Composition Determination, Stress and Structure Analysis, Physical Properties Estimation, Leak Detection, Weld Verification, Others (Case Depth Determination, Mechanical Testing, Metallurgical Investigation)) |
| Regional Analysis/Coverage | North America (US, Canada, Mexico), Europe (Eastern Europe [Poland, Romania, Hungary, Turkey, Rest of Eastern Europe] Western Europe] Germany, France, UK, Italy, Spain, Netherlands, Switzerland, Austria, Rest of Western Europe]), Asia Pacific (China, India, Japan, South Korea, Vietnam, Singapore, Australia, Rest of Asia Pacific), Middle East & Africa (Middle East [UAE, Egypt, Saudi Arabia, Qatar, Rest of Middle East], Africa [Nigeria, South Africa, Rest of Africa], Latin America (Brazil, Argentina, Colombia Rest of Latin America) |
| Company Profiles | Previan Technologies, Bureau Veritas, Fischer Technologies Inc., Mistras Group, Inc., Comet Group (YXLON International GmbH), MME Group, TWI Ltd, Nikon Metrology Inc., Olympus Corporation, Sonatest, Zetec Inc., Intertek Group plc. |
| Opportunities | •Increased investment in oil and gas and power production projects • Increasing need for non-destructive testing (NDT) in the power generation industry. |
| Market Challenges | •The difficulty is the high expense of replacing automated NDT equipment |