REPORT SCOPE & OVERVIEW
The Plant-based Water Market size was USD 7.1 billion in 2022 and is expected to Reach USD 30.5 billion by 2030 and grow at a CAGR of 20 % over the forecast period of 2023-2030.
Plant-based water is an alternative to drinking water which provides a high amount of nutrition. The water can be harvested or treated in a number of ways depending on the type of plant. The beverage business has successfully dominated the world market thanks to its cutting-edge product flavors.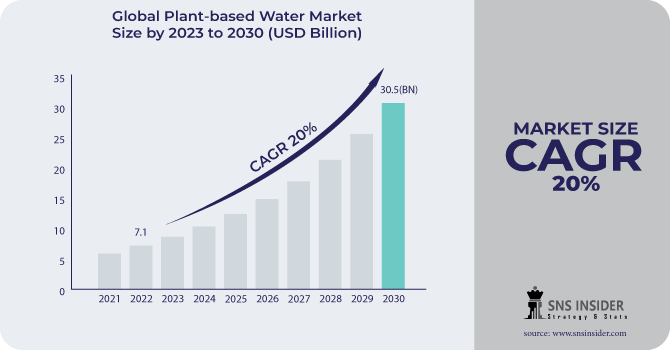 By product type, the market is segmented into coconut water, maple water, birch water, artichoke water, cactus water, and others. Coconut water is the leading segment, followed by maple water. Coconut water is a natural isotonic beverage that is high in electrolytes, such as potassium, magnesium, and calcium. It is also a good source of vitamins C and E. Coconut water is often used as a sports drink and to cure hangovers.
When pure maple tree sap is combined with water, maple water is produced that has a naturally earthy, delicious, and useful flavor. This water collects nutrients kept in the tree and provides hydration and nutrition that support the growth and renewal of trees throughout the spring season. Water makes up 96.5% of maple sap on average.
By application, the market is segmented into sports nutrition, functional beverages, and others. The sports nutrition segment is the leading segment, followed by functional beverages.
MARKET DYNAMICS
KEY DRIVERS
Growing awareness of the benefits of plant-based water

Rising demand for healthy beverages
Plant-based water can provide a significant amount of nutrition and serve as an alternative to common beverages. People are moving toward a healthier lifestyle as they become more conscious of their health. Since these waters are very low in calories and sugar content, and also contain minerals like electrolytes and antioxidants, plant-based waters are a great option for these customers. Plant-based products are low in saturated fat and cholesterol and high in vitamins, minerals, and antioxidants. The demand for water made from plant-based materials is rising in the market.
RESTRAIN
Scarcity of materials due to natural calamities

Sustainability challenges
The production of plant-based water can be harmful to the environment. Harvesting coconut water can harm coconut trees while producing maple water can necessitate a large amount of water. Validating birch sap is a difficult undertaking because it is only combined for a fortnight out of the year. Also, plant-based waters have more diverse distribution channels than carbonated beverages, which may limit the product market's expansion.
OPPORTUNITY
Plant-based waters are gaining popularity as a sports nutrition, and functional beverage as they include electrolytes, which can aid in rehydrating the body after activity. They're also low in sugar and calorie content, which is essential for athletes attempting to maintain health. During the forecasted period, there will be significant investment in the development of natural plant-based water that boosts immunity and in the quest for new plant water sources to provide consumers with new products that have new flavors.
CHALLENGES
Traditional beverages, such as carbonated drinks, sodas, bottled water, sports drinks, and juices, are still the most popular beverages in the world. This means that plant-based waters are competing with well-established brands and products. All these traditional beverages are affordable substitutes for plant-based water can hamper the market growth.
IMPACT OF RUSSIA UKRAINE WAR
Ukraine is a large producer of maple syrup, which is utilized in the production of maple water. The war could disrupt maple syrup production and supply, resulting in higher costs and limited availability of maple water. Many countries, including Ukraine, cultivate coconuts, artichokes, and cactus. However, the war may affect coconut harvesting and transportation, leading to higher prices and a decreased supply of coconut water. According to reports Cargill company, which reportedly has roughly $1.1 billion in investments and 2,500 employees in Russia, is "scaling back" its business activities and pausing investments while maintaining vital food and feed facilities.
IMPACT OF ONGOING RECESSION
The Recession can have a major impact on the market for plant-based waters as customers may have less disposable income to spend on these beverages. The disruption in the supply chain of coconuts, maple, and other materials, and rising labor & packaging costs have led to a decrease in the production of plant-based water. The yearly inflation rate for food and drink was 20% in 2023 according to the Office of National Statistics. Cereals and bread were the biggest contributors to the surge in food inflation, with average prices rising by 19.5% in the year to March 2023, indicating that the earlier predictions came true.
MARKET SEGMENTATION
By type
Maple Water

Coconut Water

Artichoke Water

Cactus Water

Others
By Flavor Variant
By Distribution Channels
Retail Stores

Cafes & Fitness Center

Online Sales

Others
By Application
Sports Nutrition

Functional beverages

Others.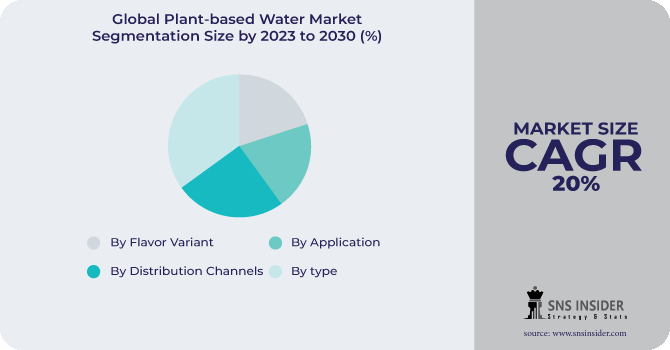 REGIONAL ANALYSIS
Asia Pacific is predicted to be the fastest-growing regional market owing to rising exports and domestic demand for plant-based water. Rapid increasing population and consumers' shift towards healthy lifestyles are driving the demand for plant-based drinks. The region has a significant market opportunity for branded and packed coconut water consumption which is neglected in countries such as China, Indonesia, India, and others.
North American region has a substantial growth which is attributed to the demand for sports drinks and functional water. Due to busy schedules and a shift in consumer preferences toward packaged food and beverages during the forecast period, packaged water consumption has increased in the U.S., Mexico, Canada, and other countries. Additionally, North America's enormous maple tree farming has led to the discovery of maple water manufacturing.
Europe is an emerging market for plant-based water as consumers are more inclined towards a healthy lifestyle and stringent regulations on beverages. Countries like the United Kingdom, Germany, and France have the most potential for birch water, birch trees are commonly tapped in Europe. Additionally, a new trend of plant-based products is driving the rise of this product market and is projected to continue during the forecast period.
REGIONAL COVERAGE
North America
Europe
Eastern Europe

Poland

Romania

Hungary

Turkey

Rest of Eastern Europe
Western Europe

Germany

France

UK

Italy

Spain

Netherlands

Switzerland

Austria

Rest of Western Europe
Asia Pacific
China

India

Japan

South Korea

Vietnam

Singapore

Australia

Rest of Asia Pacific
Middle East & Africa
Middle East

UAE

Egypt

Saudi Arabia

Qatar

Rest of Middle East

Africa

Nigeria

South Africa

Rest of Africa
Latin America
Brazil

Argentina

Colombia

Rest of Latin America
KEY PLAYERS
All Harmless Harv, Caliwater LLC, The Coca-Cola Company, Market Inc., DrinkSEVA, Happy Tree Group, Oviva Maple Water Company, PepsiCo Inc., Sibberi, Steaz, ARTY Water Company, and other key players are mentioned in the final report.
Caliwater LLC-Company Financial Analysis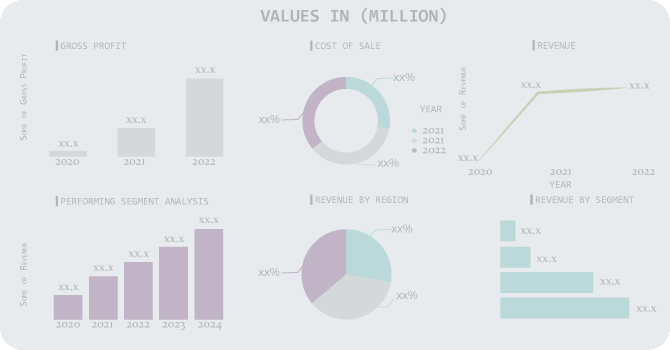 RECENT DEVELOPMENTS
Coca-Cola Company- In 2023 Coca-Cola Beverages located in Botswana, a subsidiary of the Africa division, launched a cutting-edge manufacturing line and water treatment plant for P310 million (US$24.4 million) to greatly increase the factory's production capacity.
Caliwater LLC- In 2021 Caliwater, a cactus-based beverage, has announced retail expansion on the East Coast. Caliwater Cactus drinks are now available in Village Super Market, Inc.'s beverage space in two popular flavors Wild Prickly Pear and Ginger & Lime.
Plant-based Water Market Report Scope:
Report Attributes
Details
Market Size in 2022
US$ 7.1 Billion
Market Size by 2030
US$ 30.5 Billion
CAGR
CAGR of 20 % From 2023 to 2030
Base Year
2022
Forecast Period
2023-2030
Historical Data
2019-2021
Report Scope & Coverage
Market Size, Segments Analysis, Competitive Landscape, Regional Analysis, DROC & SWOT Analysis, Forecast Outlook
Key Segments
• By Type (Maple Water, Coconut Water, Artichoke Water, Cactus Water, Others)
• By Flavor Variant (Natural, Flavored)
• By Distribution Channels (Online Sales, Retail Stores, Cafes, and fitness Centers)
• By Application (sports nutrition, functional beverages, others)
Regional Analysis/Coverage
North America (US, Canada, Mexico), Europe (Eastern Europe [Poland, Romania, Hungary, Turkey, Rest of Eastern Europe] Western Europe] Germany, France, UK, Italy, Spain, Netherlands, Switzerland, Austria, Rest of Western Europe]), Asia Pacific (China, India, Japan, South Korea, Vietnam, Singapore, Australia, Rest of Asia Pacific), Middle East & Africa (Middle East [UAE, Egypt, Saudi Arabia, Qatar, Rest of Middle East], Africa [Nigeria, South Africa, Rest of Africa], Latin America (Brazil, Argentina, Colombia Rest of Latin America)
Company Profiles
All Harmless Harv, Caliwater LLC, The Coca-Cola Company, Market Inc., DrinkSEVA, Happy Tree Group, Oviva Maple Water Company, PepsiCo Inc., Sibberi, Steaz, ARTY Water Company
Key Drivers
• Growing awareness of the benefits of plant-based water
• Rising demand for healthy beverages
Market Opportunity
• The growing popularity of functional beverages and sports nutrition