REPORT SCOPE & OVERVIEW
The Precision Oncology Market size was estimated USD 96.5 billion in 2022 and is expected to reach USD 200.9 billion by 2030 at a CAGR of 9.6% during the forecast period of 2023-2030.
Precision oncology is the study of tumor molecular profiles to identify changes that can be targeted. In layman's terms, it is the science of tailoring a patient's treatment to the molecular characteristics of their cancer utilizing the patient's genetic information. The rise of precision oncology and the development of more tailored and targeted treatment options has heralded a new era in the fight against cancer.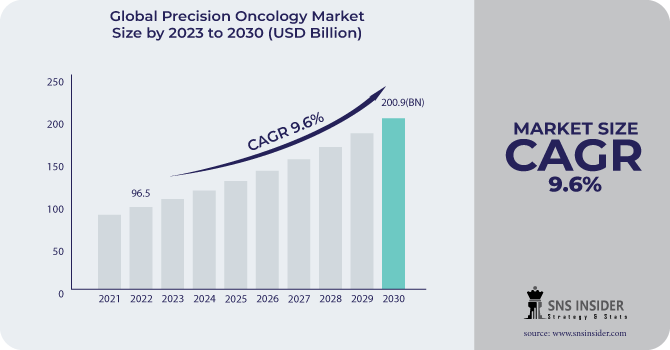 MARKET DYNAMICS
DRIVERS
The growing demand for personalized medicine as a result of the benefits it provides is expected to fuel the expansion of the precision oncology market within the forecast timeframe. Patients are more involved with their treatment plan because they are receiving more personalized information that allows them to make better health decisions. Other benefits of patient involvement include improved patient outcomes, more revenue for healthcare providers, and enhanced patient-therapist relationships. Patients who are highly engaged and activated are more likely to stay to their physical therapy plan. Patient activation refers to a patient's level of knowledge, competence, and self-assurance in managing their own health.
RESTRAIN
The availability of precision medications connected to biomarkers is a precondition for biomarker testing, as most clinicians will not order tests unless the data can be used to guide treatment decisions. There are frequently large delays before pharmaceuticals that have been approved by regulatory agencies are released and included to national or regional reimbursement lists. According to the EFPIA's Patients W.A.I.T. indicator Survey, the average wait time for patients to obtain treatments across the European Economic Area and the EU is 504 days; however, this period can range from 127 days in Germany to more than 823 days in Poland. Furthermore, public funding is insufficient in several countries for the prescription of precision medicines.
OPPORTUNITY
Precision oncology combined with other technologies such as artificial intelligence, big data analytics, and digital health tools has the potential to enhance patient outcomes and hasten medication development. Nanotechnology and artificial intelligence (AI) have been used as techniques to improve cancer treatment precision as a result of technical advances. As a result of major advancements in acquiring patient data with better nanomaterial designs, tailored precision medicine treatment for cancer patients has improved. Combining AI and nanotechnology has enhanced the precision of diagnostic and treatment platform rational design. Definitive outcomes in nanomedicine, which includes everything from biological and nanomaterial devices to nanoelectronic biosensors, have also showed promise, with the usage of AI receiving specific attention.
CHALLENGES
This treatment is more expensive than standard chemotherapy and radiation. Because precision oncology therapies are typically more expensive, patients who cannot afford them may find them less accessible. This may hinder the growth and adoption of precision oncology in the industry.
IMPACT OF RUSSIAN UKRAINE WAR
The greatest evident impact on healthcare and people in Ukraine is damage to medical facilities. Data on the impact of the war on the Ukrainian health system is constantly changing, making it difficult to determine the entire extent of the impact on health facilities. Prior to the war, Ukraine had a lower availability of oncology treatment centers and physicians, but according to Ukrainian Minister of Health Victor Liashko, in October 2022 there were "Due to Russian bombardment, 1000 medical institutions were damaged, 120 were razed, and 300 are being restored "but only partially". At least one cancer center in Mykolaiv23 was damaged shortly after the war began, while two other oncology centers, one in Kharkiv and one in Mariupol, were entirely devastated by Russian missile strikes and forced to close in May 2022.
IMPACT OF ONGOING RECESSION
cancer research will face one of the most crucial recessions in its history due to the SARS-CoV-2 outbreak, cancer research will face one of the most crucial recessions in its history. The repercussions will be critical not only in the short term (the next few months), but also in the long term (the years to come). Medical research can be financed economically by the government, cancer societies, pharmaceutical firms, or other charity organizations, like in the United Kingdom. Throughout the epidemic, governments in Europe, the United Kingdom, the United States, and Australia maintained financing for biomedical research, extended grant submission deadlines, and virtualized peer-review panels. However, research driven by charitable organizations or public fundraising was vulnerable to funding constraints as a result of the COVID-19 outbreak's impact on economic growth.
KEY SEGMENTS
By Product Type
In 2022, the therapeutics segment is expected to held the highest market growth rate of 71.8% during the forecast period due to the therapy is driven by factors such as the increasing number of approvals for tumor-agnostic medicines, as well as novel therapeutic features based on specific proteins or mutations that cause cancer growth. Precision oncology-based medicines deliver patient-specific cancer treatment based on each patient's cancer's DNA fingerprint.
By Cancer Type
Breast Cancer
Colorectal Cancer
Cervical Cancer
Prostate Cancer
Lung Cancer
Others
In 2022, the breast cancer segment is expected to dominate the market growth of 41.7% during the forecast period owing to rising emphasis for breast cancer screening, diagnosis and surgery and radiation treatments. Expansion of research activities, early breast cancer detection, and patient overall prognosis are also likely to spur the development of novel methods such as precision oncology. Furthermore, new improved DNA sequencing technologies have resulted in significant advancements in the treatment of breast cancer patients.
By End Use
Hospitals & Diagnostic Laboratories
Pharmaceutical & Biotechnology Companies
Healthcare Data Companies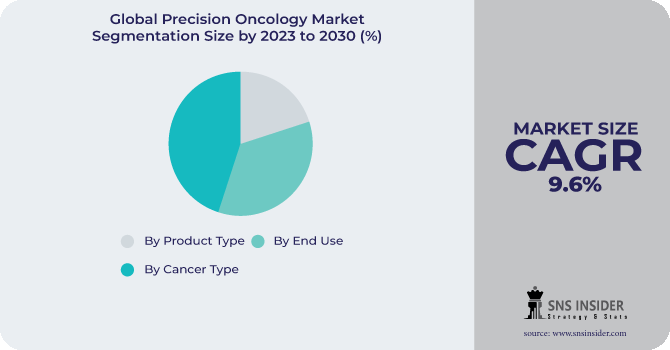 In 2022, the hospitals & diagnostic laboratories segment is expected to dominate the market growth of 46.9% during the forecast period due to precision oncology solutions are gaining popularity in hospitals and diagnostic settings globally, as they focus on molecular profiling of malignancies to discover gene changes. The market has grown in importance in hospital and diagnostics laboratories by focusing on components such as precision planning, exact diagnosis, monitoring, precise treatment, and expertise.
REGIONAL ANALYSES
North America held a significant market share of 42.6% in 2022 owing to the most of the key market players are present, including Thermo Fisher Scientific Inc., Invitae Corporation, Illumina, Inc., and Laboratory Corporation of America Holding. Furthermore, the growing cancer burden, numerous research efforts, the development of a new diagnostic software platform, and rising healthcare spending have provided new potential prospects for the precision oncology industry.
Asia-Pacific is witness to expand fastest CAGR rate of 10.8% during the forecast period due to the presence of a developed biotechnology sector, developing healthcare facilities, and increased awareness of precision oncology. Bioserve Biotechnologies India Pvt. Ltd, for example, announced in August 2022 that it has achieved National Accreditation Board for Testing and Calibration Laboratories Accreditation for medical testing in genomics services testing. Furthermore, the scope of certification includes the BRCA 1 & 2 gene sequencing test, a precision oncology service supplied by the company.
REGIONAL COVERAGE
North America
Europe
Eastern Europe

Poland
Romania
Hungary
Turkey
Rest of Eastern Europe

Western Europe

Germany
France
UK
Italy
Spain
Netherlands
Switzerland
Austria
Rest of Western Europe
Asia Pacific
China
India
Japan
South Korea
Vietnam
Singapore
Australia
Rest of Asia Pacific
Middle East & Africa
Middle East

UAE
Egypt
Saudi Arabia
Qatar
Rest of Middle East

Africa

Nigeria
South Africa
Rest of Africa
Latin America
Brazil
Argentina
Colombia
Rest of Latin America
Key Players
The major key players are Thermo Fisher Scientific Inc., Invitae Corporation, Qiagen N.V., Illumina, Inc., Laboratory Corporation of America Holding, Exact Sciences Corporation, Rain Oncology Inc., Strata Oncology, Inc., Xilis, Inc., Variantyx, Inc., Bioserve, Relay Therapeutics, Acrivon Therapeutics, and Others.
Thermo Fisher Scientific Inc-Company Financial Analysis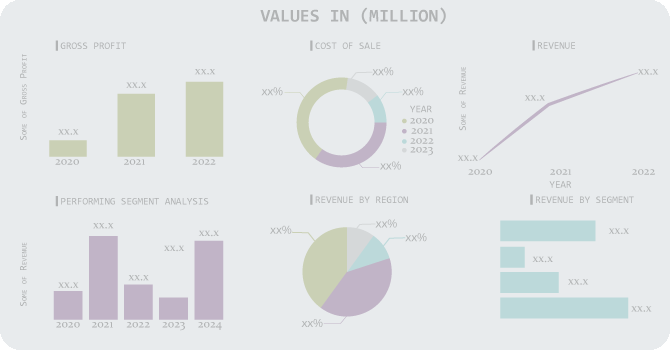 RECENT DEVELOPMENT
In April 2023, Agilent SureSelect Cancer CGP Assay was released by Agilent Technologies Inc. for somatic variation profiling in a variety of solid tumor types. The pan-cancer test is built on an NGS panel of 679 genes carefully selected from the world's top cancer datasets in collaboration with leading clinical cancer researchers.
In August 2022, Thermo Fisher Scientific will release the CE-IVD (IVDD) NGS (next generation sequencing) test. In addition, the company has introduced analysis software to broaden its access to precision oncology biomarker testing. Furthermore, the exam has a single software interface, and the entire process takes only 20 minutes to complete.
ConcertAI, LLC, and LabCorp established a collaboration in December 2021 to improve precision oncology research. The companies are collaborating to launch clinical trials that will help to alleviate the pressure on physician practices. It will also help to increase patient retention and equal access to research as a treatment option, as well as boost patient recruitment.
Precision Oncology Market Report Scope:

| | |
| --- | --- |
| Report Attributes | Details |
| Market Size in 2022 | US$ 96.5 billion |
| Market Size by 2030 | US$ 200.9 billion |
| CAGR | CAGR of 9.6% From 2023 to 2030 |
| Base Year | 2022 |
| Forecast Period | 2023-2030 |
| Historical Data | 2019-2021 |
| Report Scope & Coverage | Market Size, Segments Analysis, Competitive Landscape, Regional Analysis, DROC & SWOT Analysis, Forecast Outlook |
| Key Segments | By Product Type (Diagnostics, Therapeutics), By Cancer Type (Breast Cancer, Colorectal Cancer, Cervical Cancer, Prostate Cancer, Lung Cancer, Others), By End Use (Hospitals & Diagnostic Laboratories, Pharmaceutical & Biotechnology Companies, Healthcare Data Companies) |
| Regional Analysis/Coverage | North America (US, Canada, Mexico), Europe (Eastern Europe [Poland, Romania, Hungary, Turkey, Rest of Eastern Europe] Western Europe] Germany, France, UK, Italy, Spain, Netherlands, Switzerland, Austria, Rest of Western Europe]), Asia Pacific (China, India, Japan, South Korea, Vietnam, Singapore, Australia, Rest of Asia Pacific), Middle East & Africa (Middle East [UAE, Egypt, Saudi Arabia, Qatar, Rest of Middle East], Africa [Nigeria, South Africa, Rest of Africa], Latin America (Brazil, Argentina, Colombia Rest of Latin America) |
| Company Profiles | Thermo Fisher Scientific Inc., Invitae Corporation, Qiagen N.V., Illumina, Inc., Laboratory Corporation of America Holding, Exact Sciences Corporation, Rain Oncology Inc., Strata Oncology, Inc., Xilis, Inc., Variantyx, Inc., Bioserve, Relay Therapeutics, Acrivon Therapeutics |
| Market Opportunties | •Compatibility with other technologies |
| Market Restrain | •Precision medicines connected to biomarkers are scarce. |