REPORT SCOPE & OVERVIEW
The Pyridine Market size was USD 12.4 billion in 2022 and is expected to Reach USD 25.81 billion by 2030 and grow at a CAGR of 9.6% over the forecast period of 2023-2030.
Pyridine is an aromatic organic molecule. It has the chemical formula C5H5N. It consists of a six-membered ring with five carbon atoms and one nitrogen atom. Pyridine has a similar structure to benzene, except one of the carbon atoms has been substituted by a nitrogen atom. Pyridine is an odorous, colorless liquid.
Agrochemicals, pharmaceuticals, food additives, and other industries all employ pyridine. Herbicide, pesticide, and insecticide production is heavily reliant on it for agricultural and pest control purposes. Additionally, pyridine is a taste enhancer in the food and beverage business as well as a denaturant in antifreeze combinations. Pyridine derivatives are also used in the pharmaceutical industry to produce medications for a range of therapeutic purposes. As a result, pyridine is used and applied widely across numerous industries and sectors.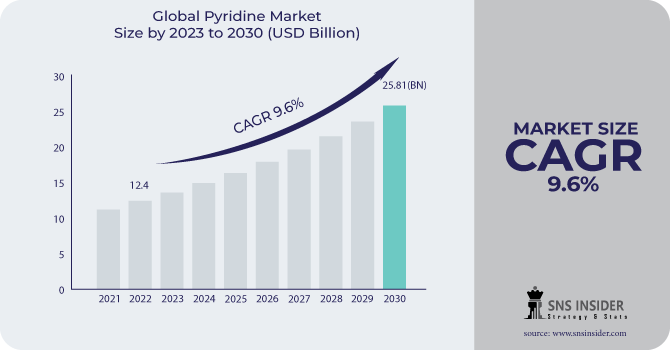 They are useful building blocks for the synthesis of diverse chemicals, contributing to advances in a variety of sectors. But, due to its toxicity and potential risks, sufficient safety procedures should be taken when handling pyridine or its derivatives.
MARKET DYNAMICS
KEY DRIVERS
Pyridine functions as an essential reagent and an organic solvent. Pyridine serves as a solvent for a range of polymers, including ABS plastic, Nylon, dyes, and pigments for printing. Profitable prospects are anticipated to arise soon as pyridine is increasingly used as a solvent in a variety of chemical applications. The market is therefore anticipated to develop shortly as pyridine is increasingly used as a solvent in numerous chemical operations.
RESTRAIN
Pyridine is hazardous to humans and poses health concerns via inhalation, ingestion, and skin contact. Its strong and unpleasant odor limits its use in applications requiring sensory qualities. Improper disposal of pyridine can pollute soil and water supplies, causing ecosystems to suffer. The market share of pyridine is influenced by the demand for greener and safer alternatives. Consumers who are concerned about their safety prefer products that are free of potentially dangerous ingredients. Workers exposed to potential pyridine are exposed to health risks.
OPPORTUNITY
Increasing regulatory acceptance of pyridine in food applications

Growing demand for pyridine in agriculture and pharmaceutical industries
pyridine is in high demand in both the agricultural and pharmaceutical sectors due to its varied qualities and applications. Its derivatives are employed in the production of a variety of agrochemicals. These substances protect crops from pests, diseases, and weeds, resulting in higher yields and higher quality.
Pyridine is an essential building block in the synthesis of a wide range of medicinal drugs. Researchers are looking into its derivatives as prospective anticancer medicines, looking into their interactions with cancer cells and their ability to prevent tumor growth. Pyridine-based compounds are essential in medicinal chemistry and are also employed as anti-infectives, neurological agents, and anti-inflammatory agents.
CHALLENGE
Growing concern over chemical hazards could negatively impact the market

Strict rules and regulations on proper handling and usage of pyridine
Strict regulations imposed on pyridine owing to its toxicity and environmental hazards raise compliance expenses. Standards for pyridine exposure at work are determined by regulatory organizations like the Occupational Safety and Health Administration (OSHA) in the United States. International regulatory organizations set regulations to guarantee the secure handling, storage, transportation, and disposal of items containing pyridine. It frequently needs more testing, documentation, and compliance work to meet regulatory standards. This may raise the overall price of pyridine-containing product research and development.
IMPACT OF RUSSIAN UKRAINE WAR
Pyridine experienced good market growth, with prices rising by 3% in Europe in Q1 2022. Upstream prices climbed as a result of Russia's invasion of Ukraine, while downstream prices increased as the market recovered due to increasing demand. Price increases for pyridine in the area have been ongoing due to a lack of supply and rising demand from the downstream pharmaceutical industry as an intermediary. Additionally, increasing freight charges as a result of container shortages disrupted supply networks, resulting in a supply deficit region.
IMPACT OF ONGOING RECESSION
Pyridine prices fluctuated somewhat across all markets during the third quarter of 2022. High inflationary pressures in energy prices, as well as bullish feedstock prices, have all contributed to the price increase. However, prices fell in August and September, supported by a large overflow of inexpensive imports from Asian countries. The high cost of production is a result of rising energy prices. The agricultural and dyeing industries demand is declining. The fear of a European recession has impacted demand from downstream businesses. Pyridine prices in the United States fell to USD 3400/ton FOB Louisiana in Q1 June 2023, down from USD 4200 at the end of Q1 March 2023.
KEY MARKET SEGMENTS
By Type
Alpha Picoline

Gamma Picoline

2-Methyl-5-Ethylpyridine

Beta Picoline

Pyridine N-Oxide
By Application
Pharmaceutical

Agrochemical

Chemical

Food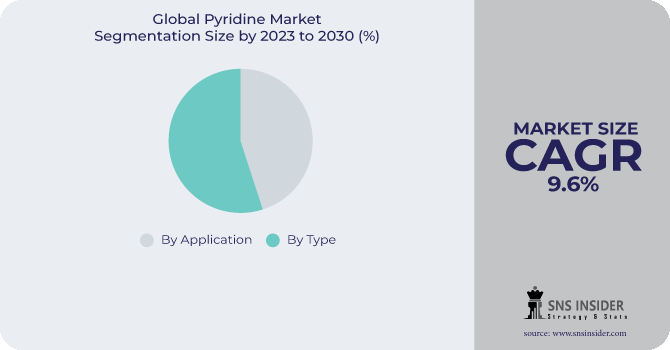 REGIONAL ANALYSIS
Asia Pacific is the largest and fastest-growing market for pyridine. Countries like China, India, India, South Korea, and others are the growing market. The rapidly growing pharmaceutical industry, which is the major consumer of pyridine. As of FY 2019, India is one of the major global suppliers of traditional medications. The increasing demand from the agrochemical industry is also driving the growth of the market in the region. The major producers of pyridine in Europe include Vertellus, Lonza, and Jubilant Life Sciences.
Europe region is home to a large and technologically advanced chemical industry, which is a producer of pyridine. The major consumer of chemicals in the pharmaceutical and agrochemical industries is also driving the growth of the market in the region.
North America is the second-largest market for pyridine. The U.S. is a major exporter of pyridine. The region is home to a large and well-established pharmaceutical industry, and the agrochemical industry is also driving the growth of the market in the region.
Latin America and the Middle East & African region are expected to witness a substantial increase in the demand for pyridine. The booming agrochemical and pharmaceutical industries need is fueling the expansion of these sectors.
REGIONAL COVERAGE
North America
Europe
Germany

UK

France

Italy

Spain

The Netherlands

Rest of Europe
Asia-Pacific
Japan

South Korea

China

India

Australia

Rest of Asia-Pacific
The Middle East & Africa
Latin America
Brazil

Argentina

Rest of Latin American
KEY PLAYERS
Trineso, Lonza Group Ltd, Resonance Specialties Ltd, Shandong Luba Chemical Co Ltd, Weifang Sunwin Chemicals Co Ltd, Jubilant Life Sciences Ltd, Vertellus Specialties Inc, Red Sun Group, Koei Chemical Co Ltd, and other key players are mentioned in the final report.
RECENT DEVELOPMENTS
Vertellus- In 2021 Vertellus agreed to acquire ESIM chemicals intermediates and specialties business, a leading supplier of specialized chemical products to the pharmaceutical, fuel, coatings, and lubricant industries.
Trinseo- In 2020 Trinseo stated that it had acquired Synthomer plc's Vinyl Pyridine Latex Business.
Pyridine Market Report Scope:
Report Attributes
Details
Market Size in 2022
US$ 12.4 Billion
Market Size by 2030
US$ 25.81 Billion
CAGR
CAGR of 9.6 % From 2023 to 2030
Base Year
2022
Forecast Period
2023-2030
Historical Data
2019-2021
Report Scope & Coverage
Market Size, Segments Analysis, Competitive Landscape, Regional Analysis, DROC & SWOT Analysis, Forecast Outlook
Key Segments
• By Type (Alpha Picoline, Gamma Picoline, 2-Methyl-5-Ethylpyridine, Beta Picoline, Pyridine N-Oxide)
• By Application (Pharmaceutical, Agrochemical, Chemical, Food)
Regional Analysis/Coverage
North America (US, Canada, Mexico), Europe (Eastern Europe [Poland, Romania, Hungary, Turkey, Rest of Eastern Europe] Western Europe] Germany, France, UK, Italy, Spain, Netherlands, Switzerland, Austria, Rest of Western Europe]), Asia Pacific (China, India, Japan, South Korea, Vietnam, Singapore, Australia, Rest of Asia Pacific), Middle East & Africa (Middle East [UAE, Egypt, Saudi Arabia, Qatar, Rest of Middle East], Africa [Nigeria, South Africa, Rest of Africa], Latin America (Brazil, Argentina, Colombia Rest of Latin America)
Company Profiles
Trineso, Lonza Group Ltd, Resonance Specialties Ltd, Shandong Luba Chemical Co Ltd, Weifang Sunwin Chemicals Co Ltd, Jubilant Life Sciences Ltd, Vertellus Specialties Inc, Red Sun Group, Koei Chemical Co Ltd
Key Drivers
• High demand for pyridine as a solvent in various chemical applications
Market Opportunity
• Increasing regulatory acceptance of pyridine in food applications
• Growing demand for pyridine in agriculture and pharmaceutical industries