Report Scope & Overview:
The Rodenticides Market size was valued at USD 5.7 billion in 2022. It is estimated to hit USD 8.68 billion by 2030 and grow at a CAGR of 5.4% over the forecast period of 2023-2030.
The rodenticides market refers to the industry that deals with the production and distribution of substances used to control rodent populations. Rodents, such as rats and mice, pose significant threats to human health, food security, and property. To combat these issues, the rodenticides market offers a range of products designed to effectively control rodent populations. These products typically contain active ingredients that target rodents' nervous systems, causing them to become lethargic, lose appetite, and eventually die. Common active ingredients found in rodenticides include anticoagulants, bromadiolone, and brodifacoum.
The rodenticides market is driven by the increasing awareness of the health and economic risks associated with rodent infestations. One of the most notorious rodent-borne illnesses is the Bubonic plague, which is spread through bites from infected fleas. This devastating disease caused the death of over a third of the human population in 1347. Currently, the outbreak is concentrated in two specific health areas: Rassia and Lokpa (Nepal). However, Lokpa accounts for a staggering 95% of the cases reported in 2022. According to the World Health Organization (WHO), in 2022, the Democratic Republic of the Congo (DRC) reported 56 cases of bubonic plague, resulting in 2 fatalities. In 2021 alone, there have been a total of 138 suspected cases, with 14 deaths (a case fatality rate of 10.1%). In 2020, there were 461 suspected cases, with 31 deaths (a case fatality rate of 6.7%). Governments, businesses, and individuals are recognizing the importance of implementing effective rodent control measures to safeguard public health and protect valuable resources.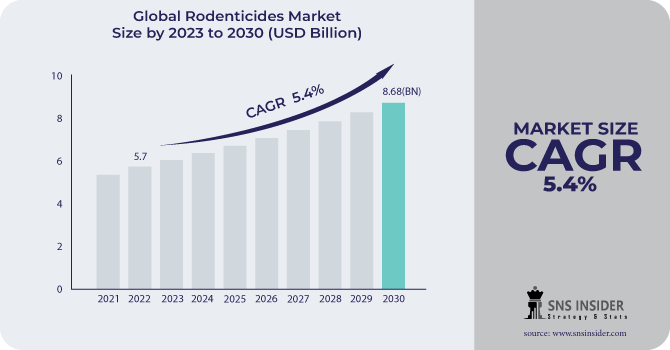 Furthermore, the market is witnessing significant growth due to the rising demand for rodenticides in the agricultural sector. Farmers and agricultural organizations are increasingly adopting rodenticides to protect their crops and stored grains from rodent damage, ensuring food security and reducing post-harvest losses.
Market Dynamics
Drivers
The expanding agriculture sector, driven by the growing global population and increasing food demand, has created a need for effective rodent control. Rodents pose a significant threat to crops, leading to substantial losses for farmers. Rodents are responsible for approximately 30% of annual crop damage worldwide. More than 80% of farmers have encountered rodent outbreaks, with maize being identified as the most vulnerable crop, accounting for 98% of cases. These relentless pests have inflicted an average annual loss of 24% on maize crops, leaving farmers to bear the brunt of their destructive impact. As a result, the demand for rodenticides in the agricultural sector has witnessed substantial growth.
The rise in rodent populations, both in urban and rural areas, is a significant driver for the rodenticides market. This is primarily due to factors such as climate change, urbanization, and improper waste management practices.
Restrain
The use of rodenticides has raised concerns about their impact on the environment. Non-target species, such as birds and mammals, can be unintentionally exposed to these chemicals, leading to adverse effects on their populations. The increasing focus on environmental sustainability has prompted the development of alternative rodent control methods, posing a challenge to the rodenticide market.
Opportunities
Rodents are carriers of various diseases, including leptospirosis, hantavirus, and salmonellosis. Rat bite fever is a bacterial disease that can be contracted through rat bites. It is estimated that up to 10% of rat bites may lead to rat-bite fever. On the other hand, Hantavirus Pulmonary Syndrome (HPS) is a severe illness caused by exposure to the droppings or urine of deer mice carrying the virus. In Washington State, approximately 1-5 hantavirus cases are reported each year, with a concerning one-third of these cases resulting in fatalities. The awareness regarding the health risks associated with rodent infestation has increased significantly. This awareness has led to a surge in demand for rodenticides to control and prevent rodent-borne diseases.
As urbanization continues to expand, the prevalence of rodents in residential and commercial areas has become a pressing issue. This creates a growing market for rodenticides, as individuals and businesses seek efficient methods to combat rodent infestations.
Challenges
Potential harm caused by these products to non-target species

Emergence of rodenticide resistance
Impact of Russia-Ukraine War:
The Russia-Ukraine war has disrupted the supply chain of rodenticide products, leading to shortages and delays in production. This has resulted in increased prices and limited availability of rodenticides in affected regions. Manufacturers heavily reliant on supplies from either Russia or Ukraine have been particularly affected, struggling to meet market demands. The conflict has also caused a shift in demand for rodenticides.
On average over the past five years, Russia and Ukraine have contributed 10% and 3% respectively to global wheat production. Russia accounted for the first largest wheat exporter with 20% of global export and Ukraine is the fifth largest wheat exporter accounting for about 10% of global export. Their crucial role in supplying wheat to global markets, particularly to the Middle East and North Africa region where wheat is a staple food, cannot be overstated. When it comes to global maize production, Ukraine and Russia together only account for less than 5%, with Ukraine taking the lead in terms of share. Due to limited domestic consumption, the majority of their maize production is exported. It is worth noting that Ukraine stands as the third leading exporter of maize to global markets. But as agricultural activities have been disrupted in war-affected areas, the need for rodenticides in farming communities has decreased. Conversely, urban areas experiencing an influx of displaced populations have witnessed an increase in rodent infestations, leading to a surge in demand for rodenticide products.
Impact of Recession:
The recession has influenced consumer behavior within the rodenticides market. With financial uncertainty and job insecurity, consumers have become more cautious about their spending habits. As a result, the demand for rodenticides has experienced a decline, as consumers prioritize essential purchases over non-essential items. This shift in consumer behavior has prompted businesses to adapt their marketing strategies and develop targeted campaigns to educate consumers about the importance of rodent control and the potential risks associated with neglecting it. The recession has also triggered a wave of market consolidation within the rodenticides industry. Smaller companies have struggled to survive in the face of reduced demand and increased competition. Consequently, larger companies have taken advantage of the economic downturn to acquire struggling businesses, leading to a more concentrated market. This consolidation has both positive and negative implications, as it can enhance efficiency and innovation, but also limit consumer choice and potentially increase prices.
Market segmentation
By Type
Anticoagulants

Non-anticoagulants
By Rodent Type
Mice

Rat

Chipmunk

Hamster
Other Rodents
By Mode of Application
Spray

Powder

Pellet

Others
By End-use
Agricultural Fields

Pest Control Companies

Warehouses

Urban Centers

Residential

Commercial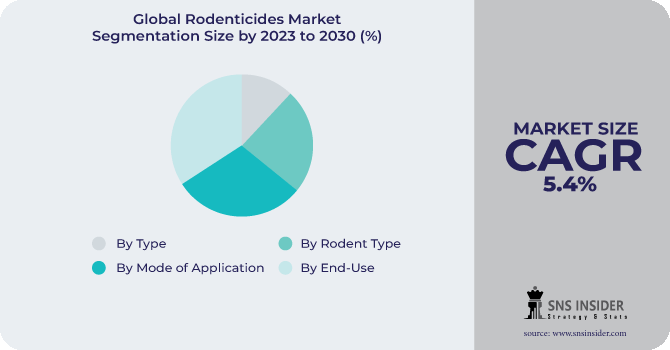 Regional Analysis
The Asia Pacific region holds a significant position in the rodenticide market with a market size of about 1.3 billion in 2022 and is expected to grow with a CAGR of about 6.1% during the forecast period. The region's vast population and rapid urbanization have led to an increase in rodent infestations. As urban areas expand, rodents find ample opportunities to thrive in the abundance of food waste and inadequate waste management systems. Consequently, the demand for rodenticides has surged to combat these infestations effectively. Moreover, the agricultural sector in the Asia Pacific region plays a crucial role in driving the rodenticide market. With a substantial portion of the population engaged in farming activities, the region faces persistent challenges in protecting crops from rodent damage. Rodents are believed to be responsible for 5% to 10% of the losses in rice production in Asia. Rodenticides have become an indispensable tool for farmers, enabling them to safeguard their harvests and maintain food security.
Furthermore, the Asia Pacific region has witnessed significant economic growth, resulting in improved living standards and increased disposable income. As a consequence, there has been a rise in consumer awareness regarding hygiene and the need for pest control. This heightened consciousness has further propelled the demand for rodenticides, as individuals seek to maintain clean and pest-free environments. One specific rodent-borne zoonotic pathogen, known as Leptospira, has been identified as a major cause of disease in Asia. This emerging spirochaetal bacteria is commonly found in rice agroecosystems and poses a serious threat to human health. The South-East Asian region is particularly affected by this disease. Extensive studies conducted by the World Health Organization (WHO) have estimated that there are over 1 million severe cases of human leptospirosis worldwide, resulting in more than 60,000 deaths each year. This risk associated with rodents drives the demand for rodenticides in this region. Additionally, the region's regulatory framework and government initiatives have played a pivotal role in shaping the rodenticide market. Governments have implemented stringent regulations to ensure the safe and responsible use of rodenticides, thereby fostering consumer confidence in these products.
North America is projected to experience substantial growth in the Rodenticides Market during the forecast period. The region's growing concern over the health risks and economic damages associated with rodent infestations has fueled the demand for effective rodenticides. The rising awareness of the health hazards posed by rodents has prompted individuals and businesses to take proactive measures. Rodents are known carriers of various diseases, including Hantavirus, Salmonellosis, and Leptospirosis, which can pose significant risks to human health. As a result, the demand for rodenticides has soared as people seek effective solutions to protect their homes, workplaces, and public spaces. Additionally, the agricultural sector in North America heavily relies on rodenticides to safeguard crops and prevent substantial losses. Rodents can cause extensive damage to agricultural fields, leading to reduced yields and financial setbacks for farmers. By utilizing rodenticides, farmers can effectively control rodent populations and protect their valuable crops, ensuring a stable food supply for the region.
REGIONAL COVERAGE:
North America
Europe
Eastern Europe

Poland

Romania

Hungary

Turkey

Rest of Eastern Europe

Western Europe

Germany

France

UK

Italy

Spain

Netherlands

Switzerland

Austria

Rest of Western Europe
Asia Pacific
China

India

Japan

South Korea

Vietnam

Singapore

Australia

Rest of Asia Pacific
Middle East & Africa
Middle East

UAE

Egypt

Saudi Arabia

Qatar

Rest of Middle East

Africa

Nigeria

South Africa

Rest of Africa
Latin America
Brazil

Argentina

Colombia

Rest of Latin America
Key Players
The major key players are Bayer AG, Syngenta, BASF SE, Anticimex, UPL Ltd., Rollins, Abell Pest Control, Truly Nolen, Liphatech Inc., JT Eaton, Pelgar International, Neogen Corporation, Bell Laboratories, Senestech Inc., Ecolab, Impex Europa, Rentokil Initial Plc, Terminix, and other key players mentioned in the final report.
Recent Development:
In July 2023, Syngenta made an exciting announcement regarding the launch of their latest product, the Talon Soft XT concentration. This innovative rodenticide, built upon their renowned brodifacoum formula, promises exceptional efficacy in combating resistance while adhering to regulatory requirements. By reducing the concentration of the active ingredient, Syngenta has successfully met the demands set by governing bodies without compromising on its effectiveness.

In April 2023, BASF received approval for the usage of cholecalciferol rodenticide, Selontra® on field mice (Wood Mice).
Rodenticides Market Report Scope:
Report Attributes
Details
Market Size in 2022
US$ 5.7 Bn
Market Size by 2030
US$ 8.68 Bn
CAGR
CAGR of 5.4 % From 2023 to 2030
Base Year
2022
Forecast Period
2023-2030
Historical Data
2019-2021
Report Scope & Coverage
Market Size, Segments Analysis, Competitive Landscape, Regional Analysis, DROC & SWOT Analysis, Forecast Outlook
Key Segments
• By Type (Anticoagulants and Non-anticoagulants)
• By Rodent Type (Mice, Rat, Chipmunk, Hamster, and Other Rodents)
• By Mode of Application (Spray, Powder, Pellet, and Others)
• By End-use (Agricultural Fields, Pest Control Companies, Warehouses, Urban Centers, Residential, and Commercial),
Regional Analysis/Coverage
North America (US, Canada, Mexico), Europe (Eastern Europe [Poland, Romania, Hungary, Turkey, Rest of Eastern Europe] Western Europe] Germany, France, UK, Italy, Spain, Netherlands, Switzerland, Austria, Rest of Western Europe]), Asia Pacific (China, India, Japan, South Korea, Vietnam, Singapore, Australia, Rest of Asia Pacific), Middle East & Africa (Middle East [UAE, Egypt, Saudi Arabia, Qatar, Rest of Middle East], Africa [Nigeria, South Africa, Rest of Africa], Latin America (Brazil, Argentina, Colombia Rest of Latin America)
Company Profiles
Bayer AG, Syngenta, BASF SE, Anticimex, UPL Ltd., Rollins, Abell Pest Control, Truly Nolen, Liphatech Inc., JT Eaton, Pelgar International, Neogen Corporation, Bell Laboratories, Senestech Inc., Ecolab, Impex Europa, Rentokil Initial Plc, Terminix
Key Drivers
• Expanding agriculture sector
• Increasing rodent infestation
Market Restraints
• Environmental concerns regarding the use of rodenticide