Report Scope & Overview:
The Smart Agriculture Market size was valued at USD 20.05 Billion in 2022 and is expected to grow to USD 55.21 Billion By 2030 and grow at a CAGR of 13.5% over the forecast period of 2023-2030.
Smart Agriculture is defined as the utilization of one or more technologies in the agricultural process to enhance efficiency and effectiveness. It represents a groundbreaking and transformative approach to farming that optimizes output while reducing human labor. This innovative method incorporates advanced hardware, services, and software into various aspects of farming, including irrigation management, agricultural scouting, harvesting, sowing, and numerous other applications. By harnessing the power of technology, smart farming revolutionizes traditional agricultural practices, paving the way for increased productivity and sustainability.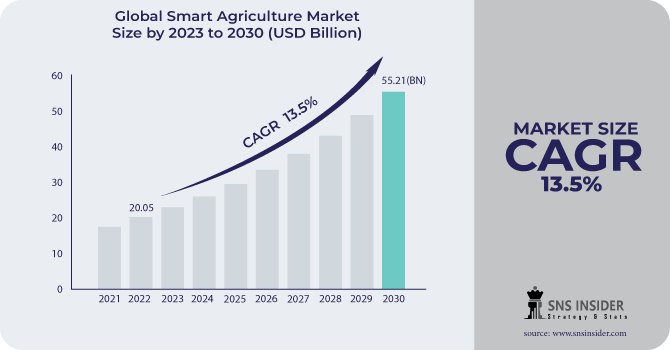 To get more information on Smart Agriculture Market - Request Sample Report
Market Dynamics
Drivers
IoT, ROVs, and AI are increasingly being used in aquaculture production.

Use of smart sensor technologies in poly houses and greenhouses.
In recent years, the worldwide aquaculture business has seen great developments in aquaculture tools, techniques, and technology. The growing proclivity of the global population to consume a protein-rich diet is increasing aquaculture farm owners' adoption of cutting-edge technologies such as the Internet of Things (IoT), Remotely Operated Vehicles (ROVs), artificial intelligence (AI), automatic feeders, and acoustic telemetry tracking systems and machine learning. The application of these technologies in aquaculture farming aids in increasing aquaculture output, improving production efficiency, reducing resource waste, and improving accuracy, precision, and repeatability in farming operations while giving high profitability to farm owners.
Restrains
High capital investment is required.

Agriculture industry fragmentation
Agriculture is a decentralized industry, with many large, medium, and small farms working independently. Because each farm runs differently and may have various requirements, creating a standardized machine-to-machine (M2M) solution is tough. Land fragmentation causes an inefficient distribution of inputs and resources, resulting in high costs. Because it is difficult to administer, oversee, and collect data from distant lands, implementing smart agriculture technology across fragmented regions wastes time, money, and resources. This also makes achieving economies of scale for M2M solutions challenging for farmers.
Opportunities
Emerging countries are increasingly using livestock monitoring technology.

Use of Technologically Advanced vehicles or Drones in Agriculture

Modern technologies like as variable rate technology (VRT) and data management software are used.

A variety of sensors such as load, temperature, and vibration are available.
Challenges
Lack of knowledge about the technology among the farmers.

Livestock rearing is raising environmental issues and contributing to global warming.
Impact of the Russia-Ukraine War
The Russia-Ukraine war has the potential to impact the Smart Agriculture market
The conflict between Russia and Ukraine can lead to disruptions in supply chains, including the flow of agricultural products and equipment. This can affect the availability and accessibility of smart agriculture technologies, components, and devices, leading to delays in implementation and increased costs. Russia and Ukraine are the largest exporters of wheat in the world Russia exports 17% and Ukraine 16% of global export, Due to the conflicts, there is reduce in export. Due to the conflicts the reduce in investment in smart agriculture. The conflict can result in damage to agricultural land, buildings, and infrastructure, such as irrigation systems and storage facilities. This destruction can significantly impact the implementation and effectiveness of smart agriculture solutions, as the physical infrastructure plays a crucial role in deploying advanced technologies.
Kyiv-based Ukrainian agriculture journalist Iurii Mykhailov said that the livestock farms and cows were destroyed by 15% and 10% respectively due to war.
Rebuilding and repairing damaged infrastructure will require time and resources.
The Russia-Ukraine war may cause shifts in agricultural production and trade patterns. Disruptions in Ukraine's agricultural sector, which is known for its large-scale grain production and exports, can lead to changes in global supply chains. This, in turn, can affect the demand for smart agriculture technologies as the focus shifts to other regions for food production.
Impact of the Recession
The impact of a recession on the smart agriculture market can vary depending on the specific circumstances and factors involved. During a recession, companies and individuals often tighten their budgets and cut back on discretionary spending, including investments in new technologies. This could lead to a slowdown in the adoption of smart agriculture solutions as farmers and agricultural businesses prioritize cost-cutting measures over technological advancements. Startups and companies operating in the smart agriculture sector may face difficulties in securing funding during a recession. Venture capital investments and other forms of funding might become scarce, making it harder for these companies to develop and expand their innovative solutions. This can hinder the progress and development of the smart agriculture market. During an economic downturn, farmers and agricultural businesses may shift their priorities towards more immediate concerns such as cost reduction and ensuring operational sustainability. They may postpone investments in smart agriculture until the economic situation stabilizes, leading to a temporary slowdown in market growth.
Governments often implement stimulus packages and policies during recessions to stimulate economic growth and support specific sectors. In some cases, governments may provide financial incentives or subsidies to promote the adoption of smart agriculture technologies. Such measures can mitigate the negative impact of a recession and foster growth in the market.
Key Market Segmentation
By Agriculture Type
Precision farming

Livestock monitoring

Smart greenhouse

Others
By offering
By Farm Size
Small Farms

Medium Farms

Large Farms
By Application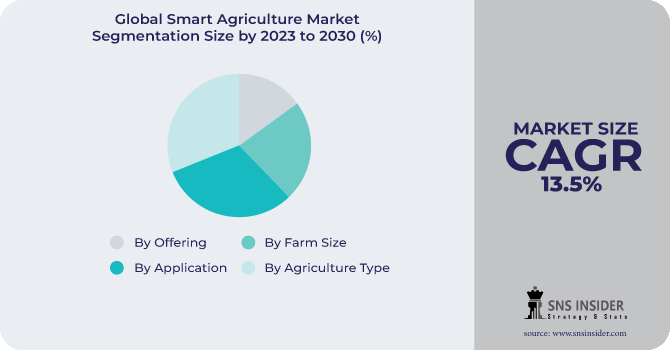 Need any customization research on Smart Agriculture Market - Enquiry Now
Regional Analysis
North America led the worldwide smart agriculture market. Growing government initiatives and regulations to improve the region's agriculture business are predicted to fuel regional demand in North America over the forecast period. Several agricultural organizations have joined forces to create the North America Climate Smart Agriculture Alliance (NACSAA), a platform for teaching and equipping farmers for long-term agricultural production. With increased concern for water conservation, governments in North America are aggressively giving incentives to expand the use of smart irrigation. For example, the state of California has offered a discount for smart controllers.
During the projection period, the Asia Pacific smart agriculture industry is predicted to develop at the fastest CAGR. Some of the primary drivers driving market expansion in this area include the increased implementation of variable rate technology and smart irrigation controllers, as well as AI-based farm analytics services. The increasing need for automation of livestock farms and aquaculture farms in this area is likely to fuel the expansion of the Asia Pacific smart agriculture market.
REGIONAL COVERAGE:
North America
Europe
Eastern Europe

Poland

Romania

Hungary

Turkey

Rest of Eastern Europe

Western Europe

Germany

France

UK

Italy

Spain

Netherlands

Switzerland

Austria

Rest of Western Europe
Asia Pacific
China

India

Japan

South Korea

Vietnam

Singapore

Australia

Rest of Asia Pacific
Middle East & Africa
Middle East

UAE

Egypt

Saudi Arabia

Qatar

Rest of Middle East

Africa

Nigeria

South Africa

Rest of Africa
Latin America
Brazil

Argentina

Colombia

Rest of Latin America
Key Players:
The major players are Grownetics, Inc., Deere & Company, CropMetrics LLC, Argus Control Systems Ltd, AGCO Corporation, Ag Leader Technology, AgJunction, Inc., CropZilla, Inc., DICKEY-john, AgEagle Aerial Systems Inc., Autonomous Solutions, Inc., BouMatic Robotic B.V., CLAAS KGaA mbH, DroneDeploy, Farmers Edge, Inc., DeLaval Inc, Granular, Inc., Trimble Inc., Gamaya, GEA Group Aktiengesellschaft, Raven Industries, Inc., and others.
CropMetrics LLC-Company Financial Analysis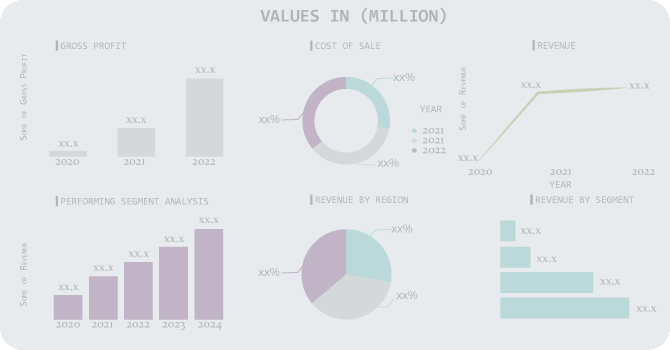 Recent development
Trimble Inc. will release two screens for precision agriculture applications, the GFX-1060 and GFX-1260, in October 2022. Farmers can carry out in-field chores quickly and effectively with these next-generation monitors, which allow them to precisely map and monitor field data in real-time.
Patriot made the next step forward in spray technology and communication in Australia in February 2022. For more than two decades, the Case, IH Patriot sprayer has been a mainstay in many farming operations. The newest Case IH application technology, the new Patriot 50 series, is going to be presented to Australian clients.
In January 2022, new Hexagon technology provided accuracy in excavator planting. The launch of HxGN AgrOn Planting Assistant is aimed squarely at the forest market. It can, however, be customized to improve operations on other crop types such as palm oil, citrus, and coffee.
Smart Agriculture Market Report Scope:
Report Attributes
Details
Market Size in 2022
US$ 20.05 Bn
Market Size by 2030
US$ 55.21 Bn
CAGR
CAGR of 13.5 % From 2023 to 2030
Base Year
2022
Forecast Period
2023-2030
Historical Data
2020-2021
Report Scope & Coverage
Market Size, Segments Analysis, Competitive Landscape, Regional Analysis, DROC & SWOT Analysis, Forecast Outlook
Key Segments
• By Agriculture Type (Precision farming, Livestock Monitoring, Smart Greenhouse, Others)
• By Offering (Hardware, Software)
• By Farm Size (Small Farms, Medium Farms, Large Farms)
• By Application (Precision farming application, Livestock monitoring application, Smart greenhouse application, Others.)
Regional Analysis/Coverage
North America (US, Canada, Mexico), Europe (Eastern Europe [Poland, Romania, Hungary, Turkey, Rest of Eastern Europe] Western Europe] Germany, France, UK, Italy, Spain, Netherlands, Switzerland, Austria, Rest of Western Europe]), Asia Pacific (China, India, Japan, South Korea, Vietnam, Singapore, Australia, Rest of Asia Pacific), Middle East & Africa (Middle East [UAE, Egypt, Saudi Arabia, Qatar, Rest of Middle East], Africa [Nigeria, South Africa, Rest of Africa]), Latin America (Brazil, Argentina, Colombia Rest of Latin America)
Company Profiles
Grownetics, Inc., Deere & Company, CropMetrics LLC, Argus Control Systems Ltd, AGCO Corporation, Ag Leader Technology, AgJunction, Inc., CropZilla, Inc., DICKEY-john, AgEagle Aerial Systems Inc., Autonomous Solutions, Inc., BouMatic Robotic B.V., CLAAS KGaA mbH, DroneDeploy, Farmers Edge, Inc., DeLaval Inc, Granular, Inc., Trimble Inc., Gamaya, GEA Group Aktiengesellschaft, Raven Industries, Inc., and others.
Key Drivers
• IoT, ROVs, and AI are increasingly being used in aquaculture production.
• Use of smart sensor technologies in poly houses and greenhouses.
Market Opportunities
• Emerging countries are increasingly using livestock monitoring technology.
• Use of Technologically Advanced vehicles or Drones in Agriculture