Report Scope & Overview:
The ReRAM Market size was valued at USD 606.9 million in 2022 and is expected to grow to USD 2163.19 million by 2030 and grow at a CAGR of 17.22% over the forecast period of 2023-2030.
Resistive random-access memory, also referred to as resistive RAM, is a type of non-volatile storage that works by modifying the resistance of solid dielectric material. The "mermister" component used in RERAM devices changes resistance depending on the applied voltage. In comparison to NAND storage, ReRAM and other memristor technologies use substantially less power. They therefore presently make the finest memory in sensor devices for industrial, automotive, and internet of things (IoT) applications. Memristor-based memory technologies are frequently highlighted as the logical successor in applications such because of its increased memory density, quicker read and write speeds, and lower power demand. Non-volatile dual in-line memory modules and solid-state drives (SSDs). A part known as mermister exists in resistive random-access memory (ReRAM) devices, and when various voltages are applied across it, it changes in resistance. The distinguishing benefits of ReRAM, including its low power consumption, superior performance, high capacity, scalability, and durable memory, as well as its ability to retrieve data quickly in the event of a power outage.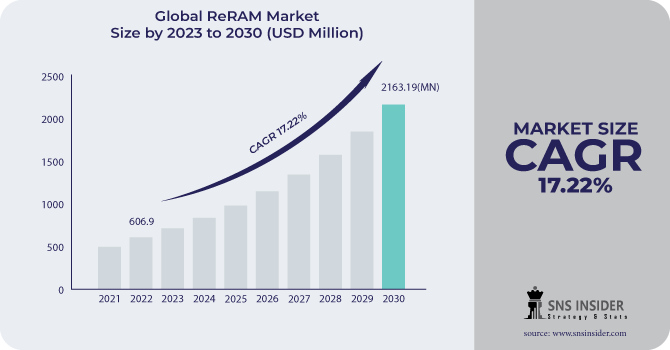 To get more information on ReRAM Market - Request Sample Report
KEY DRIVERS:
Increasing interest in connected gadgets
Resistive random-access memory (ReRAM) demand will likely increase significantly along with demand for other connected devices, such as wearables, internet of things (loT), and artificial intelligence (Al) based systems, which will accelerate market growth. These devices use resistive random-access memory (ReRAM) to boost their storage capabilities. Additionally, as smart cities and houses become more prevalent, there will be a greater need for memory with a high storage capacity server, increasing demand for connected devices will propel the market's growth rate.
Fast-paced product launch
ReRAM has a better potential for high storage density
RESTRAIN:
OPPORTUNITY:
Increasing financial support for resistive random-access memory (ReRAM)
Major industry participants' expanding investments in resistive random-access memory (ReRAM) technology will open up a lot of possibilities for market expansion. For Example, Xinyuan Semiconductor has become China's top new memory technology company by concentrating primarily on the research and development of resistive random-access memory new memory products and related derivative items. According to the company, it acquired about $100 million in capital in 2022.
Introduction of cutting-edge, original technology
Low power consumption, faster read and write speeds and lower cost than flash memory
CHALLENGES:
Resistive random-access memory (ReRAM) is expensive
Resistive random-access memory (ReRAM)'s high manufacturing and startup prices have emerged as the biggest and most important barriers to market expansion. This is a significant aspect that the projection indicates will restrain the market's expansion. This report on the resistive random-access memory (ReRAM) market includes information on new recent developments, trade regulations, import-export analysis, production analysis, value chain optimization, market share.
IMPACT OF RUSSIAN UKRAINE WAR
It makes sense that all of this has changed Ukrainian perceptions. The sense of Ukrainian national identity has grown stronger as a result. In contrast to those from other regions or ethnic minorities, 85% of Ukrainians self-identified as Ukrainian citizens in an August poll; only 64% did so six months earlier, prior to Russia's invasion. A poll found that 92% of Ukrainians had a "bad" attitude toward Russia, while only 2% had a "good" attitude. This indicates that the invasion has also given Ukrainians a very negative impression of Russia. Ukrainians have made it obvious that they want to fight back. According to a Gallup poll conducted in September, 70% of Ukrainians are willing to fight until they defeat Russia. Despite Russian missile attacks on Ukrainian cities, 86% of those surveyed in a poll conducted by the Kyiv International Institute of Sociology in the middle of October supported the war and were against dialogue with Russia.
It is difficult to predict how the battle will turn out in the end. However, several significant implications for Russia's ties with the Ukraine, Europe, and the US have come into sharper light. While the war has been tragic for Ukraine and its people, it has also been disastrous for Russia in terms of its military, economy, and geopolitical position. The war has significantly harmed Russia's military, hurt its brand, affected the economy, and fundamentally changed the geopolitical landscape that Moscow faces in Europe.
MARKET SEGMENTATION
By Type
Conduetive Bridging
Oxide Based ReRAM
Others
By Memory
By Solution
By Technology
By Applications
Neuromorphic Computing
Security
Data storage and logical
By End User
Computer
lot
Consumer Electronics
Medical
IT and Telecom
Aerospace and Defence
Othe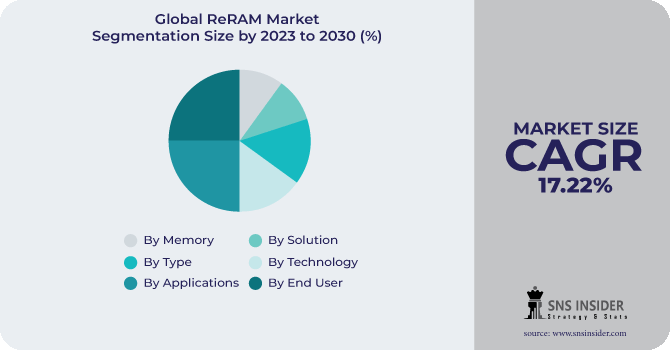 Get Customized Report as per Your Business Requirement - Request For Customized Report
REGIONAL ANALYSIS
Due to an increase in the demand for electronic devices with non-volatile memory capabilities, such as smartphones and high-resolution TVs, Asia Pacific currently accounts for a sizeable portion of the worldwide ReRAM industry. The Asia Pacific ReRAM market is being driven by the region's growing consumer electronics and automotive sectors. Data centers, Al, and loT connected infrastructure are being built in nations like China, Japan, and India, which is projected to drive the regional RERAM industry.
North America comes in second to Asia Pacific in terms of market share for ReRAM globally. The region's RERAM market is being supported further by the surge in demand for business storage applications. The Middle East and Africa market is also anticipated to account for a sizeable market share in the near future.
REGIONAL COVERAGE:
North America
Europe
Eastern Europe

Poland
Romania
Hungary
Turkey
Rest of Eastern Europe

Western Europe

Germany
France
UK
Italy
Spain
Netherlands
Switzerland
Austria
Rest of Western Europe
Asia Pacific
China
India
Japan
South Korea
Vietnam
Singapore
Australia
Rest of Asia Pacific
Middle East & Africa
Middle East

UAE
Egypt
Saudi Arabia
Qatar
Rest of Middle East

Africa

Nigeria
South Africa
Rest of Africa
Latin America
Brazil
Argentina
Colombia
Rest of Latin America
KEY PLAYERS
Some of key players of ReRAM Market are Fujitsu (Japan), Panasonic Corporation (Japan), Weebit (Israel), SMIC (China), Micron Technology Inc, (U.S.), Taiwan Semiconductor Manufacturing Company Limited (Taiwan), 4DS Memory Limited (Australia), Renesas Electronics Corporation (Japan), Other World Computing, Inc, (US.), Sony Corporation (Japan), VentureBeat (US), Rambus (US), intel Corporation (US.), Avalanche Technology (US.), HOPE Microelectronics CO, Ltd. (China), Adesto Technologies Corporation. (U.S.) and other players are listed in a final report.
RECENT DEVELOPMENT
It was announced by Intrinsic Semiconductor Technologies in 2022 that its silicon oxide-based resistive RAM had been successfully scaled. Their electrical performance qualities made them potentially useful as low-cost, embedded, high-performance, non-volatile memory in logic devices at higher processing nodes. The business has shrunk down its devices to 50 nm sizes. According to the manufacturer, the devices' superior switching behavior is a key component to their employment as the next generation of solid-state and non-volatile memory.
In 2022, Fujitsu Semiconductor Memory Solution Limited made the 8Mbit FRAM MBB5RQ8MLX with Quad $Pl interface available to the public. In the SPI connection FRAM product line from Fujitsu, this item offers the maximum density.
December 2021 - Xinyuan Semiconductor has announced the completion of the A round of fundraising totaling millions of Yuan to advance ReRAM-based storage and computing combination devices.
Oct. 20, 2021 Non-volatile memory (NVM) applications using few-time programmed and one-time-programmable non-volatile memories (NVM) now have new capabilities thanks to Resistive RAM innovation from CrossBar Inc., a key non-volatile storage technology developer. Resistive memory (ReRAM), cutting-edge acceleration technology, and efficient neural networks will all be combined by the organization to generate power effective solutions with the capacity for unsupervised learning.
ReRAM Market Report Scope:
Report Attributes
Details

Market Size in 2022

US$ 606.9 million

Market Size by 2030

US$ 2163.19 million

CAGR

CAGR of 17.22% From 2023 to 2030

Base Year

2022

Forecast Period

2023-2030

Historical Data

2019-2021

Report Scope & Coverage

Market Size, Segments Analysis, Competitive Landscape, Regional Analysis, DROC & SWOT Analysis, Forecast Outlook

Key Segments

By Type (Conduetive Bridging, Oxide Based ReRAM, Others)

By Memory (Embedded, Standalone)

By Solution (NVMe SSD, NVDIMM),

By Technology (180nm, 40nm, Others)

By End User (Computer, lot, Consumer Electronics, Medical, IT and Telecom, Aerospace and Defence, Others)

By Applications (Neuromorphic Computing, Security, Data storage and logical)

Regional Analysis/Coverage

North America (US, Canada, Mexico), Europe (Eastern Europe [Poland, Romania, Hungary, Turkey, Rest of Eastern Europe] Western Europe] Germany, France, UK, Italy, Spain, Netherlands, Switzerland, Austria, Rest of Western Europe]), Asia Pacific (China, India, Japan, South Korea, Vietnam, Singapore, Australia, Rest of Asia Pacific), Middle East & Africa (Middle East [UAE, Egypt, Saudi Arabia, Qatar, Rest of Middle East], Africa [Nigeria, South Africa, Rest of Africa], Latin America (Brazil, Argentina, Colombia Rest of Latin America)

Company Profiles

Fujitsu (Japan), Panasonic Corporation (Japan), Weebit (Israel), SMIC (China), Micron Technology Inc, (U.S.), Taiwan Semiconductor Manufacturing Company Limited (Taiwan), 4DS Memory Limited (Australia), Renesas Electronics Corporation (Japan), Other World Computing, Inc, (US.), Sony Corporation (Japan), VentureBeat (US), Rambus (US), intel Corporation (US.), Avalanche Technology (US.), HOPE Microelectronics CO, Ltd. (China), Adesto Technologies Corporation. (U.S.)

Market opportunities

•Increasing financial support for resistive random-access memory (ReRAM)

•Introduction of cutting-edge, original technology

•Low power consumption, faster read and write speeds and lower cost than flash memory

Market challenges

•Resistive random-access memory (ReRAM) is expensive