Report Scope & Overview:
The 3D Projector Market size was valued at USD 3.58 billion in 2022. It is expected to hit USD 6.05 billion by 2030 and grow at a CAGR of 6.8% over the forecast period of 2023-2030.
With its advanced capabilities, the 3D projector offers an unparalleled level of depth and clarity, enhancing the overall viewing experience. The 3D projector boasts an array of features that ensure optimal performance. Its high-resolution display delivers stunning visuals, showcasing every detail with precision and vibrancy. The projector's advanced projection technology ensures seamless transitions and smooth motion, eliminating any blurriness or distortion. Moreover, the 3D projector offers versatility and convenience. Its compatibility with various devices allows for effortless connectivity, enabling you to enjoy your favorite content from multiple sources. Additionally, its user-friendly interface and intuitive controls make it accessible to users of all levels of expertise.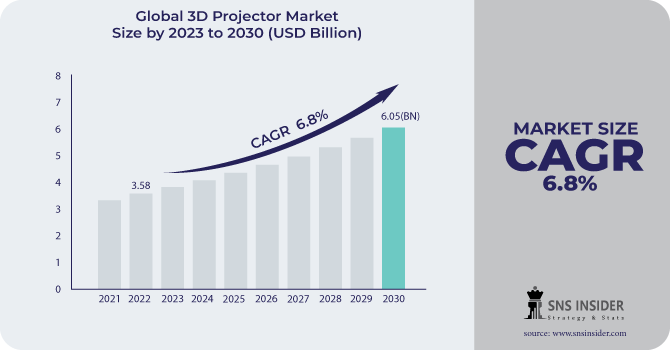 To Get More Information on 3D Projector Market - Request Free Sample Report
With the increasing demand for immersive visual experiences, 3D projectors have become a popular choice for various applications, including home theaters, gaming, education, and business presentations. The market for 3D projectors is driven by the advancements in technology which have led to the development of high-quality projectors that offer stunning visuals and enhanced depth perception. These projectors utilize advanced imaging techniques, such as DLP (Digital Light Processing) and LCD (Liquid Crystal Display), to deliver lifelike 3D images. Additionally, the growing popularity of 3D movies and gaming has contributed to the surge in demand for 3D projectors. Consumers are increasingly seeking an immersive experience that goes beyond traditional 2D visuals. As a result, the entertainment industry has witnessed a significant shift towards 3D content, further fueling the demand for 3D projectors. Moreover, the corporate sector has also recognized the potential of 3D projectors in enhancing presentations and meetings. These projectors enable businesses to showcase their products and ideas in a more engaging and interactive manner, leaving a lasting impression on clients and stakeholders. Furthermore, the affordability and accessibility of 3D projectors have played a crucial role in their market growth. As technology continues to evolve, the prices of these projectors have become more affordable, making them accessible to a wider range of consumers.
Market Dynamics:
Drivers
Declining prices of the 3D projectors

Increasing demand for 3D content
The increasing popularity of 3D movies, gaming, and virtual reality applications has created a strong demand for 3D projectors. Consumers are seeking more immersive and engaging experiences, driving the adoption of 3D projectors in various sectors such as entertainment, education, and healthcare.
Restrain
While the prices of 3D projectors have decreased, the overall cost of implementing a 3D projection system can still be significant. This cost includes not only the projector itself but also the necessary accessories, such as 3D glasses and compatible media players. This financial barrier may deter some potential buyers from investing in 3D projectors.
Opportunities
Advancements in 3D projection technology

The increasing popularity of 3D content across various sectors
Challenges
Despite the growing demand for 3D projectors, the availability of 3D content remains limited. This scarcity of content poses a challenge to the widespread adoption of 3D projectors, as consumers may hesitate to invest in a technology that lacks a diverse range of compatible content.
Impact of Russia-Ukraine War:
The Russia-Ukraine war has disrupted the economic stability of both nations, leading to a decline in consumer purchasing power. As a result, the demand for luxury items, such as 3D projectors, has significantly decreased. The Russia-Ukraine conflict also hit the Entertainment industry in Russia. Additionally, the war has disrupted supply chains, causing delays in the delivery of essential components required for manufacturing 3D projectors. This has further exacerbated the challenges faced by the industry. The geopolitical tensions arising from the Russia-Ukraine conflict have created an atmosphere of uncertainty, which directly impacts the 3D projector market. Investors and businesses are hesitant to make long-term commitments due to the unpredictable nature of the situation. This reluctance to invest has hindered the growth and development of the market, as potential opportunities remain untapped. Moreover, the imposition of trade restrictions and sanctions by various countries has further complicated the business environment, making it difficult for manufacturers to expand their operations and reach new markets.
Impact of Recession:
The recession has resulted in a decrease in consumer spending power, leading to a decline in the demand for 3D projectors. As individuals and businesses decrease their spending, the purchase of non-essential items, such as 3D projectors, becomes less of a priority. Consequently, the demand for these products has experienced a notable decrease. This decrease in demand is also connected with the impact of this ongoing recession on the Media and Entertainment Industry. The recession has also affected the supply side of the 3D projector market. For instance, in 2022, the media industry experienced a notable decline compared to the overall market. As of August 31, 2022, the S&P 500 Media & Entertainment Index has reduced by 34.68%, while the S&P 500 itself has dropped by 15.38% on a year-to-date basis. Manufacturers and suppliers have faced challenges due to reduced production capacities and disrupted supply chains.
Key Market Segmentation
By Technology
By Brightness
Less Than 2,000 Lumens

2,000 to 3,999 Lumens

4,000 to 9,999 Lumens

10,000 & Above Lumens
By Resolution
VGA

XGA

HD & Full HD

4K & Above
By Light Source
Laser

Metal Halide

Hybrid

Lamps

Others
By Application
Cinema

Corporate

Events & Large Venues

Home Theater & Gaming

Others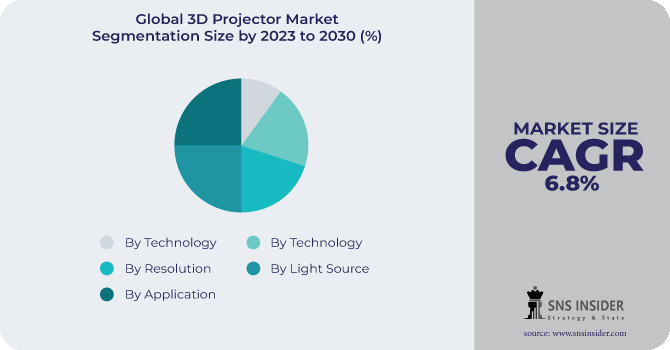 Need any customization research on 3D Projector Market - Enquiry Now
Regional Analysis
The Asia Pacific region experienced high growth in the 3D projectors Market and is expected to grow with the highest CAGR during the forecast period. Asia Pacific region has witnessed a surge in technological advancements and rapid economic growth. This has led to an increased demand for audiovisual solutions, including 3D projectors. As countries in this region continue to invest heavily in infrastructure development and urbanization, the demand for immersive visual experiences has soared, propelling the growth of the 3D projector market. Moreover, the Asia Pacific region is home to a vast consumer base with a growing appetite for entertainment and multimedia experiences. With a rising middle class and increasing disposable incomes, consumers in this region are seeking innovative and captivating ways to enhance their entertainment and gaming experiences. 3D projectors offer a unique and immersive visual experience, making them highly sought-after among consumers in the Asia Pacific market.
Furthermore, the region's thriving film and entertainment industry has played a pivotal role in driving the demand for 3D projectors. Asia Pacific is renowned for its vibrant and diverse film industry, producing a plethora of visually stunning movies and animations. For instance, in 2021 cinema advertising expenditure in the Asia-Pacific region witnessed a staggering surge of 93.6% which is a very remarkable growth in contrast to the previous year, which was harshly affected by the devastating impact of the coronavirus (COVID-19) pandemic on cinema ad spending. The adoption of 3D technology in cinemas and home theaters has become increasingly prevalent, further fueling the growth of the 3D projector market in this region. Additionally, the Asia Pacific region has witnessed a surge in educational institutions and corporate organizations embracing advanced audiovisual technologies. With the increasing emphasis on interactive and engaging presentations, 3D projectors have become an indispensable tool in classrooms and boardrooms. This growing demand from the education and corporate sectors has significantly contributed to the high CAGR of the 3D projector market in Asia Pacific.
REGIONAL COVERAGE:
North America
Europe
Eastern Europe

Poland

Romania

Hungary

Turkey

Rest of Eastern Europe

Western Europe

Germany

France

UK

Italy

Spain

Netherlands

Switzerland

Austria

Rest of Western Europe
Asia Pacific
China

India

Japan

South Korea

Vietnam

Singapore

Australia

Rest of Asia Pacific
Middle East & Africa
Middle East

UAE

Egypt

Saudi Arabia

Qatar

Rest of Middle East

Africa

Nigeria

South Africa

Rest of Africa
Latin America
Brazil

Argentina

Colombia

Rest of Latin America
Key Players
The major key players are Optoma Corporation, Sony Corporation, Barco, Acer Inc., Seiko Epson Corporation, Panasonic Corporation, ViewSonic Corporation, BenQ Corporation, Delta Electronics, Inc., Hitachi Digital Media Group, NEC Display Solutions, and other key players mentioned in the final report.
Recent Developments:
In April 2023, Optoma made an exciting announcement about their latest additions to their product lineup: the ZW350ST and ZH350ST.

In April 2022, ViewSonic Corp. introduced their LS500W/WH and LS550W/WH LED projectors. These projectors boast the latest 3rd generation LED technology, catering to both enterprise and education markets. With their lamp-free design, these projectors not only offer exceptional brightness but also prioritize energy efficiency.
3D Projector Market Report Scope:
Report Attributes
Details
Market Size in 2022
US$ 3.58 Bn
Market Size by 2030
US$ 6.05 Bn
CAGR
CAGR of 6.8 % From 2023 to 2030
Base Year
2022
Forecast Period
2023-2030
Historical Data
2020-2021
Report Scope & Coverage
Market Size, Segments Analysis, Competitive Landscape, Regional Analysis, DROC & SWOT Analysis, Forecast Outlook
Key Segments
• By Technology (LCD, DLP, and LCoS)
• By Resolution (VGA, XGA, HD & Full HD, and 4K & Above)
• By Brightness (Less Than 2,000 Lumens, 2,000 to 3,999 Lumens, 4,000 to 9,999 Lumens, and 10,000 & Above Lumens)
• By Light Source (Laser, Metal Halide, Hybrid, LED, Lamps, and Others)
• By Application (Education, Cinema, Corporate, Events & Large Venues, Home Theater & Gaming, and Others)
Regional Analysis/Coverage
North America (US, Canada, Mexico), Europe (Eastern Europe [Poland, Romania, Hungary, Turkey, Rest of Eastern Europe] Western Europe] Germany, France, UK, Italy, Spain, Netherlands, Switzerland, Austria, Rest of Western Europe]). Asia Pacific (China, India, Japan, South Korea, Vietnam, Singapore, Australia, Rest of Asia Pacific), Middle East & Africa (Middle East [UAE, Egypt, Saudi Arabia, Qatar, Rest of Middle East], Africa [Nigeria, South Africa, Rest of Africa], Latin America (Brazil, Argentina, Colombia Rest of Latin America)
Company Profiles
Optoma Corporation, Sony Corporation, Barco, Acer Inc., Seiko Epson Corporation, Panasonic Corporation, ViewSonic Corporation, BenQ Corporation, Delta Electronics, Inc., Hitachi Digital Media Group, NEC Display Solutions
Key Drivers
• Declining prices of the 3D projectors
• Increasing demand for 3D content
Market Restraints
• High Cost of Implementation