REPORT SCOPE & OVERVIEW:
The Anti-counterfeit Packaging Market size was USD 146.28 billion in 2022 and is expected to reach USD 426.10 billion by 2030 and grow at a CAGR of 14.3 % over the forecast period of 2023-2030.
The Anti-counterfeit packaging market refers to the industry involved in packaging products to prevent the counterfeiting of branded products. Many products in the market are copies or replicas of branded products. Anti-counterfeit packaging is one of the best ways to overcome this. Anti-counterfeit packaging solution helps customer to identify between branded products and counterfeit goods.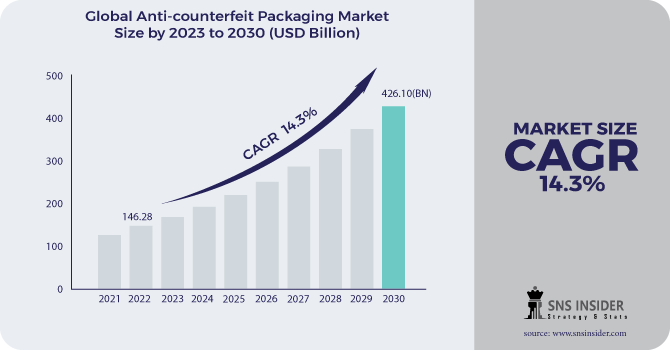 Get More Information on Anti-Counterfeit Packaging Market - Request Sample Report
There has been a rise in Anti-counterfeit packaging globally due to consumer awareness about the risk of counterfeit goods. Counterfeit goods can damage the brand image and risk public health, and financial losses can occur.
Technological advancements in this market have brought unique solutions to differentiate between counterfeit and branded goods. Holograms, QR Codes, and Unique Serial Numbers are some of the tools used in the Anti-counterfeit packaging market.
The demand for the Anti-counterfeit packaging market is likely to grow because of the steps taken by the government and many industries to fight against the counterfeiting of goods.
MARKET DYNAMICS
KEY DRIVERS:
Various industries including pharmaceuticals, electronics, and many luxurious goods are facing counterfeiting activities worldwide. Many companies are adopting anti-counterfeit packaging to protect themselves from counterfeiting as it may harm their brand image and reputation. The government and industries are together working on counterfeiting activities, which also boosts the anti-counterfeit market. The overall packaging industry is very large, so demand in the anti-counterfeit market is also increasing. Standard packaging does not give the ultimate solution to the counterfeiting of goods, this can only be done using anti-counterfeit technology such as holograms, RFID, and QR codes.
RESTRAIN:
The use of anti-counterfeit packaging increases the overall production cost of the final good, which ultimately affects the consumers. This will increase the demand for counterfeit goods. For industries to overall the counterfeit market technological advancement needs to be done and increasing investment in technology will increase the cost of production. This will lead to financial losses for the company.
Even after the use of holograms and barcodes to safeguard the product, still, counterfeit products can be seen, and this is slowing down the overall growth of the anti-counterfeit packaging market.
OPPORTUNITY:
This sector faces counterfeiting of goods at a high level. Many farmers get seeds for fake crops, this damages the brand image of reputed companies. Also, in the pharmaceuticals and food industry, counterfeit goods are seen with the brand name of a reputed company.
So, there is an increasing opportunity for anticounterfeit packaging to overcome counterfeiting activities in this industry.
CHALLENGES:
In countries such as India, where literacy level is low as compared to other developed countries, there is a need for consumer awareness about counterfeit goods. Counterfeit goods are much cheaper than the original goods, consumers are attracted to these goods. Creating consumer awareness and educating them is a bigger challenge for the anticounterfeit packaging industries.
IMPACT OF RUSSIAN UKRAINE WAR
The war between the two countries affected the global economy, prices of goods increased, inflation increased and it affected the Anti-counterfeit packaging market and affected the industries in regions of Russia. The global supply chain was disrupted and prices of raw materials were fluctuating leading to the volatility of the overall market.
IMPACT OF COVID-19
Covid 19 has affected the Anti-counterfeit packaging market to a large extent. The government-imposed restrictions on the movement of people and the supply chain was affected, due to which a shortage of raw materials was there which is necessary for production. Demand for FMCG products also decreased as people were not ready to buy packed goods due to fear of the spread of coronavirus.
On the other side, companies focused on the development of technology to overcome counterfeiting activities keeping in mind the safety of customers from covid 19 spread.
There was both direct and indirect impact of covid 19 on the anti-counterfeit packaging market. During covid, there was a need for personal protective equipment in the market. It became difficult to recognize the trusted products and the replicas. Due to supply chain disruption, there was a delay in the production and delivery of Anti-counterfeit packaging technologies and raw materials. There was also a need for the development of new technology and methods to safeguard public from the counterfeit goods. This affected the overall profitability of companies and the overall anti-counterfeit packaging market.
KEY MARKET SEGMENTS
By Product:
Forensic, Covert

Track & Trace

Overt
By Technology:
RFID

Forensic Makers

Mass Encoding

Holograms

Tampers Evidence

Others
By End Use:
Automotive

Pharmaceuticals

Personal Care

Luxury Goods

Food & Beverage

Electrical & Electronics

Others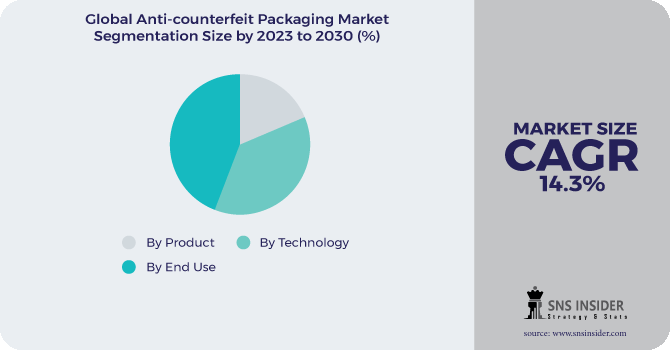 Get Customized Report as per Your Business Requirement - Request For Customized Report
REGIONAL ANALYSIS
North America Region is holding the highest market share followed by Asia Pacific Region and Europe. Strict regulations against counterfeiting activities have increased the market share for the North American region.
In China and India market for anti-counterfeit packaging market will rise as they both are emerging economies, giving more exposure to growth as markets in developed countries are getting matured.
Asia Pacific region is likely to show high CAGR growth during our forecast period of 2023-2030. This is likely to happen because of increasing consumer awareness about the disadvantages of counterfeit goods.
REGIONAL COVERAGE:
North America
Europe
Germany

UK

France

Italy

Spain

The Netherlands

Rest of Europe
Asia-Pacific
Japan

South Korea

China

India

Australia

Rest of Asia-Pacific
The Middle East & Africa
Latin America
Brazil

Argentina

Rest of Latin American
RECENT DEVELOPMENT
According to news of October 2022, the government has planned to launch Track and Trace mechanism. The top 300 selling drugs will print QR codes on their primary packaging.

The news in April 2023 of Amazon launching an Anti-counterfeiting exchange to identify and track counterfeiters.

In 2022, Amazon removed around more than 5 million counterfeit items from its supply chain.
Key players List-
Major players in the Anti-counterfeit packaging market are Zebra Technologies Corporation, 3M Company, SAVI Technology, EDGYN, Authentix Inc, Applied DNA Science, CCL Industries, Micro Tag Temed Ltd, Advance Track & Trace, DuPont, and other players.
Anti-counterfeit Packaging Market Report Scope:
Report Attributes
Details
Market Size in 2022
US$ 146.28 Bn
Market Size by 2030
US$ 426.10 Bn
CAGR
CAGR of 14.3 % From 2023 to 2030
Base Year
2022
Forecast Period
2023-2030
Historical Data
2020-2021
Report Scope & Coverage
Market Size, Segments Analysis, Competitive Landscape, Regional Analysis, DROC & SWOT Analysis, Forecast Outlook
Key Segments
• By Product (Forensic, Covert, Track & Trace, Overt)
• By Technology (RFID, Forensic Makers, Mass Encoding, Holograms, Tampers Evidence, Others)
• By End Use (Automotive, Pharmaceuticals, Personal Care, Luxury Goods, Food & Beverage, Electrical & Electronics, Others)
Regional Analysis/Coverage
North America (USA, Canada, Mexico), Europe
(Germany, UK, France, Italy, Spain, Netherlands,
Rest of Europe), Asia-Pacific (Japan, South Korea,
China, India, Australia, Rest of Asia-Pacific), The
Middle East & Africa (Israel, UAE, South Africa,
Rest of Middle East & Africa), Latin America (Brazil, Argentina, Rest of Latin America)
Company Profiles
Zebra Technologies Corporation, 3M Company, SAVI Technology, EDGYN, Authentix Inc, Applied DNA Science, CCL Industries, Micro Tag Temed Ltd, Advance Track & Trace, DuPont
Key Drivers
• Increase in counterfeit activities globally
Market Opportunities
• Agricultural Sector, Pharmaceuticals industry, food, and beverages