REPORT SCOPE & OVERVIEW
The Antibody Production Market size was estimated USD 16.4 billion in 2022 and is expected to reach USD 44.2 billion by 2030 at a CAGR of 13.2% during the forecast period of 2023-2030.
Antibody production refers to the production of cells by the immune system, which is carried out by the B cells. Antibodies are in charge of removing dangers such as bacteria and viruses that infiltrate the body, hence preventing sickness. Therapies, medications, and vaccines are provided to boost antibody production in the body.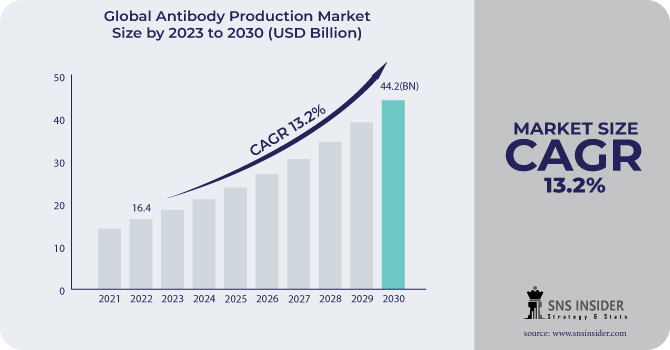 Increased expenditure in monoclonal antibody research and development is predicted to drive market expansion, particularly in cancer treatment, which accounts for about 51% of all mAb R&D initiatives. mAbs' focused approach to cancer treatment has transformed cancer treatment by lowering side effects and improving patient outcomes. Regardless, continuing research and development are required to improve mAb efficacy in cancer treatment.
MARKET DYNAMICS
DRIVERS
The increased chronic incidence, combined with an aging population, is likely to fuel market expansion during the forecast period. For example, the PAHO estimates that there will be 20.1 million additional cancer cases worldwide. Cancer will increase by around 60.1% over the next two decades, putting significant strain on healthcare systems, individuals, and communities. It is expected that there would be approximately 30.2 million more cancer cases worldwide by 2040. As disease instances increase, the sector will be forced to increase its manufacturing capacity as well as research operations for innovation and advancement. As a result, the aforementioned facts fuel market expansion over the forecast period.
RESTRAIN
Purifying antibodies from complex mixtures can be difficult and time-consuming. High purity requirements and the need to remove contaminants might result in labor-intensive and costly processes. Furthermore, due to the necessity for specialized equipment, cell culture conditions, and purification processes, antibody synthesis, particularly for therapeutic applications, can be costly. The price of large-scale manufacture may limit the availability of antibody-based therapeutics. As a result, this is likely to be a significant restraining factor for market growth throughout the forecast period.
OPPORTUNITY
The growing FDA approvals of monoclonal antibodies are expected to provide a lucrative opportunity for market expansion over the projection period. For example, the Food and Drug Administration (FDA) authorized EPKINLYTM in May 2023 for the treatment of adult patients with diffuse large B-cell lymphoma. The increased prevalence of many communicable and noncommunicable diseases also forces the FDA and other authorizing agencies and administrative bodies to accelerate the approval of monoclonal antibodies that can be employed for research and development. As a result, the increasing approval of monoclonal antibodies is expected to drive market expansion.
CHALLENGES
The cost erosion of synthesized oligos, as well as the lack of a uniform set of criteria for therapeutic oligos, are projected to limit market growth throughout the projection period.
IMPACT OF RUSSIAN UKRAINE WAR
Cancer research has been hampered by armed conflicts in several low- and middle-income nations. Shortage of safe conditions and surroundings; shortage of employees; changes in the supply chain for devices, pharmaceuticals, and others; and unsuitable meeting conditions, poor communication systems, and networks are a few examples of factors that limit research alternatives. Surprisingly, identical issues as a result of the war are hurting cancer research in both Ukraine and Russia. A recent statement on this war from the American Association for Cancer Research supports the safety and integrity of Ukrainian scientists and physicians and warns of the potential that current research efforts in Ukraine and Russia may be threatened or delayed.
IMPACT OF ONGOING RECESSION
The disruption produced by the COVID-19 pandemic has not only hampered cancer treatment and care, but has also jeopardized cancer research efforts. This is due to non-essential service restrictions, such as the closure of research sites and laboratories, as well as the suspension of routine clinical research activities; the prioritization of frontline COVID-19 care over research by clinicians; and the reallocation of health research resources to research on COVID-19 vaccine and therapeutics. In a Moroccan context, for example, the recruitment of new study patients was halted, while PhD students and administrative staff were largely urged to stay at home. The pandemic is projected to dramatically reduce the number of cancer-specific research, publications, and new treatment trials in the medium and long term.
KEY SEGMENTS
By Product
Instruments

Bioreactors

Multi-use Bioreactors

Single-use Bioreactors

Chromatography Systems

Filtration systems

Consumables

Media

Buffers and Reagents

Chromatography Resins and Columns

Filtration Consumables and Accessories

Others

Software
In 2022, Consumables segment is expected to held the highest market share of 56.0% during the forecast period. Consumables encompass a wide range of goods utilized in the manufacturing of antibodies, such as reagents, kits, media, buffers, and other materials. As the demand for antibodies for research, diagnostics, and therapies grows, so does the demand for consumables. Furthermore, the growing use of automated systems for antibody production has aided the expansion of the consumables segment.
By Process
Upstream Processing

Downstream Processing
In 2022, Downstream Processing segment is expected to held the highest market share of 67.2% and is anticipated to expand with the faster CAGR of 13.59% during the forecast period. The procedure is involved in ensuring antibody quality, safety, efficacy, purity, and identification. Furthermore, numerous technology improvements assist the downstream process in maintaining efficiency, thus boosting innovations in bio-manufacturing. Single-use sensors, membrane chromatography technologies, remote monitoring, and data analytics are among the most recent innovations in processing.
By Type
Monoclonal Antibody

Polyclonal Antibody
In 2022, the monoclonal antibody segment is expected to dominate the market growth of 23.5% and expected to have the higher CAGR of 13.6% during the forecast period due to increasing investments in research on monoclonal antibodies as well as the different novel launch of antibody-based pharmaceuticals. For example, Eli Lilly, a US-based pharmaceutical corporation, committed almost USD 1.0 billion in March 2023 for a monoclonal antibody (mAbs) manufacturing unit in Ireland, with the goal of producing novel clinical treatments by 2026.
By End User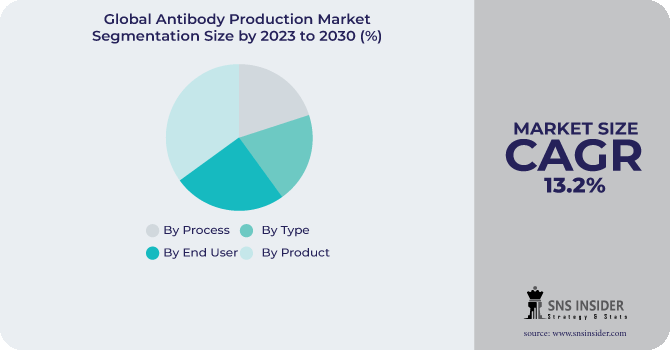 In 2022, Pharmaceutical and Biotechnology Companies segment is expected to dominate the market growth of 55.1% during the forecast period owing to the expanding types of biopharmaceutical companies in the manufacture of antibodies. Pharmaceutical and biotechnology businesses have been at the forefront of the sector, with many of the market leaders investing considerably in R&D. These companies have access to enormous financial resources as well as cutting-edge technology, allowing them to develop novel solutions that address the changing needs of healthcare practitioners and patients.
REGIONAL ANALYSES
North America held a significant market share growing with a CAGR of 38.5% in 2022 due to the existence of important biopharmaceutical and biotechnology businesses in the United States and Canada. Furthermore, increasing investments in medication development and research, as well as healthcare infrastructure, support market expansion throughout the region. Furthermore, biopharmaceutical adoption is increasing in North America, which is fuelling demand for antibody production. Because of their specificity, efficacy, and safety, biopharmaceuticals are becoming increasingly popular, and antibodies are a type of biopharmaceutical that is used to treat a variety of disorders. Furthermore, according to a February 2023 article published by the American Chemical Society, pharmaceutical companies are making significant investments in developing their technology, such as AI technology, which will aid in accelerating the speed of the drug development process, lowering the cost of bringing new drugs to market.
Asia-Pacific is witness to expand fastest CAGR rate of 16.2% during the forecast period owing to the untapped opportunities in this region. Also, the factors such as increasing investment in research and development activities, growing demand for therapeutics and diagnostics, and a rising aging population drive the growth of the market. Moreover, the increasing prevalence of chronic diseases such as cancer, autoimmune disorders, and infectious diseases is driving the demand for antibody-based therapies and diagnostics.
REGIONAL COVERAGE
North America
Europe
Eastern Europe

Poland

Romania

Hungary

Turkey

Rest of Eastern Europe

Western Europe

Germany

France

UK

Italy

Spain

Netherlands

Switzerland

Austria

Rest of Western Europe
Asia Pacific
China

India

Japan

South Korea

Vietnam

Singapore

Australia

Rest of Asia Pacific
Middle East & Africa
Middle East

UAE

Egypt

Saudi Arabia

Qatar

Rest of Middle East

Africa

Nigeria

South Africa

Rest of Africa
Latin America
Brazil

Argentina

Colombia

Rest of Latin America
Key Players
The major key players are Illumina, Inc., Thermo Fisher Scientific, Inc., Pacific Biosciences of California, Inc., Bio-Rad Laboratories, QIAGEN, Agilent Technologies, PerkinElmer, Inc., ProPhase Labs, Inc. (Nebula Genomics), Novartis, Psomagen, Azenta US, Inc., and Others.
Illumina, Inc-Company Financial Analysis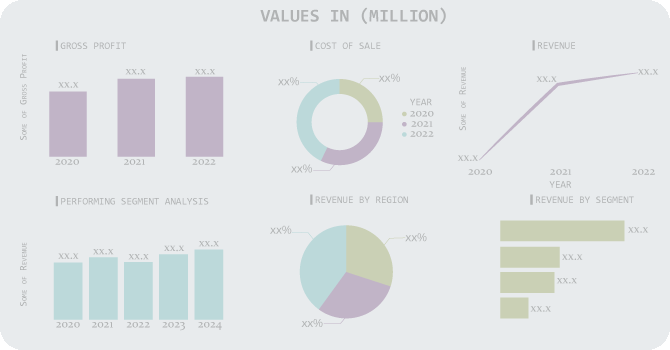 RECENT DEVELOPMENT
Thermo Fisher Scientific, Inc., in February 2023, Thermo Fisher Scientific, Inc. established a partnership with Elektrofi to enhance biologics production capabilities for planned clinical trials of therapeutic proteins, monoclonal antibodies, and other large molecule drugs.
Bio-Rad Laboratories, Inc., in December 2022, Bio-Rad Laboratories, Inc. introduced the first antibody discovery platform. This newly launched antibody discovery service is specifically designed to develop best-in-class biologic candidates. This strategy aided the organization in expanding its service offering and customer base.
Novartis, in March 2022, Novartis Pluvicto was approved by the FDA as the first targeted radioligand therapy for the treatment of advanced, PSMA-positive metastatic castration-resistant prostate cancer.
Antibody Production Market Report Scope:
Report Attributes
Details
Market Size in 2022
US$ 16.4 Billion
Market Size by 2030
US$ 44.2 Billion
CAGR
CAGR of 13.2 % From 2023 to 2030
Base Year
2022
Forecast Period
2023-2030
Historical Data
2019-2021
Report Scope & Coverage
Market Size, Segments Analysis, Competitive Landscape, Regional Analysis, DROC & SWOT Analysis, Forecast Outlook
Key Segments
• By Product (Instruments, Consumables, Software)
• By Process (Upstream Processing, Downstream Processing)
• By Type (Monoclonal Antibody, Polyclonal Antibody)
• By End User (Pharmaceutical and Biotechnology Companies, Research Laboratories, CROs and CDMOs)
Regional Analysis/Coverage
North America (US, Canada, Mexico), Europe (Eastern Europe [Poland, Romania, Hungary, Turkey, Rest of Eastern Europe] Western Europe] Germany, France, UK, Italy, Spain, Netherlands, Switzerland, Austria, Rest of Western Europe]), Asia Pacific (China, India, Japan, South Korea, Vietnam, Singapore, Australia, Rest of Asia Pacific), Middle East & Africa (Middle East [UAE, Egypt, Saudi Arabia, Qatar, Rest of Middle East], Africa [Nigeria, South Africa, Rest of Africa], Latin America (Brazil, Argentina, Colombia Rest of Latin America)
Company Profiles
Illumina, Inc., Thermo Fisher Scientific, Inc., Pacific Biosciences of California, Inc., Bio-Rad Laboratories, QIAGEN, Agilent Technologies, PerkinElmer, Inc., ProPhase Labs, Inc. (Nebula Genomics), Novartis, Psomagen, Azenta US, Inc.
Key Drivers
• Growing chronic disease along with an increasing elderly population
Market Opportunity
• Rising approvals for monoclonal antibodies