Market Scope & Overview:
Biopharmaceutical CMO Market size was valued at USD 30.22 billion in 2022 and is expected to reach at USD 79.77 billion by 2030, and grow at a CAGR of 12.9% over the forecast period of 2023-2030.
A company that offers manufacturing and related services to biopharmaceutical companies under a contract is known as a Contract Manufacturing Organisation (CMO) in the biopharmaceutical sector. An organisation that produces biologic pharmaceuticals, or complex medicinal items generated from living creatures such proteins, antibodies, and vaccines, is known as a biopharmaceutical CMO.
Cell culture, fermentation, purification, formulation, and fill-finish procedures are all handled by a biopharmaceutical CMO. In order to guarantee the security and effectiveness of the biologic medications, these procedures need for specialised tools, cleanrooms, and strict quality control procedures. In the biopharmaceutical sector, adherence to regulatory requirements, such as Good Manufacturing Practises (GMP), is essential. To satisfy the demands of health authorities, a CMO must uphold high quality standards, create strong quality systems, and assure adherence to regulatory norms.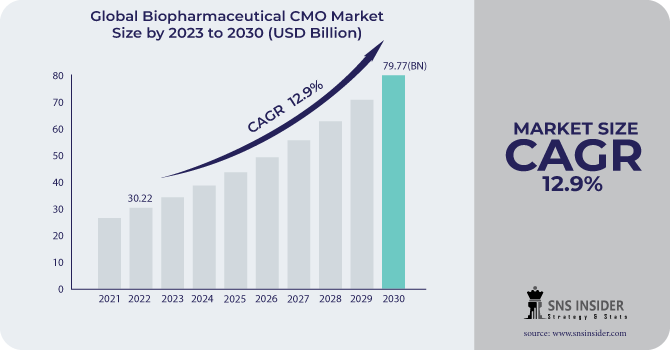 To support the production of biologic pharmaceuticals, biopharmaceutical CMOs invest in cutting-edge infrastructure and technologies. Specialised bioreactors, purification techniques, and analytical tools fall under this category. To ensure effective and dependable manufacturing, your team should have experience in process creation, optimisation, and scale-up.
Market Dynamics:
Driver :
Thanks to advances in biotechnology and a growing emphasis on personalised medicine, the biopharmaceutical sector has been expanding significantly. For a variety of illnesses, such as cancer, autoimmune diseases, and uncommon genetic problems, biologic medications offer specialised treatments. The need for biologic medications is driven by the increasing occurrence of these diseases and the want for more potent therapies.
Restrain :
The biopharmaceutical sector is heavily regulated, and adherence to the industry's strict regulations is essential. CMOs must adhere to the legal requirements put forth by regulatory bodies including the European Medicines Agency (EMA) and the U.S. Food and Drug Administration (FDA). It can be difficult for CMOs to maintain compliance with changing laws and regulations as they change or become more complex.
Opportunity
Due to biologic therapies success in treating a variety of disorders, there is a growing market for them. By supplying biopharmaceutical businesses with their manufacturing knowledge and capabilities, CMOs can profit from this expanding demand. CMOs can meet the growing demand for biologic pharmaceuticals by offering dependable and effective manufacturing services while also establishing long-term relationships with pharmaceutical firms.
Impact of Russia Ukraine war :
The supply chain for consumables, equipment, and raw materials used in biopharmaceuticals may be affected by the conflict. Conflict may cause delays or shortages of vital components required for the production of biopharmaceuticals if it disrupts economic relations or transportation routes between the two nations. CMOs that depend on vendors from either Russia or Ukraine may have trouble assuring a consistent supply of supplies.
Impact of Recession:
Budget restrictions during a recession may cause biopharmaceutical businesses to cut back on their investment in research and development (R&D). The quantity and size of projects that biopharmaceutical companies take on may be impacted by this, which may lead to a decline in the need for CMO services. CMOs may need to change their capacity and resource allocation in response to a slowdown in new project possibilities.
Market Segmentation:
Source Outlook
Service Outlook
Contract Manufacturing

Contact Research
Product Outlook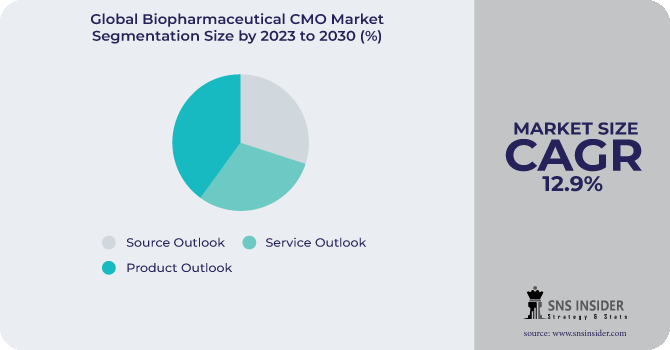 Key Players
The major key players are Lonza, Thermo Fisher Scientific, Cambrex Corporation, Catalent, Fujifilm, Siegfried Holding Ag, Samsung Biologics, AbbVie, Binex, Parexel international Corporation and others.
Regional Analysis:
North America is the region which will dominate the market the biopharmaceutical CMO market is heavily concentrated in North America, particularly the United States. The area has a developed healthcare system, a well-established biopharmaceutical industry, and a friendly regulatory environment. The need for CMO services is driven by the existence of several biopharmaceutical businesses and research facilities. High levels of technological advancement and competition, particularly the ability to manufacture cell and gene therapies, are market characteristics.
Europe is the region which will have the second large share because biopharmaceutical CMO market also has a substantial presence in Europe. Switzerland, Germany, and the United Kingdom, for example, have developed pharmaceutical businesses and CMOs. The region benefits from a strong regulatory environment, which includes the rules set forth by the European Medicines Agency (EMA), which regulate the production of biologic drugs. Academic research facilities and biotech clusters both encourage innovation and development along with the rising investment. Whereas APAC will be the region which will have the highest CAGR growth rate there are several factors which contribute to this growth the major ones include The market is expanding as a result of elements such a huge patient population, reduced production costs, improved regulatory frameworks, and government measures to support the biopharmaceutical industry. Additionally, the area provides prospects for CMOs that specialise in generic biologics and biosimilars.
Recent Development :
Thermo Fisher Scientific – The introduction of Groundbreaking Mass Spectrometer to revolutionize Biological discovery.
Samsung Biologics – The strategic collaboration of Pfizer and Samsung biologics for long-term manufacturing of biosimilars portfolio.
Siegfried Holding Ag – The company has opened a new global development centre for drugs products in Barcelona.
Biopharmaceutical CMO Market Report Scope:
Report Attributes
Details
Market Size in 2022
US$ 30.22 Bn
Market Size by 2030
US$ 79.77 Bn
CAGR
CAGR of 12.9% From 2023 to 2030
Base Year
2022
Forecast Period
2023-2030
Historical Data
2020-2021
Report Scope & Coverage
Market Size, Segments Analysis, Competitive Landscape, Regional Analysis, DROC & SWOT Analysis, Forecast Outlook
Key Segments
• By Source Outlook (Mammalian, Non-Mammalian)
• By Service Outlook (Contract Manufacturing, Contact Research)
• By Product outlook (Biologics, Biosimilars)
Regional Analysis/Coverage
North America (USA, Canada, Mexico), Europe
(Germany, UK, France, Italy, Spain, Netherlands,
Rest of Europe), Asia-Pacific (Japan, South Korea,
China, India, Australia, Rest of Asia-Pacific), The
Middle East & Africa (Israel, UAE, South Africa,
Rest of Middle East & Africa), Latin America (Brazil, Argentina, Rest of Latin America)
Company Profiles
Lonza, Thermo Fisher Scientific, Cambrex Corporation, Catalent, Fujifilm, Siegfried Holding Ag, Samsung Biologics, AbbVie, Binex, Parexel international Corporation
Key Drivers
• The rise in the development in the Biopharmaceutical sector.
Market Opportunities
• The rising demand for the biologic therapies.