Report Scope & Overview:
The Asset Performance Management Market is anticipated to increase at a CAGR of 12.21% from 2023 to 2030, from a value of USD 18.87 billion in 2022 to USD 47.42 billion in 2030.
The application of Information Technology (IT) and Operational Technology (OT) in the manufacturing sector, along with the high demand for enhancing machine efficiency, productivity, and performance, are key factors driving the demand for Asset Performance Management (APM). Moreover, the increasing use of Artificial Intelligence (AI) and the widespread adoption of the Industrial Internet of Things (IIoT) and other smart connected devices are expected to further fuel the 6.3% growth of the APM market.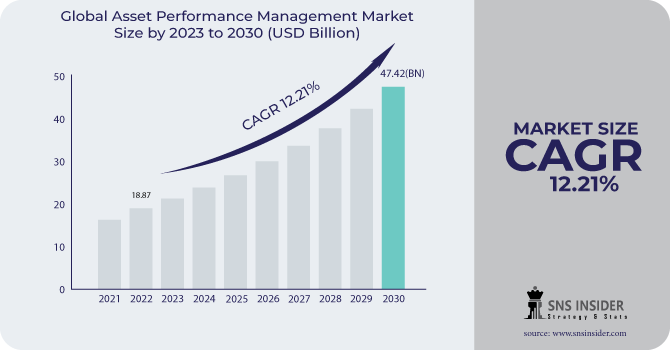 In addition to achieving availability goals and ensuring traditional reliability, Asset Performance Management (APM) is an approach that focuses on managing assets in a way that prioritizes commercial objectives.
Market Definition
Asset performance management is essentially a software that examines, comprehends, analyzes, and stores a sizable amount of data from many sources and servers for asset performance management insight data. increased APM availability and dependability. Maintaining and updating data to reflect APM insight, accelerating the development process, carrying out maintenance, and improving company performance are all included in asset performance management.
Market Dynamics
Drivers
More digital workers and a culture of dependability

An expanding number of industries, including industrial, chemical, oil & gas, and others, are requesting digital solutions to cut operating costs.
Organizations can quicken the transition to a digital business model thanks to asset performance management. Broad-reaching statistics that indicate resource availability, operating impact, and real-time condition reports give organizations control over asset decisions. Asset performance management aids in focusing on assets that need repair to cut the Total Cost of Ownership (TCO) and lower the risk of unscheduled downtime of mission-critical assets in industrial companies where assets must always be operational. Industrial businesses must understand that they are in the information industry and that change affects more than just the assets themselves if they want to thrive. In today's highly regulated contexts, employees are embracing the digital sector they currently operate in and adopting asset performance management technologies for reliability and safety. The asset performance management market is being driven by these elements.
Restrains
Cyberattacks have been increasing as digitization has grown. As a result, enterprises now have a lot of concerns about data security. Organizations that adopt cutting-edge digital technologies expose their data to threats. With the movement of data from the field to the cloud platform, there is a sharp increase in cybersecurity worries since nefarious actors can attack servers, networks, and communication channels. For testing and manufacturing different types of equipment for a virtual environment, anticipating asset problems, and preventing unforeseen breakdowns, some businesses are developing digital twin solutions. These solutions have the potential to divulge Intellectual Property (IP) elements, such as information about automation and control system operations, if their functionality is compromised. As a result, service companies in highly regulated industries hold off on using cutting-edge asset performance management solutions.
Opportunities
Proactive asset performance management is becoming more popular using IIoT, predictive, and prescriptive analytics.

The major players in the market who are introducing new developments in technology, solutions, and services with increasing connectivity on large-scale businesses and small to medium-sized businesses in a variety of industries.
Challenges
Problems integrating and implementing asset performance management with current programs

Lack of talent on the part of the staff
Impact of the Russia-Ukraine
The war may impact energy prices in 116 countries and lead to supply chain disruptions, particularly in the energy sector. Industries that rely heavily on energy, such as manufacturing and transportation, may face higher operational costs, which could affect their willingness to invest in APM technologies. Some governments may prioritize defense and critical infrastructure spending in times of conflict. This could potentially divert funding away from APM projects in other sectors as governments allocate resources to ensure national security. Geopolitical conflicts often lead to an increase in cyber threats and attacks. As APM systems are increasingly connected to the internet and data networks, the need for robust cybersecurity measures becomes even more critical. Industries may need to invest more in cybersecurity for their APM systems, diverting resources from other areas. The conflict can influence the prices of commodities such as oil and gas, metals, and agricultural products. Industries that rely on these commodities may experience fluctuations in production costs, impacting their APM strategies and budgets.
On the flip side, there could be an increased 6% demand for APM solutions in defense and aerospace industries to ensure the optimal performance of critical assets, including military equipment, during the conflict. Despite short-term uncertainties, governments and industries may recognize the importance of infrastructure resilience and sustainability. This could lead to increased investment in APM solutions as part of long-term planning to ensure the reliability of critical infrastructure.
Impact of Recession
During a recession, businesses often face budget constraints and may cut back on spending across various departments, including technology investments. This can lead to reduced 6.8% investments in APM solutions as organizations prioritize cost-cutting measures. Capital-intensive projects, which often involve significant asset investments, may be delayed or canceled during a recession. This can impact the demand for APM solutions, as these solutions are typically used to manage and optimize assets. In a recession, organizations may be more focused on cost-saving measures, which can lead to reduced 5% maintenance budgets. While this might initially reduce the demand for APM solutions, it could also drive interest in APM as a means of optimizing existing assets and prolonging their lifespan to avoid expensive replacements. APM solutions can help organizations improve asset utilization, which becomes crucial during a recession when companies are looking to maximize the value of their existing assets rather than making new investments.
Economic downturns often lead to a greater emphasis on operational efficiency. APM solutions can help organizations streamline their operations, reduce downtime, and increase efficiency, making them more attractive during recessionary periods. A recession may prompt APM providers to innovate and offer more cost-effective, scalable, or cloud-based solutions to meet the changing needs of their customers.
Key Market Segmentation
By Component
By Category
Predictive Asset Management

Asset Reliability Management

Asset Strategy Management

Others
By Deployment mode
By Organization Size
By Vertical
Energy & Utilities

Manufacturing

Government & Defense

Chemicals

Telecommunications

Healthcare & Pharmaceuticals

Consumer Goods, Food & Beverages

Others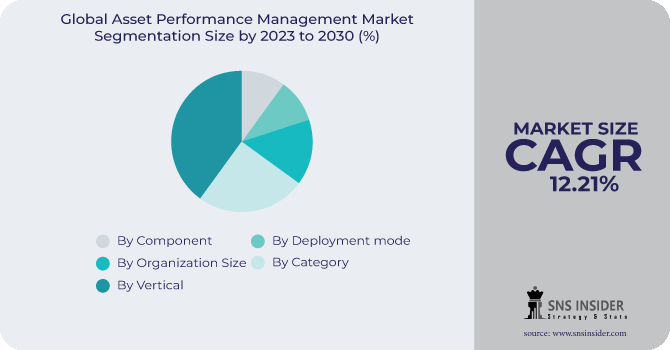 On the basis of Verticals, the energy and utilities segment held the largest market share, exceeding 19.1%, in 2022. This dominance can be attributed to the growing importance of re-evaluating strategies and implementing advanced technology in company processes, which are expected to fuel the segment's growth. Furthermore, the escalating demand for reliable energy services has prompted managers and other officials to adopt asset performance management solutions. These solutions enable them to monitor the functioning and condition of assets, ensuring they meet the increasing demands. Additionally, companies are increasingly prioritizing predictive maintenance strategies for their assets, further contributing to the growth of this segment.
Regional Analysis
In 2022, North America held a share of more than 29.8% of the global market, dominating it. The factors influencing the growth of the regional market include the rising need for high-speed data networks and the significant presence of software vendors in the area. The regional market is also expanding as a result of enterprises' increasing investments in IT infrastructure, particularly for the research and development of cloud infrastructure. In contrast to other regions, businesses in North America enjoy favorable business conditions and receive support from governmental policies. This enables them to develop and launch exceptional cloud platforms, consequently driving the widespread adoption of asset performance management in the market. Canada, in particular, boasts a significant number of computer scientists, data analysts, and software engineers who actively utilize cloud-based products and services. This trend further contributes to the expansion of the North American regional market.
On the other side, during the projected period, the region comprising Asia Pacific is anticipated to experience the highest compound annual growth rate (CAGR). This regional market is currently witnessing substantial growth, primarily driven by significant investments made by large corporations and the widespread adoption of new technologies across various industries and enterprises. Notably, numerous companies have begun migrating their workloads to the cloud, as they prioritize the advancement of their digital transformation processes through cloud technology.
REGIONAL COVERAGE:
North America
Europe
Eastern Europe

Poland

Romania

Hungary

Turkey

Rest of Eastern Europe

Western Europe

Germany

France

UK

Italy

Spain

Netherlands

Switzerland

Austria

Rest of Western Europe
Asia Pacific
China

India

Japan

South Korea

Vietnam

Singapore

Australia

Rest of Asia Pacific
Middle East & Africa
Middle East

UAE

Egypt

Saudi Arabia

Qatar

Rest of Middle East

Africa

Nigeria

South Africa

Rest of Africa
Latin America
Brazil

Argentina

Colombia
Rest of Latin America
Key Players:
The prominent market players are Rockwell Automation, ABB Ltd, SAS Institute, Bentley Systems, Aspen Technology, Inc., DNV GLAS, AVEVA Group plc, Nexus Global., Incorporated, GE Digital, Siemens Energy, Inc., SAP SE, Tenna, International Business Machines Corporation. Arms Reliability, MaintainX, and others in the final report.
Rockwell Automation-Company Financial Analysis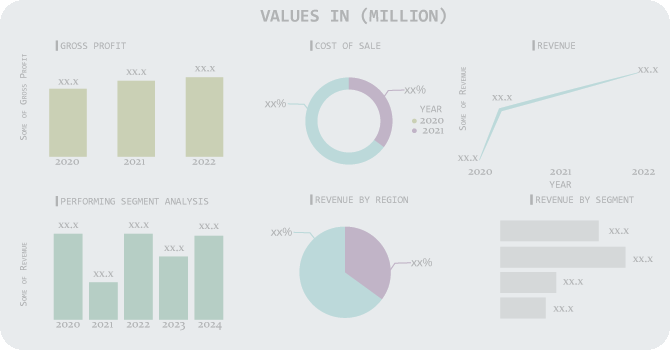 Recent development
Schneider Electric purchased AVEVA in January 2023. Through this agreement, both parties would be able to alter their industrial processes in a comprehensive way, using less energy, carbon, and resources. While AVEVA will now be entirely owned by Schneider Electric and a part of that company, it is anticipated that AVEVA's business independence and future R&D investment will be retained. This will allow AVEVA to fulfill the growing need for a more comprehensive range of solutions.
With the use of its world-class predictive analytics tools, GE Digital teamed with Airbus and Delta TechOps in July 2021 to provide assistance. Airlines will gain more from cross-fleet health monitoring and diagnostics, reliability analysis, and PdM analytics thanks to GE Digital's expanded analytics capabilities and systems portfolio, which span Airbus and non-Airbus OEM aircraft.
SPIDA Software, a company that creates specialist software for the design, analysis, and administration of utility pole systems, was recently bought by Bentley Systems in June 2021. The challenges of switching to new renewable energy sources, including those for electric vehicle charging, of jointly using utility poles to support broadband networks' 5G expansion, and of modernizing and hardening the electric grid to maintain reliability and resilience will be addressed by the integration of SPIDA within Bentley Systems' OpenUtilities engineering software, PowerView, and grid digital twin cloud services.
Asset Performance Management Market Report Scope
Report Attributes
Details
Market Size in 2022
US$ 18.87 Bn
Market Size by 2030
US$ 47.42 Bn
CAGR
CAGR of 12.21 % From 2023 to 2030
Base Year
2022
Forecast Period
2023-2030
Historical Data
2019-2021
Report Scope & Coverage
Market Size, Segments Analysis, Competitive Landscape, Regional Analysis, DROC & SWOT Analysis, Forecast Outlook
Key Segments
• By Component (Solution, Services)
• By Category, (Predictive Asset Management, Asset Reliability Management, Asset Strategy Management, Others)
• By Deployment mode (On-premises, Cloud)
• By Organization Size (Large Enterprises, SMEs)
• By Vertical (Energy & Utilities, Manufacturing, Government & Defense, Chemicals, Telecommunications, Healthcare & Pharmaceuticals, Consumer Goods, Food & Beverages, Others)
Regional Analysis/Coverage
North America (US, Canada, Mexico), Europe (Eastern Europe [Poland, Romania, Hungary, Turkey, Rest of Eastern Europe] Western Europe] Germany, France, UK, Italy, Spain, Netherlands, Switzerland, Austria, Rest of Western Europe]), Asia Pacific (China, India, Japan, South Korea, Vietnam, Singapore, Australia, Rest of Asia Pacific), Middle East & Africa (Middle East [UAE, Egypt, Saudi Arabia, Qatar, Rest of Middle East], Africa [Nigeria, South Africa, Rest of Africa], Latin America (Brazil, Argentina, Colombia Rest of Latin America)
Company Profiles
Rockwell Automation, ABB Ltd, SAS Institute, Bentley Systems, Aspen Technology, Inc., DNV GLAS, AVEVA Group plc, Nexus Global., Incorporated, GE Digital, Siemens Energy, Inc., SAP SE, Tenna, International Business Machines Corporation. Arms Reliability, MaintainX
Key Drivers
• More digital workers and a culture of dependability
• An expanding number of industries, including industrial, chemical, oil & gas, and others, are requesting digital solutions to cut operating costs.
Market Restraints
• Worries about secrecy and data security