Report Scope & Overview:
The Biometric Technology Market size was valued at USD 35.26 billion in 2022. It is expected to hit USD 150.60 billion by 2030 and grow at a CAGR of 19.9% over the forecast period of 2023-2030.
The Biometric Technology Market is driven by the increasing need for enhanced security measures in both public and private sectors. Biometric technology refers to the use of unique physical or behavioral characteristics of individuals to verify their identity. These characteristics include facial features, fingerprints, voice recognition, iris patterns, and even DNA. By utilizing these distinctive traits, biometric systems provide a highly accurate and reliable means of identification, surpassing traditional methods such as passwords or ID cards. A survey conducted in 2022 revealed that around 47% of respondents from North America and Europe confirmed the implementation of biometric authentication training tools within their respective companies.
Rising concerns regarding security breaches and identity theft have compelled organizations to adopt more robust and foolproof authentication systems. Biometric technology offers a solution that is not only highly secure but also convenient for users, eliminating the need to remember complex passwords or carry physical identification cards. Moreover, the increasing adoption of biometric technology in various sectors, including government, healthcare, banking, and finance, is further propelling market growth. Governments worldwide are implementing biometric systems to enhance border control, immigration, and law enforcement. In the healthcare sector, biometric technology is being utilized to ensure accurate patient identification, reducing medical errors and fraud.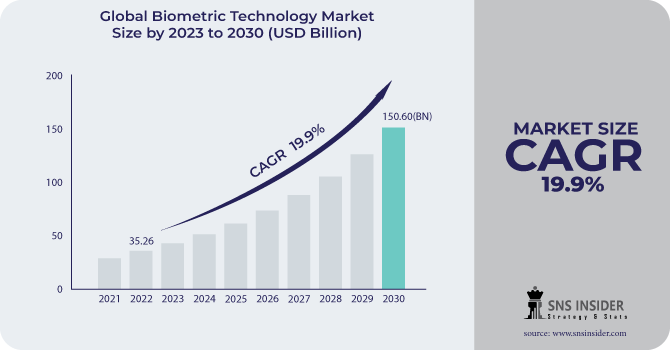 To get more information on Biometric Technology Market - Request Sample Report
Furthermore, advancements in technology, such as the integration of biometric systems with smartphones and wearable devices, are opening up new avenues for market expansion. This integration allows for seamless and secure authentication, enabling users to access their devices, make payments, and conduct transactions with ease. However, despite the numerous benefits and opportunities, the biometric technology market faces certain challenges. Concerns regarding privacy and data security are among the primary obstacles hindering the widespread adoption of these systems. Additionally, the high costs associated with implementing biometric technology and the need for interoperability among different systems pose challenges for market players.
Market Dynamics:
Drivers
Growing need for enhanced security measures across various sectors

Rising adoption of biometric systems in mobile device
With the integration of biometric features like fingerprint and facial recognition, smartphones, tablets, etc. devices provide users with secure access to their personal information and applications.
Growing concerns regarding identity theft and fraud are the driving factors behind the rapid growth of the Biometric Technology Market. This technology offers a secure and reliable solution to combat the rising threats posed by identity theft and fraud. By utilizing unique physical or behavioral characteristics, such as fingerprints, iris patterns, or voice recognition, biometric technology ensures that only authorized individuals can access sensitive information or perform specific actions. Identity theft and fraud have become increasingly prevalent in today's digital age, where personal information is vulnerable to cybercriminals. Traditional methods of authentication, such as passwords or PINs, have proven to be insufficient in protecting sensitive data. Hackers have become adept at bypassing these security measures, leading to devastating consequences for individuals and organizations alike.
Restrain
Increasing privacy concerns regarding biometric data

High cost associated with implementing biometric systems
The initial investment required for infrastructure, hardware, and software can be substantial, especially for small and medium-sized enterprises. This cost factor often acts as a deterrent for organizations considering the adoption of biometric technology.
Opportunities
The increasing demand for contactless authentication methods, driven by the COVID-19 pandemic, presents a significant opportunity for the Biometric Technology Market. The COVID-19 pandemic has drastically altered the way we interact with the world around us. As social distancing measures and hygiene practices become the new norm, traditional methods of authentication, such as fingerprint scanning or physical ID checks, have become less desirable due to their potential for virus transmission. This has created a pressing need for contactless alternatives that can ensure both security and safety. By utilizing features like facial recognition, iris scanning, or voice recognition, biometric systems can authenticate individuals without the need for physical contact. This not only minimizes the risk of virus transmission but also enhances convenience and efficiency in various sectors.
Biometric systems may encounter challenges in accurately recognizing individuals under certain conditions, such as poor lighting or changes in physical appearance. Overcoming these technical limitations is essential to maintain the reliability and effectiveness of biometric technology.
Impact of Russia-Ukraine War:
Russian authorities have extensively employed biometric data for facial recognition powered by artificial intelligence to monitor and prosecute peaceful protestors and other dissenters. Following the complete invasion of Ukraine earlier this year, facial recognition technology has emerged as a key instrument in the government's campaign to suppress anti-war demonstrations.
The military conflict between Russia and Ukraine has served as a testing ground for the implementation of emerging technologies in the context of warfare. While conflict zones have previously seen the adoption of biometric technologies to provide identification for survivors of genocide, displaced individuals, and refugees, the utilization of biometric technologies for surveillance in the Russian-Ukraine conflict presents a distinct value proposition. In the past, biometrics empowered individuals to cross borders as registered persons, but in the Ukraine war, biometric surveillance has primarily been used to report the deaths of enemy soldiers rather than ensure their survival. Furthermore, secondary applications of this technology have focused on preemption, such as identifying when soldiers are present in enemy territories through biometric recognition or detecting voluntary defections from their posts. This conflict has highlighted the potential of biometric technologies in the realm of warfare, showcasing their ability to gather crucial intelligence and enhance strategic decision-making. By leveraging biometric surveillance, military forces can gain valuable insights into enemy movements and actions, enabling them to respond effectively and protect their own interests.
Impact of Recession:
During economic downturns, businesses and individuals often face budget constraints, leading to reduced investments in research and development. This could potentially slow down the progress of biometric technology, as funding for innovative projects may become scarce. Additionally, companies may prioritize cost-cutting measures, which could impact the allocation of resources toward biometric solutions.
Secondly, the technological landscape during a recession may also affect biometric technology. As companies face financial challenges, they may be less inclined to invest in upgrading their existing infrastructure to accommodate biometric systems. This could hinder the integration of biometric technology into various sectors, such as banking and healthcare. Furthermore, the reduced demand for biometric solutions due to economic uncertainties may discourage manufacturers from investing in new advancements or refining existing technologies.
Key Market Segmentation
By Component
Software

Hardware

Service
By Offering
Contactless

Contact

Hybrid
By Authentication Type
Single Factor

Two Factor

Three Factor

Four Factor

Five Factor
By Application
Hand Geometry

Face

Voice

Signature

AFIS

Non-AFIS

Iris

Others
By End-use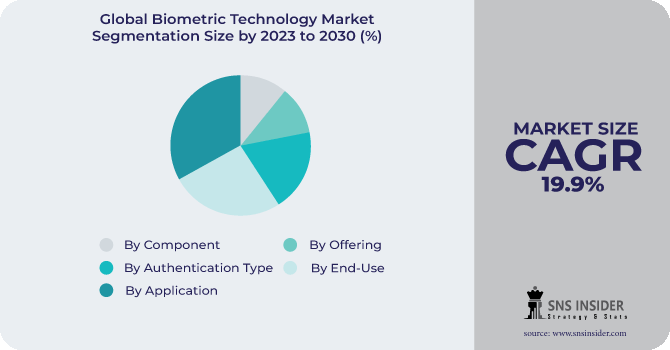 Need any customization research on Biometric Technology Market - Enquiry Now
Regional Analysis
North America dominated Biometric Technology Market with a revenue share of about 32.2% in 2022. North America's strong economy and high disposable income levels have contributed to the widespread adoption of biometric technology. The region's affluent population is more willing to invest in advanced security solutions, driving the demand for biometric systems across various sectors such as banking, healthcare, and government. Moreover, North America's proactive approach towards data protection and privacy regulations has instilled confidence among consumers and businesses alike. The region has implemented stringent laws and regulations to safeguard personal information, ensuring that biometric technology is used responsibly and ethically. This commitment to privacy has further fueled the adoption of biometric systems, as individuals feel more secure in entrusting their personal data to these advanced security measures.
The Asia Pacific region is expected to grow with the highest CAGR of about 23.4% during the forecast period of 2023-2030. This growth can be attributed to the region's increasing population and rapid urbanization have led to a surge in demand for advanced security solutions. Biometric technology, with its ability to provide accurate and reliable identification and authentication, has emerged as a preferred choice for governments, organizations, and individuals alike. Moreover, the Asia Pacific region has witnessed significant economic growth, resulting in higher disposable incomes and increased spending power. This has further fueled the adoption of biometric technology across various sectors, including banking, finance, healthcare, and transportation. The need for secure access control systems, fraud prevention measures, and efficient identity management solutions has become paramount, driving the demand for biometric technology in the region. Furthermore, governments in the Asia Pacific region have recognized the potential of biometric technology in enhancing national security and curbing identity-related crimes. As a result, they have implemented favorable regulations and policies to promote the adoption of biometric systems. This proactive approach by governments has created a conducive environment for the growth of the biometric technology market in the region. For instance, In Jan 2022, The Indian government proposed implementing a novel digital identification system that would consolidate various existing digital IDs, including PAN, Aadhaar, driver's license, and passport numbers. This initiative aims to interconnect these IDs, enabling their storage and access through a unified federated ID system.
REGIONAL COVERAGE:
North America
Europe
Eastern Europe

Poland

Romania

Hungary

Turkey

Rest of Eastern Europe

Western Europe

Germany

France

UK

Italy

Spain

Netherlands

Switzerland

Austria

Rest of Western Europe
Asia Pacific
China

India

Japan

South Korea

Vietnam

Singapore

Australia

Rest of Asia Pacific
Middle East & Africa
Middle East

UAE

Egypt

Saudi Arabia

Qatar

Rest of Middle East

Africa

Nigeria

South Africa

Rest of Africa
Latin America
Brazil

Argentina

Colombia

Rest of Latin America
Key Players
The major key players are Fujitsu Limited, NEC Corporation, BIO-key International Inc., DERMALOG Identification Systems GmbH, Accu-Time Systems, Inc., Idemia, Precise Biometrics, Aware Inc., AFIX Technologies, East Shore Technologies, Inc., Iris ID, HID Global Corporation Inc., EyeVerify, Inc., and other key players mentioned in the final report.
Recent Development:
In Feb 2023, Only|You Face, a biometrics software is launched by Accu-Time Systems (ATS).

In Nov 2022, NEC Corporation introduced the Gateless Access Control System, a solution that combines NEC's world-renowned face recognition technology with person re-identification technology.

In Nov 2022, NEC Corporation has begun full-scale promotion of its latest multimodal biometric authentication solution, representing the flagship of its "Bio-IDiom" brand of biometric authentication.

In May 2022, In May 2022, Rheinmetall and DERMALOG, two industry leaders, joined forces to establish Rheinmetall Dermalog SensorTec GmbH, a joint venture aimed at enhancing safety in road traffic.
Biometric Technology Market Report Scope:
Report Attributes
Details
Market Size in 2022
US$ 35.26 Bn
Market Size by 2030
US$ 150.60 Bn
CAGR
CAGR of 19.9 % From 2023 to 2030
Base Year
2022
Forecast Period
2023-2030
Historical Data
2020-2021
Report Scope & Coverage
Market Size, Segments Analysis, Competitive Landscape, Regional Analysis, DROC & SWOT Analysis, Forecast Outlook
Key Segments
• By Component (Software, Hardware, and Service)
• By Offering (Contactless, Contact, and Hybrid)
• By Authentication Type (Single Factor, Two Factor, Three-Factor, Four Factor, and Five-Factor)
• By Application (Hand Geometry, Face, Voice, Signature, AFIS, Non-AFIS, Iris, and Others)
• By End-use (Banking and Finance, Defense & Security, Healthcare, Government, Consumer Electronics, Transportation & Logistics, and Others)
Regional Analysis/Coverage
North America (US, Canada, Mexico), Europe (Eastern Europe [Poland, Romania, Hungary, Turkey, Rest of Eastern Europe] Western Europe] Germany, France, UK, Italy, Spain, Netherlands, Switzerland, Austria, Rest of Western Europe]). Asia Pacific (China, India, Japan, South Korea, Vietnam, Singapore, Australia, Rest of Asia Pacific), Middle East & Africa (Middle East [UAE, Egypt, Saudi Arabia, Qatar, Rest of Middle East], Africa [Nigeria, South Africa, Rest of Africa], Latin America (Brazil, Argentina, Colombia Rest of Latin America)
Company Profiles
Fujitsu Limited, NEC Corporation, BIO-key International Inc., DERMALOG Identification Systems GmbH, Accu-Time Systems, Inc., Idemia, Precise Biometrics, Aware Inc., AFIX Technologies, East Shore Technologies, Inc., Iris ID, HID Global Corporation Inc., EyeVerify, Inc.
Key Drivers
• Growing need for enhanced security measures across various sectors
• Rising adoption of biometric systems in mobile devices
Market Restraints
• Increasing privacy concerns regarding biometric data
• High cost associated with implementing biometric systems