REPORT SCOPE & OVERVIEW
The Gas Sensor Market size was valued at USD 2.7 billion in 2022 and is expected to grow to USD 5.62 billion by 2030 and grow at a CAGR Of 9.6% over the forecast period of 2023-2030.
The creation and execution of several health and safety laws worldwide, and the growing use of gas sensors. The rise in demand for gas sensors in crucial sectors, an increase in air pollution levels, and the requirement to monitor air quality in smart cities are the drivers propelling the growth of the gas sensors business. HVAC systems and air quality monitors.
The increasing use of gas sensors in consumer electronics devices, the networking of gas sensors through the Internet of Things (IoT), cloud computing, and big data, the growing engagement of numerous private and public organizations to raise public awareness of air quality monitoring, and the rising demand for miniature wireless gas sensors worldwide are all expected to contribute to the future.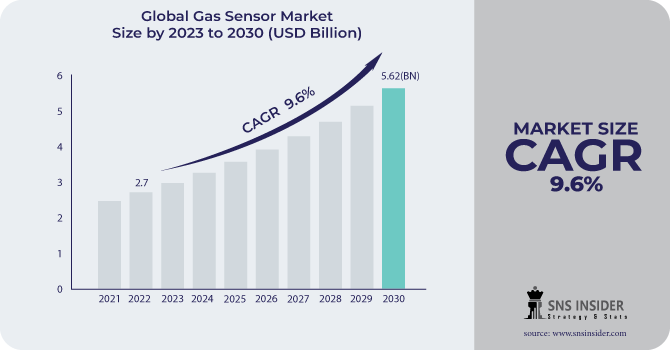 To get more information on Gas Sensor Market - Request Sample Report
MARKET DYNAMICS
KEY DRIVERS:
Growing trends toward the Internet of Things

Growing need for gas sensors in sectors with high stakes
Due to a rise in demand in key industries, the market for gas sensors is expanding. These crucial businesses produce a lot of gases into the atmosphere, including carbon monoxide, carbon dioxide, ammonia, hydrogen sulfide, and hydrocarbons.
The airborne emissions of these gases can harm human health. To protect the ecology from hazardous gases, several regulatory organizations are putting various restrictions into effect. Several laws have been put in place by the US, UK, Germany, China, and France to stop the release of dangerous gases into the atmosphere. The gases generated by the chemical industry are employed in a broad range of flammable and explosive conditions, at low flashpoints, and with lower explosive limits (LEL).
RESTRAIN:
The high initial cost of the device

Strong pricing pressure causes a drop in average selling prices.
Even though the shipments of these sensors have expanded due to their broad use in consumer electronics, HVAC systems, cars, and air quality monitoring systems, their sales growth is mostly constrained by price erosion. The fierce rivalry among the growing number of sensor manufacturers contributes to some of this. Several businesses are focusing their research and development efforts on creating sensors that are compatible with the Internet of Things and cost-effective gas sensor systems using MEMS technology. This puts pressure on prices, particularly in situations where gas sensors are used often. As a result, producers are forced to lower the possible cost of gas sensors.
OPPORTUNITY:
In the field of information technology, loT is crucial. When a variety of information-sensing devices are integrated with the internet, a network of sensors is created. Additionally, loT generates a significant demand for sophisticated connected devices that support M2M and device interoperability to meet the needs of the linked environment. A smart Wi-Fi module, for instance, links Renesas' 32-bit RX130 MCU to the sensor network to feed data to an appropriate gateway, which then establishes a connection to the cloud to identify the presence of combustible chemicals in the environment.
CHALLENGES:
Due to Covid-19, the gas sensor industry is growing very quickly. However, various technological problems can impede the market's expansion. One or more of the main issues with gas sensors is their high energy consumption, sensitivity to environmental factors, high cost, and difficulty in manufacturing. To avoid issues with accuracy and sensitivity, gas sensors need to be maintained properly and promptly. In addition to being expensive, gas sensors are also expensive because making them is so complicated. New gas sensor research and commercialization are extremely difficult and time-consuming processes, which raises the cost as well.
IMPACT ANALYSIS
IMPACT OF RUSSIAN UKRAINE WAR
The impact of the Russian invasion of Ukraine on Europe, its customers, the oil and gas sector, and other energy-intensive businesses will depend on some variables, including the length of the conflict, the severity of supply shocks from Russia, and the magnitude of European oil and gas shortages.
Nearly a sixth of the world's oil and gas supply comes from Russia, which is the second-largest producer of natural gas and the third-largest producer of crude oil in the world. Russia's supremacy in Europe is particularly clear since it supplies more than 20% of the oil and more than 30% of the gas on the continent. Some European nations, notably Austria, Finland, Poland, Slovakia, and Hungary, import 50% to 100% of their oil and gas from Russia.
These parameters are unknown as of right now. Our evaluations of European nations! Economic Conditions and their reliance on various energy sources give insight into the war's likely short-term effects. We also examine potential measures that energy firms may take to lessen the negative consequences.
IMPACT OF ONGOING RECESSION
Many industries may see a drop in production or a scaling back of operations during a recession. This might result in a decrease in the need for gas sensors, particularly in industries like manufacturing, construction, and the automobile where gas sensors are frequently employed for environmental and safety monitoring. During a recession, businesses may decide to hold off on making purchases of new machinery, such as gas sensors. Businesses typically put off capital purchases and expansion plans to save costs and maintain cash flow. Gas sensor producers may experience pricing pressure due to decreased demand and increasing competition for a narrower market. To stay competitive, they would have to change their pricing tactics, which can have an impact on their profit margins.
KEY MARKET SEGMENTS
By Gas Type
Carbon Monoxide

Methane

Ammonia

Oxygen

Others
By Technology
Infrared Gas Sensors

Photo Ionization Sensors

Electrochemical Gas Sensors

Thermal Conductivity Gas Sensors

Metal oxide-based gas sensor

Catalytic Gas Sensor

Others
By End Use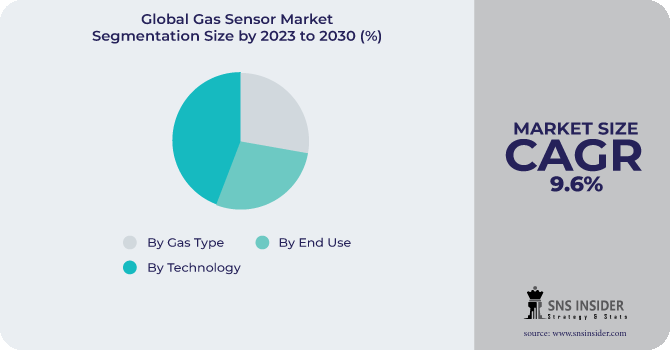 Need any customization research on Gas Sensor Market - Enquiry Now
REGIONAL ANALYSIS
Asia has the most smartphone users worldwide. Gas sensors are anticipated to be integrated with smartphones, smart bands, and tablets in the future thanks to technological improvements in the gas sensing industry. The market for gas sensors in the area is thus anticipated to develop as a result.
The need for smart air quality monitors, smart bands, air purifiers, and air cleaners with gas sensors is being fueled by people's growing knowledge of the effects of air pollution on human health. Due to its status as one of the world's top automakers, China has a huge impact on the gas sensor industry.
REGIONAL COVERAGE:
North America
Europe
Germany

UK

France

Italy

Spain

The Netherlands

Rest of Europe
Asia-Pacific
Japan

South Korea

China

India

Australia

Rest of Asia-Pacific
The Middle East & Africa
Latin America
Brazil

Argentina

Rest of Latin American
RECENT DEVELOPMENT
To assist facilities in achieving sustainability objectives, Emerson announced the creation of a gas analysis solutions center in Scotland in August 2022.

The center can measure more than ten distinct sensor technologies, including 60 distinct gas constituents. Sensirion AG announced the release of SGP40 VOC, a sensor that forecasts the quality of the air, in August 2020. and keeps an eye on it. It is an automated system that monitors both indoor and outdoor air quality.
KEY PLAYERS
The Major Player are ABB Ltd., AlphaSense Inc., City Technology Ltd., Dynament, Figaro Engineering Inc., Membrapor, Nemoto & Co. Ltd., Robert Bosch LLC, Siemens, GIG Gas Detection UK Ltd., FLIR Systems, Inc., and others are listed in the final report.
Gas Sensor Market Report Scope:
Report Attributes
Details
Market Size in 2022
US$ 2.7 Bn
Market Size by 2030
US$ 5.62 Bn
CAGR
CAGR of 9.6 % From 2023 to 2030
Base Year
2022
Forecast Period
2023-2030
Historical Data
2020-2021
Report Scope & Coverage
Market Size, Segments Analysis, Competitive Landscape, Regional Analysis, DROC & SWOT Analysis, Forecast Outlook
Key Segments
• By Gas Type (Carbon Monoxide, Methane, Hydrogen, Ammonia, Oxygen, Others)
• By Technology (Infrared Gas Sensors, Photo Ionization Sensors, Electrochemical Gas Sensors, Thermal Conductivity Gas Sensors, Metal oxide-based gas sensor, Catalytic Gas Sensor, Others)
• By End Use (Defense & Military, Healthcare, Consumer Electronics, Automotive & Transportation, Industrial, Others)
Regional Analysis/Coverage
North America (USA, Canada, Mexico), Europe
(Germany, UK, France, Italy, Spain, Netherlands,
Rest of Europe), Asia-Pacific (Japan, South Korea,
China, India, Australia, Rest of Asia-Pacific), The
Middle East & Africa (Israel, UAE, South Africa,
Rest of Middle East & Africa), Latin America (Brazil, Argentina, Rest of Latin America)
Company Profiles
ABB Ltd., AlphaSense Inc., City Technology Ltd., Dynament, Figaro Engineering Inc., Membrapor, Nemoto & Co. Ltd., Robert Bosch LLC, Siemens, GIG Gas Detection UK Ltd., FLIR Systems, Inc.
Key Drivers
• Growing trends toward the Internet of Things
• Growing need for gas sensors in sectors with high stakes
Market Opportunities
• Expanding the use of cloud computing, loT, and big data in gas sensors