REPORT SCOPE & OVERVIEW
The Biosurfactants Market size was USD 1.25 billion in 2022 and is expected to Reach USD 3.16 billion by 2030 and grow at a CAGR of 12.3% over the forecast period of 2023-2030.
Biosurfactants are surface-active chemicals that occur naturally in animals, plants, and microbes. These chemicals are amphiphilic, which means they are both hydrophilic and hydrophobic components. This distinct structure enables them to minimize surface tension between two ordinarily incompatible substances, such as oil and water.
Biosurfactants have a wide range of structural characteristics and can be divided into numerous classes based on their composition of chemicals, such as glycolipids, polymeric, and phospholipids biosurfactants. Glycolipids, such as rhamnolipids and sophorolipids, are said to be the most common type of biosurfactant. Biosurfactants are used in pharmaceutics as antibacterial and emulsification agents, as well as for the delivery of genes and intracellular product recovery.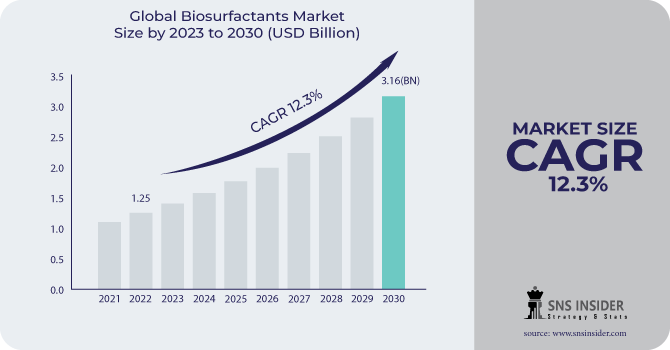 Microbial biosurfactants are biocompatible and environmentally friendly solutions created by living cells, primarily bacteria, and yeasts, without the use of organic synthesis. Because of the significant operational expenses associated with obtaining microbial biosurfactants, their use has been restricted to the personal care and pharmaceutical industries. Given customer preferences for environmentally friendly products, efforts are being made to make microbial biosurfactants more affordable and readily available.
MARKET DYNAMICS
KEY DRIVERS
In agriculture, chemical surfactants are frequently employed for pesticide and herbicide applications. However, its widespread use can contaminate soil and water. Common synthetic surfactants used in cleaning, agriculture, and oil spill recovery may remain in the environment for extended periods of time, causing pollution and adverse environmental effects. The remaining surfactants are discharged into sewage systems or directly into surface water sources, where the majority of them end up in debris, the ground, and water. Surfactants exist in waterbodies like rivers and seas. wastewater treatment is used in making environmental issues a severe socioeconomic issue. To reduce this harm to the environment manufacturers are shifting towards biosurfactants.
RESTRAIN
Requirement of pre-treatment and large-scale production

Lack of production in biosurfactants and high cost of Rhamnolipids
Rhamnolipids are prominent biosurfactants that have been extensively researched and verified by science. Rhamnolipids have the most patents and research articles among other surfactants. The expense of production, however, prevents it from dominating its industry.
Due to variables like the requirement for specialized fermentation equipment, nutrients for microbial growth, and downstream processing steps for purification, producing biosurfactants can be more expensive than producing regular surfactants. A thorough understanding of fermentation, downstream processing, and microbiology is necessary for the generation of biosurfactants.
OPPORTUNITY
Rising demand from the personal care products and petroleum industry

Detergents and Industrial Cleaners Segment
Surfactants play an important part in the development of laundry and cleaning products for households. Excellent cleaning qualities of biosurfactants include emulsification, dispersion, and solubilization of oils and other hydrophobic substances. They are suitable for a wide range of cleaning applications since they can effectively remove dirt, grease, and stains from surfaces. They may be less irritating and allergic, making them a better choice for both people and the environment. Biosurfactants' foaming ability can be modified to fit specific needs. Controlled foaming is desirable in certain industrial cleaning processes for effective coverage and cleaning.
CHALLENGES
Availability of raw material

High cost of production of biosurfactants
In comparison to the well-established synthetic surfactant sector, the biosurfactant market is still very small. Biosurfactant manufacture can be more expensive than typical synthetic surfactant production. The requirement for specialized strains of microbes, as well as sophisticated and typically slower production techniques, can all contribute to increased costs. The transition from laboratory-scale to large-scale manufacturing can be challenging. It can be difficult to achieve consistent and high yields of biosurfactants. Variations in microbial growth conditions, substrate availability, and fermentation procedures can all have an impact on the amount and quality of biosurfactants generated.
IMPACT OF RUSSIAN UKRAINE WAR
Russia Ukraine war has led to increasing prices, and a supply-demand gap for all products which contain biosurfactants. The conflict has increased the prices of FMCG products. Due to the rise in crude oil prices to $110 per barrel. Experts in the FMCG sector predict that costs for soaps and detergents will rise more and that demand will clearly slow down. Procter & Gamble Co, a manufacturer of household products halted new projects due to sanctions, and monetary controls prevent it from continuing to operate in Russia.
IMPACT OF ONGOING RECESSION
The recession is predicted to lower demand for biosurfactants. Home care applications account for around 43% of the category, while industrial and institutional cleaning applications account for 30%. Businesses may postpone or cancel new product development projects in order to save money. This could stymie the development of new biosurfactants. Governments may increase regulatory monitoring of biosurfactants to protect consumers. For biosurfactant manufacturers, this might mean higher pricing and longer lead times. Biosurfactant demand is expected to increase in a range of industries, including the oil and gas industry, cosmetics, and agriculture.
MARKET SEGMENTATION
KEY MARKET SEGMENTS
By Product
Glycolipids

Lipopeptides

Phospholipids

Polymeric
By Application
Industrial Cleaners

Personal Care

Household Detergents

Agrochemical

Other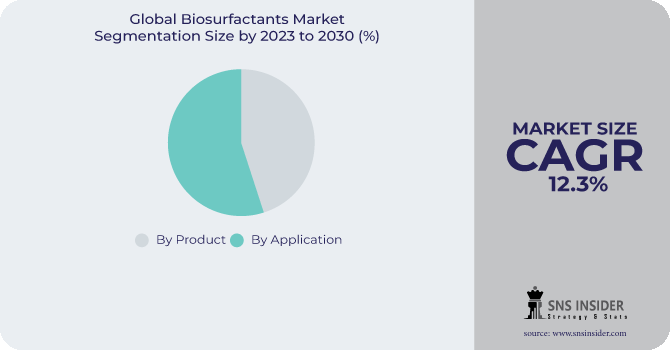 REGIONAL ANALYSIS
In terms of global consumption, Europe was the greatest consumer of biosurfactants. The region's large share of biosurfactants may lead to increased awareness among manufacturers' use of biosurfactants as an alternative to chemical surfactants, hence reducing carbon footprint. Furthermore, the region's tight regulatory environment supports the usage of bio-based products over conventional petroleum-based ones.
North America was the market's second-highest consumer of biosurfactants. consumer preferences are expected to change owing to increased concern about the harmful impact of toxins released by chemical surfactants during decomposition. Surfactant demand in the personal care sector is likely to drive demand in the area.
Asia Pacific is an emerging market that will earn a significant share during the projection period due to the growing application industry. Countries with well-established agricultural, textile, and personal care sectors, such as India and China, are likely to boost demand for biosurfactants in the future years.
The Middle East and Africa region are predicted to increase due to the growth in a large number of household detergents and personal care products industries. South America's expansion is expected to be driven by the amount of feedstock from the agroindustry sector, which might be used as a substrate for the production of biosurfactants.
REGIONAL COVERAGE
North America
Europe
Eastern Europe

Poland

Romania

Hungary

Turkey

Rest of Eastern Europe

Western Europe

Germany

France

UK

Italy

Spain

Netherlands

Switzerland

Austria

Rest of Western Europe
Asia Pacific
China

India

Japan

South Korea

Vietnam

Singapore

Australia

Rest of Asia Pacific
Middle East & Africa
Middle East

UAE

Egypt

Saudi Arabia

Qatar

Rest of Middle East

Africa

Nigeria

South Africa

Rest of Africa
Latin America
Brazil

Argentina

Colombia

Rest of Latin America
KEY PLAYERS
BASF SE, Evonik Industries AG, Ecover, Mitsubishi Chemicals, AkzoNobel, Givaudan, Saraya, MG Intobio, Jeneil Biotech, Soliance, Lion Corp, Sun Products, Kao Corp, Chemtura, Croda, Hoilferm, Indorama Ventures, Locus Bio-Energy, Solvay and other key players are mentioned in the final report.
RECENT DEVELOPMENTS
Hoilferm- In 2023 Hoilferm and Fibernol collaborated to create biosurfactants from Fibenol wood sugars, offering a more environmentally friendly alternative to standard surfactants. Fibenol, on the other hand, discovered a means to transform wood wastes into lignocellulosic sugars that are safe for the environment with a smaller carbon footprint.
Indorama Ventures- In 2023 Indorama Ventures introduced Surfonic Bio, a series of biosurfactants with biodegradable, low toxicity, and mildness obtained through a sustainable technique.
Locus Bio-Energy- In 2023 Locus Bio-Energy introduced AcidBoostTM, a biosurfactant-based product range that tackles the common challenges faced by wellbore cleanup with acid stimulation fluid systems. The advanced biosurfactant technique enables operators to utilize a single acid ingredient that outperforms traditional, multi-stage solvent packages.
Solvay- In 2022 In Solvay introduced glycolipid biosurfactants from Mirasoft SL L60 and Mirasoft SL A60, these enable the creation of environmentally friendly cosmetics. These chemicals, which are based on sugar and rapeseed oil and have low environmental and carbon footprints, can be used in a variety of beauty care products.
Biosurfactants Market Report Scope:
Report Attributes
Details
Market Size in 2022
US$ 1.25 Billion
Market Size by 2030
US$ 3.16 Billion
CAGR
CAGR of 12.3 % From 2023 to 2030
Base Year
2022
Forecast Period
2023-2030
Historical Data
2019-2021
Report Scope & Coverage
Market Size, Segments Analysis, Competitive Landscape, Regional Analysis, DROC & SWOT Analysis, Forecast Outlook
Key Segments
• By Product (Glycolipids, Lipopeptides, Phospholipids, Polymeric)
• By Application (Industrial, Cleaners, Personal Care, Household Detergents, Agrochemical, others)
Regional Analysis/Coverage
North America (US, Canada, Mexico), Europe (Eastern Europe [Poland, Romania, Hungary, Turkey, Rest of Eastern Europe] Western Europe] Germany, France, UK, Italy, Spain, Netherlands, Switzerland, Austria, Rest of Western Europe]), Asia Pacific (China, India, Japan, South Korea, Vietnam, Singapore, Australia, Rest of Asia Pacific), Middle East & Africa (Middle East [UAE, Egypt, Saudi Arabia, Qatar, Rest of Middle East], Africa [Nigeria, South Africa, Rest of Africa], Latin America (Brazil, Argentina, Colombia Rest of Latin America)
Company Profiles
BASF SE, Evonik Industries AG, Ecover, Mitsubishi Chemicals, AkzoNobel, Givaudan, Saraya, MG Intobio, Jeneil Biotech, Soliance, Lion Corp, Sun Products, Kao Corp, Chemtura, Croda, Hoilferm, Indorama Ventures, Locus Bio-Energy, Solvay
Key Drivers
• Rising environmental concerns
Market Opportunity
• Rising demand from the personal care products and petroleum industry
• Detergents and Industrial Cleaners Segment