Report Scope & Overview:
The market for Business Email Compromise is anticipated to develop at a CAGR of 18.86% from 2023 to 2030, from an estimated value of USD 1.23 billion in 2022 to USD 4.89 billion in 2030.
A Business Email Compromise (BEC) is a type of cybercrime where scammers employ deceptive emails to trick individuals into revealing sensitive company information and sending money. With the increasing prevalence of remote work and the alarming statistic that 91 percent of cyberattacks originate from emails, the market for business email compromise is expected to witness significant growth. Prominent players in the industry, such as Abnormal Security, Agari, Avanan, and Barracuda Total Email Protection, are poised to contribute to this expansion by offering cutting-edge solutions to combat BEC threats.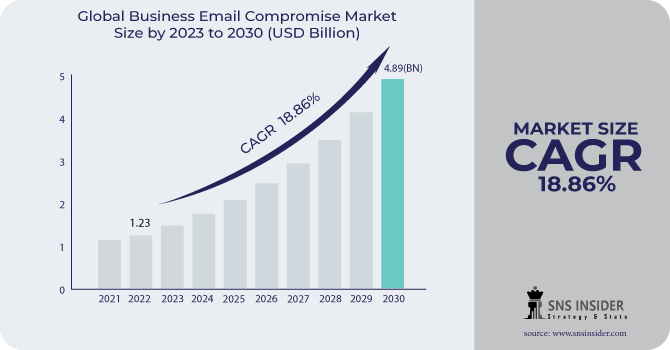 Market Dynamics
Drivers
Massive financial losses because of BEC crimes.

Artificial Intelligence (AI) and Other Technologies Will Possibly Help the Market for Business Email Compromise.
In today's digital landscape, email systems have become a breeding ground for a wide array of malicious activities. From cunning phishing schemes and insidious virus attacks to bothersome spam emails and insidious identity thefts, cybercriminals are constantly devising new methods to exploit the vulnerabilities of this communication channel. Moreover, the emergence of zero-day attacks and advanced persistent threats (APTs) has further intensified the risks associated with email security. The significance of safeguarding email systems against these threats cannot be overstated. With each passing day, the potential for data breaches looms large, posing a grave danger to individuals and organizations alike.
Restrains
Opportunities
A BEC scam uses the appearance of a trustworthy source to trick victims into transmitting fictitious payment information. BEC scams include, among other things, the theft of gift cards, cash redirection, and false supplier invoices. BEC scams include, among other things, the theft of gift cards, cash redirection, and false supplier invoices. Vendors in the sector utilize AI/ML capabilities to evaluate each email message in an effort to prevent BEC fraud. Mimecast, Proofpoint, Agari, Cisco, Check Point, Trend Micro, and Abnormal Security are a few examples of such providers. ML/AI-powered BEC detection solutions aid in more effectively recognizing and thwarting email fraud attacks in order to avoid any serious financial losses. Email dangers are evolving and growing increasingly difficult to thwart. Organizations can recognize and prevent phishing and business email compromise (BEC) threats using AI and ML approaches.
Challenges
Impact of the Russia-Ukraine
During times of geopolitical tension or conflict, there's often an increased focus on national security and cybersecurity. This heightened awareness might lead businesses to invest more in cybersecurity measures, including protection against BEC attacks. Geopolitical events can alter the focus of cybercriminals. They might shift their attention to sectors and industries related to the conflict, such as defense contractors, government agencies, or companies with ties to the conflict zone. This could influence the types of BEC attacks being conducted. Cybercriminals often use current events and geopolitical themes to craft more convincing phishing emails. They might leverage the Russia-Ukraine war as a subject or pretext to deceive recipients into clicking malicious links or sharing sensitive information. Geopolitical conflicts can lead to economic instability, which might impact overall business activities. This could indirectly affect the BEC market by potentially reducing the number of successful attacks due to reduced business interactions or financial constraints. If the conflict leads to international tensions or agreements, law enforcement agencies might collaborate more closely to combat cybercrime. This could lead to more effective crackdowns on BEC operations.
Impact of Recession
During a recession, businesses might be facing financial pressures and cost-cutting measures. This could lead to reduced investments in cybersecurity infrastructure, making them more vulnerable to cyberattacks, including BEC attacks. As businesses focus on survival and financial stability, they might inadvertently overlook cybersecurity best practices. In times of economic downturn, cybercriminals could exploit the uncertainty and desperation faced by businesses. BEC attackers often use social engineering tactics to manipulate emotions and pressure individuals into making hasty decisions. Recession-induced financial stress could amplify the success of these tactics, as individuals might be more willing to comply with requests that promise financial relief or stability. The COVID-19 pandemic has already forced many businesses to adopt remote work practices. During a recession, remote work might continue to be prevalent. This could create challenges in maintaining secure communication channels and verifying the authenticity of email requests, making it easier for attackers to exploit the situation. A recession might result in a higher volume of financial transactions, including requests for loans, grants, and financial assistance. Attackers could leverage BEC techniques to intercept these transactions, redirect funds, or impersonate legitimate organizations to steal money earmarked for economic relief efforts. Governments and law enforcement agencies might prioritize economic stability and recovery during a recession. This could potentially divert resources away from cybersecurity efforts. As a result, attackers might perceive a reduced risk of being caught, emboldening them to carry out more BEC attacks.
Key Market Segmentation
By Offering
By Organization Size
By Deployment Mode
By Vertical
BFSI

Government

IT & ITeS

Retail & eCommerce

Manufacturing

Energy & Utilities

Healthcare

Others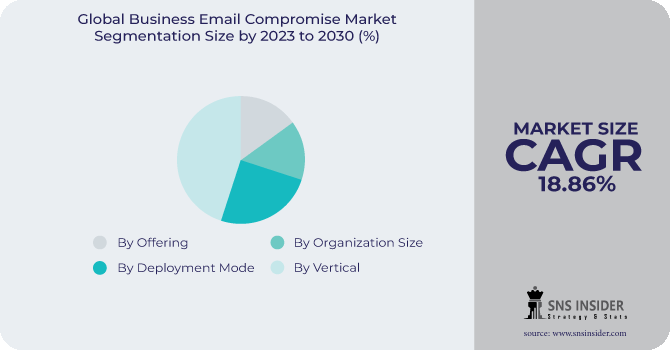 By Vertical:
BFSI will have the greatest market size by vertical throughout the forecast.
The finance industry is riddled with BEC scams because money is exchanged between firms often and in substantial amounts. The fact that the payouts are frequently substantially bigger than those of conventional email phishing schemes is another factor contributing to their popularity in the BFSI sector. The dangers associated with the client relationship that comes into play indicate a paradigm shift in the way these attacks are being carried out. For instance, during a BEC attack, banks are unable to determine if a request is being made on behalf of an impersonated business executive or is being made on behalf of a real client. Frequently, the client may experience confusion throughout the procedure and may lose faith in the financial institution's security as a result of the incident. Due to the frequent email communication of extremely sensitive financial information, the BFSI industry is a pioneer in the adoption of cutting-edge technology solutions. Due to the increased adoption of the BYOD and WFH trends brought on by COVID-19, there have been more spear phishing and BEC attacks on the BFSI infrastructure. Due to the sensitive and private information they handle, BFSI organizations are subject to strict data security regulations. As a result, there is a growing need for BEC solutions in the BFSI sector.
Regional Analysis
Regarding the largest number of distributors of BEC solutions, North America rules the global BEC market. The province has the highest advanced security technology adoption and development. The overall security of the communications technology used in the area is governed by a number of laws. The National Institute of Standards and Technology (NIST), which sets rules to protect vital infrastructure, inspires US businesses. Regulations like HIPAA, GLBA, SOX, and others help businesses protect the private information of their clients. In the area, cyberattacks are happening increasingly frequently.
In recent years, the Asia Pacific region has seen significant economic expansion, a variety of types of development, and cultural change. Asia Pacific is anticipated to experience increasing BEC service adoption as companies and SMEs across vertical markets implement BEC solutions for data encryption.
REGIONAL COVERAGE:
North America
Europe
Eastern Europe

Poland

Romania

Hungary

Turkey

Rest of Eastern Europe

Western Europe

Germany

France

UK

Italy

Spain

Netherlands

Switzerland

Austria

Rest of Western Europe
Asia Pacific
China

India

Japan

South Korea

Vietnam

Singapore

Australia

Rest of Asia Pacific
Middle East & Africa
Middle East

UAE

Egypt

Saudi Arabia

Qatar

Rest of Middle East

Africa

Nigeria

South Africa

Rest of Africa
Latin America
Brazil

Argentina

Colombia
Rest of Latin America
Key Players:
The major players in market are Barracuda Networks, Proofpoint, Mimecast, GreatHorn, Cisco, Agari, Trend Micro, Check Point, Zix, IRONSCALES, Area 1 Security, Heimdal Security, Clearswift, Fortinet, Broadcom, Tessian, Terranova Security, Cellopoint, Trustifi, ZeroFox, Acronis, Redscan, Armorblox, Abnormal Security, PhishLabs, and others.
Proofpoint-Company Financial Analysis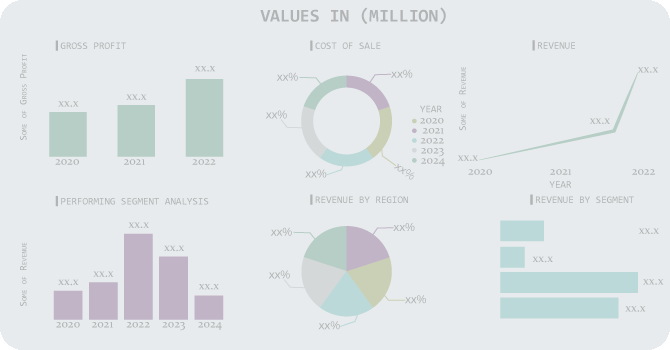 Recent development
In May 2022, LogicHub released AuDRA (Autonomous Detection & Response Assistant), the company's solution to identify risks, inconsistencies, and threats from many security-related events occurring throughout the system, cloud, terminating point, and hybrid information sources. The first company to use bot-enabled technology to quicken the production of threat detection events to support security teams and act as a key enabler is LogicHub.
Check Point revealed in August 2021 that it has acquired Avanan, a rapidly expanding cloud email security firm. Avanan will be integrated into the Check Point Infinity architecture, and the unified solution will shield employees against phishing emails, websites, and endpoints as well as harmful files and URLs.
Mimecast established a strategic alliance with CrowdStrike-owned Humio in August 2021. The solution is made to send threat intelligence via email with cutting-edge threat detection, investigation, and hunting capabilities.
Business Email Compromise Market Report Scope:
Report Attributes
Details
Market Size in 2022
US$ 1.23 Bn
Market Size by 2030
US$ 4.89 Bn
CAGR
CAGR of 18.86 % From 2023 to 2030
Base Year
2022
Forecast Period
2023-2030
Historical Data
2020-2021
Report Scope & Coverage
Market Size, Segments Analysis, Competitive Landscape, Regional Analysis, DROC & SWOT Analysis, Forecast Outlook
Key Segments
• By Offering (Solutions, Services)
• By Organization Size (SMEs, Large Enterprises)
• By Deployment Mode (Cloud, On-premises)
• By Vertical (BFSI, Government, IT & ITeS, Retail & eCommerce, Manufacturing, Energy & Utilities, Healthcare, Others)
Regional Analysis/Coverage
North America (US, Canada, Mexico), Europe (Eastern Europe [Poland, Romania, Hungary, Turkey, Rest of Eastern Europe] Western Europe] Germany, France, UK, Italy, Spain, Netherlands, Switzerland, Austria, Rest of Western Europe]). Asia Pacific (China, India, Japan, South Korea, Vietnam, Singapore, Australia, Rest of Asia Pacific), Middle East & Africa (Middle East [UAE, Egypt, Saudi Arabia, Qatar, Rest of Middle East], Africa [Nigeria, South Africa, Rest of Africa], Latin America (Brazil, Argentina, Colombia Rest of Latin America)
Company Profiles
Barracuda Networks, Proofpoint, Mimecast, GreatHorn, Cisco, Agari, Trend Micro, Check Point, Zix, IRONSCALES, Area 1 Security, Heimdal Security, Clearswift, Fortinet, Broadcom, Tessian, Terranova Security, Cellopoint, Trustifi, ZeroFox, Acronis, Redscan, Armorblox, Abnormal Security, PhishLabs
Key Drivers
• Massive financial losses because of BEC crimes.
• Artificial Intelligence (AI) and Other Technologies Will Possibly Help the Market for Business Email Compromise.
Market Restraints
• Use of pirated email security software and free, open-source software