Report Scope & Overview:
The Cancer Registry Software Market Size was valued at USD 75.45 billion in 2022, and is expected to reach USD 171.39 billion by 2030, and grow at a CAGR of 10.8% over the forecast period 2023-2030.
A cancer incidence reporting system is mostly installed and maintained using cancer registry software, a subtype of illness registry. Analysts studying on cancer and its causes might consult the cancer registry system for information. Since cancer is one of the leading causes of mortality, this kind of registry is essential for precisely identifying trends and, ultimately, for enhancing care for cancer patients. Data on cancer cases, from diagnostic testing to survival rates, should be collected. A cancer registry is a computerized platform that enables software solutions to organize, collect, and store data on cancer patients in order to evaluate the conditions, outcomes, and exposure to drugs and medical devices that are specific to a given malignancy.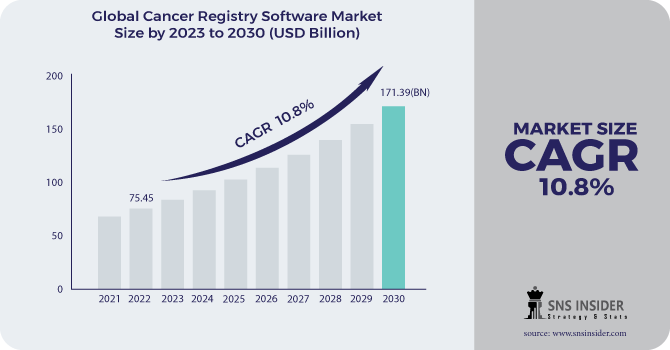 To get more information on Cancer Registry Software Market - Request Sample Report
A technology that aids in the collection, upkeep, and provision of cancer-specific data that aids in the establishment of cancer registries is cancer patient registry software. Registries are crucial for cancer surveillance because they enable acceptance of medical professionals' and researchers' efforts as well as the effectiveness of traditional cancer treatments. The foundation for cancer research as well as the evaluation and analysis of cancer preventive and control activities are provided by surveillance data.
MARKET DYNAMICS
DRIVERS
Increasing Cancer Prevalence and Favorable Government Initiatives

Increasing Demand for Better Care and Lower Healthcare Costs

Growing Acceptance of Ehrs

Cancer Patient Registry Data Are Being Used Increasingly for Post-Marketing Monitoring
RESTRAINTS
OPPORTUNITIES
Expansion in the Number of Accountable Care Organizations

The Development of Cancer Patient Registries in the Cloud
CHALLENGES
Inability to integrate and communicate

Lack of Willingness to Adopt Modern Solutions

Insufficient Knowledge
IMPACT OF COVID-19
Nearly every business has been impacted by the unmatched worldwide public health emergency known as COVID-19, and the long-term impacts are expected to have an influence on industry growth throughout the course of the forecast period. To ensure the inclusion of underlying COVID-19 problems and potential future directions, our continuous research expands upon our research approach. The paper provides information on COVID-19 taking into account changes in consumer demand and behaviour, buying habits, supply chain rerouting, dynamics of contemporary market forces, and significant government initiatives. Taking into account the market impact of COVID-19, the updated report offers insights, analyses, projections, and forecasts.
Impact of Russia Ukraine Conflict
We constantly track and revise reporting on the political and economic unrest brought on by Russia's invasion of Ukraine. The world as a whole is expected to see negative effects, particularly in Eastern Europe, the European Union, Eastern and Central Asia, and the United States. This claim had a significant negative impact on people's lives and livelihoods and has caused significant disruptions to trade dynamics. The international economy is predicted to suffer as a result of the prolonged conflict and unrest in Eastern Europe, with Russia likely to suffer the most severely over the long run.
This study examines how supply and demand affect prices, vendor strategy uptake, and market recommendations for patient registry software in light of the most recent conflict developments and their global responses.
By Type
The desire to streamline and optimize workflows, lessen physician workloads, and the industry's changing landscape are the key factors driving the rise in the use of integrated software in the healthcare sector. Additionally, the government's increased emphasis on population health management, coordinated care, and lowering healthcare costs are encouraging market growth.
By Deployment Model
On-premise and cloud-based approaches have been separated out into separate market segments.
By Database
Public databases and commercial databases are the market's two main divisions. Due to its greater data privacy than a public database, the commercial database has the global cancer registry market's fastest expanding category. The commercial database conforms with the majority of governmental coding requirements. Additionally organized and simple to read is the data. Commercial platforms make it easier for government research institutions to share data, such as the CDC and central cancer registries.
By Functionality
The market is divided into four categories: product outcome assessment, patient care management, cancer reporting to comply with state and federal regulations, and medical research and clinical studies. A program called patient care management offers a wide range of health services to help people keep track of their health, from short-term case management and chronic illness care management to basic care services like making appointments. The goal of product result evaluation is to rate the value of goods and explain the user experience as a benchmark for future design. In several areas of product evaluation, methods and procedures for evaluating user experience are being used.
By End-User
The major purpose of cancer patient registration software in research facilities is to keep track of patients who qualify for clinical trials. Mostly for product development, researchers use the registry's data. For the purpose of maintaining a patient database of people with different types of cancer, many research organisations have constructed their records. Additionally, several research institutions help the creation of cancer patient registries in collaboration with hospitals and organisations.
KEY MARKET SEGMENTS:
By Type
Standalone Software

Integrated Software
By Deployment Model
By Database
Commercial Databases

Public Databases
By Functionality
Cancer Reporting to Meet State & Federal Regulations

Medical Research and Clinical Studies

Patient Care Management

Product Outcome Evaluation
By End-User
Government Organizations & Third-party Administrators (TPAS)

Pharmaceutical, Biotechnology, & Medical Device Companies

Hospitals & Medical Practices

Private Payers

Research Centers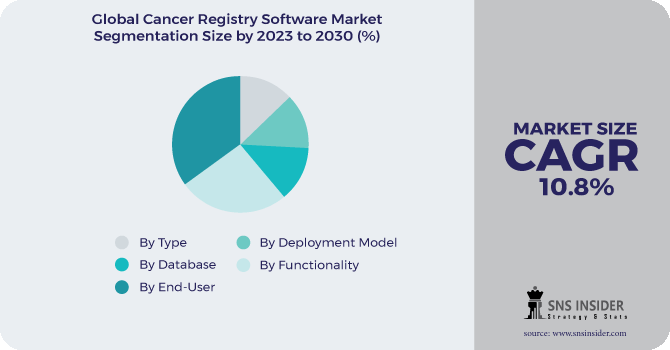 Need any customization research on Cancer Registry Software Market - Enquiry Now
REGIONAL ANALYSIS
The European and North American markets are divided into cancer patient registration software. Over a period of time, North America will continue to hold a large portion of the cancer registration market, starting from its top counter in 2018. players in the software for cancer registration software development, high investment in IT healthcare, and the high level of acceptance of these solutions in the region are all factors that have influenced North America to hold a large share of the cancer registration software market.
KEY PLAYERS:
Some of the major key players of Cancer Registry Software Market are as follow: Elekta AB (PUB), IBM, Electronic Registry Systems, Inc., McKesson Corporation, Onco, Inc., CONDUENT, INC, ORDINAL DATA, INC, Rocky Mountain Cancer Data Systems, C/Net Solutions and Other Players
REGIONAL COVERAGE:
North America

Europe

Germany

UK

France

Italy

Spain

The Netherlands

Rest of Europe

Asia-Pacific

Japan

south Korea

China

India

Australia

Rest of Asia-Pacific

The Middle East & Africa

Latin America

Brazil

Argentina

Rest of Latin America
Cancer Registry Software Market Report Scope:
Report Attributes
Details
Market Size in 2022
US$ 75.45 Billion
Market Size by 2030
US$ 171.39 Billion
CAGR
CAGR of 10.8% From 2023 to 2030
Base Year
2022
Forecast Period
2023-2030
Historical Data
2020-2021
Report Scope & Coverage
Market Size, Segments Analysis, Competitive Landscape, Regional Analysis, DROC & SWOT Analysis, Forecast Outlook
Key Segments
• By Type (Standalone Software, Integrated Software)
• By Deployment Model (On-premise, Cloud-based)
• By Database (Commercial Databases, Public Databases)
• By Functionality (Cancer Reporting to Meet State & Federal Regulations, Medical Research and Clinical Studies, Patient Care Management, Product Outcome Evaluation)
Regional Analysis/Coverage
North America (USA, Canada, Mexico), Europe
(Germany, UK, France, Italy, Spain, Netherlands,
Rest of Europe), Asia-Pacific (Japan, South Korea,
China, India, Australia, Rest of Asia-Pacific), The
Middle East & Africa (Israel, UAE, South Africa,
Rest of Middle East & Africa), Latin America (Brazil, Argentina, Rest of Latin America)
Company Profiles
Elekta AB (PUB), IBM, Electronic Registry Systems, Inc., McKesson Corporation, Onco, Inc., MCKESSON CORPORATION, CONDUENT, INC, ORDINAL DATA, INC, Rocky Mountain Cancer Data Systems, C/Net Solutions.
DRIVERS
• Increasing Cancer Prevalence and Favorable Government Initiatives
• Increasing Demand for Better Care and Lower Healthcare Costs
• Growing Acceptance of Ehrs
RESTRAINTS
• Security of Personal Information and Privacy Issues