REPORT SCOPE & OVERVIEW
The Cell Separation Market size was estimated USD 8.6 billion in 2022 and is expected to reach USD 24.02 billion by 2030 at a CAGR of 13.7% during the forecast period of 2023-2030.
Cell isolation is the process of removing individual cells from a diverse population of cells, a cell suspension, or tissues. During the analysis of certain cell types or cell characterisation, the cell isolation technique is essential. It is done to conduct cell biology research, count the number of cells, and preserve particular cells. Since the cell isolation technique is widely used in the hassle-free synthesis of numerous different types of biopharmaceuticals, including recombinant proteins, biosimilars, and monoclonal antibodies, the need for cell isolation techniques is rising.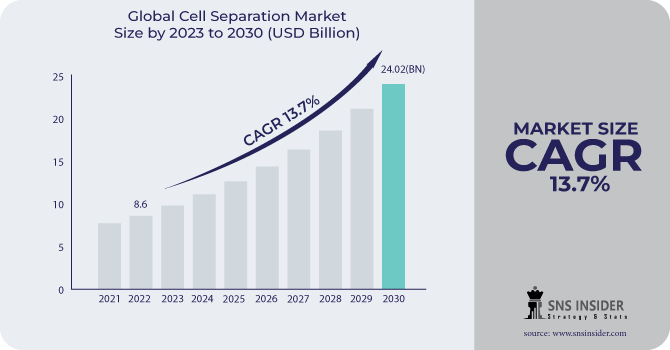 MARKET DYNAMICS
DRIVERS
Cell isolation is a crucial stage in the development of cell-based therapies. Numerous governments throughout the world have provided funding for such research initiatives since cell-based research is crucial for many End Users. For instance, in May 2022, the National Institutes of Health (NIH) announced that it had awarded funding totaling USD 30.5 million to research focused at creating new instruments and technology for researching cells. Numerous American universities, including Harvard University, the University of California San Francisco, and the University of Texas Southwestern Medical Center, received the funds. Additionally, the Government's Stem Cell Therapies Mission is funding USD 150.0 million over 10 years through the Medical Research Future Fund (MRF). Stem cell research will be supported by this investment, which will eventually lead to better healthcare results. Worldwide cell-based research will benefit from this type of funding, which will also enhance consumer demand for cell separation products and ultimately grow the market.
RESTRAIN
The embryo from which the cells are produced must be destroyed as part of the isolation process for embryonic stem cells. Given that some people believe an embryo has the ability to develop into a human being, this raises ethical questions about the destruction of human life. Teratomas, tumors made up of cells from all three germ layers, can be formed by embryonic stem cells. Embryonic stem cells may develop cancers and harm a patient if they are implanted without sufficient screening. As a result, these factors may to some extent restrain market expansion.
OPPORTUNITY
The biopharmaceutical industry in emerging markets like China, India, and Brazil are expanding rapidly. This is driven by a number of causes, including rising chronic disease rates, aging populations, and rising healthcare costs. Cell isolation technologies are required for the development and production of biopharmaceuticals in these markets due to the increasing demand for such goods. In addition, developing nations are making investments in the creation and use of cutting-edge technologies including flow cytometry, magnetic cell separation, and microfluidics. This makes these technologies more available and economical in these areas while also increasing the efficiency and accuracy of cell isolation processes. Additionally, research and development initiatives are becoming more prevalent in emerging markets. Governments and commercial organisations in these areas are funding research to create new chronic disease medicines and treatments. Since cell isolation is a crucial stage in the development of various medicines, the market is expanding as a result of the expansion of research efforts in these areas.
CHALLENGES
The development of cell therapies presents a significant challenge for the market, as it requires the separation and manipulation of particular cell types that can be employed for therapeutic purposes, the development of cell therapies presents a significant challenge for the industry. It is challenging to separate and purify particular cell populations because different cell types have varied properties and roles. A diverse population of cells may be produced as a result, which may lessen the efficacy of the therapy. To be employed in therapies, isolated cells must be alive and functioning. Cells may suffer damage during the isolation procedure, which lowers their viability and functionality. Isolated cells must have their quality properly regulated to guarantee their security and efficacy. This can be difficult since a variety of environmental conditions, including temperature, pH, and oxygen levels, can have an impact on cells. These barriers to the development of cell treatments represent major market challenges overall.
IMPACT OF RUSSIAN UKRAINE WAR
Around the world, the Russian Ukraine War have negative effects are anticipated, particularly in Eastern Europe, the European Union, Eastern & Central Asia, and the United States. This claim has significantly disrupted trade dynamics and had a negative impact on people's lives and means of subsistence. It is anticipated that the ongoing conflict and uncertainty in Eastern Europe will negatively affect Ukraine and have severe, long-lasting impacts on Russia. In light of the most recent information on the conflict and the responses from around the world, the paper examines the implications for demand-supply balances, pressure on pricing variations, influence on import/export and trading, and short-term recommendations to the global cell isolation/cell separation market.
IMPACT OF ONGOING RECESSION
The prices have increased significantly as a result of the high inflation rates in industrialized nations around the world. The steadily declining total purchasing power is projected to have a considerable effect on developing economies and is regarded as beneficial in a number of ways. The study reveals how high inflation affects the long-term health of the global economy and offers information on the fiscal measures that can be taken to lessen the short-term effects that inflation has on supply and demand, cash flow, and currency exchange. The research on the global cell isolation/cell separation market predicts a high rate of inflation, taking into account the effects of both cost-push and demand-pull inflation.
KEY SEGMENTS
By Cell Type
In 2022, animal cells segment is expected to dominate the 55.3% largest revenue share of cell separation market during the forecast period owing to the creation of novel drugs is increasingly receiving attention from the government, the business sector, and healthcare organizations, which is a major driver of the market's expansion. Animal cells are used in the discovery and development of novel drugs to assess toxicity, pharmacokinetics, and effectiveness.During the projection period, the human cell segment is predicted to increase at the fastest growth rate of 21.5%.
By Product
In 2022, consumables segment is expected to dominate the cell separation market share during the forecast period due factors such as the repetitive use of consumables in the cell isolation. Furthermore, the increasing number of regulatory approvals of new consumables is likely to upsurge the growth of the segment.
By Technique
Centrifugation

Surface Marker

Filtration
In 2022, centrifugation segment is expected to dominate the 42.9% market revenue share of cell separation market during the forecast period due to the widespread use of this method by research labs, academic institutions, and businesses involved in biotechnology and biopharmaceuticals. One of the most crucial processes in the procedure is centrifugation. The most popular methods for isolating and separating cells are density gradient centrifugation and differential centrifugation.
By Application
Biomolecule Isolation

Cancer Research

Stem Cell Research

Tissue Regeneration

In Vitro Diagnostics

Therapeutics
In 2022, biomolecule isolation segment is expected to dominate the 29.7% market revenue share of cell separation market during the forecast period due to the growing focus on the production of biopharmaceuticals, such as biosimilar, monoclonal antibodies, and recombinant proteins, is the most predominant factor contributing to its highest market share. Additionally, the market grows as a result of increased government financing for the research of new drugs. The cancer research market is anticipated to develop profitably by 21.5% throughout the research period. Another important aspect that contributes to the segment growth is the increasing investment in cell-based research by businesses and academic institutions. Due to the rising global cancer incidence, several public-private groups are significantly funding cancer research, which is fueling the demand for creative cell separation techniques.
By End User
Pharmaceutical & Biotechnology Companies

Academic & Research Institutes

Hospitals & Diagnostic Laboratories

Other End Users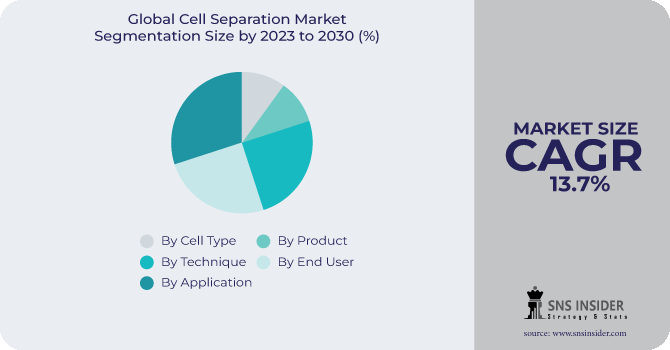 In 2022, the pharmaceutical & biotechnology companies segment is expected to dominate the largest market share of 43.2% during the forecast period owing to these businesses are investing more in R&D to create new molecules. These businesses heavily engage in considerable research and development (R&D) efforts for the creation of next-generation therapies, which call for cell separation techniques. Additionally, it is projected that a large demand for cell separation technologies will be generated by growing commercial organizations step up their research efforts to discover effective COVID-19 vaccines and therapies.
REGIONAL COVERAGE
North America
Europe
Eastern Europe

Poland

Romania

Hungary

Turkey

Rest of Eastern Europe

Western Europe

Germany

France

UK

Italy

Spain

Netherlands

Switzerland

Austria

Rest of Western Europe
Asia Pacific
China

India

Japan

South Korea

Vietnam

Singapore

Australia

Rest of Asia Pacific
Middle East & Africa
Middle East

UAE

Egypt

Saudi Arabia

Qatar

Rest of Middle East

Africa

Nigeria

South Africa

Rest of Africa
Latin America
Brazil

Argentina

Colombia

Rest of Latin America
REGIONAL ANALYSES
North America held a significant market share growth in 2022 and is likely to maintain its dominance during the forecast period due to the presence of well-established pharmaceutical & biotech industries and the high adoption rate of technologically advanced solutions in the U.S. Furthermore, extensive research activities by research universities in the field of cell therapies have created a huge demand for cell separation solutions. In addition, the high prevalence of chronic and infectious diseases, including the outbreak of COVID-19, has led to an increase in the demand for cell separation solutions for research and clinical end users.
Asia-Pacific is witness to expand fastest CAGR rate during the forecast period due to the expansion of the pharmaceutical and biotechnology industries in developing countries, such as China and India. In addition, the growth in healthcare expenditure and an increase in market penetration of major global players in key Asia Pacific countries are expected to drive the segment over the forecast period. Furthermore, continuous stem and gene therapy research initiatives in Japan, China, and South Korea have boosted the demand for cell separation solutions in the region.
Key Players
The major key players are Thermo Fisher Scientific, Inc., BD, Danaher, Terumo Corp., STEMCELL Technologies Inc., Bio-Rad Laboratories, Inc., Merck KGaA, GenScript, Miltenyi Biotec, Corning Inc., and Others.
Danaher​​​​​​​-Company Financial Analysis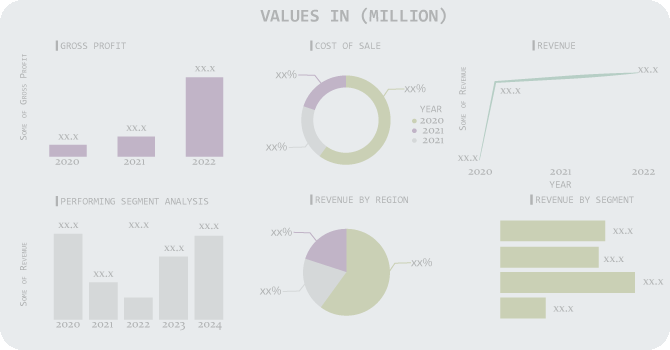 ​​​​​​​
RECENT DEVELOPMENT
Thermo Fisher Scientific, Inc., In October 2022, DynaCellect is a new generation cell isolation, cell activation, and cell depletion equipment that was introduced by Thermo Fisher Scientific, Inc. In order to streamline the production of cell therapy, Dynabeads magnetic beads removal technology was also introduced.
Terumo BCT and GenCure, in June 2022, to enhance manufacturing techniques for cell and gene therapies, Terumo BCT and GenCure worked together.
Cell Separation Market Report Scope:
Report Attributes
Details
Market Size in 2022
US$ 8.6 Bn
Market Size by 2030
US$ 24.02 Bn
CAGR
CAGR of 13.7 % From 2023 to 2030
Base Year
2022
Forecast Period
2023-2030
Historical Data
2019-2021
Report Scope & Coverage
Market Size, Segments Analysis, Competitive Landscape, Regional Analysis, DROC & SWOT Analysis, Forecast Outlook
Key Segments
• By Cell Type (Human Cells, Animal Cells)
• By Product (Consumables, Instruments)
• By Technique (Centrifugation, Surface Marker, Filtration)
• By Application (Biomolecule Isolation, Cancer Research, Stem Cell Research, Tissue Regeneration, In Vitro Diagnostics, Therapeutics)
• By End User (Pharmaceutical & Biotechnology Companies, Academic & Research Institutes, Hospitals & Diagnostic Laboratories, Other End Users)
Regional Analysis/Coverage
North America (US, Canada, Mexico), Europe (Eastern Europe [Poland, Romania, Hungary, Turkey, Rest of Eastern Europe] Western Europe] Germany, France, UK, Italy, Spain, Netherlands, Switzerland, Austria, Rest of Western Europe]), Asia Pacific (China, India, Japan, South Korea, Vietnam, Singapore, Australia, Rest of Asia Pacific), Middle East & Africa (Middle East [UAE, Egypt, Saudi Arabia, Qatar, Rest of Middle East], Africa [Nigeria, South Africa, Rest of Africa], Latin America (Brazil, Argentina, Colombia Rest of Latin America)
Company Profiles
Thermo Fisher Scientific, Inc., BD, Danaher, Terumo Corp., STEMCELL Technologies Inc., Bio-Rad Laboratories, Inc., Merck KGaA, GenScript, Miltenyi Biotec, Corning Inc.
Key Drivers
• Increasing government funding for cell based research
Market Challenges
• Difficulties to develop cell therapies