Report Scope & Overview:
Drone Services Market Size was valued at USD 16.24 billion in 2022 and is expected to reach USD 90.75 billion by 2030, and grow at a CAGR of 24% over the forecast period 2023-2030.
Technological advances have reached far behind and have led to the development of various advanced technologies. The drone Services Market is one of the developed markets included. Drones are used for a variety of commercial purposes around the world. Drone Services are rapidly replacing other applications in the commercial sector, such as aerial surveys, film, and search and rescue.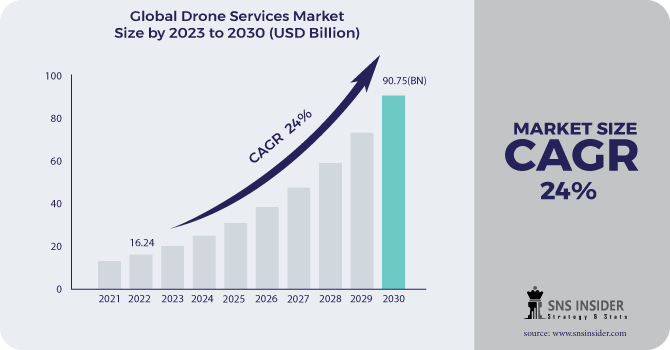 Drone Services Market share has shown full growth in these marketing applications. The use of drones in the military field to an effective role. They are used in military operations to carry out destructive missions, and searches, and to detect dangerous features and threats. The use of drones in the defense sector is driving the market growth dramatically.
The aerial research includes various wildlife surveillance programs, deforestation, and pollution beyond the group. These critical systems are in dire need of drone resources. Drones can be used longer and remotely by human users or automatically by internal computers. Drone services have expanded into various social and commercial systems due to their high endurance and low operating costs. Incorporating new technologies, such as artificial intelligence, IoT, and cloud computing, into the Drone Services Market will increase their demand in a variety of fields.
MARKET DYNAMICS:
KEY DRIVERS:
RESTRAINTS:
Delivery risk

Lack of skill
OPPORTUNITIES:
CHALLENGES:
Safety of package

Safety of product

Hacking
THE IMPACT OF COVID-19
During the COVID-19 pandemic, drones have proven to be ideal for providing a variety of services. As a result, the Drone Services Market Value increased significantly during the pandemic period. During the pandemic, delivering essential products, medicines, and vaccines has become a concern and priority. Drones played an important role during this time, propelling the Drone Services industry Trends. Because of its widespread use in commercial and industrial sectors, the market will continue to grow at a rapid pace.
Drones are gradually demonstrating high work efficiency and productivity, from prompt delivery during peak hours and dispensing medicines and essentials to remote areas to screening in inaccessible location. Nonetheless, many countries have missed out on the potential of drone technology due to its low adoption. The pandemic's outbreak and spread have increased demand for and use of drones, as their benefits outweigh their potential risks. Drones have been used by police departments and governments all over the world to conduct remote policing and impose social distancing. Despite the fact that many law enforcement budgets have been impacted by reduced tax revenues and budget reallocations, current pilot programs are increasing drone usage.
By Type:
The global market is divided into three sections based on product type: Drone Platform Services, Drone Maintenance, Repair, and Overhaul (MRO) Services, and Drone Training & Education Services. Due to rising demand, the drone Platform Services segment will hold the largest share of the Global Drone Services Market over the forecasted period. Drone Platform Services are essential for inspection, imaging, and other solutions.
By Application:
The global market is divided into five applications: aerial photography and remote sensing, data acquisition and analytics, mapping and surveying, modeling, disaster risk management, and mitigation, inspection and environmental monitoring, and others. Among these sub-segments, Aerial Photography & Remote Sensing will account for the largest share of the Global Drone Services Market during the forecast period. Aerial photography and remote sensing services are in high demand across military and defense, construction, and infrastructure. In addition, due to the rising demand for environmental protection and green practices, inspection, and environmental monitoring are growing at a faster CAGR.
By Industrial Verticals:
The global market is further classified into Construction & Infrastructure, Agriculture, Utility, Oil & Gas, Mining, Defense, Transport, Logistics & Warehousing, and Others. Among these sub-segments, agriculture will hold the largest share of the Global Drone Services Market during the forecast period. The factors can be attributed to the rising demand for Drone Services in countries such as India, China, and the United States. These nations produce a lot of vegetables, legumes, grains, fruits, and pulses.
By Solution:
The Drone Services Market is divided into two segments: enterprise and point-based solutions. Due to its end-to-end solution and support for all industries, the enterprise segment is expected to grow at a faster CAGR during the forecast period. The point segment has dominated in recent years due to the growing demand for customized services in the industries.
KEY MARKET SEGMENTS:
By Type:
Drone Platform Services

Drone Maintenance

Repair

Overhaul Services
By Industry Verticals:
Utility

Power

Security

Search

Rescue
By Application:
Aerial Photography

Remote Sensing,

Data Acquisition

Analytics

Mapping

surveying
By Solution: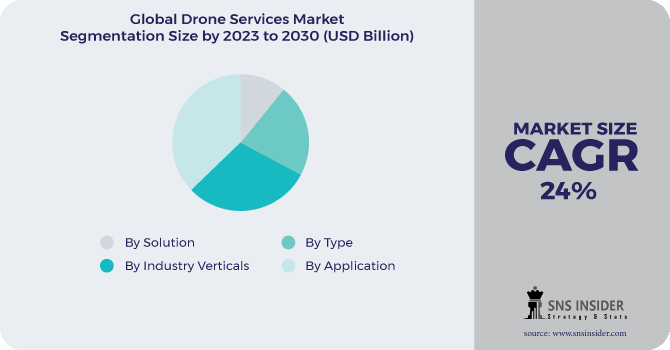 REGIONAL ANALYSIS
The location of Drone Services Market Outlook reflects major market-covered regions, such as North America, Europe, Asia Pacific, the Middle East & Africa, and Latin America. Among these regions, the North American Region is recognized for its outstanding players in this region. The European market is expected to grow slowly due to the increasing use of drones in the infrastructure industry in a large country like the UK. Asia Pacific is expected to register the highest CAGR due to the growing rate of drone's production and the adoption of drone services in the agricultural sector.
Increased acceptance of oil test drones by leading oil and gas companies drives the Drone Services Market in the Middle East and Africa. Increasing investment by key players in the Latin American region is expected to boost the regional market.
REGIONAL COVERAGE:
North America

Europe

Germany

UK

France

Italy

Spain

The Netherlands

Rest of Europe

Asia-Pacific

Japan

south Korea

China

India

Australia

Rest of Asia-Pacific

The Middle East & Africa

Latin America

Brazil

Argentina

Rest of Latin America
Key Players
Phoenix Drone Services, Precision Hawk, Vermeer, CYBERHAWK INNOVATIONS LIMITED, Sky-Futures, DroneDeploy, DJI, Martek Aviation, Terra Drone Corporation, SHARPER SHAPE INC, and Other players.
Phoenix Drone Services-Company Financial Analysis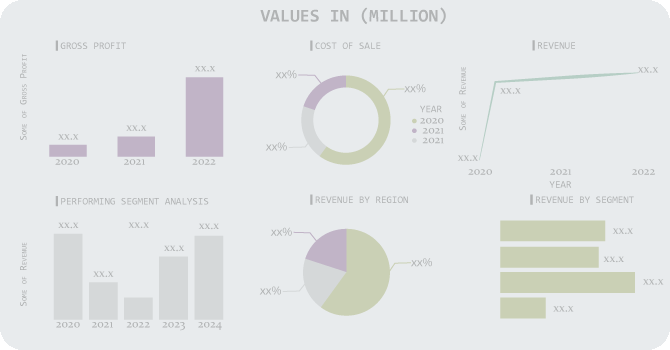 ​​​​​​​
Drone Services Market Report Scope:
Report Attributes
Details
Market Size in 2022
US$ 16.24 Billion
Market Size by 2030
US$ 90.75 Billion
CAGR
CAGR of 24% From 2023 to 2030
Base Year
2022
Forecast Period
2023-2030
Historical Data
2020-2021
Report Scope & Coverage
Market Size, Segments Analysis, Competitive Landscape, Regional Analysis, DROC & SWOT Analysis, Forecast Outlook
Key Segments
• By Type (Drone Platform Services, Drone Maintenance, Repair, and Overhaul (MRO) Services)
• By Application (Aerial Photography & Remote Sensing, Data Acquisition & Analytics, Mapping & surveying)
• By Industry Verticals (Utility & Power, Security, Search & Rescue)
• By solution (Enterprise and Point)
Regional Analysis/Coverage
North America (USA, Canada, Mexico), Europe
(Germany, UK, France, Italy, Spain, Netherlands,
Rest of Europe), Asia-Pacific (Japan, South Korea,
China, India, Australia, Rest of Asia-Pacific), The
Middle East & Africa (Israel, UAE, South Africa,
Rest of Middle East & Africa), Latin America (Brazil, Argentina, Rest of Latin America)
Company Profiles
Phoenix Drone Services, Precision Hawk, Vermeer, CYBERHAWK INNOVATIONS LIMITED, Sky-Futures, DroneDeploy, DJI, Martek Aviation, Terra Drone Corporation, SHARPER SHAPE INC, and Other players.
DRIVERS
• Safety
• High-quality data requirement
• Cost-effective
RESTRAINTS
• Delivery risk
• Lack of skill