REPORT SCOPE & OVERVIEW:
The Gamification Market size was valued at USD 12.7 billion in 2022 and is expected to reach USD 87.58 billion by 2030 from 2020 at a CAGR of 27.3% during the forecast period of 2023-2030.
The gamification market comprises a wide range of software platforms, development tools, and Gamification providers. These Organization sizes enable businesses to incorporate gamification into their Organization size websites, and processes. The market also includes consulting Gamification, where companies assist clients in designing and implementing effective gamification strategies. Gamification is a dynamic field with evolving trends. Some current trends include the use of virtual reality (VR) and augmented reality (AR) in gamification experiences, the integration of gamification with artificial intelligence (AI) and machine learning (ML) for personalized experiences, and the Organization size of gamification in sustainability and social impact initiatives.
To get more information on Gamification Market - Request Free Sample Report
Gamification offers numerous benefits, including improved user engagement, motivation, and loyalty. It can also enhance learning outcomes, employee performance, and customer satisfaction. However, challenges exist, such as designing effective gamification experiences, avoiding superficial or manipulative techniques, and ensuring long-term engagement and sustainability. Several factors contribute to the growth of the gamification market, including advancements in technology (such as mobile devices and wearable tech), the increasing popularity of social media and online communities, and the growing demand for personalized and immersive experiences.
MARKET DYNAMICS
KEY DRIVERS:
Increased User Engagement with Motivation and Behavioral Change.

Mobile and Digital Technology Contributed to the growth of the market.
Gamification strategies have excelled at keeping people interested. Gamification boosts user motivation and encourages active participation by introducing game features like challenges, prizes, and progress monitoring, which leads to an increase in engagement with goods, Gamifications, or educational opportunities.
RESTRAIN:
Effective gamification experience design and implementation can be difficult and complex.

Overusing gamification without considering its relevance or value can lead to user fatigue, and loss of interest, in the product or Gamification.
Planning carefully, comprehending user motivations, matching game mechanics to company goals, and integrating gamification with current systems and procedures are all necessary. Developing relevant and interesting gamification experiences that encourage desired behaviors and outcomes can be difficult for organizations.
OPPORTUNITY:
Gamification can be an effective tool for building customer loyalty and increasing customer retention.

Innovation and Differentiation to stand out from their competitors, attract and retain customers
Applications may create a more engaging and rewarding experience for their customers by introducing gamified loyalty programs, challenges, and incentives, driving repeat purchases, and creating long-term connections.
CHALLENGES:
lack of standardized best practices across industries and Organization sizes

Applications need to carefully consider the ethical implications of their gamification Strategy.
The gamification business is still developing, there aren't any best practices that are universally accepted across all fields and applications. Without defined criteria or benchmarks, organizations may struggle to create and implement effective gamification programs.
IMPACT OF RUSSIA UKRAINE WAR
During Ukraine-Russia War, gamification could be used to increase player engagement and immersion. the NATO alliance sends a military force to help the Ukrainian military retake the country. with the help of gamification, the aim of the game would be to provide the player with an immersive and realistic experience of the Ukraine-Russia War. Some of the top companies in the gamification market are MPS Interactive Systems Limited, Microsoft Corporation, AON PLC, Axonify Inc., and I Actionable Inc. in the gamification market have been impacted by the Russia-Ukraine war. The war disrupts the technology ecosystem in the region. Technology companies and start-ups may face challenges in terms of infrastructure, talent retention, and funding. This disruption can indirectly impact the development and innovation of gamification solutions originating from the region, affecting the overall market landscape. Applications and individuals may shift their attention and resources during times of conflict to vital needs and Gamification. Since gamification is a relatively optional and non-essential expenditure, it might be put on hold when more pressing issues take centre stage.
IMPACT OF ONGOING RECESSION
The ongoing recession is expected to have an impact on the growth rate of the gamification market. While the gamification market is expected to grow the recession may pose challenges to the industry Market consolidation can result from economic downturns, with smaller or less financially secure gamification companies having difficulties or leaving the market. The ability to survive the crisis and increase their market share may be an advantage for bigger, more established firms. During a recession, some industries could be comparatively resilient or even flourish. To improve user engagement, training, or productivity, these industries may continue to invest in gamification solutions, such as healthcare, e-learning, or remote work technology. The increased engagement and time spent on content by people through gamification help users to increase revenue. However, the looming recession may have an impact on the gamification industry companies facing financial constraints may delay or reduce their budgets for gamification projects. This can impact the development and implementation of gamification solutions, resulting in slower growth in the market.
KEY MARKET SEGMENTS
By Deployment
By Organization size
By Application
Marketing

Sales

Product Development

Others
By Industry
BFSI

Retail

Government,

Healthcare

Education,

Research

IT

Telecom

Others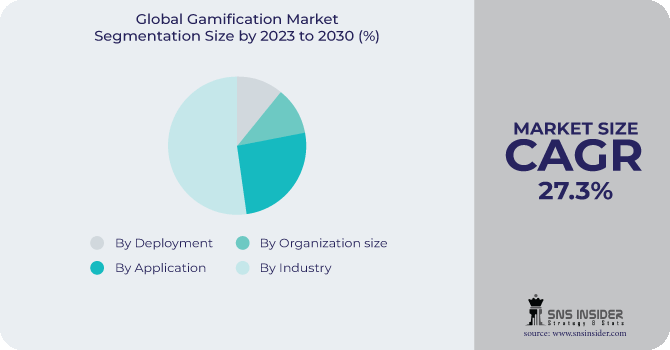 Need any customization research on Gamification Market - Enquiry Now
Region Coverage:
North America
Europe
Germany

UK

France

Italy

Spain

The Netherlands

Rest of Europe
Asia-Pacific
Japan

South Korea

China

India

Australia

Rest of Asia-Pacific
The Middle East & Africa
Latin America
Brazil

Argentina

Rest of Latin American
REGIONAL ANALYSIS
North America:
North America is one of the leading regions in the gamification market, driven by the presence of major technology companies, a strong gaming culture, and a focus on innovation. The United States dominates the market in this region, with a significant number of gamification solution providers and a large consumer base for gamified experiences. Industries such as education, healthcare, retail, and entertainment have adopted gamification to enhance customer engagement, employee training, and learning outcomes. Europe is another prominent region in the gamification market, with countries like the United Kingdom, Germany, and France leading the way. The region has a mature gaming industry, and Applications in various sectors have embraced gamification to improve customer loyalty, marketing campaigns, and employee motivation. Government initiatives and regulations, such as the General Data Protection Regulation (GDPR), have influenced the adoption of gamification for data privacy and compliance purposes.
Asia Pacific:
The Asia Pacific region is experiencing significant growth in the gamification market, driven by increasing internet penetration, smartphone adoption, and a large population of digital natives. Countries like China, India, Japan, South Korea, and Australia are key contributors to the growth of the market in this region. Industries such as e-learning, retail, and entertainment have witnessed substantial adoption of gamification to engage customers, enhance learning experiences, and drive business outcomes.
Key Players
Some major key players in the Gamification Market are Badgeville, Bunchball, GamEffective, Axonify, Gigya, Cognizant, Microsoft Corporation, Salesforce.com Inc., SAP SE, CallidusCloud, and Other players.
Bunchball-Company Financial Analysis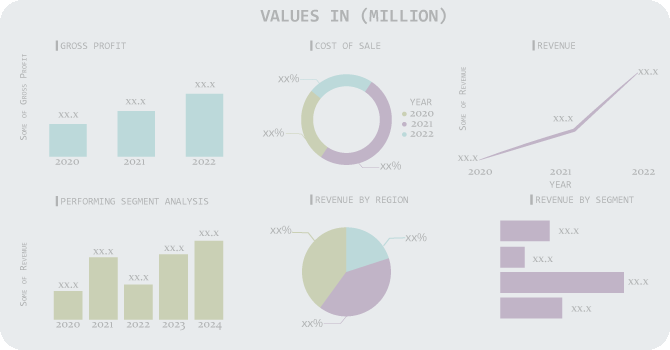 RECENT DEVELOPMENTS
Gamify's Partnership with SAP in order to improve employee engagement and motivation at work, gamify merged its gamification platform with SAP Success
Microsoft's Acquisition of ZeniMax Media This acquisition enhances Microsoft's position in the gaming market and opens up potential opportunities for gamification initiatives within the Microsoft ecosystem.
Gamification Market Report Scope:
Report Attributes
Details
Market Size in 2022
US$ 12.7 Bn
Market Size by 2030
US$ 87.58 Bn
CAGR
CAGR of 27.3% From 2023 to 2030
Base Year
2022
Forecast Period
2023-2030
Historical Data
2020-2021
Report Scope & Coverage
Market Size, Segments Analysis, Competitive Landscape, Regional Analysis, DROC & SWOT Analysis, Forecast Outlook
Key Segments
• By Deployment (Cloud, On-premises)
• By Organization size (Large Enterprise, Small, and medium size enterprise)
• By Application (Marketing, Sales, Product Development, Human Resources, Others)
• By Industry (BFSI, Retail, Government, Healthcare, Education, research, IT, Telecom, Others)
Regional Analysis/Coverage
North America (USA, Canada, Mexico), Europe
(Germany, UK, France, Italy, Spain, Netherlands,
Rest of Europe), Asia-Pacific (Japan, South Korea,
China, India, Australia, Rest of Asia-Pacific), The
Middle East & Africa (Israel, UAE, South Africa,
Rest of Middle East & Africa), Latin America (Brazil, Argentina, Rest of Latin America)
Company Profiles
Badgeville, Bunchball, GamEffective, Axonify, Gigya, Cognizant, Microsoft Corporation, Salesforce.com Inc., SAP SE, CallidusCloud
Key Drivers
• Increased User Engagement with Motivation and Behavioral Change.
• Mobile and Digital Technology Contributed to the growth of the market.
Market Opportunities
• Gamification can be an effective tool for building customer loyalty and increasing customer retention.
• Innovation and Differentiation to stand out from their competitors, attract and retain customers