Report Scope & Overview:
The Glyphosate Market size was valued at USD 10.1 billion in 2022. It is estimated to hit USD 16.59 billion by 2030 and grow at a CAGR of 6.4% over the forecast period of 2023-2030.
Glyphosate is a widely used herbicide that plays a significant role in the agricultural industry. This compound, also known as Roundup, is utilized to control the growth of unwanted plants and weeds, ensuring the productivity and health of crops. The glyphosate market is experiencing substantial growth on a global scale. This herbicide is in high demand due to its effectiveness in eliminating unwanted vegetation, making it a valuable tool for farmers and gardeners alike. The increasing adoption of genetically modified crops, which are engineered to be resistant to glyphosate, has further fueled the market's expansion. Additionally, the rising need for efficient and sustainable agricultural practices has contributed to the growing popularity of glyphosate-based herbicides.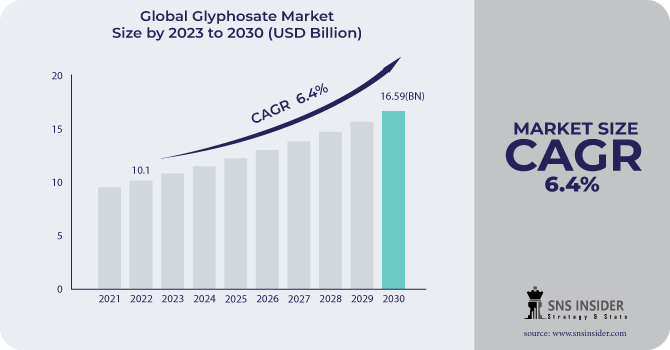 Get PDF Sample Report on Glyphosate Market - Request Sample Report
The increasing global population and the subsequent need for enhanced food production are expected to drive the demand for glyphosate-based herbicides. Furthermore, the growing awareness regarding sustainable farming practices and the importance of weed control are likely to contribute to the market's growth. However, it is crucial to address concerns surrounding the potential environmental and health impacts of glyphosate, as regulatory scrutiny and public perception may influence the market dynamics in the future.
Market Dynamics
Drivers
The growing need for effective weed control solutions in agriculture is a significant driver for the glyphosate market. Farmers are increasingly adopting glyphosate-based herbicides due to their effectiveness in managing weed growth and enhancing crop yields.
Glyphosate-based herbicides are relatively affordable compared to other weed control alternatives. This cost-effectiveness makes them an attractive choice for farmers, especially those operating on a tight budget.
Restrain
Glyphosate has faced criticism due to its potential negative impact on the environment. The herbicide's persistence in soil and its potential to contaminate water sources have raised concerns among environmentalists and regulatory bodies. These concerns can restrain the market's growth and lead to stricter regulations.
Prolonged and extensive use of glyphosate has led to the emergence of herbicide-resistant weeds. This poses a significant challenge to the market, as farmers need to find alternative weed control solutions to combat these resistant species effectively.
Opportunities
Increasing demand for organic produce

Wide range of applications of glyphosate
Glyphosate is a versatile herbicide that can be used in various agricultural and non-agricultural applications. Its effectiveness in controlling weeds in different settings, such as farms, gardens, and industrial areas, contributes to its market growth.
Challenges
Several studies have suggested a possible link between glyphosate exposure and various health issues, including cancer. This has led to increased regulatory scrutiny and public pressure to restrict or ban the use of glyphosate-based products. As a result, companies operating in the glyphosate market are facing stricter regulations and a potential decline in demand.
With the increasing awareness of the potential risks associated with glyphosate, consumers and farmers are seeking safer and more sustainable alternatives. This has created an opportunity for companies to develop and market new herbicides that are effective, environmentally friendly, and less controversial.
Impact of Russia-Ukraine War:
The conflict has disrupted the supply chain of glyphosate, leading to a decrease in availability and an increase in prices. Ukraine has experienced significant disruptions in its agricultural sector due to the war. This has resulted in a decline in glyphosate production, affecting the global supply. Additionally, the conflict has hindered the transportation of glyphosate from Russia, further exacerbating the supply shortage. The Russia-Ukraine war has also influenced the demand for glyphosate. As the conflict escalated, farmers in affected regions faced uncertainties and challenges in their agricultural activities. Many farmers have shifted their focus to alternative crops or reduced their overall agricultural production. Consequently, the demand for glyphosate has decreased in these areas, impacting the market dynamics.
Impact of Recession:
The recession has presented several challenges for the glyphosate industry. Firstly, the decline in demand has led to excess inventory, creating a surplus that companies must address. Secondly, the reduced revenues have limited the resources available for research and development, hindering innovation and the introduction of new glyphosate-based products. Lastly, the economic downturn has also impacted the industry's workforce, with companies being forced to downsize or implement cost-cutting measures.
Market Segmentation
By Crop Type
By Form
By Application
Agriculture

Non-Agriculture
Get Customized Report as per Your Business Requirement - Request For Customized Report
Regional Analysis
Asia Pacific dominated the Glyphosate market with the highest Revenue share in 2022 due to the presence of a substantial agricultural sector, which heavily relies on glyphosate for effective weed control. With a large population to feed and limited arable land, farmers in this region have turned to glyphosate as a vital tool to enhance crop productivity. The herbicide's ability to eliminate unwanted vegetation without harming the main crops has made it an indispensable asset for farmers striving to maximize their yields. Secondly, the Asia Pacific region has experienced rapid industrialization and urbanization, leading to an increased demand for glyphosate in non-agricultural sectors. As urban areas expand, the need for effective weed control in public spaces, such as parks, roadsides, and industrial sites, has become paramount. Glyphosate's versatility and efficiency in eradicating unwanted plants have made it the herbicide of choice for these non-agricultural applications. Furthermore, the Asia Pacific region has witnessed a surge in awareness and adoption of modern agricultural practices, including the use of genetically modified crops. Glyphosate plays a crucial role in the cultivation of genetically modified organisms (GMOs), as it enables farmers to control weeds that would otherwise hinder the growth of these engineered crops. The region's increasing acceptance of GMOs has consequently fueled the demand for glyphosate.
North America holds the second position in the glyphosate market in 2022 and is expected to grow with a significant CAGR during the forecast period. Stringent regulations and safety standards in North America ensure the responsible use of glyphosate. The region's regulatory bodies closely monitor the production, distribution, and application of glyphosate-based herbicides, ensuring compliance with environmental and health regulations.
REGIONAL COVERAGE:
North America
Europe
Eastern Europe

Poland

Romania

Hungary

Turkey

Rest of Eastern Europe

Western Europe

Germany

France

UK

Italy

Spain

Netherlands

Switzerland

Austria

Rest of Western Europe
Asia Pacific
China

India

Japan

South Korea

Vietnam

Singapore

Australia

Rest of Asia Pacific
Middle East & Africa
Middle East

UAE

Egypt

Saudi Arabia

Qatar

Rest of Middle East

Africa

Nigeria

South Africa

Rest of Africa
Latin America
Brazil

Argentina

Colombia

Rest of Latin America
Key Players
The major key players are Bayer AG, Monsanto, DuPont, The Dow Chemical Company, Nufarm Limited, Syngenta Crop Protection, ADAMA Agricultural Solutions Limited, UPL Limited, Nantong Jiangshan Agrochemical & Chemicals Limited Liability Co., Corteva Agriscience, American Vanguard Corporation, and other key players mentioned in the final report.
Monsanto-Company Financial Analysis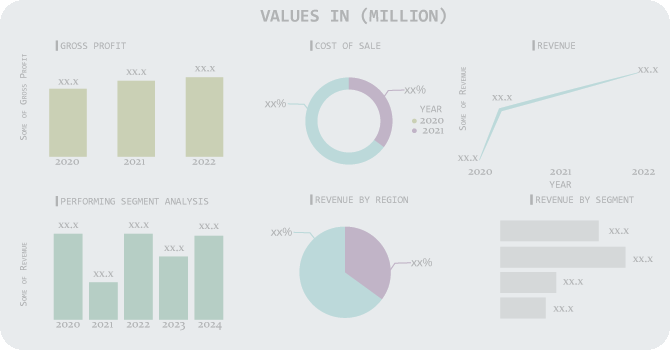 Recent Development:
In May 2023, Bayer experienced a significant increase of 44% in herbicide sales in 2022. This surge was primarily due to the aftermath of Hurricane Ida, which damaged rival producers and limited Chinese suppliers, creating a demand that Bayer was able to fulfill.

In Feb 2023, Corteva, Inc. unveiled its plans for the commercial launch of Optimum® GLY canola. This groundbreaking herbicide-tolerant trait technology was specifically designed to benefit canola farmers, providing them with advanced solutions for their crops.

In August 2022, Corteva Agriscience and BASF joined forces in a long-term collaboration aimed at developing innovative weed control solutions for soybean farmers worldwide.

In August 2021, Jiangshan made a significant move to become the world's second-largest supplier of glyphosate. This achievement was made possible through the acquisition of Fuhua Tongda, solidifying Jiangshan's position in the global market.

In July 2021, Nufarm Americas Inc. introduced Leopard™ Herbicide to its portfolio of herbicides. It offers exceptional planting flexibility for soybeans, field corn, and cotton, providing farmers with a powerful tool to combat unwanted weeds.

Glyphosate Market Report Scope
Report Attributes
Details
Market Size in 2022
US$ 10.1 Bn
Market Size by 2030
US$ 16.59 Bn
CAGR
CAGR of 6.4% From 2023 to 2030
Base Year
2022
Forecast Period
2023-2030
Historical Data
2019-2021
Report Scope & Coverage
Market Size, Segments Analysis, Competitive Landscape, Regional Analysis, DROC & SWOT Analysis, Forecast Outlook
Key Segments
• By Crop Type (Conventional Crops and Genetically Modified Crops)
• By Form (Liquid and Dry)
• By Application (Agriculture and Non-Agriculture)
Regional Analysis/Coverage
North America (US, Canada, Mexico), Europe (Eastern Europe [Poland, Romania, Hungary, Turkey, Rest of Eastern Europe] Western Europe] Germany, France, UK, Italy, Spain, Netherlands, Switzerland, Austria, Rest of Western Europe]), Asia Pacific (China, India, Japan, South Korea, Vietnam, Singapore, Australia, Rest of Asia Pacific), Middle East & Africa (Middle East [UAE, Egypt, Saudi Arabia, Qatar, Rest of Middle East], Africa [Nigeria, South Africa, Rest of Africa], Latin America (Brazil, Argentina, Colombia Rest of Latin America)
Company Profiles
Bayer AG, Monsanto, DuPont, The Dow Chemical Company, Nufarm Limited, Syngenta Crop Protection, ADAMA Agricultural Solutions Limited, UPL Limited, Nantong Jiangshan Agrochemical & Chemicals Limited Liability Co., Corteva Agriscience, American Vanguard Corporation
Key Drivers
• Increasing demand for glyphosate
• Cost effectiveness associated with the glyphosate
Market Restraints
• Environmental concerns associated with the use of glyphosate
• Development of herbicide-resistant weeds